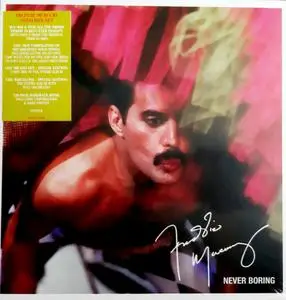 Freddie Mercury - Never Boring (2019)
BD | MPEG-4 AVC Video, 1080p (16:9), 29361 kbps, 23,976 fps
LPCM Audio 2.0, 48 kHz/24-bit, 2304 kbps
Full Scans | 02:01:43 | ~ 15,9 Gb | RAR 5% Recovery
Album Rock / Hard Rock / Glam Rock / Dance-Pop / Classical Crossover
Mercury #0602577410499
Never Boring is a box set of Freddie Mercury's solo work, released on 11 October 2019. The box set contains three CDs including a new 12-track compilation of a selection of Freddie's solo performances, a newly mixed 11-track special edition of Mr. Bad Guy and the nine-track 2012 special edition of Barcelona featuring a full orchestra. In addition to the CDs, the box set also contains a Blu-ray and DVD of Mercury's promos and his stage performances with Montserrat Caballé include eight that have been reassembled from the original 35mm film rushes for better visual and sound quality. The album was compiled by Queen's longtime sound team Justin Shirley-Smith, Kris Fredriksson and Joshua J Macrae.
Arriving in the wake of the success of the 2018 Queen biopic Bohemian Rhapsody, 2019's immaculately produced box set Never Boring showcases the solo work of lead singer Freddie Mercury. Though he only ever released one proper solo album outside of Queen, 1985's Mr. Bad Guy, Mercury did record enough individual material throughout his storied career to fill the three discs that make up this collection. Included are an 11-track special edition of Mr. Bad Guy, a nine-track edition of 1988's Barcelona – his orchestral collaboration with opera diva Montserrat Caballé – and a compilation disc that brings together a handful of errant solo performances, including his 1987 cover single of the Platters' "The Great Pretender." Also included are a Blu-ray/DVD with music videos and live performances, as well as a gorgeous hardcover book with pictures and quotes from Mercury, and a foreword by actor Rami Malek, who portrayed him in Bohemian Rhapsody. In one sense, Never Boring is something of a vanity box, appealing mainly to hardcore Mercury aficionados as it scrapes together just about every scrap of what could constitute his solo work. In fairness, the legendary singer just didn't record that much outside of Queen, and what he did record has largely been made available (albeit with less glamorous packaging pomp) on compilations like 1992's The Great Pretender and 2016's Messenger of the Gods: The Singles. Nonetheless, there is much to appreciate here, including Mr. Bad Guy singles like 1979's Giorgio Moroder-produced disco track "Love Kills," not to mention the powerful ballad "Made in Heaven" and the driving synth anthem "I Was Born to Love You," both of which were later reworked by Queen along with the remainder of Mercury's previously unused Queen recordings for inclusion on their final studio album, 1995's Made in Heaven. The orchestral Barcelona alone (presented here in its reworked 2012 edition) is one of the most vibrant and moving collaborations between two absolute superstars you'll ever hear. The bonus DVD offers some nice additions, including several of the live "La Nit" performances that Mercury and Caballé gave in 1988, all of Mercury's music videos, as well as his 1986 interview for Time magazine with Dave Clark. Never Boring is a loving tribute to Mercury, spotlighting his diverse solo work and presenting it all in illustrious fashion.



~ Matt Collar, All Music
***************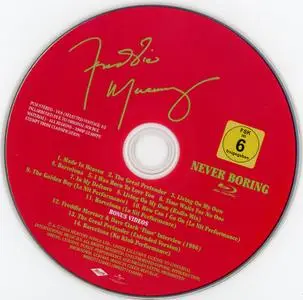 Track List BD:
01. Made In Heaven
02. The Great Pretender
03. Living On My Own
04. Barcelona
05. I Was Born To Love You
06. Time Waits For No One
07. In My Defence
08. Living On My Own (Radio Mix)
09. The Golden Boy (La Nit Performance)
10. How Can I Go On (La Nit Performance)
11. Barcelona (La Nit Performance)
Bonus Videos:
12. Freddie Mercury & Dave Clark 'Time' Interview (1986)
13. The Great Pretender (Extended Version)
14. Barcelona (Ku Klub Performance)
Disc Title: Freddie Mercury - Never Boring BD (2019)
Disc Size: 16 017 680 193 bytes
Protection: AACS
BD-Java: No
BDInfo: 0.5.8
Notes:
BDINFO HOME:
Cinema Squid
http://www.cinemasquid.com/blu-ray/tools/bdinfo
INCLUDES FORUMS REPORT FOR:
AVS Forum Blu-ray Audio and Video Specifications Thread
http://www.avsforum.com/avs-vb/showthread.php?t=1155731
********************
PLAYLIST: 00000.MPLS
********************
<–- BEGIN FORUMS PASTE –->
                                                                                                                Total   Video                                             
Title                                                           Codec   Length  Movie Size      Disc Size       Bitrate Bitrate Main Audio Track                          Secondary Audio Track
-----                                                           ------  ------- --------------  --------------  ------- ------- ------------------                        ---------------------
00000.MPLS                                                      AVC     0:46:02 11 455 008 768  16 017 680 193  33,17   29,36   LPCM 2.0 2304Kbps (48kHz/24-bit)          


DISC INFO:

Disc Title:     Freddie Mercury - Never Boring BD (2019)
Disc Size:      16 017 680 193 bytes
Protection:     AACS
BD-Java:        No
BDInfo:         0.5.8

PLAYLIST REPORT:

Name:                   00000.MPLS
Length:                 0:46:02.926 (h:m:s.ms)
Size:                   11 455 008 768 bytes
Total Bitrate:          33,17 Mbps

VIDEO:

Codec                   Bitrate             Description     
-----                   -------             -----------     
MPEG-4 AVC Video        29361 kbps          1080p / 23,976 fps / 16:9 / High Profile 4.1

AUDIO:

Codec                           Language        Bitrate         Description     
-----                           --------        -------         -----------     
LPCM Audio                      English         2304 kbps       2.0 / 48 kHz / 2304 kbps / 24-bit

FILES:

Name            Time In         Length          Size            Total Bitrate   
----            -------         ------          ----            -------------   
00002.M2TS      0:00:00.000     0:04:14.712     1 058 592 768   33 248          
00006.M2TS      0:04:14.712     0:03:27.415     870 758 400     33 585          
00004.M2TS      0:07:42.128     0:03:11.900     798 222 336     33 277          
00005.M2TS      0:10:54.028     0:04:30.561     1 125 107 712   33 267          
00010.M2TS      0:15:24.590     0:03:39.636     896 280 576     32 646          
00003.M2TS      0:19:04.226     0:03:30.585     849 850 368     32 285          
00014.M2TS      0:22:34.811     0:03:59.530     980 729 856     32 755          
00013.M2TS      0:26:34.342     0:03:45.516     942 188 544     33 423          
00015.M2TS      0:30:19.859     0:06:03.404     1 509 292 032   33 226          
00012.M2TS      0:36:23.264     0:03:49.437     959 305 728     33 449          
00011.M2TS      0:40:12.701     0:05:50.224     1 464 680 448   33 457          

CHAPTERS:

Number          Time In         Length          Avg Video Rate  Max 1-Sec Rate  Max 1-Sec Time  Max 5-Sec Rate  Max 5-Sec Time  Max 10Sec Rate  Max 10Sec Time  Avg Frame Size  Max Frame Size  Max Frame Time  
------          -------         ------          --------------  --------------  --------------  --------------  --------------  --------------  --------------  --------------  --------------  --------------  
1               0:00:00.000     0:04:14.712     29 438 kbps     59 600 kbps     00:00:00.959    36 770 kbps     00:00:00.959    33 390 kbps     00:02:28.189    153 475 bytes   780 522 bytes   00:00:01.000    
2               0:04:14.712     0:03:27.415     29 761 kbps     61 694 kbps     00:04:15.672    36 848 kbps     00:04:15.672    34 605 kbps     00:04:15.672    155 189 bytes   981 463 bytes   00:04:15.755    
3               0:07:42.128     0:03:11.900     29 465 kbps     62 735 kbps     00:07:43.838    38 592 kbps     00:07:44.046    36 039 kbps     00:07:43.838    153 651 bytes   714 957 bytes   00:10:47.897    
4               0:10:54.028     0:04:30.561     29 456 kbps     60 368 kbps     00:10:54.987    37 892 kbps     00:10:54.987    35 999 kbps     00:11:32.775    153 594 bytes   923 755 bytes   00:15:19.501    
5               0:15:24.590     0:03:39.636     28 861 kbps     53 388 kbps     00:16:31.782    38 827 kbps     00:15:32.348    36 645 kbps     00:15:32.348    150 468 bytes   839 821 bytes   00:18:21.183    
6               0:19:04.226     0:03:30.585     28 515 kbps     50 780 kbps     00:19:11.400    39 751 kbps     00:19:09.898    36 743 kbps     00:19:09.731    148 665 bytes   630 412 bytes   00:19:06.728    
7               0:22:34.811     0:03:59.530     28 965 kbps     59 273 kbps     00:22:36.354    38 442 kbps     00:22:36.354    35 623 kbps     00:22:36.354    151 037 bytes   951 169 bytes   00:22:36.396    
8               0:26:34.342     0:03:45.516     29 605 kbps     43 325 kbps     00:26:38.596    38 459 kbps     00:26:38.054    35 886 kbps     00:26:38.012    154 376 bytes   466 595 bytes   00:29:14.335    
9               0:30:19.859     0:06:03.404     29 416 kbps     54 315 kbps     00:35:51.440    37 783 kbps     00:35:51.399    34 040 kbps     00:35:51.357    153 363 bytes   683 256 bytes   00:30:20.860    
10              0:36:23.264     0:03:49.437     29 630 kbps     59 839 kbps     00:36:25.099    39 231 kbps     00:36:25.099    36 493 kbps     00:38:05.157    154 506 bytes   771 778 bytes   00:36:25.141    
11              0:40:12.701     0:05:50.224     29 638 kbps     60 656 kbps     00:40:14.453    39 455 kbps     00:40:14.453    36 390 kbps     00:40:14.453    154 554 bytes   907 475 bytes   00:40:14.537    

STREAM DIAGNOSTICS:

File            PID             Type            Codec           Language                Seconds                 Bitrate                 Bytes           Packets         
----            ---             ----            -----           --------                --------------          --------------          -------------   -----           
00002.M2TS      4113 (0x1011)   0x1B            AVC                                     254,588                 29 452                  937 272 338     5 097 421       
00002.M2TS      4352 (0x1100)   0x80            LPCM            eng (English)           254,588                 2 312                   73 561 692      407 544         
00006.M2TS      4113 (0x1011)   0x1B            AVC                                     207,332                 29 773                  771 601 166     4 196 369       
00006.M2TS      4352 (0x1100)   0x80            LPCM            eng (English)           207,332                 2 311                   59 902 896      331 872         
00004.M2TS      4113 (0x1011)   0x1B            AVC                                     191,775                 29 484                  706 794 254     3 843 921       
00004.M2TS      4352 (0x1100)   0x80            LPCM            eng (English)           191,775                 2 312                   55 422 164      307 048         
00005.M2TS      4113 (0x1011)   0x1B            AVC                                     270,479                 29 465                  996 211 334     5 417 956       
00005.M2TS      4352 (0x1100)   0x80            LPCM            eng (English)           270,479                 2 311                   78 139 172      432 904         
00010.M2TS      4113 (0x1011)   0x1B            AVC                                     219,553                 28 872                  792 363 274     4 309 341       
00010.M2TS      4352 (0x1100)   0x80            LPCM            eng (English)           219,553                 2 311                   63 432 032      351 424         
00003.M2TS      4113 (0x1011)   0x1B            AVC                                     210,502                 28 526                  750 607 653     4 082 294       
00003.M2TS      4352 (0x1100)   0x80            LPCM            eng (English)           210,502                 2 311                   60 818 392      336 944         
00014.M2TS      4113 (0x1011)   0x1B            AVC                                     239,364                 28 985                  867 256 645     4 716 661       
00014.M2TS      4352 (0x1100)   0x80            LPCM            eng (English)           239,364                 2 312                   69 177 708      383 256         
00013.M2TS      4113 (0x1011)   0x1B            AVC                                     225,392                 29 622                  834 558 977     4 538 833       
00013.M2TS      4352 (0x1100)   0x80            LPCM            eng (English)           225,392                 2 312                   65 130 176      360 832         
00015.M2TS      4113 (0x1011)   0x1B            AVC                                     363,321                 29 423                  1 336 248 678   7 267 252       
00015.M2TS      4352 (0x1100)   0x80            LPCM            eng (English)           363,321                 2 311                   104 951 364     581 448         
00012.M2TS      4113 (0x1011)   0x1B            AVC                                     229,354                 29 641                  849 785 401     4 621 571       
00012.M2TS      4352 (0x1100)   0x80            LPCM            eng (English)           229,354                 2 311                   66 262 272      367 104         
00011.M2TS      4113 (0x1011)   0x1B            AVC                                     350,100                 29 648                  1 297 481 636   7 056 435       
00011.M2TS      4352 (0x1100)   0x80            LPCM            eng (English)           350,100                 2 311                   101 144 980     560 360         


<–– END FORUMS PASTE ––>
QUICK SUMMARY:
Disc Title: Freddie Mercury - Never Boring BD (2019)
Disc Size: 16 017 680 193 bytes
Protection: AACS
BD-Java: No
Playlist: 00000.MPLS
Size: 11 455 008 768 bytes
Length: 0:46:02.926
Total Bitrate: 33,17 Mbps
Video: MPEG-4 AVC Video / 29361 kbps / 1080p / 23,976 fps / 16:9 / High Profile 4.1
Audio: English / LPCM Audio / 2.0 / 48 kHz / 2304 kbps / 24-bit
********************
PLAYLIST: 00011.MPLS
********************
<–- BEGIN FORUMS PASTE –->
                                                                                                                Total   Video                                             
Title                                                           Codec   Length  Movie Size      Disc Size       Bitrate Bitrate Main Audio Track                          Secondary Audio Track
-----                                                           ------  ------- --------------  --------------  ------- ------- ------------------                        ---------------------
00011.MPLS                                                      AVC     0:06:03 1 509 292 032   16 017 680 193  33,23   29,42   LPCM 2.0 2304Kbps (48kHz/24-bit)          


DISC INFO:

Disc Title:     Freddie Mercury - Never Boring BD (2019)
Disc Size:      16 017 680 193 bytes
Protection:     AACS
BD-Java:        No
BDInfo:         0.5.8

PLAYLIST REPORT:

Name:                   00011.MPLS
Length:                 0:06:03.404 (h:m:s.ms)
Size:                   1 509 292 032 bytes
Total Bitrate:          33,23 Mbps

VIDEO:

Codec                   Bitrate             Description     
-----                   -------             -----------     
MPEG-4 AVC Video        29416 kbps          1080p / 23,976 fps / 16:9 / High Profile 4.1

AUDIO:

Codec                           Language        Bitrate         Description     
-----                           --------        -------         -----------     
LPCM Audio                      English         2304 kbps       2.0 / 48 kHz / 2304 kbps / 24-bit

FILES:

Name            Time In         Length          Size            Total Bitrate   
----            -------         ------          ----            -------------   
00015.M2TS      0:00:00.000     0:06:03.404     1 509 292 032   33 226          

CHAPTERS:

Number          Time In         Length          Avg Video Rate  Max 1-Sec Rate  Max 1-Sec Time  Max 5-Sec Rate  Max 5-Sec Time  Max 10Sec Rate  Max 10Sec Time  Avg Frame Size  Max Frame Size  Max Frame Time  
------          -------         ------          --------------  --------------  --------------  --------------  --------------  --------------  --------------  --------------  --------------  --------------  
1               0:00:00.000     0:06:03.404     29 416 kbps     54 315 kbps     00:05:31.581    37 783 kbps     00:05:31.539    34 040 kbps     00:05:31.497    153 363 bytes   683 256 bytes   00:00:01.000    

STREAM DIAGNOSTICS:

File            PID             Type            Codec           Language                Seconds                 Bitrate                 Bytes           Packets         
----            ---             ----            -----           --------                --------------          --------------          -------------   -----           
00015.M2TS      4113 (0x1011)   0x1B            AVC                                     363,321                 29 423                  1 336 248 678   7 267 252       
00015.M2TS      4352 (0x1100)   0x80            LPCM            eng (English)           363,321                 2 311                   104 951 364     581 448         


<–– END FORUMS PASTE ––>
QUICK SUMMARY:
Disc Title: Freddie Mercury - Never Boring BD (2019)
Disc Size: 16 017 680 193 bytes
Protection: AACS
BD-Java: No
Playlist: 00011.MPLS
Size: 1 509 292 032 bytes
Length: 0:06:03.404
Total Bitrate: 33,23 Mbps
Video: MPEG-4 AVC Video / 29416 kbps / 1080p / 23,976 fps / 16:9 / High Profile 4.1
Audio: English / LPCM Audio / 2.0 / 48 kHz / 2304 kbps / 24-bit
********************
PLAYLIST: 00013.MPLS
********************
<–- BEGIN FORUMS PASTE –->
                                                                                                                Total   Video                                             
Title                                                           Codec   Length  Movie Size      Disc Size       Bitrate Bitrate Main Audio Track                          Secondary Audio Track
-----                                                           ------  ------- --------------  --------------  ------- ------- ------------------                        ---------------------
00013.MPLS                                                      AVC     0:05:50 1 464 680 448   16 017 680 193  33,46   29,64   LPCM 2.0 2304Kbps (48kHz/24-bit)          


DISC INFO:

Disc Title:     Freddie Mercury - Never Boring BD (2019)
Disc Size:      16 017 680 193 bytes
Protection:     AACS
BD-Java:        No
BDInfo:         0.5.8

PLAYLIST REPORT:

Name:                   00013.MPLS
Length:                 0:05:50.224 (h:m:s.ms)
Size:                   1 464 680 448 bytes
Total Bitrate:          33,46 Mbps

VIDEO:

Codec                   Bitrate             Description     
-----                   -------             -----------     
MPEG-4 AVC Video        29638 kbps          1080p / 23,976 fps / 16:9 / High Profile 4.1

AUDIO:

Codec                           Language        Bitrate         Description     
-----                           --------        -------         -----------     
LPCM Audio                      English         2304 kbps       2.0 / 48 kHz / 2304 kbps / 24-bit

FILES:

Name            Time In         Length          Size            Total Bitrate   
----            -------         ------          ----            -------------   
00011.M2TS      0:00:00.000     0:05:50.224     1 464 680 448   33 457          

CHAPTERS:

Number          Time In         Length          Avg Video Rate  Max 1-Sec Rate  Max 1-Sec Time  Max 5-Sec Rate  Max 5-Sec Time  Max 10Sec Rate  Max 10Sec Time  Avg Frame Size  Max Frame Size  Max Frame Time  
------          -------         ------          --------------  --------------  --------------  --------------  --------------  --------------  --------------  --------------  --------------  --------------  
1               0:00:00.000     0:05:50.224     29 638 kbps     60 656 kbps     00:00:01.751    39 455 kbps     00:00:01.751    36 390 kbps     00:00:01.751    154 536 bytes   907 475 bytes   00:00:01.835    

STREAM DIAGNOSTICS:

File            PID             Type            Codec           Language                Seconds                 Bitrate                 Bytes           Packets         
----            ---             ----            -----           --------                --------------          --------------          -------------   -----           
00011.M2TS      4113 (0x1011)   0x1B            AVC                                     350,100                 29 648                  1 297 481 636   7 056 435       
00011.M2TS      4352 (0x1100)   0x80            LPCM            eng (English)           350,100                 2 311                   101 144 980     560 360         


<–– END FORUMS PASTE ––>
QUICK SUMMARY:
Disc Title: Freddie Mercury - Never Boring BD (2019)
Disc Size: 16 017 680 193 bytes
Protection: AACS
BD-Java: No
Playlist: 00013.MPLS
Size: 1 464 680 448 bytes
Length: 0:05:50.224
Total Bitrate: 33,46 Mbps
Video: MPEG-4 AVC Video / 29638 kbps / 1080p / 23,976 fps / 16:9 / High Profile 4.1
Audio: English / LPCM Audio / 2.0 / 48 kHz / 2304 kbps / 24-bit
********************
PLAYLIST: 00006.MPLS
********************
<–- BEGIN FORUMS PASTE –->
                                                                                                                Total   Video                                             
Title                                                           Codec   Length  Movie Size      Disc Size       Bitrate Bitrate Main Audio Track                          Secondary Audio Track
-----                                                           ------  ------- --------------  --------------  ------- ------- ------------------                        ---------------------
00006.MPLS                                                      AVC     0:04:30 1 125 107 712   16 017 680 193  33,27   29,46   LPCM 2.0 2304Kbps (48kHz/24-bit)          


DISC INFO:

Disc Title:     Freddie Mercury - Never Boring BD (2019)
Disc Size:      16 017 680 193 bytes
Protection:     AACS
BD-Java:        No
BDInfo:         0.5.8

PLAYLIST REPORT:

Name:                   00006.MPLS
Length:                 0:04:30.561 (h:m:s.ms)
Size:                   1 125 107 712 bytes
Total Bitrate:          33,27 Mbps

VIDEO:

Codec                   Bitrate             Description     
-----                   -------             -----------     
MPEG-4 AVC Video        29456 kbps          1080p / 23,976 fps / 16:9 / High Profile 4.1

AUDIO:

Codec                           Language        Bitrate         Description     
-----                           --------        -------         -----------     
LPCM Audio                      English         2304 kbps       2.0 / 48 kHz / 2304 kbps / 24-bit

FILES:

Name            Time In         Length          Size            Total Bitrate   
----            -------         ------          ----            -------------   
00005.M2TS      0:00:00.000     0:04:30.561     1 125 107 712   33 267          

CHAPTERS:

Number          Time In         Length          Avg Video Rate  Max 1-Sec Rate  Max 1-Sec Time  Max 5-Sec Rate  Max 5-Sec Time  Max 10Sec Rate  Max 10Sec Time  Avg Frame Size  Max Frame Size  Max Frame Time  
------          -------         ------          --------------  --------------  --------------  --------------  --------------  --------------  --------------  --------------  --------------  --------------  
1               0:00:00.000     0:04:30.561     29 456 kbps     60 368 kbps     00:00:00.959    37 892 kbps     00:00:00.959    35 999 kbps     00:00:38.747    153 594 bytes   923 755 bytes   00:04:25.473    

STREAM DIAGNOSTICS:

File            PID             Type            Codec           Language                Seconds                 Bitrate                 Bytes           Packets         
----            ---             ----            -----           --------                --------------          --------------          -------------   -----           
00005.M2TS      4113 (0x1011)   0x1B            AVC                                     270,479                 29 465                  996 211 334     5 417 956       
00005.M2TS      4352 (0x1100)   0x80            LPCM            eng (English)           270,479                 2 311                   78 139 172      432 904         


<–– END FORUMS PASTE ––>
QUICK SUMMARY:
Disc Title: Freddie Mercury - Never Boring BD (2019)
Disc Size: 16 017 680 193 bytes
Protection: AACS
BD-Java: No
Playlist: 00006.MPLS
Size: 1 125 107 712 bytes
Length: 0:04:30.561
Total Bitrate: 33,27 Mbps
Video: MPEG-4 AVC Video / 29456 kbps / 1080p / 23,976 fps / 16:9 / High Profile 4.1
Audio: English / LPCM Audio / 2.0 / 48 kHz / 2304 kbps / 24-bit
********************
PLAYLIST: 00003.MPLS
********************
<–- BEGIN FORUMS PASTE –->
                                                                                                                Total   Video                                             
Title                                                           Codec   Length  Movie Size      Disc Size       Bitrate Bitrate Main Audio Track                          Secondary Audio Track
-----                                                           ------  ------- --------------  --------------  ------- ------- ------------------                        ---------------------
00003.MPLS                                                      AVC     0:04:14 1 058 592 768   16 017 680 193  33,25   29,44   LPCM 2.0 2304Kbps (48kHz/24-bit)          


DISC INFO:

Disc Title:     Freddie Mercury - Never Boring BD (2019)
Disc Size:      16 017 680 193 bytes
Protection:     AACS
BD-Java:        No
BDInfo:         0.5.8

PLAYLIST REPORT:

Name:                   00003.MPLS
Length:                 0:04:14.712 (h:m:s.ms)
Size:                   1 058 592 768 bytes
Total Bitrate:          33,25 Mbps

VIDEO:

Codec                   Bitrate             Description     
-----                   -------             -----------     
MPEG-4 AVC Video        29438 kbps          1080p / 23,976 fps / 16:9 / High Profile 4.1

AUDIO:

Codec                           Language        Bitrate         Description     
-----                           --------        -------         -----------     
LPCM Audio                      English         2304 kbps       2.0 / 48 kHz / 2304 kbps / 24-bit

FILES:

Name            Time In         Length          Size            Total Bitrate   
----            -------         ------          ----            -------------   
00002.M2TS      0:00:00.000     0:04:14.712     1 058 592 768   33 248          

CHAPTERS:

Number          Time In         Length          Avg Video Rate  Max 1-Sec Rate  Max 1-Sec Time  Max 5-Sec Rate  Max 5-Sec Time  Max 10Sec Rate  Max 10Sec Time  Avg Frame Size  Max Frame Size  Max Frame Time  
------          -------         ------          --------------  --------------  --------------  --------------  --------------  --------------  --------------  --------------  --------------  --------------  
1               0:00:00.000     0:04:14.712     29 438 kbps     59 600 kbps     00:00:00.959    36 770 kbps     00:00:00.959    33 390 kbps     00:02:28.189    153 500 bytes   780 522 bytes   00:00:01.000    

STREAM DIAGNOSTICS:

File            PID             Type            Codec           Language                Seconds                 Bitrate                 Bytes           Packets         
----            ---             ----            -----           --------                --------------          --------------          -------------   -----           
00002.M2TS      4113 (0x1011)   0x1B            AVC                                     254,588                 29 452                  937 272 338     5 097 421       
00002.M2TS      4352 (0x1100)   0x80            LPCM            eng (English)           254,588                 2 312                   73 561 692      407 544         


<–– END FORUMS PASTE ––>
QUICK SUMMARY:
Disc Title: Freddie Mercury - Never Boring BD (2019)
Disc Size: 16 017 680 193 bytes
Protection: AACS
BD-Java: No
Playlist: 00003.MPLS
Size: 1 058 592 768 bytes
Length: 0:04:14.712
Total Bitrate: 33,25 Mbps
Video: MPEG-4 AVC Video / 29438 kbps / 1080p / 23,976 fps / 16:9 / High Profile 4.1
Audio: English / LPCM Audio / 2.0 / 48 kHz / 2304 kbps / 24-bit
********************
PLAYLIST: 00009.MPLS
********************
<–- BEGIN FORUMS PASTE –->
                                                                                                                Total   Video                                             
Title                                                           Codec   Length  Movie Size      Disc Size       Bitrate Bitrate Main Audio Track                          Secondary Audio Track
-----                                                           ------  ------- --------------  --------------  ------- ------- ------------------                        ---------------------
00009.MPLS                                                      AVC     0:03:59 980 729 856     16 017 680 193  32,76   28,97   LPCM 2.0 2304Kbps (48kHz/24-bit)          


DISC INFO:

Disc Title:     Freddie Mercury - Never Boring BD (2019)
Disc Size:      16 017 680 193 bytes
Protection:     AACS
BD-Java:        No
BDInfo:         0.5.8

PLAYLIST REPORT:

Name:                   00009.MPLS
Length:                 0:03:59.530 (h:m:s.ms)
Size:                   980 729 856 bytes
Total Bitrate:          32,76 Mbps

VIDEO:

Codec                   Bitrate             Description     
-----                   -------             -----------     
MPEG-4 AVC Video        28965 kbps          1080p / 23,976 fps / 16:9 / High Profile 4.1

AUDIO:

Codec                           Language        Bitrate         Description     
-----                           --------        -------         -----------     
LPCM Audio                      English         2304 kbps       2.0 / 48 kHz / 2304 kbps / 24-bit

FILES:

Name            Time In         Length          Size            Total Bitrate   
----            -------         ------          ----            -------------   
00014.M2TS      0:00:00.000     0:03:59.530     980 729 856     32 755          

CHAPTERS:

Number          Time In         Length          Avg Video Rate  Max 1-Sec Rate  Max 1-Sec Time  Max 5-Sec Rate  Max 5-Sec Time  Max 10Sec Rate  Max 10Sec Time  Avg Frame Size  Max Frame Size  Max Frame Time  
------          -------         ------          --------------  --------------  --------------  --------------  --------------  --------------  --------------  --------------  --------------  --------------  
1               0:00:00.000     0:03:59.530     28 965 kbps     59 273 kbps     00:00:01.543    38 442 kbps     00:00:01.543    35 623 kbps     00:00:01.543    151 037 bytes   951 169 bytes   00:00:01.584    

STREAM DIAGNOSTICS:

File            PID             Type            Codec           Language                Seconds                 Bitrate                 Bytes           Packets         
----            ---             ----            -----           --------                --------------          --------------          -------------   -----           
00014.M2TS      4113 (0x1011)   0x1B            AVC                                     239,364                 28 985                  867 256 645     4 716 661       
00014.M2TS      4352 (0x1100)   0x80            LPCM            eng (English)           239,364                 2 312                   69 177 708      383 256         


<–– END FORUMS PASTE ––>
QUICK SUMMARY:
Disc Title: Freddie Mercury - Never Boring BD (2019)
Disc Size: 16 017 680 193 bytes
Protection: AACS
BD-Java: No
Playlist: 00009.MPLS
Size: 980 729 856 bytes
Length: 0:03:59.530
Total Bitrate: 32,76 Mbps
Video: MPEG-4 AVC Video / 28965 kbps / 1080p / 23,976 fps / 16:9 / High Profile 4.1
Audio: English / LPCM Audio / 2.0 / 48 kHz / 2304 kbps / 24-bit
********************
PLAYLIST: 00012.MPLS
********************
<–- BEGIN FORUMS PASTE –->
                                                                                                                Total   Video                                             
Title                                                           Codec   Length  Movie Size      Disc Size       Bitrate Bitrate Main Audio Track                          Secondary Audio Track
-----                                                           ------  ------- --------------  --------------  ------- ------- ------------------                        ---------------------
00012.MPLS                                                      AVC     0:03:49 959 305 728     16 017 680 193  33,45   29,63   LPCM 2.0 2304Kbps (48kHz/24-bit)          


DISC INFO:

Disc Title:     Freddie Mercury - Never Boring BD (2019)
Disc Size:      16 017 680 193 bytes
Protection:     AACS
BD-Java:        No
BDInfo:         0.5.8

PLAYLIST REPORT:

Name:                   00012.MPLS
Length:                 0:03:49.437 (h:m:s.ms)
Size:                   959 305 728 bytes
Total Bitrate:          33,45 Mbps

VIDEO:

Codec                   Bitrate             Description     
-----                   -------             -----------     
MPEG-4 AVC Video        29630 kbps          1080p / 23,976 fps / 16:9 / High Profile 4.1

AUDIO:

Codec                           Language        Bitrate         Description     
-----                           --------        -------         -----------     
LPCM Audio                      English         2304 kbps       2.0 / 48 kHz / 2304 kbps / 24-bit

FILES:

Name            Time In         Length          Size            Total Bitrate   
----            -------         ------          ----            -------------   
00012.M2TS      0:00:00.000     0:03:49.437     959 305 728     33 449          

CHAPTERS:

Number          Time In         Length          Avg Video Rate  Max 1-Sec Rate  Max 1-Sec Time  Max 5-Sec Rate  Max 5-Sec Time  Max 10Sec Rate  Max 10Sec Time  Avg Frame Size  Max Frame Size  Max Frame Time  
------          -------         ------          --------------  --------------  --------------  --------------  --------------  --------------  --------------  --------------  --------------  --------------  
1               0:00:00.000     0:03:49.437     29 630 kbps     59 839 kbps     00:00:01.835    39 231 kbps     00:00:01.835    36 493 kbps     00:01:41.893    154 506 bytes   771 778 bytes   00:00:01.876    

STREAM DIAGNOSTICS:

File            PID             Type            Codec           Language                Seconds                 Bitrate                 Bytes           Packets         
----            ---             ----            -----           --------                --------------          --------------          -------------   -----           
00012.M2TS      4113 (0x1011)   0x1B            AVC                                     229,354                 29 641                  849 785 401     4 621 571       
00012.M2TS      4352 (0x1100)   0x80            LPCM            eng (English)           229,354                 2 311                   66 262 272      367 104         


<–– END FORUMS PASTE ––>
QUICK SUMMARY:
Disc Title: Freddie Mercury - Never Boring BD (2019)
Disc Size: 16 017 680 193 bytes
Protection: AACS
BD-Java: No
Playlist: 00012.MPLS
Size: 959 305 728 bytes
Length: 0:03:49.437
Total Bitrate: 33,45 Mbps
Video: MPEG-4 AVC Video / 29630 kbps / 1080p / 23,976 fps / 16:9 / High Profile 4.1
Audio: English / LPCM Audio / 2.0 / 48 kHz / 2304 kbps / 24-bit
********************
PLAYLIST: 00010.MPLS
********************
<–- BEGIN FORUMS PASTE –->
                                                                                                                Total   Video                                             
Title                                                           Codec   Length  Movie Size      Disc Size       Bitrate Bitrate Main Audio Track                          Secondary Audio Track
-----                                                           ------  ------- --------------  --------------  ------- ------- ------------------                        ---------------------
00010.MPLS                                                      AVC     0:03:45 942 188 544     16 017 680 193  33,42   29,61   LPCM 2.0 2304Kbps (48kHz/24-bit)          


DISC INFO:

Disc Title:     Freddie Mercury - Never Boring BD (2019)
Disc Size:      16 017 680 193 bytes
Protection:     AACS
BD-Java:        No
BDInfo:         0.5.8

PLAYLIST REPORT:

Name:                   00010.MPLS
Length:                 0:03:45.516 (h:m:s.ms)
Size:                   942 188 544 bytes
Total Bitrate:          33,42 Mbps

VIDEO:

Codec                   Bitrate             Description     
-----                   -------             -----------     
MPEG-4 AVC Video        29605 kbps          1080p / 23,976 fps / 16:9 / High Profile 4.1

AUDIO:

Codec                           Language        Bitrate         Description     
-----                           --------        -------         -----------     
LPCM Audio                      English         2304 kbps       2.0 / 48 kHz / 2304 kbps / 24-bit

FILES:

Name            Time In         Length          Size            Total Bitrate   
----            -------         ------          ----            -------------   
00013.M2TS      0:00:00.000     0:03:45.516     942 188 544     33 423          

CHAPTERS:

Number          Time In         Length          Avg Video Rate  Max 1-Sec Rate  Max 1-Sec Time  Max 5-Sec Rate  Max 5-Sec Time  Max 10Sec Rate  Max 10Sec Time  Avg Frame Size  Max Frame Size  Max Frame Time  
------          -------         ------          --------------  --------------  --------------  --------------  --------------  --------------  --------------  --------------  --------------  --------------  
1               0:00:00.000     0:03:45.516     29 605 kbps     43 325 kbps     00:00:04.254    38 459 kbps     00:00:03.712    35 886 kbps     00:00:03.670    154 376 bytes   466 595 bytes   00:02:39.993    

STREAM DIAGNOSTICS:

File            PID             Type            Codec           Language                Seconds                 Bitrate                 Bytes           Packets         
----            ---             ----            -----           --------                --------------          --------------          -------------   -----           
00013.M2TS      4113 (0x1011)   0x1B            AVC                                     225,392                 29 622                  834 558 977     4 538 833       
00013.M2TS      4352 (0x1100)   0x80            LPCM            eng (English)           225,392                 2 312                   65 130 176      360 832         


<–– END FORUMS PASTE ––>
QUICK SUMMARY:
Disc Title: Freddie Mercury - Never Boring BD (2019)
Disc Size: 16 017 680 193 bytes
Protection: AACS
BD-Java: No
Playlist: 00010.MPLS
Size: 942 188 544 bytes
Length: 0:03:45.516
Total Bitrate: 33,42 Mbps
Video: MPEG-4 AVC Video / 29605 kbps / 1080p / 23,976 fps / 16:9 / High Profile 4.1
Audio: English / LPCM Audio / 2.0 / 48 kHz / 2304 kbps / 24-bit
********************
PLAYLIST: 00007.MPLS
********************
<–- BEGIN FORUMS PASTE –->
                                                                                                                Total   Video                                             
Title                                                           Codec   Length  Movie Size      Disc Size       Bitrate Bitrate Main Audio Track                          Secondary Audio Track
-----                                                           ------  ------- --------------  --------------  ------- ------- ------------------                        ---------------------
00007.MPLS                                                      AVC     0:03:39 896 280 576     16 017 680 193  32,65   28,86   LPCM 2.0 2304Kbps (48kHz/24-bit)          


DISC INFO:

Disc Title:     Freddie Mercury - Never Boring BD (2019)
Disc Size:      16 017 680 193 bytes
Protection:     AACS
BD-Java:        No
BDInfo:         0.5.8

PLAYLIST REPORT:

Name:                   00007.MPLS
Length:                 0:03:39.636 (h:m:s.ms)
Size:                   896 280 576 bytes
Total Bitrate:          32,65 Mbps

VIDEO:

Codec                   Bitrate             Description     
-----                   -------             -----------     
MPEG-4 AVC Video        28861 kbps          1080p / 23,976 fps / 16:9 / High Profile 4.1

AUDIO:

Codec                           Language        Bitrate         Description     
-----                           --------        -------         -----------     
LPCM Audio                      English         2304 kbps       2.0 / 48 kHz / 2304 kbps / 24-bit

FILES:

Name            Time In         Length          Size            Total Bitrate   
----            -------         ------          ----            -------------   
00010.M2TS      0:00:00.000     0:03:39.636     896 280 576     32 646          

CHAPTERS:

Number          Time In         Length          Avg Video Rate  Max 1-Sec Rate  Max 1-Sec Time  Max 5-Sec Rate  Max 5-Sec Time  Max 10Sec Rate  Max 10Sec Time  Avg Frame Size  Max Frame Size  Max Frame Time  
------          -------         ------          --------------  --------------  --------------  --------------  --------------  --------------  --------------  --------------  --------------  --------------  
1               0:00:00.000     0:03:39.636     28 861 kbps     53 388 kbps     00:01:07.192    38 827 kbps     00:00:07.757    36 645 kbps     00:00:07.757    150 468 bytes   839 821 bytes   00:02:56.593    

STREAM DIAGNOSTICS:

File            PID             Type            Codec           Language                Seconds                 Bitrate                 Bytes           Packets         
----            ---             ----            -----           --------                --------------          --------------          -------------   -----           
00010.M2TS      4113 (0x1011)   0x1B            AVC                                     219,553                 28 872                  792 363 274     4 309 341       
00010.M2TS      4352 (0x1100)   0x80            LPCM            eng (English)           219,553                 2 311                   63 432 032      351 424         


<–– END FORUMS PASTE ––>
QUICK SUMMARY:
Disc Title: Freddie Mercury - Never Boring BD (2019)
Disc Size: 16 017 680 193 bytes
Protection: AACS
BD-Java: No
Playlist: 00007.MPLS
Size: 896 280 576 bytes
Length: 0:03:39.636
Total Bitrate: 32,65 Mbps
Video: MPEG-4 AVC Video / 28861 kbps / 1080p / 23,976 fps / 16:9 / High Profile 4.1
Audio: English / LPCM Audio / 2.0 / 48 kHz / 2304 kbps / 24-bit
********************
PLAYLIST: 00008.MPLS
********************
<–- BEGIN FORUMS PASTE –->
                                                                                                                Total   Video                                             
Title                                                           Codec   Length  Movie Size      Disc Size       Bitrate Bitrate Main Audio Track                          Secondary Audio Track
-----                                                           ------  ------- --------------  --------------  ------- ------- ------------------                        ---------------------
00008.MPLS                                                      AVC     0:03:30 849 850 368     16 017 680 193  32,29   28,52   LPCM 2.0 2304Kbps (48kHz/24-bit)          


DISC INFO:

Disc Title:     Freddie Mercury - Never Boring BD (2019)
Disc Size:      16 017 680 193 bytes
Protection:     AACS
BD-Java:        No
BDInfo:         0.5.8

PLAYLIST REPORT:

Name:                   00008.MPLS
Length:                 0:03:30.585 (h:m:s.ms)
Size:                   849 850 368 bytes
Total Bitrate:          32,29 Mbps

VIDEO:

Codec                   Bitrate             Description     
-----                   -------             -----------     
MPEG-4 AVC Video        28515 kbps          1080p / 23,976 fps / 16:9 / High Profile 4.1

AUDIO:

Codec                           Language        Bitrate         Description     
-----                           --------        -------         -----------     
LPCM Audio                      English         2304 kbps       2.0 / 48 kHz / 2304 kbps / 24-bit

FILES:

Name            Time In         Length          Size            Total Bitrate   
----            -------         ------          ----            -------------   
00003.M2TS      0:00:00.000     0:03:30.585     849 850 368     32 285          

CHAPTERS:

Number          Time In         Length          Avg Video Rate  Max 1-Sec Rate  Max 1-Sec Time  Max 5-Sec Rate  Max 5-Sec Time  Max 10Sec Rate  Max 10Sec Time  Avg Frame Size  Max Frame Size  Max Frame Time  
------          -------         ------          --------------  --------------  --------------  --------------  --------------  --------------  --------------  --------------  --------------  --------------  
1               0:00:00.000     0:03:30.585     28 515 kbps     50 780 kbps     00:00:07.173    39 751 kbps     00:00:05.672    36 743 kbps     00:00:05.505    148 665 bytes   630 412 bytes   00:00:02.502    

STREAM DIAGNOSTICS:

File            PID             Type            Codec           Language                Seconds                 Bitrate                 Bytes           Packets         
----            ---             ----            -----           --------                --------------          --------------          -------------   -----           
00003.M2TS      4113 (0x1011)   0x1B            AVC                                     210,502                 28 526                  750 607 653     4 082 294       
00003.M2TS      4352 (0x1100)   0x80            LPCM            eng (English)           210,502                 2 311                   60 818 392      336 944         


<–– END FORUMS PASTE ––>
QUICK SUMMARY:
Disc Title: Freddie Mercury - Never Boring BD (2019)
Disc Size: 16 017 680 193 bytes
Protection: AACS
BD-Java: No
Playlist: 00008.MPLS
Size: 849 850 368 bytes
Length: 0:03:30.585
Total Bitrate: 32,29 Mbps
Video: MPEG-4 AVC Video / 28515 kbps / 1080p / 23,976 fps / 16:9 / High Profile 4.1
Audio: English / LPCM Audio / 2.0 / 48 kHz / 2304 kbps / 24-bit
********************
PLAYLIST: 00004.MPLS
********************
<–- BEGIN FORUMS PASTE –->
                                                                                                                Total   Video                                             
Title                                                           Codec   Length  Movie Size      Disc Size       Bitrate Bitrate Main Audio Track                          Secondary Audio Track
-----                                                           ------  ------- --------------  --------------  ------- ------- ------------------                        ---------------------
00004.MPLS                                                      AVC     0:03:27 870 758 400     16 017 680 193  33,59   29,76   LPCM 2.0 2304Kbps (48kHz/24-bit)          


DISC INFO:

Disc Title:     Freddie Mercury - Never Boring BD (2019)
Disc Size:      16 017 680 193 bytes
Protection:     AACS
BD-Java:        No
BDInfo:         0.5.8

PLAYLIST REPORT:

Name:                   00004.MPLS
Length:                 0:03:27.415 (h:m:s.ms)
Size:                   870 758 400 bytes
Total Bitrate:          33,59 Mbps

VIDEO:

Codec                   Bitrate             Description     
-----                   -------             -----------     
MPEG-4 AVC Video        29761 kbps          1080p / 23,976 fps / 16:9 / High Profile 4.1

AUDIO:

Codec                           Language        Bitrate         Description     
-----                           --------        -------         -----------     
LPCM Audio                      English         2304 kbps       2.0 / 48 kHz / 2304 kbps / 24-bit

FILES:

Name            Time In         Length          Size            Total Bitrate   
----            -------         ------          ----            -------------   
00006.M2TS      0:00:00.000     0:03:27.415     870 758 400     33 585          

CHAPTERS:

Number          Time In         Length          Avg Video Rate  Max 1-Sec Rate  Max 1-Sec Time  Max 5-Sec Rate  Max 5-Sec Time  Max 10Sec Rate  Max 10Sec Time  Avg Frame Size  Max Frame Size  Max Frame Time  
------          -------         ------          --------------  --------------  --------------  --------------  --------------  --------------  --------------  --------------  --------------  --------------  
1               0:00:00.000     0:03:27.415     29 761 kbps     61 694 kbps     00:00:00.959    36 848 kbps     00:00:00.959    34 605 kbps     00:00:00.959    155 189 bytes   981 463 bytes   00:00:01.042    

STREAM DIAGNOSTICS:

File            PID             Type            Codec           Language                Seconds                 Bitrate                 Bytes           Packets         
----            ---             ----            -----           --------                --------------          --------------          -------------   -----           
00006.M2TS      4113 (0x1011)   0x1B            AVC                                     207,332                 29 773                  771 601 166     4 196 369       
00006.M2TS      4352 (0x1100)   0x80            LPCM            eng (English)           207,332                 2 311                   59 902 896      331 872         


<–– END FORUMS PASTE ––>
QUICK SUMMARY:
Disc Title: Freddie Mercury - Never Boring BD (2019)
Disc Size: 16 017 680 193 bytes
Protection: AACS
BD-Java: No
Playlist: 00004.MPLS
Size: 870 758 400 bytes
Length: 0:03:27.415
Total Bitrate: 33,59 Mbps
Video: MPEG-4 AVC Video / 29761 kbps / 1080p / 23,976 fps / 16:9 / High Profile 4.1
Audio: English / LPCM Audio / 2.0 / 48 kHz / 2304 kbps / 24-bit
********************
PLAYLIST: 00005.MPLS
********************
<–- BEGIN FORUMS PASTE –->
                                                                                                                Total   Video                                             
Title                                                           Codec   Length  Movie Size      Disc Size       Bitrate Bitrate Main Audio Track                          Secondary Audio Track
-----                                                           ------  ------- --------------  --------------  ------- ------- ------------------                        ---------------------
00005.MPLS                                                      AVC     0:03:11 798 222 336     16 017 680 193  33,28   29,47   LPCM 2.0 2304Kbps (48kHz/24-bit)          


DISC INFO:

Disc Title:     Freddie Mercury - Never Boring BD (2019)
Disc Size:      16 017 680 193 bytes
Protection:     AACS
BD-Java:        No
BDInfo:         0.5.8

PLAYLIST REPORT:

Name:                   00005.MPLS
Length:                 0:03:11.900 (h:m:s.ms)
Size:                   798 222 336 bytes
Total Bitrate:          33,28 Mbps

VIDEO:

Codec                   Bitrate             Description     
-----                   -------             -----------     
MPEG-4 AVC Video        29465 kbps          1080p / 23,976 fps / 16:9 / High Profile 4.1

AUDIO:

Codec                           Language        Bitrate         Description     
-----                           --------        -------         -----------     
LPCM Audio                      English         2304 kbps       2.0 / 48 kHz / 2304 kbps / 24-bit

FILES:

Name            Time In         Length          Size            Total Bitrate   
----            -------         ------          ----            -------------   
00004.M2TS      0:00:00.000     0:03:11.900     798 222 336     33 277          

CHAPTERS:

Number          Time In         Length          Avg Video Rate  Max 1-Sec Rate  Max 1-Sec Time  Max 5-Sec Rate  Max 5-Sec Time  Max 10Sec Rate  Max 10Sec Time  Avg Frame Size  Max Frame Size  Max Frame Time  
------          -------         ------          --------------  --------------  --------------  --------------  --------------  --------------  --------------  --------------  --------------  --------------  
1               0:00:00.000     0:03:11.900     29 465 kbps     62 735 kbps     00:00:01.710    38 592 kbps     00:00:01.918    36 039 kbps     00:00:01.710    153 651 bytes   714 957 bytes   00:03:05.768    

STREAM DIAGNOSTICS:

File            PID             Type            Codec           Language                Seconds                 Bitrate                 Bytes           Packets         
----            ---             ----            -----           --------                --------------          --------------          -------------   -----           
00004.M2TS      4113 (0x1011)   0x1B            AVC                                     191,775                 29 484                  706 794 254     3 843 921       
00004.M2TS      4352 (0x1100)   0x80            LPCM            eng (English)           191,775                 2 312                   55 422 164      307 048         


<–– END FORUMS PASTE ––>
QUICK SUMMARY:
Disc Title: Freddie Mercury - Never Boring BD (2019)
Disc Size: 16 017 680 193 bytes
Protection: AACS
BD-Java: No
Playlist: 00005.MPLS
Size: 798 222 336 bytes
Length: 0:03:11.900
Total Bitrate: 33,28 Mbps
Video: MPEG-4 AVC Video / 29465 kbps / 1080p / 23,976 fps / 16:9 / High Profile 4.1
Audio: English / LPCM Audio / 2.0 / 48 kHz / 2304 kbps / 24-bit
********************
PLAYLIST: 00001.MPLS
********************
<–- BEGIN FORUMS PASTE –->
                                                                                                                Total   Video                                             
Title                                                           Codec   Length  Movie Size      Disc Size       Bitrate Bitrate Main Audio Track                          Secondary Audio Track
-----                                                           ------  ------- --------------  --------------  ------- ------- ------------------                        ---------------------
00001.MPLS                                                      AVC     0:14:53 3 770 787 840   16 017 680 193  33,78   29,78   LPCM 2.0 2304Kbps (48kHz/24-bit)          


DISC INFO:

Disc Title:     Freddie Mercury - Never Boring BD (2019)
Disc Size:      16 017 680 193 bytes
Protection:     AACS
BD-Java:        No
BDInfo:         0.5.8

PLAYLIST REPORT:

Name:                   00001.MPLS
Length:                 0:14:53.142 (h:m:s.ms)
Size:                   3 770 787 840 bytes
Total Bitrate:          33,78 Mbps

VIDEO:

Codec                   Bitrate             Description     
-----                   -------             -----------     
MPEG-4 AVC Video        29780 kbps          1080p / 23,976 fps / 16:9 / High Profile 4.1

AUDIO:

Codec                           Language        Bitrate         Description     
-----                           --------        -------         -----------     
LPCM Audio                      English         2304 kbps       2.0 / 48 kHz / 2304 kbps / 24-bit

SUBTITLES:

Codec                           Language        Bitrate         Description     
-----                           --------        -------         -----------     
Presentation Graphics           English         21,837 kbps                     
Presentation Graphics           French          19,391 kbps                     
Presentation Graphics           German          21,403 kbps                     
Presentation Graphics           Spanish         20,586 kbps                     
Presentation Graphics           Italian         20,104 kbps                     
Presentation Graphics           Portuguese      20,469 kbps                     
Presentation Graphics           Japanese        14,704 kbps                     
Presentation Graphics           Korean          15,285 kbps                     

FILES:

Name            Time In         Length          Size            Total Bitrate   
----            -------         ------          ----            -------------   
00009.M2TS      0:00:00.000     0:03:37.592     930 809 856     34 222          
00016.M2TS      0:03:37.592     0:05:54.812     1 505 236 992   33 939          
00008.M2TS      0:09:32.405     0:05:20.737     1 334 740 992   33 292          

CHAPTERS:

Number          Time In         Length          Avg Video Rate  Max 1-Sec Rate  Max 1-Sec Time  Max 5-Sec Rate  Max 5-Sec Time  Max 10Sec Rate  Max 10Sec Time  Avg Frame Size  Max Frame Size  Max Frame Time  
------          -------         ------          --------------  --------------  --------------  --------------  --------------  --------------  --------------  --------------  --------------  --------------  
1               0:00:00.000     0:03:37.592     29 814 kbps     56 900 kbps     00:00:01.793    40 213 kbps     00:00:01.793    36 364 kbps     00:00:01.793    155 435 bytes   691 462 bytes   00:00:02.502    
2               0:03:37.592     0:05:54.812     30 032 kbps     55 641 kbps     00:04:58.423    37 960 kbps     00:03:53.983    36 465 kbps     00:04:13.336    156 572 bytes   803 495 bytes   00:05:33.499    
3               0:09:32.405     0:05:20.737     29 479 kbps     45 611 kbps     00:09:39.829    38 392 kbps     00:09:39.787    36 306 kbps     00:14:30.077    153 733 bytes   720 487 bytes   00:14:30.119    

STREAM DIAGNOSTICS:

File            PID             Type            Codec           Language                Seconds                 Bitrate                 Bytes           Packets         
----            ---             ----            -----           --------                --------------          --------------          -------------   -----           
00009.M2TS      4113 (0x1011)   0x1B            AVC                                     217,467                 29 825                  810 753 404     4 409 289       
00009.M2TS      4352 (0x1100)   0x80            LPCM            eng (English)           217,467                 2 312                   62 841 436      348 152         
00009.M2TS      4608 (0x1200)   0x90            PGS             eng (English)           217,467                 76                      2 072 598       11 792          
00009.M2TS      4609 (0x1201)   0x90            PGS             fra (French)            217,467                 67                      1 831 713       10 487          
00009.M2TS      4610 (0x1202)   0x90            PGS             deu (German)            217,467                 74                      2 003 234       11 421          
00009.M2TS      4611 (0x1203)   0x90            PGS             spa (Spanish)           217,467                 71                      1 932 889       11 038          
00009.M2TS      4612 (0x1204)   0x90            PGS             ita (Italian)           217,467                 71                      1 933 267       11 036          
00009.M2TS      4613 (0x1205)   0x90            PGS             por (Portuguese)        217,467                 71                      1 932 914       11 038          
00009.M2TS      4614 (0x1206)   0x90            PGS             jpn (Japanese)          217,467                 50                      1 365 990       7 919           
00009.M2TS      4615 (0x1207)   0x90            PGS             kor (Korean)            217,467                 54                      1 461 821       8 478           
00016.M2TS      4113 (0x1011)   0x1B            AVC                                     354,688                 30 046                  1 332 103 904   7 244 673       
00016.M2TS      4352 (0x1100)   0x80            LPCM            eng (English)           354,688                 2 311                   102 470 572     567 704         
00016.M2TS      4608 (0x1200)   0x90            PGS             eng (English)           354,688                 8                       365 321         2 131           
00016.M2TS      4609 (0x1201)   0x90            PGS             fra (French)            354,688                 8                       333 175         1 955           
00016.M2TS      4610 (0x1202)   0x90            PGS             deu (German)            354,688                 9                       386 246         2 244           
00016.M2TS      4611 (0x1203)   0x90            PGS             spa (Spanish)           354,688                 8                       365 425         2 131           
00016.M2TS      4612 (0x1204)   0x90            PGS             ita (Italian)           354,688                 7                       311 213         1 837           
00016.M2TS      4613 (0x1205)   0x90            PGS             por (Portuguese)        354,688                 8                       352 353         2 063           
00016.M2TS      4614 (0x1206)   0x90            PGS             jpn (Japanese)          354,688                 6                       275 635         1 657           
00016.M2TS      4615 (0x1207)   0x90            PGS             kor (Korean)            354,688                 6                       244 614         1 473           
00008.M2TS      4113 (0x1011)   0x1B            AVC                                     320,570 			  		   	  			     	 			   		  	   		      		 			  	 			   		  	   		 	 	  		 	 	  	 			   		 	    			  				                 29 495                  1 181 896 597   6 427 834       
00008.M2TS      4352 (0x1100)   0x80            LPCM            eng (English)           320,570                 2 312                   92 629 712      513 184         


<–– END FORUMS PASTE ––>
QUICK SUMMARY:
Disc Title: Freddie Mercury - Never Boring BD (2019)
Disc Size: 16 017 680 193 bytes
Protection: AACS
BD-Java: No
Playlist: 00001.MPLS
Size: 3 770 787 840 bytes
Length: 0:14:53.142
Total Bitrate: 33,78 Mbps
Video: MPEG-4 AVC Video / 29780 kbps / 1080p / 23,976 fps / 16:9 / High Profile 4.1
Audio: English / LPCM Audio / 2.0 / 48 kHz / 2304 kbps / 24-bit
Subtitle: English / 21,837 kbps
Subtitle: French / 19,391 kbps
Subtitle: German / 21,403 kbps
Subtitle: Spanish / 20,586 kbps
Subtitle: Italian / 20,104 kbps
Subtitle: Portuguese / 20,469 kbps
Subtitle: Japanese / 14,704 kbps
Subtitle: Korean / 15,285 kbps
********************
PLAYLIST: 00017.MPLS
********************
<–- BEGIN FORUMS PASTE –->
                                                                                                                Total   Video                                             
Title                                                           Codec   Length  Movie Size      Disc Size       Bitrate Bitrate Main Audio Track                          Secondary Audio Track
-----                                                           ------  ------- --------------  --------------  ------- ------- ------------------                        ---------------------
00017.MPLS                                                      AVC     0:05:54 1 505 236 992   16 017 680 193  33,94   30,04   LPCM 2.0 2304Kbps (48kHz/24-bit)          


DISC INFO:

Disc Title:     Freddie Mercury - Never Boring BD (2019)
Disc Size:      16 017 680 193 bytes
Protection:     AACS
BD-Java:        No
BDInfo:         0.5.8

PLAYLIST REPORT:

Name:                   00017.MPLS
Length:                 0:05:54.812 (h:m:s.ms)
Size:                   1 505 236 992 bytes
Total Bitrate:          33,94 Mbps

VIDEO:

Codec                   Bitrate             Description     
-----                   -------             -----------     
MPEG-4 AVC Video        30035 kbps          1080p / 23,976 fps / 16:9 / High Profile 4.1

AUDIO:

Codec                           Language        Bitrate         Description     
-----                           --------        -------         -----------     
LPCM Audio                      English         2304 kbps       2.0 / 48 kHz / 2304 kbps / 24-bit

SUBTITLES:

Codec                           Language        Bitrate         Description     
-----                           --------        -------         -----------     
Presentation Graphics           English         8,237 kbps                      
Presentation Graphics           French          7,512 kbps                      
Presentation Graphics           German          8,709 kbps                      
Presentation Graphics           Spanish         8,239 kbps                      
Presentation Graphics           Italian         7,017 kbps                      
Presentation Graphics           Portuguese      7,945 kbps                      
Presentation Graphics           Japanese        6,215 kbps                      
Presentation Graphics           Korean          5,515 kbps                      

FILES:

Name            Time In         Length          Size            Total Bitrate   
----            -------         ------          ----            -------------   
00016.M2TS      0:00:00.000     0:05:54.812     1 505 236 992   33 939          

CHAPTERS:

Number          Time In         Length          Avg Video Rate  Max 1-Sec Rate  Max 1-Sec Time  Max 5-Sec Rate  Max 5-Sec Time  Max 10Sec Rate  Max 10Sec Time  Avg Frame Size  Max Frame Size  Max Frame Time  
------          -------         ------          --------------  --------------  --------------  --------------  --------------  --------------  --------------  --------------  --------------  --------------  
1               0:00:00.000     0:05:54.812     30 035 kbps     55 641 kbps     00:01:20.830    37 960 kbps     00:00:16.391    36 465 kbps     00:00:35.744    156 589 bytes   803 495 bytes   00:01:55.907    

STREAM DIAGNOSTICS:

File            PID             Type            Codec           Language                Seconds                 Bitrate                 Bytes           Packets         
----            ---             ----            -----           --------                --------------          --------------          -------------   -----           
00016.M2TS      4113 (0x1011)   0x1B            AVC                                     354,688                 30 046                  1 332 103 904   7 244 673       
00016.M2TS      4352 (0x1100)   0x80            LPCM            eng (English)           354,688                 2 311                   102 470 572     567 704         
00016.M2TS      4608 (0x1200)   0x90            PGS             eng (English)           354,688                 8                       365 321         2 131           
00016.M2TS      4609 (0x1201)   0x90            PGS             fra (French)            354,688                 8                       333 175         1 955           
00016.M2TS      4610 (0x1202)   0x90            PGS             deu (German)            354,688                 9                       386 246         2 244           
00016.M2TS      4611 (0x1203)   0x90            PGS             spa (Spanish)           354,688                 8                       365 425         2 131           
00016.M2TS      4612 (0x1204)   0x90            PGS             ita (Italian)           354,688                 7                       311 213         1 837           
00016.M2TS      4613 (0x1205)   0x90            PGS             por (Portuguese)        354,688                 8                       352 353         2 063           
00016.M2TS      4614 (0x1206)   0x90            PGS             jpn (Japanese)          354,688                 6                       275 635         1 657           
00016.M2TS      4615 (0x1207)   0x90            PGS             kor (Korean)            354,688                 6                       244 614         1 473           


<–– END FORUMS PASTE ––>
QUICK SUMMARY:
Disc Title: Freddie Mercury - Never Boring BD (2019)
Disc Size: 16 017 680 193 bytes
Protection: AACS
BD-Java: No
Playlist: 00017.MPLS
Size: 1 505 236 992 bytes
Length: 0:05:54.812
Total Bitrate: 33,94 Mbps
Video: MPEG-4 AVC Video / 30035 kbps / 1080p / 23,976 fps / 16:9 / High Profile 4.1
Audio: English / LPCM Audio / 2.0 / 48 kHz / 2304 kbps / 24-bit
Subtitle: English / 8,237 kbps
Subtitle: French / 7,512 kbps
Subtitle: German / 8,709 kbps
Subtitle: Spanish / 8,239 kbps
Subtitle: Italian / 7,017 kbps
Subtitle: Portuguese / 7,945 kbps
Subtitle: Japanese / 6,215 kbps
Subtitle: Korean / 5,515 kbps
********************
PLAYLIST: 00018.MPLS
********************
<–- BEGIN FORUMS PASTE –->
                                                                                                                Total   Video                                             
Title                                                           Codec   Length  Movie Size      Disc Size       Bitrate Bitrate Main Audio Track                          Secondary Audio Track
-----                                                           ------  ------- --------------  --------------  ------- ------- ------------------                        ---------------------
00018.MPLS                                                      AVC     0:05:20 1 334 740 992   16 017 680 193  33,29   29,48   LPCM 2.0 2304Kbps (48kHz/24-bit)          


DISC INFO:

Disc Title:     Freddie Mercury - Never Boring BD (2019)
Disc Size:      16 017 680 193 bytes
Protection:     AACS
BD-Java:        No
BDInfo:         0.5.8

PLAYLIST REPORT:

Name:                   00018.MPLS
Length:                 0:05:20.737 (h:m:s.ms)
Size:                   1 334 740 992 bytes
Total Bitrate:          33,29 Mbps

VIDEO:

Codec                   Bitrate             Description     
-----                   -------             -----------     
MPEG-4 AVC Video        29480 kbps          1080p / 23,976 fps / 16:9 / High Profile 4.1

AUDIO:

Codec                           Language        Bitrate         Description     
-----                           --------        -------         -----------     
LPCM Audio                      English         2304 kbps       2.0 / 48 kHz / 2304 kbps / 24-bit

FILES:

Name            Time In         Length          Size            Total Bitrate   
----            -------         ------          ----            -------------   
00008.M2TS      0:00:00.000     0:05:20.737     1 334 740 992   33 292          

CHAPTERS:

Number          Time In         Length          Avg Video Rate  Max 1-Sec Rate  Max 1-Sec Time  Max 5-Sec Rate  Max 5-Sec Time  Max 10Sec Rate  Max 10Sec Time  Avg Frame Size  Max Frame Size  Max Frame Time  
------          -------         ------          --------------  --------------  --------------  --------------  --------------  --------------  --------------  --------------  --------------  --------------  
1               0:00:00.000     0:05:20.737     29 480 kbps     45 611 kbps     00:00:07.424    38 392 kbps     00:00:07.382    36 306 kbps     00:04:57.672    153 713 bytes   720 487 bytes   00:04:57.714    

STREAM DIAGNOSTICS:

File            PID             Type            Codec           Language                Seconds                 Bitrate                 Bytes           Packets         
----            ---             ----            -----           --------                --------------          --------------          -------------   -----           
00008.M2TS      4113 (0x1011)   0x1B            AVC                                     320,570                 29 495                  1 181 896 597   6 427 834       
00008.M2TS      4352 (0x1100)   0x80            LPCM            eng (English)           320,570                 2 312                   92 629 712      513 184         


<–– END FORUMS PASTE ––>
QUICK SUMMARY:
Disc Title: Freddie Mercury - Never Boring BD (2019)
Disc Size: 16 017 680 193 bytes
Protection: AACS
BD-Java: No
Playlist: 00018.MPLS
Size: 1 334 740 992 bytes
Length: 0:05:20.737
Total Bitrate: 33,29 Mbps
Video: MPEG-4 AVC Video / 29480 kbps / 1080p / 23,976 fps / 16:9 / High Profile 4.1
Audio: English / LPCM Audio / 2.0 / 48 kHz / 2304 kbps / 24-bit
********************
PLAYLIST: 00014.MPLS
********************
<–- BEGIN FORUMS PASTE –->
                                                                                                                Total   Video                                             
Title                                                           Codec   Length  Movie Size      Disc Size       Bitrate Bitrate Main Audio Track                          Secondary Audio Track
-----                                                           ------  ------- --------------  --------------  ------- ------- ------------------                        ---------------------
00014.MPLS                                                      AVC     0:03:37 930 809 856     16 017 680 193  34,22   29,81   LPCM 2.0 2304Kbps (48kHz/24-bit)          


DISC INFO:

Disc Title:     Freddie Mercury - Never Boring BD (2019)
Disc Size:      16 017 680 193 bytes
Protection:     AACS
BD-Java:        No
BDInfo:         0.5.8

PLAYLIST REPORT:

Name:                   00014.MPLS
Length:                 0:03:37.592 (h:m:s.ms)
Size:                   930 809 856 bytes
Total Bitrate:          34,22 Mbps

VIDEO:

Codec                   Bitrate             Description     
-----                   -------             -----------     
MPEG-4 AVC Video        29808 kbps          1080p / 23,976 fps / 16:9 / High Profile 4.1

AUDIO:

Codec                           Language        Bitrate         Description     
-----                           --------        -------         -----------     
LPCM Audio                      English         2304 kbps       2.0 / 48 kHz / 2304 kbps / 24-bit

SUBTITLES:

Codec                           Language        Bitrate         Description     
-----                           --------        -------         -----------     
Presentation Graphics           English         76,201 kbps                     
Presentation Graphics           French          67,345 kbps                     
Presentation Graphics           German          73,651 kbps                     
Presentation Graphics           Spanish         71,065 kbps                     
Presentation Graphics           Italian         71,078 kbps                     
Presentation Graphics           Portuguese      71,066 kbps                     
Presentation Graphics           Japanese        50,222 kbps                     
Presentation Graphics           Korean          53,745 kbps                     

FILES:

Name            Time In         Length          Size            Total Bitrate   
----            -------         ------          ----            -------------   
00009.M2TS      0:00:00.000     0:03:37.592     930 809 856     34 222          

CHAPTERS:

Number          Time In         Length          Avg Video Rate  Max 1-Sec Rate  Max 1-Sec Time  Max 5-Sec Rate  Max 5-Sec Time  Max 10Sec Rate  Max 10Sec Time  Avg Frame Size  Max Frame Size  Max Frame Time  
------          -------         ------          --------------  --------------  --------------  --------------  --------------  --------------  --------------  --------------  --------------  --------------  
1               0:00:00.000     0:03:37.592     29 808 kbps     56 900 kbps     00:00:01.793    40 213 kbps     00:00:01.793    36 364 kbps     00:00:01.793    155 436 bytes   691 462 bytes   00:00:02.502    

STREAM DIAGNOSTICS:

File            PID             Type            Codec           Language                Seconds                 Bitrate                 Bytes           Packets         
----            ---             ----            -----           --------                --------------          --------------          -------------   -----           
00009.M2TS      4113 (0x1011)   0x1B            AVC                                     217,467                 29 825                  810 753 404     4 409 289       
00009.M2TS      4352 (0x1100)   0x80            LPCM            eng (English)           217,467                 2 312                   62 841 436      348 152         
00009.M2TS      4608 (0x1200)   0x90            PGS             eng (English)           217,467                 76                      2 072 598       11 792          
00009.M2TS      4609 (0x1201)   0x90            PGS             fra (French)            217,467                 67                      1 831 713       10 487          
00009.M2TS      4610 (0x1202)   0x90            PGS             deu (German)            217,467                 74                      2 003 234       11 421          
00009.M2TS      4611 (0x1203)   0x90            PGS             spa (Spanish)           217,467                 71                      1 932 889       11 038          
00009.M2TS      4612 (0x1204)   0x90            PGS             ita (Italian)           217,467                 71                      1 933 267       11 036          
00009.M2TS      4613 (0x1205)   0x90            PGS             por (Portuguese)        217,467                 71                      1 932 914       11 038          
00009.M2TS      4614 (0x1206)   0x90            PGS             jpn (Japanese)          217,467                 50                      1 365 990       7 919           
00009.M2TS      4615 (0x1207)   0x90            PGS             kor (Korean)            217,467                 54                      1 461 821       8 478           


<–– END FORUMS PASTE ––>
QUICK SUMMARY:
Disc Title: Freddie Mercury - Never Boring BD (2019)
Disc Size: 16 017 680 193 bytes
Protection: AACS
BD-Java: No
Playlist: 00014.MPLS
Size: 930 809 856 bytes
Length: 0:03:37.592
Total Bitrate: 34,22 Mbps
Video: MPEG-4 AVC Video / 29808 kbps / 1080p / 23,976 fps / 16:9 / High Profile 4.1
Audio: English / LPCM Audio / 2.0 / 48 kHz / 2304 kbps / 24-bit
Subtitle: English / 76,201 kbps
Subtitle: French / 67,345 kbps
Subtitle: German / 73,651 kbps
Subtitle: Spanish / 71,065 kbps
Subtitle: Italian / 71,078 kbps
Subtitle: Portuguese / 71,066 kbps
Subtitle: Japanese / 50,222 kbps
Subtitle: Korean / 53,745 kbps
********************
PLAYLIST: 00015.MPLS
********************
<–- BEGIN FORUMS PASTE –->
                                                                                                                Total   Video                                             
Title                                                           Codec   Length  Movie Size      Disc Size       Bitrate Bitrate Main Audio Track                          Secondary Audio Track
-----                                                           ------  ------- --------------  --------------  ------- ------- ------------------                        ---------------------
00015.MPLS                                                      AVC     0:00:21 17 707 008      16 017 680 193  6,48    6,11                                              


DISC INFO:

Disc Title:     Freddie Mercury - Never Boring BD (2019)
Disc Size:      16 017 680 193 bytes
Protection:     AACS
BD-Java:        No
BDInfo:         0.5.8

PLAYLIST REPORT:

Name:                   00015.MPLS
Length:                 0:00:21.855 (h:m:s.ms)
Size:                   17 707 008 bytes
Total Bitrate:          6,48 Mbps

VIDEO:

Codec                   Bitrate             Description     
-----                   -------             -----------     
MPEG-4 AVC Video        6114 kbps           1080i / 29,970 fps / 16:9 / High Profile 4.1

FILES:

Name            Time In         Length          Size            Total Bitrate   
----            -------         ------          ----            -------------   
00029.M2TS      0:00:00.000     0:00:06.005     952 320         1 268           
00018.M2TS      0:00:06.005     0:00:08.008     13 805 568      13 792          
00017.M2TS      0:00:14.014     0:00:07.841     2 949 120       3 009           

CHAPTERS:

Number          Time In         Length          Avg Video Rate  Max 1-Sec Rate  Max 1-Sec Time  Max 5-Sec Rate  Max 5-Sec Time  Max 10Sec Rate  Max 10Sec Time  Avg Frame Size  Max Frame Size  Max Frame Time  
------          -------         ------          --------------  --------------  --------------  --------------  --------------  --------------  --------------  --------------  --------------  --------------  
1               0:00:00.000     0:00:21.855     6 114 kbps      15 416 kbps     00:00:09.209    15 083 kbps     00:00:08.208    11 632 kbps     00:00:07.107    25 501 bytes    145 799 bytes   00:00:16.015    

STREAM DIAGNOSTICS:

File            PID             Type            Codec           Language                Seconds                 Bitrate                 Bytes           Packets         
----            ---             ----            -----           --------                --------------          --------------          -------------   -----           
00029.M2TS      4113 (0x1011)   0x1B            AVC                                     5,906                   1 150                   849 244         4 749           
00018.M2TS      4113 (0x1011)   0x1B            AVC                                     7,908                   13 293                  13 139 857      71 619          
00017.M2TS      4113 (0x1011)   0x1B            AVC                                     7,774                   2 793                   2 714 172       15 067          


<–– END FORUMS PASTE ––>
QUICK SUMMARY:
Disc Title: Freddie Mercury - Never Boring BD (2019)
Disc Size: 16 017 680 193 bytes
Protection: AACS
BD-Java: No
Playlist: 00015.MPLS
Size: 17 707 008 bytes
Length: 0:00:21.855
Total Bitrate: 6,48 Mbps
Video: MPEG-4 AVC Video / 6114 kbps / 1080i / 29,970 fps / 16:9 / High Profile 4.1