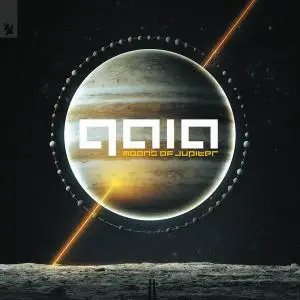 Gaia - Moons Of Jupiter (2019)
WEB FLAC (tracks) - 1,01 GB | MP3 CBR 320 kbps (LAME 3.93) - 367 MB | Front cover
Genre: Downtempo, Trance | RAR 3% Rec. | Label: Armada Digital
Armin van Buuren is one of the most respected and legendary names in trance, but he still takes plenty of flak. A constant debate among trance fans and Armin fans a like is whether he is "still trance" or "abandoning trance". Over the past few years, Armin has expanded his repertoire a lot, experimenting with all sorts of musical styles. In that time he has given the detractors some ammo, even while putting out his banging club mixes. However, today he is gifting an album that is something of a love letter to trance, and to his true fans.
Together with Benno de Goeij, Armin's Gaia alias always catered to Armin's trance purist side. Now in this latest iteration, Gaia has gone beyond the typical expectations of trance and given us Moons of Jupiter. The album is actually not just a set of tracks that you consume individually. This is a journey through the nooks and crannies of trance and all of the related styles. From the deep to the melodic, the uplifting, and the techy Moons of Jupiter is one cohesive whole clocking in at 77 minutes.
Much in the way a proper extended trance set goes, it starts slow, deep, proggy, and melodic with a slow build in rhythm, darkness, and intensity. The tracks are all named after the titular moons of our solar system's largest planet. It brings us back to a time in dance music when tracks had strange and hard to pronounce names without lyrics and with long run times.
Tracklist:
01. Metis
02. Adrastea
03. Amalthea
04. Thebe
05. Themisto
06. Leda
07. Himalia
08. Jupiter LXXI (S/2018J1)
09. Jupiter LXV (S/2017J4)
10. Lysithea [Sine Square Noise]
11. Elara
12. Dia [Computer Electronic]
13. Carpo
14. Io
15. Europa
16. Ganymede
17. Callisto
18. Euporie
19. - (Lost) (S/2003J12) [Moons Of Jupiter]
20. Valetudo
21. Jupiter LX (S/2003J3)
22. Moons Of Jupiter (DJ Mix)
Total time:
02:33:02

PERFORMER: auCDtect Task Manager, ver. 1.6.0 RC1 build 1.6.0.1
Copyright © 2008-2010 y-soft. All rights reserved

ANALYZER: auCDtect: CD records authenticity detector, version 0.8.2
Copyright © 2004 Oleg Berngardt. All rights reserved.
Copyright © 2004 Alexander Djourik. All rights reserved.


FILE: 22. Moons Of Jupiter (DJ Mix).flac
Size: 537648206 Hash: 5D41FACE5582C1D3EAB0E3172B4DE80B Accuracy: -m0
Conclusion: CDDA 100%
Signature: F244EDEFC5F579D2D77FD84E902270AE3D6C9AB9
FILE: 21. Jupiter LX (S2003J3).flac
Size: 12172538 Hash: 878709D2CB90931B5396106C962D1BD9 Accuracy: -m0
Conclusion: CDDA 76%
Signature: BE7452A2FBEB97270130A41BB37B23E4E6E53C9B
FILE: 20. Valetudo.flac
Size: 30571783 Hash: BA6847E1395E0D4A251618AE16DD0F97 Accuracy: -m0
Conclusion: CDDA 100%
Signature: 79DC0CED1B0842147FCCF7D445EA3EF2D72CD28E
FILE: 19. - (Lost) (S2003J12) [Moons Of Jupiter].flac
Size: 18824842 Hash: 51E4A62C66BAF0C331EF397E5DC68241 Accuracy: -m0
Conclusion: MPEG 95%
Signature: 5DF462313C7B19474389E7F6AE8BE1D5A6B96D42
FILE: 18. Euporie.flac
Size: 37063127 Hash: 91227530AB87DAC170B03915A6A1B948 Accuracy: -m0
Conclusion: CDDA 100%
Signature: 8AC3A4298E3E21571DC72AFED49C32738493AD28
FILE: 17. Callisto.flac
Size: 26525462 Hash: 7EBA565EBB1CA9E754E7E8C504592DC2 Accuracy: -m0
Conclusion: MPEG 95%
Signature: A17D68AB237E2B1260E71876B12BB1BED2D21E34
FILE: 16. Ganymede.flac
Size: 38413338 Hash: BD1093D97A89A3E29049225D4D8D1F05 Accuracy: -m0
Conclusion: CDDA 100%
Signature: 8CCD8F93CF50FCFFF3F9CF0A933B0E957073FBC7
FILE: 15. Europa.flac
Size: 32205666 Hash: 338AD95128DB6C9B6DC5DD9F80CE02D0 Accuracy: -m0
Conclusion: CDDA 100%
Signature: 6938522F85C3CCA363FDC2EB3ECEA8A3AD3DF945
FILE: 14. Io.flac
Size: 27608737 Hash: 9484514A0C7778CCE18295E85C347B61 Accuracy: -m0
Conclusion: CDDA 100%
Signature: 508B22C73C8ACE11425C629C4307FD0FF04D4B4F
FILE: 13. Carpo.flac
Size: 27517049 Hash: D6C0BC2EEB5C1D38CC74FEA35EA79277 Accuracy: -m0
Conclusion: CDDA 100%
Signature: 433C2592156B413E109FCA7EB0788DFC7A5967C2
FILE: 12. Dia [Computer Electronic].flac
Size: 28897251 Hash: DD1B6685EE74F9C1E8C245297B4E9573 Accuracy: -m0
Conclusion: CDDA 100%
Signature: 2A5ABD24BE03487376269A2E139E8DC374C73E1B
FILE: 11. Elara.flac
Size: 25770944 Hash: 850ABE5E58AD896D0791695823BAEA0D Accuracy: -m0
Conclusion: MPEG 95%
Signature: ECB292C09EFFD3FF09611DF71A6FF4B2A25DE863
FILE: 10. Lysithea [Sine Square Noise].flac
Size: 32232680 Hash: 633E51ED17333B6C535E618B6549F8C2 Accuracy: -m0
Conclusion: CDDA 100%
Signature: 2DB1B46E293D72ED28089A212709BE85E7B22672
FILE: 09. Jupiter LXV (S2017J4).flac
Size: 24227245 Hash: F5B5C0635028F6216E044669D8F7900F Accuracy: -m0
Conclusion: CDDA 100%
Signature: ACC1CA8C0BDA4D0130F6126BDE56D75A4A2C4A21
FILE: 08. Jupiter LXXI (S2018J1).flac
Size: 26932396 Hash: B7ED69D678356CCE49B8AC9A61AC4B93 Accuracy: -m0
Conclusion: CDDA 100%
Signature: 7D791C5C7F0635242872E5514F86F45187E2FECA
FILE: 07. Himalia.flac
Size: 19376079 Hash: FAF58AB3A0095403B1EF2274C931F7EB Accuracy: -m0
Conclusion: CDDA 100%
Signature: 3C71F459DC43C0F668BD24CCC9A409EE96357274
FILE: 06. Leda.flac
Size: 18993526 Hash: 2A7986F360A0383B5166D91178A7B39C Accuracy: -m0
Conclusion: MPEG 95%
Signature: 3F65E9556D72CF1455242DE044100CCFBCC302B7
FILE: 05. Themisto.flac
Size: 24951977 Hash: 9B2478143D80EFBF8C199C17AA7EF510 Accuracy: -m0
Conclusion: CDDA 100%
Signature: 0A8528A50A8FC0D7D75BF90ECF75652ACAD988E4
FILE: 04. Thebe.flac
Size: 23118809 Hash: 0A37203F20C0FD2B442D1FD83302994A Accuracy: -m0
Conclusion: CDDA 100%
Signature: 790A930BA812FF99F044E9C69AB1A1753BF856D4
FILE: 03. Amalthea.flac
Size: 13538152 Hash: E13F31910C627B3A7B5513EC2CC0FF4E Accuracy: -m0
Conclusion: MPEG 95%
Signature: 43D439D83989A8DBF30C1B5C710E08AE0BEB7C09
FILE: 02. Adrastea.flac
Size: 12738524 Hash: E9C857C65A86EC422017562E31585FEE Accuracy: -m0
Conclusion: CDDA 92%
Signature: 089790E36C6A4757AE7B2B9962334F56ADA7D1ED
FILE: 01. Metis.flac
Size: 13145908 Hash: 1AE4B5CC101008A0B81AD82D546558C7 Accuracy: -m0
Conclusion: CDDA 100%
Signature: A8D95426A1EB18DF892D6BB1B764DA8DE4E81BD7