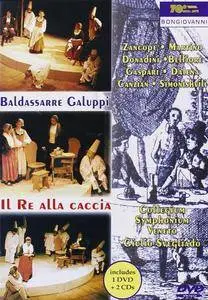 Giulio Svegliado, Collegium Symphonium Veneto - Galuppi: Il Re alla caccia (2007/2000)
NTSC 4:3 (720x480) VBR | Italiano (Dolby AC3, 2 ch) | 5.92 Gb (DVD9) | 126 min
Classical | Bongiovanni | Sub: talian, English, Japanese
Baldassare Galuppi held the position of church organist, from which he composed operas for the Italian stage. Since his forte was the keyboard, his operas have nice harpsichord recitatives (which usually I detest) and the harmonics are contrapuntal. Galuppi as a youth had studied counterpoint under Antonio Lotti, the first organist at St Mark's. Galuppi became cembalist in the great opera houses of Venice, and was involved in the first presentations of Vivaldi's operas there. Galuppi himself wrote at least 111 operas, the best of which are collaborations with the librettist Goldoni. The young Mozart reused some of the librettos that already existed in settings by Galuppi, and the mature Mozart raised to sublime heights the dramma giocoso form which Galuppi practically invented. This release supplies a missing link between Mozart and the opera world before his time.
Cast:
Enrico IV - Claudio Zancopé
Milord Fidelingh - Vito Martino
Miledy Marignon - Giovanna Donadini
Giannina - Elena Belfiore
Lisetta - Roberta Canzian
Giorgio - Maurizio Dalena
Pascale - Daniele Gaspari
Riccardo - Alla Simonischvili
Collegium Symphonium Veneto
Conductor - Giulio Svegliado