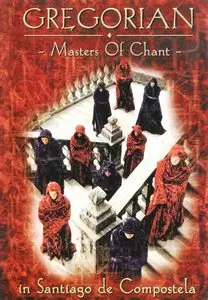 Gregorian - Masters of Chant in Santiago de Compostela (2001)
DVD5 | Video: PAL 4:3 (720x576) | Audio: Dolby 2.0 | 3.8 Gb | Time: 01:10:34
Edel Media | 0058898ERE
New Age, Ethnic, Gregorian Chant
Gregorian is a German band, headed by Frank Peterson, which performs Gregorian chant-inspired versions of modern pop and rock songs. The band features both vocal harmony and instrumental accompaniment.
Originally, Gregorian was conceived as a more pop-oriented group in the vein of Enigma. Under this concept, they recorded the 1991 album Sadisfaction, with lead vocals provided by The Sisters of Oz: Susana Espelleta (Peterson's wife at the time) and Birgit Freud. However, this was the only album in that style.
In 1998, Peterson and his team Jan-Eric Kohrs, Michael Soltau and Carsten Heusmann re-invented the project to perform popular songs in the Gregorian style. The criteria for song selection were strict; in order to be considered, a song needed to be translatable into the 7-tone scale. After the songs were chosen, twelve vocalists - previously acclaimed session and choir singers - were hired.
Each Gregorian album is initially digitally tracked at Nemo Studios, Peterson's Hamburg studio. The vocalists then record their parts in a church atmosphere with dimmed lights and candles, in order to escape what Peterson referred to in a 2001 interview as the "cold and technical" studio atmosphere.

Track Listing
01. I Still Haven't Found What I'm Looking For
02. Brothers In Arms
03. Tears In Heaven
04. Loosing My Religion
05. When A Man Loves A Woman
06. Still I'm Sad
07. Vienna
08. Nothing Else Matters
09. The Sound Of Silence
10. Sebastian
DVD-Extras:
- Interviews
- Biographics
- Images
Subtitles: Deutsch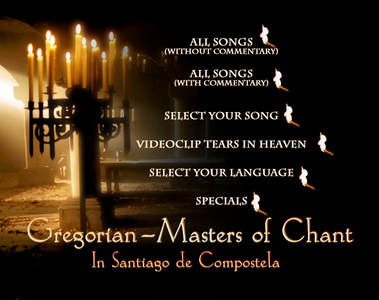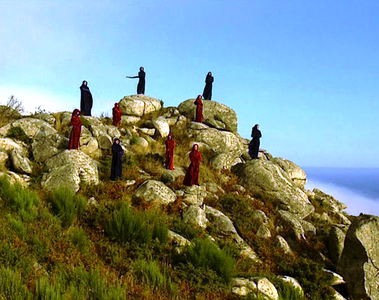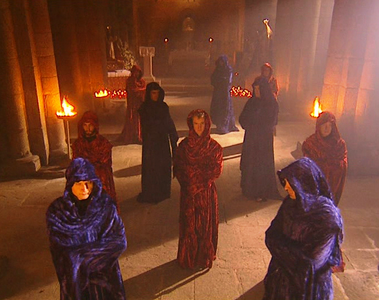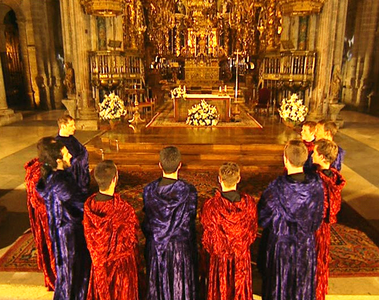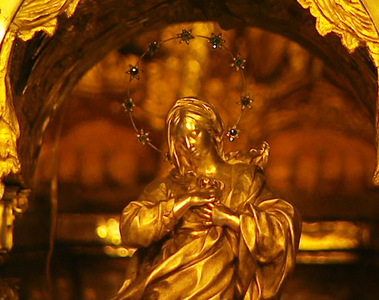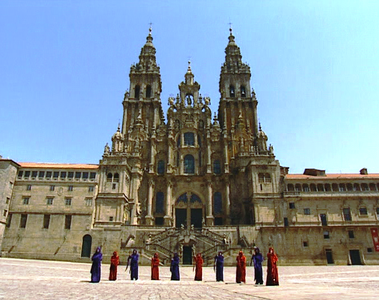 Enabled regions: 1, 2, 3, 4, 5, 6

VTS_01 :
Play Length: 00:00:03+00:01:00+00:03:06+00:01:00+00:01:00+00:01:00+00:01:09+00:00:00+{00:00:00}+00:00:15+00:00:04+00:00:01+00:00:04+{00:00:00}+00:03:39+{00:00:00}+00:45:09+{00:00:00}+{00:00:00}+{00:00:00}+00:08:20+{00:00:00}+00:00:01+00:00:00+{00:00:00}+00:00:02+00:00:00+00:00:02+00:00:00+00:00:02+00:00:00+00:00:02+00:00:00+00:00:02+00:00:00+00:00:02+00:00:00+00:00:02+00:00:00+00:00:02+00:00:00+00:00:02+00:00:00+00:03:11+{00:00:00}+00:00:01+00:01:09+{00:00:00}+00:00:04+00:00:00
Video: PAL 4:3 (720x576) VBR
Subtitles:
Deutsch

VTS_02 :
Play Length: 00:03:05+00:00:15+00:01:00+00:01:00+00:01:00+00:01:09+00:00:00+00:00:04+00:00:01+{00:00:00}+{00:00:00}+00:08:20+{00:00:00}+00:00:01+00:00:00+{00:00:00}+00:00:02+00:00:00+00:00:02+00:00:00+00:00:02+00:00:00+00:00:02+00:00:00+00:00:01+00:00:00+00:00:01+00:00:00+00:00:02+00:00:00+00:00:01+00:00:00+00:03:11+{00:00:00}+00:00:01+00:01:09+{00:00:00}+00:03:39+{00:00:00}
Video: PAL 4:3 (720x576) VBR
Audio:
Deutsch, AC3, 2/0 (L,R) ch, 192 kbps, Delay 0 mSec

Subtitles:
Deutsch