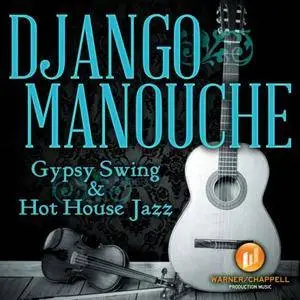 Gypsy Jazz Swing Ensemble - Django Manouche Gypsy Swing And Hot House Jazz (2013)
Jazz, Swing, Gypsy | MP3 320 kbps CBR | 42 min | 97 MB
Label: Chappell Production Music | Rel:2013
Gypsy jazz (also known as gypsy swing or hot club jazz) is a style of jazz music often said to have been started by guitarist Jean "Django" Reinhardt in the 1930s. Because its origins are largely in France it is often called by the French name, "jazz manouche", or alternatively, "manouche jazz", even in English language sources. The term is now commonly used for this style of music. Django was foremost among a group of Romani guitarists working in and around Paris in the 1930s through the 1950s, a group which also included the brothers Baro, Sarane, and Matelo Ferret and Reinhardt's brother Joseph "Nin-Nin" Reinhardt.
Tracklist:
01. Blue Paris Stomp
02. Swing Fiasco
03. Schwingin'
04. Trois Soevrs
05. Lucky In Love
06. Movin' On
07. Alcohol
08. Hot House Blues
09. Hey Minor
10. Mosquito
11. Sweet Swing
12. Le Jazz
13. No One But You
14. A Gypsy Waltz
15. Where Do We Go
16. Naked As A Jaybird
17. Skipping
18. Make It Snappy
19. Holland
20. Bleu
21. Fishing Hole
22. Fred's Stomp
23. Gypsy Fire