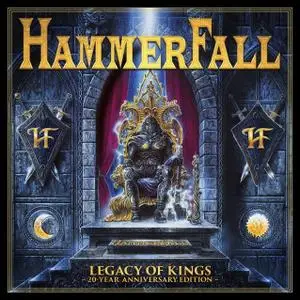 Hammerfall - Legacy of Kings (20 Year Anniversary Edition) (2018)
Sweden | MP3 CBR 320 Kbps | 2 CD | 287 MB
Heavy/Power Metal | Label : Nuclear Blast
The Swedish heavy metal templars, Hammerfall, today announce the 20 year anniversary reissue of their second album Legacy Of Kings as 2-CD/DVD boxset, which will be released on December 7th via Nuclear Blast. "The all-important second album. After the immediate success of Glory To The Brave, the pressure was on us to deliver. But we weren't worried, we had a vision of the perfect heavy metal band and were intent on following through on it", explains Oscar Dronjak.
Tracklist:Disc 1
1. Heeding the Call
2. Legacy of Kings
3. Let the Hammer Fall
4. Dreamland
5. Remember Yesterday
6. At the End of the Rainbow
7. Back to Back (Pretty Maids cover)
8. Stronger Than All
9. Warriors of Faith
10. The Fallen One
Total playing time 44:56
Disc 2
1. Eternal Dark (Picture cover)
2. I Want Out (Helloween cover)
3. Man On The Silver Mountain (Rainbow cover)
4. Legacy Of Kings (Medley 2018)
5. Heeding The Call (Live 2018)
6. Let The Hammer Fall (Live in Brazil 2017)
7. Legacy Of Kings (Live)
8. At The End Of The Rainbow (Live)
9. Stronger Than All (Live)
10. Heeding The Call (Rehearsal demo 1998)
11. Let The Hammer Fall (Rehearsal demo 1998)
12. Warriors Of Faith (Rehearsal demo 1998)
13. Back To Back (Rehearsal demo 1998)
14. At The End Of The Rainbow (Rehearsal demo 1998)
15. Dreamland (Rehearsal demo 1998)
Total playing time 01:09:37