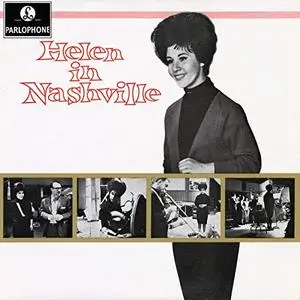 Helen Shapiro - Helen In Nashville (1963/2019)
WEB FLAC (Tracks) - 94 MB | Cover | 00:28:27
Pop | Label: Warner Music Group - X5 Music Group
This album (reissued by C5 Records on CD) is the equivalent in Shapiro's career to what Dusty in Memphis was to Dusty Springfield's career the single most important, mature, concise, and direct statement of who she was as an artist. The sound, surprisingly, isn't really terribly country in nature. Indeed, parts of it, like "I Cried Myself to Sleep," could almost qualify as pop-soul. "It's My Party" in its original version is less whiny and mannered than the Lesley Gore version. The rest runs the gamut from vintage pop to Dixieland influences, all well sung and extremely well played. A masterpiece, and a most unexpected one, from this underrated talent.
TRACKLIST
01. Not Responsible
02. I Cried Myself to Sleep Last Night
03. Young Stranger
04. Here Today & Gone Tomorrow
05. It's My Party
06. No Trespassing
07. I'm Tickled Pink
08. I Walked Right In (With My Eyes Wide Open)
09. Sweeter Than Sweet
10. You'd Think He Didn't Know Me
11. When You Hurt Me I Cry
12. Woe Is Me
–––––––––––-
DON'T MODIFY THIS FILE
–––––––––––-
PERFORMER: auCDtect Task Manager, ver. 1.6.0 RC1 build 1.6.0.1
Copyright © 2008-2010 y-soft. All rights reserved
http://y-soft.org
ANALYZER: auCDtect: CD records authenticity detector, version 0.8.2
Copyright © 2004 Oleg Berngardt. All rights reserved.
Copyright © 2004 Alexander Djourik. All rights reserved.
FILE: 12. Helen Shapiro - Woe Is Me.flac
Size: 11791096 Hash: DD88E35142A890E9FA63C7288466C86B Accuracy: -m0
Conclusion: CDDA 100%
Signature: B86795D7DE1F43CDF6AD7EFC3269DFA3BBCAF65F
FILE: 11. Helen Shapiro - When You Hurt Me I Cry.flac
Size: 7076253 Hash: 3F13E14A0CB826562160E2CA2FD37B54 Accuracy: -m0
Conclusion: CDDA 100%
Signature: 1F8AEE1EC4049B2A924BD2839261D2201572DB58
FILE: 10. Helen Shapiro - You'd Think He Didn't Know Me.flac
Size: 8302344 Hash: 07FB4FC63B101846833568D7DFF528B9 Accuracy: -m0
Conclusion: CDDA 100%
Signature: CB0DB87048AD871B7F367D0BC487C448AC3DFB58
FILE: 09. Helen Shapiro - Sweeter Than Sweet.flac
Size: 7086634 Hash: 2C245D2C1C4A3026A1B96167DD5F530A Accuracy: -m0
Conclusion: CDDA 100%
Signature: 8EF3ADC62B0392477A2EDB44DC265313B1B08CFF
FILE: 08. Helen Shapiro - I Walked Right In (With My Eyes Wide Open).flac
Size: 9155038 Hash: D34AD8AFF04DBAB0D506D4C7C1650410 Accuracy: -m0
Conclusion: CDDA 100%
Signature: 2AD55DEC2EDB2BACF599D2A437E70F7ED3D00537
FILE: 07. Helen Shapiro - I'm Tickled Pink.flac
Size: 7989755 Hash: 878BEB07DAC30E35B0BC646CE08341C3 Accuracy: -m0
Conclusion: CDDA 99%
Signature: 1C961ABE8199172FA51198278EF01F24497D0A6F
FILE: 06. Helen Shapiro - No Trespassing.flac
Size: 6572682 Hash: FCFD7076A0BC71E14318C7E74CB4B16F Accuracy: -m0
Conclusion: CDDA 100%
Signature: 822B3993800443CF702BB6BA6E0BE2D45F441228
FILE: 05. Helen Shapiro - It's My Party.flac
Size: 8360804 Hash: 32F5780567B4E0B880A07FF0BD6A9E32 Accuracy: -m0
Conclusion: CDDA 100%
Signature: 4A8A95E1AA09583F0ECCE558D59FDEF15218360D
FILE: 04. Helen Shapiro - Here Today & Gone Tomorrow.flac
Size: 8963356 Hash: 4D0E73A644ECEC024134CA6A4EB404F2 Accuracy: -m0
Conclusion: CDDA 100%
Signature: 3E0906C7F0D46A5A489A72773867986983E25F51
FILE: 03. Helen Shapiro - Young Stranger.flac
Size: 6641382 Hash: 50C318CFB76D59C86E3C71C25880C21B Accuracy: -m0
Conclusion: CDDA 100%
Signature: FFB7ECCC1FF111755608634BFEF2764348977D33
FILE: 02. Helen Shapiro - I Cried Myself to Sleep Last Night.flac
Size: 7330965 Hash: 8F3DB77ED7DE4499734C10D5553C0F6B Accuracy: -m0
Conclusion: CDDA 100%
Signature: 859FEE5A6DD590EA1D19348F7B9A84F336CB037A
FILE: 01. Helen Shapiro - Not Responsible.flac
Size: 9363040 Hash: CC34F21159FF5472466D73C9197B8EB0 Accuracy: -m0
Conclusion: CDDA 100%
Signature: 45167822C68CED5E3A2AD2A67DD74076ABB11D56
All thanks go to the original releaser