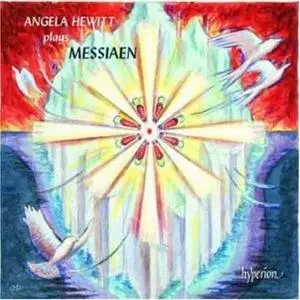 Olivier Messiaen: Piano Music of Olivier Messiaen (1998)
Classical | EAC (APE & CUE) | 175 MB
Various mirrors: Rapidshare, Depositfiles, Megaupload & more!
The music of Olivier Messiaen (1908-1992) immediately attracts our attention with its rhythm, variety of colour, technical brilliance, energy, joy, and spirituality. It is incredibly well written for the instrument, even though its difficulties may deter many a player. Audiences are rarely indifferent to it, and for many it has a very powerful effect. In this disc, Angela Hewitt shows her affinity for French piano music, presenting the early
Préludes
of Olivier Messiaen, along with several of his
Vingt Regards sur l'Enfant-Jésus
and
Île de feu
1 and 2.
Tracklist

Préludes 1928/9
No 1 La colombe [2'22]
No 2 Chant d'extase dans un paysage triste [7'17]
No 3 Le nombre léger [2'06]
No 4 Instants défunts [5'01]
No 5 Les sons impalpables du rêve… [5'08]
No 6 Cloches d'angoisse et larmes d'adieu [10'13]
No 7 Plainte calme [2'55]
No 8 Un reflet dans le vent… [5'21]

from Quatre Études de rythme 1950
No 1 Île de feu 1 [2'29]
No 4 Île de feu 2 [4'41]

from Vingt Regards sur l'Enfant-Jésus 1944
No 4 Regard de la Vierge [5'57]
Innocence et tendresse… la femme de la Pureté, la femme du Magnificat, la Vierge regarde son enfant…
No 15 Le Baiser de l'Enfant-Jésus [12'30]
À chaque communion, l'Enfant-Jésus dort avec nous près de la porte; puis il l'ouvre sur le jardin et se précipite à toute lumière pour nous embrasser…
No 10 Regard de l'Esprit de Joie [9'32]
Danse véhémente, ton ivre des cors, transport du Saint-Esprit… la joie d'amour du Dieu bienhereux dans l'âme de Jésus-Christ

Angela Hewitt, piano
Recorded in the Reitstadel, Meumarkt in der Oberpfalz, Germany, on 21-23 January 1998

Hyperion Records: CDA67054