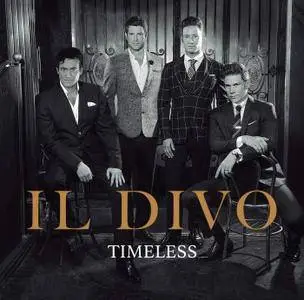 Il Divo - Timeless (2018)
WEB FLAC (Tracks) 282 MB | Cover | 39 minutes | MP3 CBR 320 kbps | 91 MB
Classical | Label: Decca (UMO) Classics
Il Divo has stood out for its mixture of opera in songs of different genres, thus becoming an icon of the crossover groups of classical music. Since its debut in 2004, the group comprising the Spanish Carlos Marin, the Swiss tenor Urs Buhler, the Frenchman Sebastien Izambard and the American tenor David Miller, triumphed on the most important stages around the world and have sold millions of records as throughout his career.
Currently, Il Divo returns with a unique and unique material that brings together the songs of love and romance of all times.
For the past 15 years, at Il Divo we have taken songs from a wide variety of genres and made them unmistakably ours. Now we wanted to make a tournament through time and overcome all the differences between the styles of different areas, with Urs, when talking about the preparations of "Timeless"
"This album represents our tribute to the eternal nature of all music…" declared David.
While Carlos said, "Timeless is for me one of the most special records we have done so far in our career with IL DIVO. We select songs from all periods that have been reproduced in movies and amazing romantic soundtracks from the 30 to songs of our days such as the mythical song "Smile" based on an instrumental theme used in the soundtrack of the 1936 film Charlie Chaplin".
TRACKLIST
01. Hola
02. All Of Me
03. Angels
04. Aquí Esperándote
05. Toi Et Moi
06. Grazie Amore Mio
07. Que Bonito Es Vivir
08. Love Me Tender
09. Unforgettable
10. Smile
–––––––––––-
DON'T MODIFY THIS FILE
–––––––––––-
PERFORMER: auCDtect Task Manager, ver. 1.6.0 RC1 build 1.6.0.1
Copyright © 2008-2010 y-soft. All rights reserved
http://y-soft.org
ANALYZER: auCDtect: CD records authenticity detector, version 0.8.2
Copyright © 2004 Oleg Berngardt. All rights reserved.
Copyright © 2004 Alexander Djourik. All rights reserved.
FILE: 9 Unforgettable.flac
Size: 25990244 Hash: D19CF60B2649EDBCA1B44A4D3913A021 Accuracy: -m0
Conclusion: CDDA 100%
Signature: FF2FA83113CEA1B14BDCADB50CC560E833A76F54
FILE: 8 Love Me Tender.flac
Size: 24490299 Hash: 789625E207F30EF50776BE22E1A9915A Accuracy: -m0
Conclusion: CDDA 100%
Signature: 2AB14985EA4E1CF775DB431F7F2BE3BFD2B046C3
FILE: 7 Que Bonito Es Vivir.flac
Size: 19331019 Hash: 907FA9D528FCCCF669F24FD304A9EFE3 Accuracy: -m0
Conclusion: CDDA 99%
Signature: 1641623ACCF94EA3191004FEF4AA01E92DE39715
FILE: 6 Grazie Amore Mio.flac
Size: 31515345 Hash: B7DE67724C9696DC7AC33870445262C3 Accuracy: -m0
Conclusion: CDDA 99%
Signature: 749691B7F24FFC8064ED9FE93D90A416987BB534
FILE: 5 Toi Et Moi.flac
Size: 30812093 Hash: 647249C1A6AE41EF6F6EECC5407777F1 Accuracy: -m0
Conclusion: CDDA 100%
Signature: 9519782EC5F92A31E7028B0BE74D949FD85A40BA
FILE: 4 Aquí Esperándote.flac
Size: 30064933 Hash: 4711B7A86AE7F9A3A6D11BBB3E78FA86 Accuracy: -m0
Conclusion: CDDA 99%
Signature: 8A795833007E1CB7862EAF2FA3A1DA3028662CF1
FILE: 3 Angels.flac
Size: 30601624 Hash: C9FDA21AADD3E1BB9B15ED107BF5FCA0 Accuracy: -m0
Conclusion: CDDA 100%
Signature: CCCA7C33F639A5F366077F1A6B546052A0026B98
FILE: 2 All Of Me.flac
Size: 38880746 Hash: B1C8EFC4C6A6ABB5F7A5A25E3BD4AD1D Accuracy: -m0
Conclusion: CDDA 100%
Signature: 59654E5DC95D079DBDA1C1EE094EC27A97C8F21B
FILE: 10 Smile.flac
Size: 26008371 Hash: B83F5945347A546FAE7909E778F55017 Accuracy: -m0
Conclusion: CDDA 100%
Signature: 63CF004F28E882801D328A83D2EC1F1491E04AA9
FILE: 1 Hola.flac
Size: 38009342 Hash: 6B2DB109225A705A629D887D459B41B0 Accuracy: -m0
Conclusion: CDDA 100%
Signature: 34281EAA8C3DB82FD821BCBABD0A1D6C329D0067