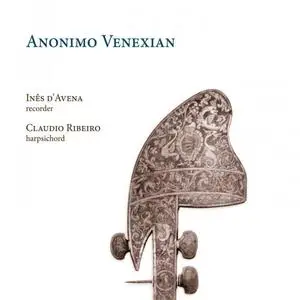 Inês d'Avena, Claudio Ribeiro - Anonimo Venexian (2019)
FLAC tracks | 01:11:46 | 414 Mb
Genre: Classical / Label: Ramée
La Serenissima's imposing standing in music history is reaffirmed again and again through the continuous presence of some of its greatest composers and musical works in concert and radio programs throughout the world. Inês d'Avena and Claudio Ribeiro wanted to have a different look at the repertoire, discover 'new' music, and perhaps add a small, new piece to the musical puzzle. In the autumn of 2018, they spent forty days in Venice exploring a number of musical archives. Among their new finds – six anonymous manuscript sonatas per flauto as well as for solo harpsichord, displaying the melodic freshness and rhythmic vivacity that is so appreciated in this repertoire – is also a newly discovered work by Vivaldi, all presented here as a world premiere. The exciting result of their research was recorded at a historic venue, the Sala della Musica dell'Ospedaletto in Venice.
Track List:
1. Sonata per flauto in F Major: I. Andante (Attributed to Antonio Vivaldi) (2:53)
2. Sonata per flauto in F Major: II. Allegro (Attributed to Antonio Vivaldi) (2:49)
3. Sonata per flauto in F Major: III. Largo (Attributed to Antonio Vivaldi) (3:04)
4. Sonata per flauto in F Major: IV. Allegro (Attributed to Antonio Vivaldi) (1:59)
5. Suonata per spinetta divetta per S. I. in A Minor: I. [Moderato] (Attributed to Francesco Gasparini) (1:55)
6. Suonata per spinetta divetta per S. I. in A Minor: II. [Allegro] (Attributed to Francesco Gasparini) (0:54)
7. Suonata per spinetta divetta per S. I. in A Minor: III. [Allegro] (Attributed to Francesco Gasparini) (1:43)
8. Sonata V in E Minor: I. Cantabile (2:44)
9. Sonata V in E Minor: II. Allegro (2:35)
10. Sonata V in E Minor: III. Andante (2:57)
11. Sonata V in E Minor: IV. Presto (1:51)
12. Suonata in D Major: I. [Andante] (4:42)
13. Suonata in D Major: II. [Allegro] (1:53)
14. Sonata per flauto in B-Flat Major: I. Largo (1:47)
15. Sonata per flauto in B-Flat Major: II. Presto (2:48)
16. Sonata per flauto in B-Flat Major: III. Adagio (2:36)
17. Sonata per flauto in B-Flat Major: IV. Allegro (2:48)
18. Toccata di spinetta per Sig:ra Isabella del Sig:or F:co G:ni in D Major: I. [Preludio] (1:07)
19. Toccata di spinetta per Sig:ra Isabella del Sig:or F:co G:ni in D Major: II. [Largo] (2:14)
20. Toccata di spinetta per Sig:ra Isabella del Sig:or F:co G:ni in D Major: III. [Allegro] (2:22)
21. Sonata II in G Major: I. Andante (3:41)
22. Sonata II in G Major: II. Allegro (3:12)
23. Sonata II in G Major: III. Andante (2:59)
24. Sonata II in G Major: IV. Presto (1:14)
25. Sinfonia 2 in C Major: I. Largo (3:07)
26. Sinfonia 2 in C Major: II. Presto (2:01)
27. Sinfonia 2 in C Major: III. Larghetto (2:04)
28. Sinfonia 2 in C Major: IV. Allegro (1:19)
29. Sonata à flauto solo in C Major: III. Adagio (4:41)
ANALYZER: auCDtect: CD records authenticity detector, version 0.8.2
Copyright © 2004 Oleg Berngardt. All rights reserved.
Copyright © 2004 Alexander Djourik. All rights reserved.


FILE: 01. Sonata per flauto in F Major_ I. Andante (Attributed to Antonio Vivaldi).flac
Size: 16925727 Hash: 7C278F6E588C4D7C5765678B5360714A Accuracy: -m40
Conclusion: CDDA 58%
Signature: 3DD479ECCA65BCDBC5959DCBE2EF99E46EED3DCA
FILE: 02. Sonata per flauto in F Major_ II. Allegro (Attributed to Antonio Vivaldi).flac
Size: 17861438 Hash: B0B506D1D87B5E3B8189919A694597E3 Accuracy: -m40
Conclusion: CDDA 100%
Signature: 4C80438A2ADA3AE89CA5CF7559800B85B62E3CE1
FILE: 03. Sonata per flauto in F Major_ III. Largo (Attributed to Antonio Vivaldi).flac
Size: 17896371 Hash: 1D25764377B5EEC62AB0E9BB27FA9064 Accuracy: -m40
Conclusion: CDDA 100%
Signature: 020FBC697123270458BF353C849D78D8C0951424
FILE: 04. Sonata per flauto in F Major_ IV. Allegro (Attributed to Antonio Vivaldi).flac
Size: 11495588 Hash: 03E54F293C3757F75AAB4D6FB5A2D883 Accuracy: -m40
Conclusion: CDDA 100%
Signature: DF53A484C654DE9E23AB4B0150261730E8289DFD
FILE: 05. Suonata per spinetta divetta per S. I. in A Minor_ I. [Moderato] (Attributed to Francesco Gasparini).flac
Size: 11212646 Hash: 2F427EB8A2E781219C2E1209ED9B56CC Accuracy: -m40
Conclusion: CDDA 100%
Signature: FEEA7A4BAE3992A1C2843368A4845906ACB9FA97
FILE: 06. Suonata per spinetta divetta per S. I. in A Minor_ II. [Allegro] (Attributed to Francesco Gasparini).flac
Size: 6424552 Hash: 491366774FB07436CBE4211F3419D15B Accuracy: -m40
Conclusion: CDDA 43%
Signature: 62787A25E60268C8B9AD7FC2CA259882262C82C4
FILE: 07. Suonata per spinetta divetta per S. I. in A Minor_ III. [Allegro] (Attributed to Francesco Gasparini).flac
Size: 11271156 Hash: BC5F2255350F5B69B56919C910DCDB43 Accuracy: -m40
Conclusion: CDDA 100%
Signature: F9E8A0D9B4D3CCDFCEBEBF8EAE3536812D50E6A0
FILE: 08. Sonata V in E Minor_ I. Cantabile.flac
Size: 15401405 Hash: 7E31A0BD2B62ADBF2F07502D97D5145C Accuracy: -m40
Conclusion: CDDA 100%
Signature: E046F68BBA72597DF22F839D21DEB98BC5407EB4
FILE: 09. Sonata V in E Minor_ II. Allegro.flac
Size: 15828669 Hash: 236FF27249DA3C04721EEA99FE4F7A2F Accuracy: -m40
Conclusion: CDDA 100%
Signature: DD111623AA3A4DADBFFACE22AF1D30E99DA81A26
FILE: 10. Sonata V in E Minor_ III. Andante.flac
Size: 16371767 Hash: F7C32FA30B8BBE57D126176FD21628DB Accuracy: -m40
Conclusion: CDDA 100%
Signature: DD802ADC00EBDC44C7CA6300186D1E885F8822D3
FILE: 11. Sonata V in E Minor_ IV. Presto.flac
Size: 11445780 Hash: 99A1FE89DA709B027705B7570D5B188A Accuracy: -m40
Conclusion: CDDA 100%
Signature: D390874EDB998271D4AA4930B4F1BA86FBF49893
FILE: 12. Suonata in D Major_ I. [Andante].flac
Size: 30515861 Hash: 0D7E1F6F220F9B721FF73A93FBEA3137 Accuracy: -m40
Conclusion: CDDA 100%
Signature: 23DBF3AF2F7C68C55E4E4F7CD5983660374D1AA6
FILE: 13. Suonata in D Major_ II. [Allegro].flac
Size: 12326283 Hash: 083AD5834DA1B67826AAE3CEEE9D7E29 Accuracy: -m40
Conclusion: CDDA 100%
Signature: 875FEBA0672EDABAD953E54B081D84DB632399BC
FILE: 14. Sonata per flauto in B-Flat Major_ I. Largo.flac
Size: 10379279 Hash: ADA5C04A3C2F10CF3DD151212EEDA16A Accuracy: -m40
Conclusion: CDDA 100%
Signature: 9977B5DB1C6AAFE9EBE379F010E2956C3318EA23
FILE: 15. Sonata per flauto in B-Flat Major_ II. Presto.flac
Size: 18515083 Hash: 7CA8AB6AB49E80A910D9E07438C20956 Accuracy: -m40
Conclusion: CDDA 43%
Signature: 10CE8318937DF52A2AB98A5197C81C84A873BD0F
FILE: 16. Sonata per flauto in B-Flat Major_ III. Adagio.flac
Size: 15053395 Hash: 551955E02897039A2A18E31317531112 Accuracy: -m40
Conclusion: CDDA 100%
Signature: 606F222B0150D91CCDF252AC6ABAD620B9B758FC
FILE: 17. Sonata per flauto in B-Flat Major_ IV. Allegro.flac
Size: 16255002 Hash: 2EB58F3E5E002FA1E5EE1A5303F9E998 Accuracy: -m40
Conclusion: CDDA 100%
Signature: 1F0265AAD1CEFB5D42203DF7099C538848973080
FILE: 18. Toccata di spinetta per Sig_ra Isabella del Sig_or F_co G_ni in D Major_ I. [Preludio].flac
Size: 7282949 Hash: 6192962DB2C0ECEF1CF419944839E6F9 Accuracy: -m40
Conclusion: CDDA 76%
Signature: BD7BFC6282CB1E0B81752EF89DDE6E5C973397DC
FILE: 19. Toccata di spinetta per Sig_ra Isabella del Sig_or F_co G_ni in D Major_ II. [Largo].flac
Size: 14719104 Hash: F84DAAF3B61F0A4B6C3289C8F4082A9A Accuracy: -m40
Conclusion: CDDA 100%
Signature: 0F21D207B83749143897844DA8630D92E11CF86F
FILE: 20. Toccata di spinetta per Sig_ra Isabella del Sig_or F_co G_ni in D Major_ III. [Allegro].flac
Size: 15788531 Hash: F2049CDB1407775EE600EA4CA108C632 Accuracy: -m40
Conclusion: CDDA 100%
Signature: 8F64B20F0F9607EE19B4431D8744362BB3A1202A
FILE: 21. Sonata II in G Major_ I. Andante.flac
Size: 20678838 Hash: 8C0F75FDBB1CB472801ED771F754FC33 Accuracy: -m40
Conclusion: CDDA 86%
Signature: AA1F37F3A7ED1295C0006F4AF5BDF6E61B2FD6D9
FILE: 22. Sonata II in G Major_ II. Allegro.flac
Size: 19871414 Hash: CC8C4CF0D4B55211F61AD9B6F3139118 Accuracy: -m40
Conclusion: CDDA 100%
Signature: C763276E16EB164B6AC54CD043B8221687ED9E20
FILE: 23. Sonata II in G Major_ III. Andante.flac
Size: 16448164 Hash: 6500A43A7F10251472B84C41CC72E873 Accuracy: -m40
Conclusion: CDDA 100%
Signature: 209C81D911B6EB791FF875735D273A2E2D817A39
FILE: 24. Sonata II in G Major_ IV. Presto.flac
Size: 6899228 Hash: EF8FBF91CF4F29FEA88BF3ED7B69E02A Accuracy: -m40
Conclusion: CDDA 100%
Signature: 94F920983097DF3FC5CB4DC0BBDF5D573495F418
FILE: 25. Sinfonia 2 in C Major_ I. Largo.flac
Size: 18246347 Hash: 5D64B919D0B4D7F5ED91957D7C86170D Accuracy: -m40
Conclusion: CDDA 85%
Signature: 74F334D3AE51B68271F3C3D487AAC18347DE03AE
FILE: 26. Sinfonia 2 in C Major_ II. Presto.flac
Size: 12342736 Hash: FC85A626C59E84879D76F9B5C809F9F0 Accuracy: -m40
Conclusion: CDDA 100%
Signature: 15937730001E28319FBC10FF9D29D76E61B295AE
FILE: 27. Sinfonia 2 in C Major_ III. Larghetto.flac
Size: 12016315 Hash: 776E340052C918ABA5482400235041A1 Accuracy: -m40
Conclusion: CDDA 58%
Signature: A7BEFE2BA8A2EF10F5632D7A937C7AA971249FA5
FILE: 28. Sinfonia 2 in C Major_ IV. Allegro.flac
Size: 7960389 Hash: DB36BAA91BE3C0E81E037820293446F1 Accuracy: -m40
Conclusion: CDDA 100%
Signature: 9FA40296C9814DA3FCB4A8E903FD8EE4F9D2554F
FILE: 29. Sonata à flauto solo in C Major_ III. Adagio.flac
Size: 27200624 Hash: 8087E2978E8BECA728969D83CEB5E699 Accuracy: -m40
Conclusion: CDDA 92%
Signature: 670EDA435FADA77290616BEE7BF744112A2A18B7