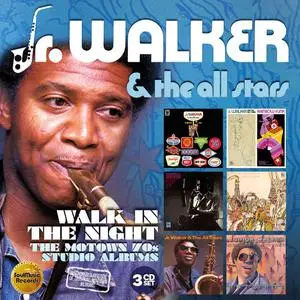 Jr. Walker & The All Stars - Walk In The Night (The Motown 70s Studio Albums) (Remastered) (2019)
XLD Rip | FLAC (tracks, cue, log) - 1.3 GB | MP3 CBR 320 kbps - 523 MB
3:45:36 | Soul, Soul-Jazz, Funk | Label: SoulMusic Records
Released in 2019 (Motown's 60th anniversary), this stellar reissue (produced by SoulMusic.com's David Nathan) featuring the '70s studio recordings by R&B Foundation Pioneer Awardee and Soul Music Hall of Fame inductee Junior Walker (who passed away in 1995) and his All Stars includes informative liner notes by renowned Motown expert and author Sharon Davis, first class mastering by Nick Robbins (with digital transfers directly from Universal Music Group) and stellar artwork from Roger Williams.
Junior Walker (born Autry DeWalt Mixon, Jr. in 1931 in Blytheville, Arkansas) was one of the most consistent Motown chartmakers and undeniably the global brand's most successful instrumentalist from 1964 to 1978, racking up 25 US charted singles and 14 US charted albums. With his distinctive, rousing sax style and immediately identifiable vocals, Jr. Walker (with The All Stars – guitarist Willie Woods, keyboardist Vic Thomas and drummer James Graves) had the kind of raw'n'funky sound that captivated audiences worldwide.
Junior's early success on Motown's Soul imprint in the '60s with 'Shotgun', '(I'm A) Road Runner', and a reworking of Marvin Gaye's 'How Sweet It Is', established the dynamic sax man and his band as reliable groove makers. The 1969 release of the now-classic 'What Does It Take (To Win Your Love)' proved to be a game-changer for Junior, setting the stage for a new decade of recordings that clearly showcased his innovative ability to add his own musical stamp to a diversity of pop, rock, jazz and R&B material.
This superb box set spanning the years 1970-1976 features five original Motown albums and one album (1974's "Jr.Walker & The All Stars") which has only ever been released in its entirety in UK and Europe, all six making their debut on CD worldwide with this 2019 SoulMusic Records' release.
Disc One comprises 1970's "A Gasssss" and 1971's "Rainbow Funk," both produced by Johnny Bristol; the (20) tracks include 'Do You See My Love (For You Growing)', 'Carry Your Own Load' and 'Take Me Girl, I'm Ready' (one of Jr. Walker's three UK hits of the '70s).
Disc Two (with the charted hits 'Way Back Home', 'Groove Thang', 'Walk In The Night' and 'Gimme That Beat') features 1972's Johnny Bristol-produced "Moody Jr.," and the 1973 set, "Peace & Understanding Is Hard To Find" which marked a change in creative direction with production by Motown stalwarts Hal Davis, Willie Hutch, Gloria Jones & Pam Sawyer and Junior himself.
Disc Three consists of 1974's jazz-flavoured "Jr. Walker & The All Stars," primarily produced by Clarence Paul (who worked consistently in the '60s with Stevie Wonder, who guests on two tracks, 'You Are The Sunshine Of My Life' and 'All In Love Is Fair'); and the 1976 Brian Holland & Lawrence Horn-produced "Hot Shot," (which includes 'I Need You Right Now' featuring Thelma Houston).
Tracklist
DISC ONE
A GASSSSS / RAINBOW FUNK
A GASSSSS
1. DO YOU SEE MY LOVE (FOR YOU GROWING)
2. AND WHEN I DIE
3. I WAS MADE TO LOVE HER
4. CARRY YOUR OWN LOAD
5. SHUT UP, DON'T INTERRUPT ME
6. GROOVE AND MOVE
7. HOLLY HOLY
8. HONEY COME BACK
9. RIDING HIGH ON LOVE
10. HEY JUDE
11. AT A SATURDAY MATINEE
RAINBOW FUNK
12. WAY BACK HOME (INSTRUMENTAL)
13. TAKE ME GIRL, I'M READY
14. FEELING ALRIGHT
15. RIGHT ON BROTHERS AND SISTERS
16. TEACH THEM TO PRAY
17. SOMETHING
18. PSYCHEDELIC SHACK
19. PIECES OF A MAN
20. THESE THINGS WILL KEEP ME LOVING YOU
DISC TWO
MOODY JR. / PEACE & UNDER-STANDING IS HARD TO FIND
MOODY JR.
1. WAY BACK HOME (VOCAL)
2. I DON'T WANT TO DO WRONG
3. BRISTOL'S WAY
4. DON'T BLAME THE CHILDREN
5. ME AND MY FAMILY
6. GROOVE THANG
7. STILL WATER MEDLEY
8. NEVER CAN SAY GOODBYE
9. WALK IN THE NIGHT
10. MOODY JUNIOR
PEACE & UNDERSTANDING
IS HARD TO FIND
11. I AIN'T GOING NOWHERE
12. I DON'T NEED NO REASON
13. IT'S ALRIGHT, DO WHAT YOU GOTTA DO
14. IT'S TOO LATE
15. SOUL CLAPPIN'
16. I CAN SEE CLEARLY NOW
17. GIMME THAT BEAT (PART 1)
18. GIMME THAT BEAT (PART 2)
19. COUNTRY BOY
20. PEACE AND UNDERSTANDING (IS HARD TO FIND)
DISC THREE
JR. WALKER & THE ALL-STARS / HOT SHOT
JR. WALKER & THE ALL-STARS
1. YOU ARE THE SUNSHINE OF MY LIFE
2. ALL IN LOVE IS FAIR
3. KILLING ME SOFTLY WITH THIS SONG
4. MY LOVE
5. BOOGIE DOWN
6. I AIN'T THAT EASY TO LOSE
7. DANCIN' LIKE THEY DO ON SOUL TRAIN
8. BREAK DOWN AND SING
9. UNTIL YOU COME BACK TO ME (THAT'S WHAT I GONNA DO)
HOT SHOT
10. I'M SO GLAD
11. WHY CAN'T WE BE LOVERS
12. YOU AIN'T NO ORDINARY WOMAN
13. JUST CAN'T GET ENOUGH
14. LOVE (KEEP US TOGETHER)
15. I NEED YOU RIGHT NOW – Featuring Thelma Houston
16. PROBE YOUR MIND
17. DON'T LOSE WHAT YOU GOT (TRYING TO GET BACK WHAT YOU HAD)
18. HOT SHOT
X Lossless Decoder version 20211018 (154.0)

XLD extraction logfile from 2022-04-19 12:08:05 -0700

Jr. Walker & the All Stars / Walk in the Night: The Motown 70s Studio Albums (Disc 1)

Used drive : HL-DT-ST DVDRAM GP65NB60 (revision PF00)
Media type : Pressed CD

Ripper mode : XLD Secure Ripper
Disable audio cache : OK for the drive with a cache less than 1375KiB
Make use of C2 pointers : NO
Read offset correction : 6
Max retry count : 20
Gap status : Analyzed, Appended (except HTOA)

TOC of the extracted CD
Track | Start | Length | Start sector | End sector
––––––––––––––––––––––––––––-
1 | 00:00:00 | 03:29:33 | 0 | 15707
2 | 03:29:33 | 02:52:58 | 15708 | 28665
3 | 06:22:16 | 02:41:07 | 28666 | 40747
4 | 09:03:23 | 03:16:01 | 40748 | 55448
5 | 12:19:24 | 03:08:47 | 55449 | 69595
6 | 15:27:71 | 02:42:04 | 69596 | 81749
7 | 18:10:00 | 04:35:38 | 81750 | 102412
8 | 22:45:38 | 04:19:43 | 102413 | 121880
9 | 27:05:06 | 02:41:04 | 121881 | 133959
10 | 29:46:10 | 03:18:00 | 133960 | 148809
11 | 33:04:10 | 02:55:06 | 148810 | 161940
12 | 35:59:16 | 03:43:47 | 161941 | 178712
13 | 39:42:63 | 04:01:08 | 178713 | 196795
14 | 43:43:71 | 04:36:21 | 196796 | 217516
15 | 48:20:17 | 03:10:53 | 217517 | 231819
16 | 51:30:70 | 04:47:17 | 231820 | 253361
17 | 56:18:12 | 05:01:39 | 253362 | 275975
18 | 61:19:51 | 05:03:17 | 275976 | 298717
19 | 66:22:68 | 03:21:71 | 298718 | 313863
20 | 69:44:64 | 04:58:68 | 313864 | 336281

AccurateRip Summary (DiscID: 0031cde2-02e775a7-31118314)
Track 01 : OK (v2, confidence 5/5)
Track 02 : OK (v2, confidence 5/5)
Track 03 : OK (v2, confidence 5/5)
Track 04 : OK (v2, confidence 5/5)
Track 05 : OK (v2, confidence 5/5)
Track 06 : OK (v2, confidence 4/4)
Track 07 : OK (v2, confidence 5/5)
Track 08 : OK (v2, confidence 4/4)
Track 09 : OK (v2, confidence 5/5)
Track 10 : OK (v2, confidence 4/4)
Track 11 : OK (v2, confidence 4/4)
Track 12 : OK (v2, confidence 6/6)
Track 13 : OK (v2, confidence 5/5)
Track 14 : OK (v2, confidence 5/5)
Track 15 : OK (v2, confidence 6/6)
Track 16 : OK (v2, confidence 5/5)
Track 17 : OK (v2, confidence 5/5)
Track 18 : OK (v2, confidence 5/5)
Track 19 : OK (v2, confidence 6/6)
Track 20 : OK (v2, confidence 5/5)
->All tracks accurately ripped.

All Tracks
Album gain : -3.22 dB
Peak : 0.955017
Statistics
Read error : 0
Jitter error (maybe fixed) : 0
Retry sector count : 0
Damaged sector count : 0

Track 01
Filename : /Volumes/El Segundo/Rips/Jr. Walker & the All Stars - Walk in the Night: The Motown 70s Studio Albums (Disc 1) (2019) [FLAC]/01 Do You See My Love (For You Growing).flac
Pre-gap length : 00:02:00

Track gain : -3.31 dB
Peak : 0.954956
CRC32 hash (test run) : A540EC42
CRC32 hash : A540EC42
CRC32 hash (skip zero) : 909ECC07
AccurateRip v1 signature : 7A75E8E6
AccurateRip v2 signature : 243D5E53
->Accurately ripped (v2, confidence 5/5)
Statistics
Read error : 0
Jitter error (maybe fixed) : 0
Retry sector count : 0
Damaged sector count : 0

Track 02
Filename : /Volumes/El Segundo/Rips/Jr. Walker & the All Stars - Walk in the Night: The Motown 70s Studio Albums (Disc 1) (2019) [FLAC]/02 And When I Die.flac
Pre-gap length : 00:01:73

Track gain : -3.19 dB
Peak : 0.866211
CRC32 hash (test run) : BD2A47EB
CRC32 hash : BD2A47EB
CRC32 hash (skip zero) : 8D5C39CE
AccurateRip v1 signature : A9B61B43
AccurateRip v2 signature : C59CA043
->Accurately ripped (v2, confidence 5/5)
Statistics
Read error : 0
Jitter error (maybe fixed) : 0
Retry sector count : 0
Damaged sector count : 0

Track 03
Filename : /Volumes/El Segundo/Rips/Jr. Walker & the All Stars - Walk in the Night: The Motown 70s Studio Albums (Disc 1) (2019) [FLAC]/03 I Was Made to Love Her.flac
Pre-gap length : 00:01:61

Track gain : -3.35 dB
Peak : 0.871765
CRC32 hash (test run) : 8DF5A771
CRC32 hash : 8DF5A771
CRC32 hash (skip zero) : 4044F819
AccurateRip v1 signature : 9F3EE012
AccurateRip v2 signature : EF8FB2EF
->Accurately ripped (v2, confidence 5/5)
Statistics
Read error : 0
Jitter error (maybe fixed) : 0
Retry sector count : 0
Damaged sector count : 0

Track 04
Filename : /Volumes/El Segundo/Rips/Jr. Walker & the All Stars - Walk in the Night: The Motown 70s Studio Albums (Disc 1) (2019) [FLAC]/04 Carry Your Own Load.flac
Pre-gap length : 00:02:21

Track gain : -3.35 dB
Peak : 0.809143
CRC32 hash (test run) : 6AEFFB9F
CRC32 hash : 6AEFFB9F
CRC32 hash (skip zero) : CCB9342C
AccurateRip v1 signature : C3187F7F
AccurateRip v2 signature : 1D956209
->Accurately ripped (v2, confidence 5/5)
Statistics
Read error : 0
Jitter error (maybe fixed) : 0
Retry sector count : 0
Damaged sector count : 0

Track 05
Filename : /Volumes/El Segundo/Rips/Jr. Walker & the All Stars - Walk in the Night: The Motown 70s Studio Albums (Disc 1) (2019) [FLAC]/05 Shut Up, Don't Interrupt Me.flac
Pre-gap length : 00:01:64

Track gain : -3.34 dB
Peak : 0.859222
CRC32 hash (test run) : A4F7740C
CRC32 hash : A4F7740C
CRC32 hash (skip zero) : D28F8A40
AccurateRip v1 signature : 3C160A8E
AccurateRip v2 signature : 5150E400
->Accurately ripped (v2, confidence 5/5)
Statistics
Read error : 0
Jitter error (maybe fixed) : 0
Retry sector count : 0
Damaged sector count : 0

Track 06
Filename : /Volumes/El Segundo/Rips/Jr. Walker & the All Stars - Walk in the Night: The Motown 70s Studio Albums (Disc 1) (2019) [FLAC]/06 Groove and Move.flac
Pre-gap length : 00:01:69

Track gain : -3.35 dB
Peak : 0.954895
CRC32 hash (test run) : 50C18BD3
CRC32 hash : 50C18BD3
CRC32 hash (skip zero) : FAE414FB
AccurateRip v1 signature : 5A6EC9A9
AccurateRip v2 signature : EB89163E
->Accurately ripped (v2, confidence 4/4)
Statistics
Read error : 0
Jitter error (maybe fixed) : 0
Retry sector count : 0
Damaged sector count : 0

Track 07
Filename : /Volumes/El Segundo/Rips/Jr. Walker & the All Stars - Walk in the Night: The Motown 70s Studio Albums (Disc 1) (2019) [FLAC]/07 Holly Holly.flac
Pre-gap length : 00:02:00

Track gain : -3.17 dB
Peak : 0.876831
CRC32 hash (test run) : 0224B5C0
CRC32 hash : 0224B5C0
CRC32 hash (skip zero) : 220884AF
AccurateRip v1 signature : 1AA1F730
AccurateRip v2 signature : F5AE48E6
->Accurately ripped (v2, confidence 5/5)
Statistics
Read error : 0
Jitter error (maybe fixed) : 0
Retry sector count : 0
Damaged sector count : 0

Track 08
Filename : /Volumes/El Segundo/Rips/Jr. Walker & the All Stars - Walk in the Night: The Motown 70s Studio Albums (Disc 1) (2019) [FLAC]/08 Honey Come Back.flac
Pre-gap length : 00:01:69

Track gain : -3.28 dB
Peak : 0.954956
CRC32 hash (test run) : 6B96016F
CRC32 hash : 6B96016F
CRC32 hash (skip zero) : EDCEDC37
AccurateRip v1 signature : 5E4D0F89
AccurateRip v2 signature : A225C0CC
->Accurately ripped (v2, confidence 4/4)
Statistics
Read error : 0
Jitter error (maybe fixed) : 0
Retry sector count : 0
Damaged sector count : 0

Track 09
Filename : /Volumes/El Segundo/Rips/Jr. Walker & the All Stars - Walk in the Night: The Motown 70s Studio Albums (Disc 1) (2019) [FLAC]/09 Riding High on Love.flac
Pre-gap length : 00:02:03

Track gain : -3.33 dB
Peak : 0.946564
CRC32 hash (test run) : E528FFCF
CRC32 hash : E528FFCF
CRC32 hash (skip zero) : 576CC485
AccurateRip v1 signature : 9D731483
AccurateRip v2 signature : 7975D6C3
->Accurately ripped (v2, confidence 5/5)
Statistics
Read error : 0
Jitter error (maybe fixed) : 0
Retry sector count : 0
Damaged sector count : 0

Track 10
Filename : /Volumes/El Segundo/Rips/Jr. Walker & the All Stars - Walk in the Night: The Motown 70s Studio Albums (Disc 1) (2019) [FLAC]/10 Hey Jude.flac
Pre-gap length : 00:01:46

Track gain : -3.35 dB
Peak : 0.794281
CRC32 hash (test run) : 83E6D793
CRC32 hash : 83E6D793
CRC32 hash (skip zero) : 2BBCF1C2
AccurateRip v1 signature : 14C832DD
AccurateRip v2 signature : 83DA376A
->Accurately ripped (v2, confidence 4/4)
Statistics
Read error : 0
Jitter error (maybe fixed) : 0
Retry sector count : 0
Damaged sector count : 0

Track 11
Filename : /Volumes/El Segundo/Rips/Jr. Walker & the All Stars - Walk in the Night: The Motown 70s Studio Albums (Disc 1) (2019) [FLAC]/11 At a Saturday Matinee.flac
Pre-gap length : 00:01:68

Track gain : -3.35 dB
Peak : 0.900787
CRC32 hash (test run) : E25ACDC4
CRC32 hash : E25ACDC4
CRC32 hash (skip zero) : 6113FFF7
AccurateRip v1 signature : ED6B918F
AccurateRip v2 signature : DFE8C352
->Accurately ripped (v2, confidence 4/4)
Statistics
Read error : 0
Jitter error (maybe fixed) : 0
Retry sector count : 0
Damaged sector count : 0

Track 12
Filename : /Volumes/El Segundo/Rips/Jr. Walker & the All Stars - Walk in the Night: The Motown 70s Studio Albums (Disc 1) (2019) [FLAC]/12 Way Back Home.flac
Pre-gap length : 00:01:52

Track gain : -2.82 dB
Peak : 0.954987
CRC32 hash (test run) : 03181DF4
CRC32 hash : 03181DF4
CRC32 hash (skip zero) : E36661EE
AccurateRip v1 signature : 456A1E02
AccurateRip v2 signature : 012300E3
->Accurately ripped (v2, confidence 6/6)
Statistics
Read error : 0
Jitter error (maybe fixed) : 0
Retry sector count : 0
Damaged sector count : 0

Track 13
Filename : /Volumes/El Segundo/Rips/Jr. Walker & the All Stars - Walk in the Night: The Motown 70s Studio Albums (Disc 1) (2019) [FLAC]/13 Take Me Girl, I'm Ready.flac
Pre-gap length : 00:01:51

Track gain : -3.32 dB
Peak : 0.824829
CRC32 hash (test run) : 0027DC73
CRC32 hash : 0027DC73
CRC32 hash (skip zero) : D94A4777
AccurateRip v1 signature : 60831E49
AccurateRip v2 signature : EB5F27F5
->Accurately ripped (v2, confidence 5/5)
Statistics
Read error : 0
Jitter error (maybe fixed) : 0
Retry sector count : 0
Damaged sector count : 0

Track 14
Filename : /Volumes/El Segundo/Rips/Jr. Walker & the All Stars - Walk in the Night: The Motown 70s Studio Albums (Disc 1) (2019) [FLAC]/14 Feelin' Alright_.flac
Pre-gap length : 00:01:70

Track gain : -3.17 dB
Peak : 0.954987
CRC32 hash (test run) : CBD18902
CRC32 hash : CBD18902
CRC32 hash (skip zero) : CF10F37A
AccurateRip v1 signature : 73702DCB
AccurateRip v2 signature : 11D193D1
->Accurately ripped (v2, confidence 5/5)
Statistics
Read error : 0
Jitter error (maybe fixed) : 0
Retry sector count : 0
Damaged sector count : 0

Track 15
Filename : /Volumes/El Segundo/Rips/Jr. Walker & the All Stars - Walk in the Night: The Motown 70s Studio Albums (Disc 1) (2019) [FLAC]/15 Right On Brothers and Sisters.flac
Pre-gap length : 00:01:54

Track gain : -3.34 dB
Peak : 0.954956
CRC32 hash (test run) : 3E636653
CRC32 hash : 3E636653
CRC32 hash (skip zero) : F0703BB1
AccurateRip v1 signature : 2189AB27
AccurateRip v2 signature : 119A185B
->Accurately ripped (v2, confidence 6/6)
Statistics
Read error : 0
Jitter error (maybe fixed) : 0
Retry sector count : 0
Damaged sector count : 0

Track 16
Filename : /Volumes/El Segundo/Rips/Jr. Walker & the All Stars - Walk in the Night: The Motown 70s Studio Albums (Disc 1) (2019) [FLAC]/16 Teach Them to Pray.flac
Pre-gap length : 00:01:55

Track gain : -2.97 dB
Peak : 0.954956
CRC32 hash (test run) : 42D62813
CRC32 hash : 42D62813
CRC32 hash (skip zero) : B9A66258
AccurateRip v1 signature : A6BC43BE
AccurateRip v2 signature : 61D11768
->Accurately ripped (v2, confidence 5/5)
Statistics
Read error : 0
Jitter error (maybe fixed) : 0
Retry sector count : 0
Damaged sector count : 0

Track 17
Filename : /Volumes/El Segundo/Rips/Jr. Walker & the All Stars - Walk in the Night: The Motown 70s Studio Albums (Disc 1) (2019) [FLAC]/17 Something.flac
Pre-gap length : 00:01:51

Track gain : -2.91 dB
Peak : 0.955017
CRC32 hash (test run) : DB069B13
CRC32 hash : DB069B13
CRC32 hash (skip zero) : 75EABA3E
AccurateRip v1 signature : EF5AC91E
AccurateRip v2 signature : 68303087
->Accurately ripped (v2, confidence 5/5)
Statistics
Read error : 0
Jitter error (maybe fixed) : 0
Retry sector count : 0
Damaged sector count : 0

Track 18
Filename : /Volumes/El Segundo/Rips/Jr. Walker & the All Stars - Walk in the Night: The Motown 70s Studio Albums (Disc 1) (2019) [FLAC]/18 Psychedelic Shack.flac
Pre-gap length : 00:01:70

Track gain : -3.35 dB
Peak : 0.873413
CRC32 hash (test run) : 5F1C32C5
CRC32 hash : 5F1C32C5
CRC32 hash (skip zero) : DB6C8591
AccurateRip v1 signature : 3A1A9015
AccurateRip v2 signature : A256AAB5
->Accurately ripped (v2, confidence 5/5)
Statistics
Read error : 0
Jitter error (maybe fixed) : 0
Retry sector count : 0
Damaged sector count : 0

Track 19
Filename : /Volumes/El Segundo/Rips/Jr. Walker & the All Stars - Walk in the Night: The Motown 70s Studio Albums (Disc 1) (2019) [FLAC]/19 Pieces of a Man.flac
Pre-gap length : 00:02:06

Track gain : -2.97 dB
Peak : 0.955017
CRC32 hash (test run) : E40E7EC8
CRC32 hash : E40E7EC8
CRC32 hash (skip zero) : 369DD419
AccurateRip v1 signature : 0FE33185
AccurateRip v2 signature : 5B0654FF
->Accurately ripped (v2, confidence 6/6)
Statistics
Read error : 0
Jitter error (maybe fixed) : 0
Retry sector count : 0
Damaged sector count : 0

Track 20
Filename : /Volumes/El Segundo/Rips/Jr. Walker & the All Stars - Walk in the Night: The Motown 70s Studio Albums (Disc 1) (2019) [FLAC]/20 These Things Will Keep Me Loving You.flac
Pre-gap length : 00:01:60

Track gain : -3.35 dB
Peak : 0.814972
CRC32 hash (test run) : 0CE0EFB3
CRC32 hash : 0CE0EFB3
CRC32 hash (skip zero) : 05FDD0AE
AccurateRip v1 signature : 8BA6582E
AccurateRip v2 signature : 3054CCBE
->Accurately ripped (v2, confidence 5/5)
Statistics
Read error : 0
Jitter error (maybe fixed) : 0
Retry sector count : 0
Damaged sector count : 0

No errors occurred

End of status report

––-BEGIN XLD SIGNATURE––-
_Gh95Rwi2EUcY68PpbXe4bXhDE8IajiqMPm_3W4TW6q7P4XLfvV659WC0MI_B1XXio2xHAwm3y1ZE9oYMTu3s5O1iT.yIchA2D4TNIi
––-END XLD SIGNATURE––-


X Lossless Decoder version 20211018 (154.0)

XLD extraction logfile from 2022-04-19 11:41:14 -0700

Jr. Walker & the All Stars / Walk in the Night: The Motown 70s Studio Albums (Disc 2)

Used drive : HL-DT-ST DVDRAM GP65NB60 (revision PF00)
Media type : Pressed CD

Ripper mode : XLD Secure Ripper
Disable audio cache : OK for the drive with a cache less than 1375KiB
Make use of C2 pointers : NO
Read offset correction : 6
Max retry count : 20
Gap status : Analyzed, Appended (except HTOA)

TOC of the extracted CD
Track | Start | Length | Start sector | End sector
––––––––––––––––––––––––––––-
1 | 00:00:00 | 04:07:06 | 0 | 18530
2 | 04:07:06 | 03:38:19 | 18531 | 34899
3 | 07:45:25 | 04:10:74 | 34900 | 53723
4 | 11:56:24 | 03:03:08 | 53724 | 67456
5 | 14:59:32 | 05:11:67 | 67457 | 90848
6 | 20:11:24 | 02:37:54 | 90849 | 102677
7 | 22:49:03 | 05:07:02 | 102678 | 125704
8 | 27:56:05 | 03:11:03 | 125705 | 140032
9 | 31:07:08 | 04:09:52 | 140033 | 158759
10 | 35:16:60 | 04:34:23 | 158760 | 179332
11 | 39:51:08 | 03:33:53 | 179333 | 195360
12 | 43:24:61 | 02:42:64 | 195361 | 207574
13 | 46:07:50 | 03:30:44 | 207575 | 223368
14 | 49:38:19 | 02:55:74 | 223369 | 236567
15 | 52:34:18 | 04:25:54 | 236568 | 256496
16 | 56:59:72 | 02:52:26 | 256497 | 269422
17 | 59:52:23 | 03:28:15 | 269423 | 285037
18 | 63:20:38 | 02:48:74 | 285038 | 297711
19 | 66:09:37 | 03:01:28 | 297712 | 311314
20 | 69:10:65 | 03:05:20 | 311315 | 325209

AccurateRip Summary (DiscID: 0036a086-0319e866-2f10f014)
Track 01 : OK (v2, confidence 5/5)
Track 02 : OK (v2, confidence 5/5)
Track 03 : OK (v2, confidence 5/5)
Track 04 : OK (v2, confidence 5/5)
Track 05 : OK (v2, confidence 5/5)
Track 06 : OK (v2, confidence 5/5)
Track 07 : OK (v2, confidence 5/5)
Track 08 : OK (v2, confidence 5/5)
Track 09 : OK (v2, confidence 5/5)
Track 10 : OK (v2, confidence 5/5)
Track 11 : OK (v2, confidence 5/5)
Track 12 : OK (v2, confidence 5/5)
Track 13 : OK (v2, confidence 5/5)
Track 14 : OK (v2, confidence 5/5)
Track 15 : OK (v2, confidence 5/5)
Track 16 : OK (v2, confidence 5/5)
Track 17 : OK (v2, confidence 5/5)
Track 18 : OK (v2, confidence 5/5)
Track 19 : OK (v2, confidence 5/5)
Track 20 : OK (v2, confidence 5/5)
->All tracks accurately ripped.

All Tracks
Album gain : -3.33 dB
Peak : 0.954987
Statistics
Read error : 0
Jitter error (maybe fixed) : 0
Retry sector count : 0
Damaged sector count : 0

Track 01
Filename : /Volumes/El Segundo/Rips/Jr. Walker & the All Stars - Walk in the Night: The Motown 70s Studio Albums (Disc 2) (2019) [FLAC]/01 Way Back Home (Vocal).flac
Pre-gap length : 00:02:00

Track gain : -3.35 dB
Peak : 0.903961
CRC32 hash (test run) : 9C112216
CRC32 hash : 9C112216
CRC32 hash (skip zero) : 762567F1
AccurateRip v1 signature : F6828C67
AccurateRip v2 signature : 74000E63
->Accurately ripped (v2, confidence 5/5)
Statistics
Read error : 0
Jitter error (maybe fixed) : 0
Retry sector count : 0
Damaged sector count : 0

Track 02
Filename : /Volumes/El Segundo/Rips/Jr. Walker & the All Stars - Walk in the Night: The Motown 70s Studio Albums (Disc 2) (2019) [FLAC]/02 I Don't Want to Do Wrong.flac
Pre-gap length : 00:01:24

Track gain : -3.35 dB
Peak : 0.954987
CRC32 hash (test run) : FBA265F9
CRC32 hash : FBA265F9
CRC32 hash (skip zero) : B029C334
AccurateRip v1 signature : CA5D8AA6
AccurateRip v2 signature : 50030125
->Accurately ripped (v2, confidence 5/5)
Statistics
Read error : 0
Jitter error (maybe fixed) : 0
Retry sector count : 0
Damaged sector count : 0

Track 03
Filename : /Volumes/El Segundo/Rips/Jr. Walker & the All Stars - Walk in the Night: The Motown 70s Studio Albums (Disc 2) (2019) [FLAC]/03 Bristol's Way.flac
Pre-gap length : 00:01:67

Track gain : -3.35 dB
Peak : 0.858307
CRC32 hash (test run) : DE2E9B01
CRC32 hash : DE2E9B01
CRC32 hash (skip zero) : FC07E169
AccurateRip v1 signature : 00A1A690
AccurateRip v2 signature : C5FC148A
->Accurately ripped (v2, confidence 5/5)
Statistics
Read error : 0
Jitter error (maybe fixed) : 0
Retry sector count : 0
Damaged sector count : 0

Track 04
Filename : /Volumes/El Segundo/Rips/Jr. Walker & the All Stars - Walk in the Night: The Motown 70s Studio Albums (Disc 2) (2019) [FLAC]/04 Don't Blame the Children.flac
Pre-gap length : 00:01:46

Track gain : -3.35 dB
Peak : 0.932983
CRC32 hash (test run) : 8B8401DC
CRC32 hash : 8B8401DC
CRC32 hash (skip zero) : 921BEB57
AccurateRip v1 signature : 9576235E
AccurateRip v2 signature : 10C0FDF4
->Accurately ripped (v2, confidence 5/5)
Statistics
Read error : 0
Jitter error (maybe fixed) : 0
Retry sector count : 0
Damaged sector count : 0

Track 05
Filename : /Volumes/El Segundo/Rips/Jr. Walker & the All Stars - Walk in the Night: The Motown 70s Studio Albums (Disc 2) (2019) [FLAC]/05 Me and My Family.flac
Pre-gap length : 00:02:00

Track gain : -3.29 dB
Peak : 0.954987
CRC32 hash (test run) : 485763A5
CRC32 hash : 485763A5
CRC32 hash (skip zero) : CBC6D00D
AccurateRip v1 signature : 202B7E63
AccurateRip v2 signature : E81AABFD
->Accurately ripped (v2, confidence 5/5)
Statistics
Read error : 0
Jitter error (maybe fixed) : 0
Retry sector count : 0
Damaged sector count : 0

Track 06
Filename : /Volumes/El Segundo/Rips/Jr. Walker & the All Stars - Walk in the Night: The Motown 70s Studio Albums (Disc 2) (2019) [FLAC]/06 Groove Thang.flac
Pre-gap length : 00:01:35

Track gain : -3.25 dB
Peak : 0.906189
CRC32 hash (test run) : 60B18A4E
CRC32 hash : 60B18A4E
CRC32 hash (skip zero) : 8C641770
AccurateRip v1 signature : ADCF6130
AccurateRip v2 signature : 7BE34148
->Accurately ripped (v2, confidence 5/5)
Statistics
Read error : 0
Jitter error (maybe fixed) : 0
Retry sector count : 0
Damaged sector count : 0

Track 07
Filename : /Volumes/El Segundo/Rips/Jr. Walker & the All Stars - Walk in the Night: The Motown 70s Studio Albums (Disc 2) (2019) [FLAC]/07 Still Water Medley.flac
Pre-gap length : 00:01:70

Track gain : -3.35 dB
Peak : 0.928192
CRC32 hash (test run) : 1F5BE10F
CRC32 hash : 1F5BE10F
CRC32 hash (skip zero) : 51B59F0C
AccurateRip v1 signature : 65760535
AccurateRip v2 signature : 6A63CACA
->Accurately ripped (v2, confidence 5/5)
Statistics
Read error : 0
Jitter error (maybe fixed) : 0
Retry sector count : 0
Damaged sector count : 0

Track 08
Filename : /Volumes/El Segundo/Rips/Jr. Walker & the All Stars - Walk in the Night: The Motown 70s Studio Albums (Disc 2) (2019) [FLAC]/08 Never Can Say Goodbye.flac
Pre-gap length : 00:02:10

Track gain : -3.35 dB
Peak : 0.911499
CRC32 hash (test run) : 4B585C73
CRC32 hash : 4B585C73
CRC32 hash (skip zero) : 1B7745F9
AccurateRip v1 signature : DE4C49E5
AccurateRip v2 signature : 1B7D4AAA
->Accurately ripped (v2, confidence 5/5)
Statistics
Read error : 0
Jitter error (maybe fixed) : 0
Retry sector count : 0
Damaged sector count : 0

Track 09
Filename : /Volumes/El Segundo/Rips/Jr. Walker & the All Stars - Walk in the Night: The Motown 70s Studio Albums (Disc 2) (2019) [FLAC]/09 Walk in the Night.flac
Pre-gap length : 00:02:23

Track gain : -3.29 dB
Peak : 0.954956
CRC32 hash (test run) : 4D34AAE7
CRC32 hash : 4D34AAE7
CRC32 hash (skip zero) : 11E00B17
AccurateRip v1 signature : D2FFA75F
AccurateRip v2 signature : B2F7621F
->Accurately ripped (v2, confidence 5/5)
Statistics
Read error : 0
Jitter error (maybe fixed) : 0
Retry sector count : 0
Damaged sector count : 0

Track 10
Filename : /Volumes/El Segundo/Rips/Jr. Walker & the All Stars - Walk in the Night: The Motown 70s Studio Albums (Disc 2) (2019) [FLAC]/10 Moody Junior.flac
Pre-gap length : 00:01:73

Track gain : -3.35 dB
Peak : 0.794983
CRC32 hash (test run) : D658C4B3
CRC32 hash : D658C4B3
CRC32 hash (skip zero) : A260F4E5
AccurateRip v1 signature : 49E18645
AccurateRip v2 signature : EA113C20
->Accurately ripped (v2, confidence 5/5)
Statistics
Read error : 0
Jitter error (maybe fixed) : 0
Retry sector count : 0
Damaged sector count : 0

Track 11
Filename : /Volumes/El Segundo/Rips/Jr. Walker & the All Stars - Walk in the Night: The Motown 70s Studio Albums (Disc 2) (2019) [FLAC]/11 I Ain't Going Nowhere.flac
Pre-gap length : 00:02:04

Track gain : -3.35 dB
Peak : 0.911926
CRC32 hash (test run) : 1FD47ED6
CRC32 hash : 1FD47ED6
CRC32 hash (skip zero) : 66B9C8D2
AccurateRip v1 signature : 95D4AFA2
AccurateRip v2 signature : 7A5F9DB8
->Accurately ripped (v2, confidence 5/5)
Statistics
Read error : 0
Jitter error (maybe fixed) : 0
Retry sector count : 0
Damaged sector count : 0

Track 12
Filename : /Volumes/El Segundo/Rips/Jr. Walker & the All Stars - Walk in the Night: The Motown 70s Studio Albums (Disc 2) (2019) [FLAC]/12 I Don't Need No Reason.flac
Pre-gap length : 00:02:15

Track gain : -3.33 dB
Peak : 0.954987
CRC32 hash (test run) : 5C5AE71A
CRC32 hash : 5C5AE71A
CRC32 hash (skip zero) : 8A8B6352
AccurateRip v1 signature : D9CD6E9D
AccurateRip v2 signature : 3C17E801
->Accurately ripped (v2, confidence 5/5)
Statistics
Read error : 0
Jitter error (maybe fixed) : 0
Retry sector count : 0
Damaged sector count : 0

Track 13
Filename : /Volumes/El Segundo/Rips/Jr. Walker & the All Stars - Walk in the Night: The Motown 70s Studio Albums (Disc 2) (2019) [FLAC]/13 It's Alright, Do What You Gotta Do.flac
Pre-gap length : 00:01:60

Track gain : -3.35 dB
Peak : 0.954895
CRC32 hash (test run) : C10EC5C1
CRC32 hash : C10EC5C1
CRC32 hash (skip zero) : B43C047E
AccurateRip v1 signature : BD06D3B5
AccurateRip v2 signature : A5E2C55B
->Accurately ripped (v2, confidence 5/5)
Statistics
Read error : 0
Jitter error (maybe fixed) : 0
Retry sector count : 0
Damaged sector count : 0

Track 14
Filename : /Volumes/El Segundo/Rips/Jr. Walker & the All Stars - Walk in the Night: The Motown 70s Studio Albums (Disc 2) (2019) [FLAC]/14 It's Too Late.flac
Pre-gap length : 00:01:70

Track gain : -3.35 dB
Peak : 0.954956
CRC32 hash (test run) : 663E8B95
CRC32 hash : 663E8B95
CRC32 hash (skip zero) : 1747851F
AccurateRip v1 signature : 922B64C4
AccurateRip v2 signature : 4D535FFA
->Accurately ripped (v2, confidence 5/5)
Statistics
Read error : 0
Jitter error (maybe fixed) : 0
Retry sector count : 0
Damaged sector count : 0

Track 15
Filename : /Volumes/El Segundo/Rips/Jr. Walker & the All Stars - Walk in the Night: The Motown 70s Studio Albums (Disc 2) (2019) [FLAC]/15 Soul Clappin'.flac
Pre-gap length : 00:01:55

Track gain : -3.33 dB
Peak : 0.954987
CRC32 hash (test run) : 23988992
CRC32 hash : 23988992
CRC32 hash (skip zero) : 11E22D41
AccurateRip v1 signature : A590C54F
AccurateRip v2 signature : 658A51B2
->Accurately ripped (v2, confidence 5/5)
Statistics
Read error : 0
Jitter error (maybe fixed) : 0
Retry sector count : 0
Damaged sector count : 0

Track 16
Filename : /Volumes/El Segundo/Rips/Jr. Walker & the All Stars - Walk in the Night: The Motown 70s Studio Albums (Disc 2) (2019) [FLAC]/16 I Can See Clearly Now.flac
Pre-gap length : 00:01:47

Track gain : -3.28 dB
Peak : 0.954987
CRC32 hash (test run) : 17A96ADE
CRC32 hash : 17A96ADE
CRC32 hash (skip zero) : F63C3C4D
AccurateRip v1 signature : 455FD11A
AccurateRip v2 signature : 6D4A0BE2
->Accurately ripped (v2, confidence 5/5)
Statistics
Read error : 0
Jitter error (maybe fixed) : 0
Retry sector count : 0
Damaged sector count : 0

Track 17
Filename : /Volumes/El Segundo/Rips/Jr. Walker & the All Stars - Walk in the Night: The Motown 70s Studio Albums (Disc 2) (2019) [FLAC]/17 Gimme That Beat (Part 1).flac
Pre-gap length : 00:02:14

Track gain : -3.35 dB
Peak : 0.954987
CRC32 hash (test run) : DA9ED2A4
CRC32 hash : DA9ED2A4
CRC32 hash (skip zero) : BFFFD1CA
AccurateRip v1 signature : B8D92633
AccurateRip v2 signature : EC1DF5EC
->Accurately ripped (v2, confidence 5/5)
Statistics
Read error : 0
Jitter error (maybe fixed) : 0
Retry sector count : 0
Damaged sector count : 0

Track 18
Filename : /Volumes/El Segundo/Rips/Jr. Walker & the All Stars - Walk in the Night: The Motown 70s Studio Albums (Disc 2) (2019) [FLAC]/18 Gimme That Beat (Part 2).flac
Pre-gap length : 00:02:20

Track gain : -3.34 dB
Peak : 0.954956
CRC32 hash (test run) : 79EBEAAA
CRC32 hash : 79EBEAAA
CRC32 hash (skip zero) : 2DB538AD
AccurateRip v1 signature : A99D9C86
AccurateRip v2 signature : B398227E
->Accurately ripped (v2, confidence 5/5)
Statistics
Read error : 0
Jitter error (maybe fixed) : 0
Retry sector count : 0
Damaged sector count : 0

Track 19
Filename : /Volumes/El Segundo/Rips/Jr. Walker & the All Stars - Walk in the Night: The Motown 70s Studio Albums (Disc 2) (2019) [FLAC]/19 Country Boy.flac
Pre-gap length : 00:01:74

Track gain : -3.34 dB
Peak : 0.954956
CRC32 hash (test run) : DF2CF485
CRC32 hash : DF2CF485
CRC32 hash (skip zero) : B1A397CE
AccurateRip v1 signature : 6710066B
AccurateRip v2 signature : AA85F276
->Accurately ripped (v2, confidence 5/5)
Statistics
Read error : 0
Jitter error (maybe fixed) : 0
Retry sector count : 0
Damaged sector count : 0

Track 20
Filename : /Volumes/El Segundo/Rips/Jr. Walker & the All Stars - Walk in the Night: The Motown 70s Studio Albums (Disc 2) (2019) [FLAC]/20 Peace and Understanding (Is Hard to Find).flac
Pre-gap length : 00:02:10

Track gain : -3.32 dB
Peak : 0.954987
CRC32 hash (test run) : B737B03F
CRC32 hash : B737B03F
CRC32 hash (skip zero) : 896AE35F
AccurateRip v1 signature : B7559E2E
AccurateRip v2 signature : BCFDCFD9
->Accurately ripped (v2, confidence 5/5)
Statistics
Read error : 0
Jitter error (maybe fixed) : 0
Retry sector count : 0
Damaged sector count : 0

No errors occurred

End of status report

––-BEGIN XLD SIGNATURE––-
FnbRsbOthmfuHq.fz3.a8w8k5AchY.B7bHtxZ6QKdoIsd_mSQaCBf7YCB4DjehMCKmwRXHNj86Ol4KSVHstXLp.IoYiKMs_WjuEdkVy
––-END XLD SIGNATURE––-