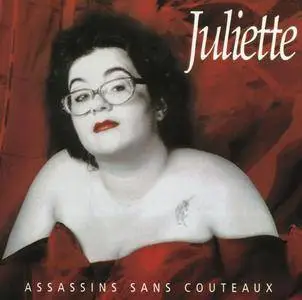 Juliette - Assassins sans couteaux (1998 Reissue) (2006)
EAC | FLAC (image+.cue, log) | Covers Included | 48:06 | 273 MB
Genre: Pop, Chanson | Label: Universal | Catalog: 5498652
Juliette Nourredine, known to her fans simply as Juliette, is an acclaimed singer/songwriter from France whose albums regularly chart within the national Top Ten. Born on September 25, 1962, in Paris, France, the chanteuse began her performance career in Toulouse, where as a teenager she performed the songs of Jacques Brel and Edith Piaf on piano. In time she began writing songs of her own and singing. One of her early performances, a theater show from 1986, was released independently on cassette as Juliette (1987). Another live performance, ¿Que Tal? (1991), followed several years later on the label Le Rideau Bouge. Subsequent releases on the label include Irrésistible (1993), her studio album debut; Juliette Chante aux Halles (1995), another theater performance; Rimes Féminines (1996), a studio album; and Deux Pianos (1998), a live album co-featuring Didier Goret. Assassins Sans Couteaux (1998) marked a turning point in the career of Juliette. Reissued by Universal in 2000, it was the first of her major-label releases. In 2001 Universal reissued the remainder of her back catalog titles on Le Rideau Bouge. Her next album of new material, Le Festin de Juliette (2002), was her most popular to date, peaking at number 21 on the French albums chart its opening week. In the wake of its success, the best-of collection Ma Vie, Mon Oeuvre, Vol. 1 (1993) was released as a career retrospective, subtitled "20 Ans, 20 Chansons." Subsequent albums Mutatis Mutandis (2005) and Bijoux & Babioles (2008) were even more popular, both charting within the Top Ten of the French albums chart.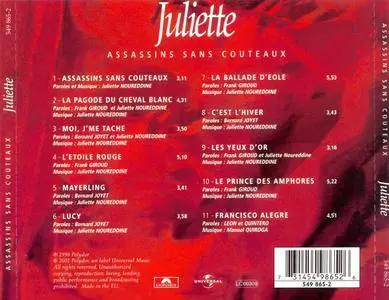 Track List:
01. Assassins Sans Couteaux
02. La Pagode Du Cheval Blanc
03. J'me Tache Moi
04. L'toile Rouge
05. Mayerling
06. Lucy
07. La Ballade D'eole
08. C'est L'Hiver
09. Les Yeux D'or
10. Le Prince Des Amphores
11. Francisco Alegre
Exact Audio Copy V1.0 beta 3 from 29. August 2011

Отчёт EAC об извлечении, выполненном 13. июля 2014, 14:56

Juliette / Assassins sans couteaux

Дисковод: MATSHITADVD-RAM UJ8B0AW Adapter: 0 ID: 1

Режим чтения : Достоверность
Использование точного потока : Да
Отключение кэша аудио : Да
Использование указателей C2 : Нет

Коррекция смещения при чтении : 102
Способность читать области Lead-in и Lead-out : Нет
Заполнение пропущенных сэмплов тишиной : Да
Удаление блоков с тишиной в начале и конце : Нет
При вычислениях CRC использовались нулевые сэмплы : Да
Интерфейс : Встроенный Win32-интерфейс для Win NT/2000

Выходной формат : Пользовательский кодировщик
Выбранный битрейт : 128 kBit/s
Качество : Высокий
Добавление ID3-тега : Нет
Утилита сжатия : C:\Program Files (x86)\Exact Audio Copy\Flac\flac.exe
Дополнительные параметры : -V -8 %source%


TOC извлечённого CD

Трек | Старт | Длительность | Начальный сектор | Конечный сектор
––––––––––––––––––––––––––––––––––-
1 | 0:00.32 | 3:16.18 | 32 | 14749
2 | 3:16.50 | 4:31.60 | 14750 | 35134
3 | 7:48.35 | 3:54.50 | 35135 | 52734
4 | 11:43.10 | 5:12.00 | 52735 | 76134
5 | 16:55.10 | 3:41.27 | 76135 | 92736
6 | 20:36.37 | 4:12.38 | 92737 | 111674
7 | 24:49.00 | 5:55.30 | 111675 | 138329
8 | 30:44.30 | 3:44.05 | 138330 | 155134
9 | 34:28.35 | 3:22.47 | 155135 | 170331
10 | 37:51.07 | 5:25.23 | 170332 | 194729
11 | 43:16.30 | 4:49.65 | 194730 | 216469


Характеристики диапазона извлечения и сообщения об ошибках

Выбранный диапазон

Имя файла C:\Мои раздачи\Juliette - Assassins sans couteaux\Juliette - Assassins sans couteaux.wav

Пиковый уровень 100.0 %
Скорость извлечения 1.9 X
Качество диапазона 100.0 %
CRC теста 17429AEF
CRC копии 17429AEF
Копирование… OK

Ошибок не произошло


AccurateRip: сводка

Трек 1 точность не определена (достоверность 6) [BEF41EFC], AccurateRip вернул [A231EEE7] (AR v2)
Трек 2 точность не определена (достоверность 6) [C45FE018], AccurateRip вернул [AB66F50D] (AR v2)
Трек 3 точность не определена (достоверность 6) [D9CCF22B], AccurateRip вернул [D8C93193] (AR v2)
Трек 4 точность не определена (достоверность 6) [1E6D3EA3], AccurateRip вернул [0E25FF40] (AR v2)
Трек 5 точность не определена (достоверность 6) [67379DFF], AccurateRip вернул [BD6F0F3C] (AR v2)
Трек 6 точность не определена (достоверность 6) [EE5D142D], AccurateRip вернул [183691B1] (AR v2)
Трек 7 точность не определена (достоверность 6) [7CE9EAB3], AccurateRip вернул [038F94F2] (AR v2)
Трек 8 точность не определена (достоверность 6) [6672F3C9], AccurateRip вернул [612D4F0B] (AR v2)
Трек 9 точность не определена (достоверность 6) [B80F38D9], AccurateRip вернул [14342BB7] (AR v2)
Трек 10 точность не определена (достоверность 5) [53737673], AccurateRip вернул [E6372D10] (AR v2)
Трек 11 точность не определена (достоверность 6) [24D615CB], AccurateRip вернул [DB95AFFC] (AR v2)

Ни один трек не прошёл проверки на точность
В вашей базе может быть иной вариант штамповки диска

Конец отчёта

==== Контрольная сумма отчёта 9A48352D40A4DDA265303E31DEE157E9946030BCF43B1C0F9D3FD0E4A16C420F ====

Thanks to the Original ripper (Aprillian)!

Download: