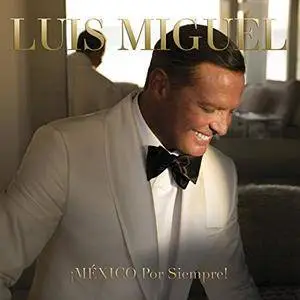 Luis Miguel - ¡MÉXICO Por Siempre! (2017)
WEB FLAC (Tracks) 310 MB | Cover | 42:09 minutes | MP3 CBR 320 kbps | 99 MB
Pop, Folk, Latin | Label: Warner Music Latina
¡Mexico Por Siempre! is Luis Miguel's first album in seven years (and only his second Mariachi album). He presents fourteen new recordings and his vocals delivery, blending in the power and passion necessary for this genre, continue to be unmatched by no other in the world of Latin music. Every song in this album is a classic Mariachi song. Backed by one of Mexico's most admired Mariachi groups, MARIACHI VARGAS DE TECALITLAN, ¡Mexico Por Siempre! will surely go into the history books as one of the greatest Mariachi productions of all time.
TRACKLIST
1. La Fiesta Del Mariachi
2. No Me Amenaces
3. Llamarada
4. El Balajú / Huapango
5. Soy Lo Prohibido
6. El Siete Mares
7. ¿Por Qué Te Conocí?
8. Deja Que Salga La Luna
9. Serenata Huasteca
10. Que Te Vaya Bonito
11. No Discutamos
12. Sin Sangre En Las Venas
13. Qué Bonita Es Mi Tierra
14. Los Días Felices
–––––––––––-
DON'T MODIFY THIS FILE
–––––––––––-
PERFORMER: auCDtect Task Manager, ver. 1.6.0 RC1 build 1.6.0.1
Copyright © 2008-2010 y-soft. All rights reserved
http://y-soft.org
ANALYZER: auCDtect: CD records authenticity detector, version 0.8.2
Copyright © 2004 Oleg Berngardt. All rights reserved.
Copyright © 2004 Alexander Djourik. All rights reserved.
FILE: 9 Serenata Huasteca.flac
Size: 23321200 Hash: 257212A59E1C99E7DAFCCF96E107B6BB Accuracy: -m0
Conclusion: CDDA 100%
Signature: 093EB5BE2850398D16FA03FFA0F7BE12D5A0432C
FILE: 8 Deja Que Salga La Luna.flac
Size: 26239757 Hash: 598286433CBDF05C36F59FC3CE51DB32 Accuracy: -m0
Conclusion: CDDA 100%
Signature: 8C2282BA1C022C7D3DFB0847507593EBD4E6F364
FILE: 7 ¿Por Qué Te Conocí-.flac
Size: 23251045 Hash: B93603432B4319FA396BCD686421470C Accuracy: -m0
Conclusion: CDDA 100%
Signature: 6FB44A253944D00347E21688553A70FA32E57D19
FILE: 6 El Siete Mares.flac
Size: 21560806 Hash: B9BCC2BA0F559B1E6346C749BF18431B Accuracy: -m0
Conclusion: CDDA 100%
Signature: 50B41A152136F1FF62B1605ECFEC9BF785E7C768
FILE: 5 Soy Lo Prohibido.flac
Size: 22874728 Hash: 7E513741DE21BBC63746BCB3D5895716 Accuracy: -m0
Conclusion: CDDA 100%
Signature: 7FE2C2149E17C9C3CEAB61DBF5A920FDB4B894EB
FILE: 4 El Balajú - Huapango.flac
Size: 23488214 Hash: 28316A4EA16EE26FD54648AB82832DED Accuracy: -m0
Conclusion: CDDA 100%
Signature: 0F0D49A85C34C86C231A15F9590F221A8DB48B9D
FILE: 3 Llamarada.flac
Size: 26730798 Hash: 2257ABA1CAC161B49F204B0BFAC023FB Accuracy: -m0
Conclusion: CDDA 100%
Signature: 8EB909C75AC98138311275C1598FF04C2579DFEE
FILE: 2 No Me Amenaces.flac
Size: 18897454 Hash: 11BCB49E103D683B00DA71870D0D3697 Accuracy: -m0
Conclusion: CDDA 100%
Signature: 5FFAF3BBF4FB0CC67402C28ADA962D53E1EF80DF
FILE: 14 Los Días Felices.flac
Size: 27928822 Hash: F15224135B39C399FB7951FE27C957F7 Accuracy: -m0
Conclusion: CDDA 100%
Signature: D0CFDCD4FC48E1B188E96A46978535919FE1155F
FILE: 13 Qué Bonita Es Mi Tierra.flac
Size: 23499076 Hash: 01B80E989A49B8F1F23557C43D22D32C Accuracy: -m0
Conclusion: CDDA 100%
Signature: E44C3FCCEC0A3FA1638A8E748792C3C90163E528
FILE: 12 Sin Sangre En Las Venas.flac
Size: 19903352 Hash: 2B5A44D02BFE7AD5C4EF0CB0979CDC62 Accuracy: -m0
Conclusion: CDDA 100%
Signature: C672F9EC13B4F503EBD2097F074D8819EF9F9602
FILE: 11 No Discutamos.flac
Size: 24103531 Hash: BD6998C3AC589AE54458D14DEBE36EEB Accuracy: -m0
Conclusion: CDDA 100%
Signature: C4B2BDA8225424E872178D4026EC3B159BBA699D
FILE: 10 Que Te Vaya Bonito.flac
Size: 20490304 Hash: F3A383FE51E84B42B1FDB96AED14A0EE Accuracy: -m0
Conclusion: CDDA 100%
Signature: 31F208972C11503BC96EAB1F3723D155B3716B50
FILE: 1 La Fiesta Del Mariachi.flac
Size: 22679728 Hash: 1ADD225AD27372FFEE9680583BB4B69E Accuracy: -m0
Conclusion: CDDA 100%
Signature: 4FF42D081C25F7BC23D5CDD00EC4C0B17C07DEAF