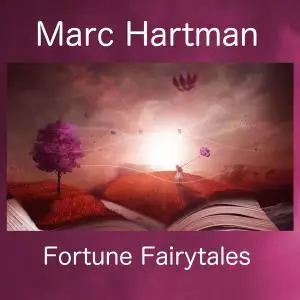 Marc Hartman - Fortune Fairytales (2020)
WEB FLAC (tracks) - 457 MB | MP3 CBR 320 kbps (LAME 3.93) - 180 MB | Front cover
Genre: Chillout, Downtempo, Lounge | RAR 3% Rec. | Label: Lemongrassmusic
Lemongrassmusic present "Fortune Fairytales" - the 10th longplayer album by Dutch musician and producer Marc Hartman.
Marc says: "Everyone has a wish, everyone has dreams. For a lot of people it is about getting their fortune, having a perfect life. My fortune is music and the gift to make my own music… I feel myself fortunate. My dream came true, my own fairytale…. and this is what it's all about."
The 15 tracks from his new album are the outcome of this joyful and creative dreaming time - the storybook that is waiting to be read, heard and dreamed on.
Tracklist:
01. Cinderella
02. Crystal Sea
03. Blue Moon
04. Kite (A Song For Nico Schoonhoven)
05. Never Let You Go
06. Pushing On
07. No Escape
08. We Are More Than…
09. Borrowing
10. Shady Days
11. That's Why
12. Fortune Fairytale
13. What I Need
14. Our New Plan
15. Hide & Seek
Total time:
01:16:22

PERFORMER: auCDtect Task Manager, ver. 1.6.0 RC1 build 1.6.0.1
Copyright © 2008-2010 y-soft. All rights reserved

ANALYZER: auCDtect: CD records authenticity detector, version 0.8.2
Copyright © 2004 Oleg Berngardt. All rights reserved.
Copyright © 2004 Alexander Djourik. All rights reserved.


FILE: 15 - Hide & Seek.flac
Size: 42318414 Hash: D68449FC4C0E2D96D254E2DF976F14F6 Accuracy: -m0
Conclusion: CDDA 100%
Signature: B9523D62D00B160E910EBC873B73A832A5358138
FILE: 14 - Our New Plan.flac
Size: 39813391 Hash: 899D52C7F7261265F0E62E47F78E7258 Accuracy: -m0
Conclusion: CDDA 99%
Signature: 3DDB9A9538620DD2C44FD824DE71EBFCD4F29233
FILE: 13 - What I Need.flac
Size: 35402321 Hash: 361234F009903AF45530A8E80E08BC49 Accuracy: -m0
Conclusion: CDDA 100%
Signature: F7B7FE7EF5AA7F39F62C47FD5F79EB3F0DE168D7
FILE: 12 - Fortune Fairytale.flac
Size: 30970799 Hash: CF2BFC72DA214F0190DF67ACD03A5312 Accuracy: -m0
Conclusion: CDDA 99%
Signature: 2A0F1071BA1458186EE700E1706849AF7DEDD4CB
FILE: 11 - That's Why.flac
Size: 28032285 Hash: 398541BD9DBC02E42E4807021C6B3B5B Accuracy: -m0
Conclusion: CDDA 100%
Signature: F5C0E05D9182F9F52B70B23044F76418C19C2803
FILE: 10 - Shady Days.flac
Size: 29350629 Hash: 0C78D8694967B2AC82E1E2CC0CFE3BDA Accuracy: -m0
Conclusion: CDDA 100%
Signature: 45F058B554E036C209721D69E5D8928E43BEA372
FILE: 09 - Borrowing.flac
Size: 26840129 Hash: B2E3A506648C28480EC8713411877347 Accuracy: -m0
Conclusion: CDDA 86%
Signature: 5562BC819604CBF5861C33B2BCADBCBD9BD2DCA6
FILE: 08 - We Are More Than….flac
Size: 27212451 Hash: 0B7DBE43E6E3DBFA8E904F9173C74F63 Accuracy: -m0
Conclusion: CDDA 100%
Signature: 1807061EF445AC051E298049B46CF7AEE218782C
FILE: 07 - No Escape.flac
Size: 35096569 Hash: CB19B01E82FCF34243A6C2A0B04DD645 Accuracy: -m0
Conclusion: CDDA 100%
Signature: 0434F67B28E729111BA6A595372F5281B8BBA208
FILE: 06 - Pushing On.flac
Size: 28896658 Hash: 68FDD115A95BD630974C4A3161ECD83F Accuracy: -m0
Conclusion: CDDA 54%
Signature: A484E4F4F68218E402EB328BC33EFFF8915EEEDC
FILE: 05 - Never Let You Go.flac
Size: 32125806 Hash: 2CD2685F247EA4B906C1283DD07A0E3A Accuracy: -m0
Conclusion: CDDA 100%
Signature: 00366EA01FD5E4BF6FFBF5CB08726BAB354137CB
FILE: 04 - Kite (A Song For Nico Schoonhoven).flac
Size: 19423181 Hash: 95DBE3A4D89A6CCFF3FA49EA65B8D58E Accuracy: -m0
Conclusion: MPEG 95%
Signature: D5D1F565E6E41B9FE2EEA5E9199F7542A6D6C9F3
FILE: 03 - Blue Moon.flac
Size: 25429185 Hash: 620544AEEB66B7E5BAA20414271A797F Accuracy: -m0
Conclusion: CDDA 100%
Signature: 7788F552A8A67D329B7759DD7E1667DE6D5496C9
FILE: 02 - Crystal Sea.flac
Size: 33776598 Hash: D097D9CADA8C625DB430F4F92A1B7186 Accuracy: -m0
Conclusion: CDDA 100%
Signature: 481210018131426918DAE509B43B6D67346AB479
FILE: 01 - Cinderella.flac
Size: 30552450 Hash: 6AD16AF87E06BA3033245C1FCEEEE97F Accuracy: -m0
Conclusion: CDDA 99%
Signature: 6C8CF66CCFCD759F63BEF9156320AB13CE43E01D