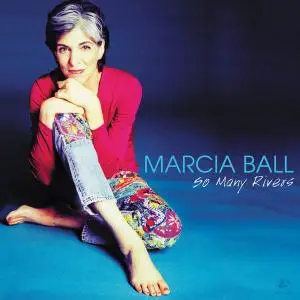 Marcia Ball - So Many Rivers (2003)
XLD Rip | FLAC (image+.cue+log) - 370 MB | MP3 CBR 320 kbps (LAME 3.93) - 129 MB | Covers - 247 MB
Genre: Blues | RAR 3% Rec. | Label: Alligator Records (ALCD 4891)
Marcia Ball's strong western Louisiana, eastern Texas roots run strongly through So Many Rivers, and she has increased the range she covers. Solid in the foundation of her piano playing and phrasing, she is rooted rock-solid to the rhythms by the drumming of Tom Fillman and the bass of both Don Bennett and Yoggie Musgrove. There is also the production work of Stephen Bruton, who also added his otherworldly guitar work to the mix. Marcia Ball's voice has only gotten finer with the passage of time, and the collaborations with Irma Thomas and Tracy Nelson have also added a lot of potency to her voice and handling of a song. She has assembled a crack group of musicians here that gives her freedom to take those chances that make So Many Rivers stand out from the crowd. The six songs she wrote are among the standouts here. The slow-building strength of "The Storm" and the power and grit in "Give Me a Chance" add depth to this collection. She does a great job with putting some bounce into others' tunes ("Honeypie"). This is a standout from this queen of the gatorhythms that bring the swamp alive.
Tracklist:
01. Foreclose on the House of Love
02. Dance With Me
03. Baby, Why Not
04. Honeypie
05. Give Me a Chance
06. Didn't You Know
07. Give It Up (Give In)
08. So Many Rivers to Cross
09. The Storm
10. The Lowdown
11. Hurricane on China Lake
12. Three Hundred Pounds of Hongry
13. If It's Really Got to Be This Way
14. If It Ain't One Thing
Total time:
55:01
X Lossless Decoder version 20181019 (151.1)

XLD extraction logfile from 2020-01-18 12:36:58 +0400

Marcia Ball / So Many Rivers

Used drive : ASUS SDRW-08D2S-U (revision A801)
Media type : Pressed CD

Ripper mode : XLD Secure Ripper
Disable audio cache : OK for the drive with a cache less than 1375KiB
Make use of C2 pointers : NO
Read offset correction : 6
Max retry count : 20
Gap status : Analyzed, Appended

TOC of the extracted CD
Track | Start | Length | Start sector | End sector
––––––––––––––––––––––––––––-
1 | 00:00:00 | 04:47:03 | 0 | 21527
2 | 04:47:03 | 04:50:46 | 21528 | 43323
3 | 09:37:49 | 03:36:45 | 43324 | 59568
4 | 13:14:19 | 03:36:36 | 59569 | 75804
5 | 16:50:55 | 03:27:71 | 75805 | 91400
6 | 20:18:51 | 04:10:19 | 91401 | 110169
7 | 24:28:70 | 04:31:52 | 110170 | 130546
8 | 29:00:47 | 03:44:08 | 130547 | 147354
9 | 32:44:55 | 04:47:55 | 147355 | 168934
10 | 37:32:35 | 03:20:16 | 168935 | 183950
11 | 40:52:51 | 03:39:11 | 183951 | 200386
12 | 44:31:62 | 03:43:16 | 200387 | 217127
13 | 48:15:03 | 03:37:33 | 217128 | 233435
14 | 51:52:36 | 03:08:67 | 233436 | 247602

AccurateRip Summary (DiscID: 001d7783-0137524d-ca0ce50e)
Track 01 : OK (v1+v2, confidence 48/48)
Track 02 : OK (v1+v2, confidence 48/48)
Track 03 : OK (v1+v2, confidence 46/46)
Track 04 : OK (v1+v2, confidence 48/48)
Track 05 : OK (v1+v2, confidence 47/47)
Track 06 : OK (v1+v2, confidence 47/47)
Track 07 : OK (v1+v2, confidence 46/46)
Track 08 : OK (v1+v2, confidence 47/47)
Track 09 : OK (v1+v2, confidence 47/47)
Track 10 : OK (v1+v2, confidence 47/47)
Track 11 : OK (v1+v2, confidence 47/47)
Track 12 : OK (v1+v2, confidence 47/47)
Track 13 : OK (v1+v2, confidence 47/47)
Track 14 : OK (v1+v2, confidence 46/46)
->All tracks accurately ripped.

All Tracks
Filename : /Volumes/FILE3/Audio/SWF/2003. Marcia Ball - So Many Rivers (2003 Alligator, ALCD 4891, USA)/So Many Rivers.flac
Album gain : -9.20 dB
Peak : 0.966583
CRC32 hash (test run) : 1E97F3D3
CRC32 hash : 1E97F3D3
CRC32 hash (skip zero) : A4C1369F
Statistics
Read error : 0
Jitter error (maybe fixed) : 0
Retry sector count : 0
Damaged sector count : 0

Track 01
Pre-gap length : 00:02:00

Track gain : -10.21 dB
Peak : 0.966553
CRC32 hash (test run) : 1E890B00
CRC32 hash : 1E890B00
CRC32 hash (skip zero) : 52B67D34
AccurateRip v1 signature : D43A48E7
AccurateRip v2 signature : 30006DF8
->Accurately ripped (v1+v2, confidence 20+28/48)
Statistics
Read error : 0
Jitter error (maybe fixed) : 0
Retry sector count : 0
Damaged sector count : 0

Track 02
Pre-gap length : 00:01:00

Track gain : -9.59 dB
Peak : 0.966583
CRC32 hash (test run) : 52E15F3A
CRC32 hash : 52E15F3A
CRC32 hash (skip zero) : A4B82498
AccurateRip v1 signature : 6192958D
AccurateRip v2 signature : DCA5FB2B
->Accurately ripped (v1+v2, confidence 20+28/48)
Statistics
Read error : 0
Jitter error (maybe fixed) : 0
Retry sector count : 0
Damaged sector count : 0

Track 03
Pre-gap length : 00:02:00

Track gain : -9.09 dB
Peak : 0.966461
CRC32 hash (test run) : 9F5F82E8
CRC32 hash : 9F5F82E8
CRC32 hash (skip zero) : 6DF15454
AccurateRip v1 signature : 7E4DBA4D
AccurateRip v2 signature : 8D1E3B50
->Accurately ripped (v1+v2, confidence 20+26/46)
Statistics
Read error : 0
Jitter error (maybe fixed) : 0
Retry sector count : 0
Damaged sector count : 0

Track 04
Pre-gap length : 00:01:00

Track gain : -10.08 dB
Peak : 0.966492
CRC32 hash (test run) : B0BCB774
CRC32 hash : B0BCB774
CRC32 hash (skip zero) : 8A1A3FB0
AccurateRip v1 signature : 28FEF859
AccurateRip v2 signature : 8A1807A3
->Accurately ripped (v1+v2, confidence 20+28/48)
Statistics
Read error : 0
Jitter error (maybe fixed) : 0
Retry sector count : 0
Damaged sector count : 0

Track 05
Pre-gap length : 00:01:38

Track gain : -8.07 dB
Peak : 0.966492
CRC32 hash (test run) : 47650DD2
CRC32 hash : 47650DD2
CRC32 hash (skip zero) : DE9CB872
AccurateRip v1 signature : 4E55F89D
AccurateRip v2 signature : 3E8CDB37
->Accurately ripped (v1+v2, confidence 20+27/47)
Statistics
Read error : 0
Jitter error (maybe fixed) : 0
Retry sector count : 0
Damaged sector count : 0

Track 06
Pre-gap length : 00:02:00

Track gain : -9.39 dB
Peak : 0.966492
CRC32 hash (test run) : 3B77D586
CRC32 hash : 3B77D586
CRC32 hash (skip zero) : 539BCA43
AccurateRip v1 signature : ECA900BA
AccurateRip v2 signature : 86FDC2AA
->Accurately ripped (v1+v2, confidence 20+27/47)
Statistics
Read error : 0
Jitter error (maybe fixed) : 0
Retry sector count : 0
Damaged sector count : 0

Track 07
Pre-gap length : 00:01:37

Track gain : -10.06 dB
Peak : 0.966492
CRC32 hash (test run) : 6F449EC9
CRC32 hash : 6F449EC9
CRC32 hash (skip zero) : CE1C79E0
AccurateRip v1 signature : C38EC97C
AccurateRip v2 signature : 82D7A7FD
->Accurately ripped (v1+v2, confidence 20+26/46)
Statistics
Read error : 0
Jitter error (maybe fixed) : 0
Retry sector count : 0
Damaged sector count : 0

Track 08
Pre-gap length : 00:01:37

Track gain : -8.97 dB
Peak : 0.966553
CRC32 hash (test run) : FF5BA9BF
CRC32 hash : FF5BA9BF
CRC32 hash (skip zero) : B1E0471E
AccurateRip v1 signature : 7204A6AC
AccurateRip v2 signature : ABBBB717
->Accurately ripped (v1+v2, confidence 20+27/47)
Statistics
Read error : 0
Jitter error (maybe fixed) : 0
Retry sector count : 0
Damaged sector count : 0

Track 09
Pre-gap length : 00:02:00

Track gain : -7.89 dB
Peak : 0.966492
CRC32 hash (test run) : A32CB56A
CRC32 hash : A32CB56A
CRC32 hash (skip zero) : DCE13752
AccurateRip v1 signature : 3B8175B6
AccurateRip v2 signature : F394573D
->Accurately ripped (v1+v2, confidence 20+27/47)
Statistics
Read error : 0
Jitter error (maybe fixed) : 0
Retry sector count : 0
Damaged sector count : 0

Track 10
Pre-gap length : 00:01:38

Track gain : -8.60 dB
Peak : 0.966553
CRC32 hash (test run) : 1D39DD74
CRC32 hash : 1D39DD74
CRC32 hash (skip zero) : BABBCFED
AccurateRip v1 signature : D87083BA
AccurateRip v2 signature : EC058E8B
->Accurately ripped (v1+v2, confidence 20+27/47)
Statistics
Read error : 0
Jitter error (maybe fixed) : 0
Retry sector count : 0
Damaged sector count : 0

Track 11
Pre-gap length : 00:02:00

Track gain : -8.63 dB
Peak : 0.966522
CRC32 hash (test run) : C06C8591
CRC32 hash : C06C8591
CRC32 hash (skip zero) : 242DBF7C
AccurateRip v1 signature : C54BBE6D
AccurateRip v2 signature : F0674DFB
->Accurately ripped (v1+v2, confidence 20+27/47)
Statistics
Read error : 0
Jitter error (maybe fixed) : 0
Retry sector count : 0
Damaged sector count : 0

Track 12
Pre-gap length : 00:01:38

Track gain : -8.96 dB
Peak : 0.966492
CRC32 hash (test run) : E73B3536
CRC32 hash : E73B3536
CRC32 hash (skip zero) : 4FB98762
AccurateRip v1 signature : E02A4AC1
AccurateRip v2 signature : E759609C
->Accurately ripped (v1+v2, confidence 20+27/47)
Statistics
Read error : 0
Jitter error (maybe fixed) : 0
Retry sector count : 0
Damaged sector count : 0

Track 13
Pre-gap length : 00:01:00

Track gain : -8.49 dB
Peak : 0.966553
CRC32 hash (test run) : 6F702491
CRC32 hash : 6F702491
CRC32 hash (skip zero) : 48CF4A0C
AccurateRip v1 signature : 25996521
AccurateRip v2 signature : 72AE1A54
->Accurately ripped (v1+v2, confidence 20+27/47)
Statistics
Read error : 0
Jitter error (maybe fixed) : 0
Retry sector count : 0
Damaged sector count : 0

Track 14
Pre-gap length : 00:01:37

Track gain : -9.27 dB
Peak : 0.966522
CRC32 hash (test run) : F4B293E0
CRC32 hash : F4B293E0
CRC32 hash (skip zero) : 94DA84A9
AccurateRip v1 signature : CEFA81BE
AccurateRip v2 signature : 6C1ACAC5
->Accurately ripped (v1+v2, confidence 19+27/46)
Statistics
Read error : 0
Jitter error (maybe fixed) : 0
Retry sector count : 0
Damaged sector count : 0

No errors occurred

End of status report

––-BEGIN XLD SIGNATURE––-
3biWmXAl0CVa8L77diGA.g2LqzGfM8M5CgE9XmmxRjiMJc.MfDIOgERRbu3qFYFGsRQEiipS.k_vL7QtzaLd24t.nJwF_mMq7rdu5QW
––-END XLD SIGNATURE––-

[CUETools log; Date: 16.02.2020 16:01:20; Version: 2.1.4]
[CTDB TOCID: IIYRk9YThbtywewVKBrlK1ZX7UQ-] found.
Track | CTDB Status
1 | (49/49) Accurately ripped
2 | (49/49) Accurately ripped
3 | (48/49) Accurately ripped
4 | (49/49) Accurately ripped
5 | (49/49) Accurately ripped
6 | (49/49) Accurately ripped
7 | (49/49) Accurately ripped
8 | (49/49) Accurately ripped
9 | (49/49) Accurately ripped
10 | (48/49) Accurately ripped
11 | (48/49) Accurately ripped
12 | (48/49) Accurately ripped
13 | (48/49) Accurately ripped
14 | (48/49) Accurately ripped
[AccurateRip ID: 001d7783-0137524d-ca0ce50e] found.
Track [ CRC | V2 ] Status
01 [d43a48e7|30006df8] (20+28/48) Accurately ripped
02 [6192958d|dca5fb2b] (20+28/48) Accurately ripped
03 [7e4dba4d|8d1e3b50] (20+26/46) Accurately ripped
04 [28fef859|8a1807a3] (20+28/48) Accurately ripped
05 [4e55f89d|3e8cdb37] (20+27/47) Accurately ripped
06 [eca900ba|86fdc2aa] (20+27/47) Accurately ripped
07 [c38ec97c|82d7a7fd] (20+26/46) Accurately ripped
08 [7204a6ac|abbbb717] (20+27/47) Accurately ripped
09 [3b8175b6|f394573d] (20+27/47) Accurately ripped
10 [d87083ba|ec058e8b] (20+27/47) Accurately ripped
11 [c54bbe6d|f0674dfb] (20+27/47) Accurately ripped
12 [e02a4ac1|e759609c] (20+27/47) Accurately ripped
13 [25996521|72ae1a54] (20+27/47) Accurately ripped
14 [cefa81be|6c1acac5] (19+27/46) Accurately ripped

Track Peak [ CRC32 ] [W/O NULL]
– 96,6 [1E97F3D3] [A4C1369F]
01 96,6 [1E890B00] [52B67D34]
02 96,6 [52E15F3A] [A4B82498]
03 96,6 [9F5F82E8] [6DF15454]
04 96,6 [B0BCB774] [8A1A3FB0]
05 96,6 [47650DD2] [DE9CB872]
06 96,6 [3B77D586] [539BCA43]
07 96,6 [6F449EC9] [CE1C79E0]
08 96,6 [FF5BA9BF] [B1E0471E]
09 96,6 [A32CB56A] [DCE13752]
10 96,6 [1D39DD74] [BABBCFED]
11 96,6 [C06C8591] [242DBF7C]
12 96,6 [E73B3536] [4FB98762]
13 96,6 [6F702491] [48CF4A0C]
14 96,6 [F4B293E0] [94DA84A9]
Thanks to
Swamp Fox