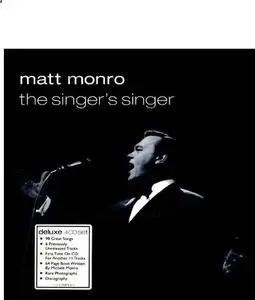 Matt Monro - The Singer's Singer (Remastered) (2011)
XLD Rip | FLAC (tracks, cue, log) - 1.6 GB | MP3 CBR 320 kbps - 714 MB
5:11:28 | Pop, Vocal, Jazz, Easy Listening | Label: EMI
This is a complete revamp and re-master of the 2001 compilation.
All tracks have been re-mastered from the original UK & US mastertapes (some for the first time) by Richard Moore. All tracks on CD's 1 - 3 are now all stereo and all tracks on CD 4 apart from 16,18,19,20 23 & 24 are also now in stereo.
Many of the recordings from the Capitol sessions have not been issued in stereo on CD before and 'From Russia With Love' receives it's first release in stereo with the correct vocals from the single version (All previous stereo issues have used an alternate vocal) newly remixed by Richard from the newly rediscovered 4 track tape.
More' and 'You And Me Against The World' are now the correct solo versions rather than the duets used in error on the original edition.
Tracklist
Disc 1
1. Music To Watch Girls By
2. Strangers In The Night
3. For All We Know
4. Yesterday
5. On A Clear Day You Can See Forever
6. For Once In My Life
7. He Ain't Heavy, He's My Brother
8. September Song
9. Love Is A Many Splendored Thing
10. Time After Time
11. What A Wonderful World
12. Georgia On My Mind
13. Alguien Canto (The Music Played)
14. You're Gonna Hear From Me
15. When Joanna Loved Me
16. Gonna Build A Mountain
17. My Friend My Friend (Stasera Pago 10)
18. Everybody's Talkin'
19. Days Of Wine And Roses
20. I'm Glad There is You
21. Stardust
22. As Long As She Needs Me
23. The Impossible Dream
24. Over The Rainbow
25. I Will Wait For You
26. I Get Along Without You Very Well (Except Sometimes)
Disc 2
1. Michelle
2. Portrait Of My Love
3. Somewhere
4. On A Wonderful Day Like Today
5. Born Free
6. The Good Life
7. You're Sensational
8. The Shadow Of Your Smile
9. If You Go Away (Ne Me Quitta Pas)
10. Honey On The Vine
11. You And Me Against The World
12. Let Me Sing And I'm Happy
13. Sunrise, Sunset
14. Let There Be Love
15. This Is The Life
16. Charade
17. Exodus
18. From Russia With Love (Mono) (Single Version)
19. Singin' In The Rain
20. Around The World
21. When I Fall In Love
22. Maria
23. Real Live Girl
24. On Days Like These
25. I Have Dreamed
26. Come Back To Me
Disc 3
1. Fly Me To The Moon (In Other Words)
2. Softly As I Leave You
3. We're Gonna Change The World
4. Who Can I Turn To?
5. Walk Away
6. Second Time Around
7. The Long And Winding Road
8. Ebb Tide
9. Fools Rush In
10. If I Never Sing Another Song
11. My Way
12. When You WIsh Upon A Star
13. Spring Is Here
14. Didn't We Girl
15. If She Walked Into My Life
16. Til The End Of Time
17. You've Got Possibilities
18. Green Leaves Of Summer
19. My Kind Of Girl
20. People
21. Sweet Talkin' Hannah
22. Autumn Leaves
23. Todo Pasara (All Of A Sudden)
Disc 4
1. You Made Me So Very Happy
2. No Puedo Quitar Mis Ojos De Ti
3. Be My Lady
4. Bridge Over Troubled Water
5. You're Closer To Me
6. Hava Naguila
7. I Don't Want To Run Your Life
8. Sweetest Sounds
9. Memory
10. More
11. Miss Brown To You
12. The Auction
13. A Place In Paris
14. Fourth Blue Monday
15. Hey
16. L'Etoile Du Sud
17. I Should Care
18. I'm A Fool To Want You
19. You Keep Me Swingin'
20. I've Got The Moon On My Side
21. Before You Go
22. A Lot Of Living
23. Listerine/Hartley's Peas/Homiman's Tea
24. Zai/The onder Of Woolies/Go Bowling
25. The Party's Over
X Lossless Decoder version 20210101 (153.1)

XLD extraction logfile from 2021-03-03 08:33:46 +0000

Matt Monro / The Singer's Singer

Used drive : TSSTcorp CDDVDW SE-208GB (revision TS00)
Media type : Pressed CD

Ripper mode : XLD Secure Ripper
Disable audio cache : OK for the drive with a cache less than 1375KiB
Make use of C2 pointers : NO
Read offset correction : 6
Max retry count : 20
Gap status : Analyzed, Appended (except HTOA)

TOC of the extracted CD
Track | Start | Length | Start sector | End sector
––––––––––––––––––––––––––––-
1 | 00:00:00 | 02:14:31 | 0 | 10080
2 | 02:14:31 | 02:30:37 | 10081 | 21367
3 | 04:44:68 | 03:22:51 | 21368 | 36568
4 | 08:07:44 | 02:50:50 | 36569 | 49368
5 | 10:58:19 | 01:53:31 | 49369 | 57874
6 | 12:51:50 | 02:55:39 | 57875 | 71038
7 | 15:47:14 | 03:38:57 | 71039 | 87445
8 | 19:25:71 | 03:23:24 | 87446 | 102694
9 | 22:49:20 | 02:49:50 | 102695 | 115419
10 | 25:38:70 | 03:17:57 | 115420 | 130251
11 | 28:56:52 | 03:33:36 | 130252 | 146262
12 | 32:30:13 | 04:34:30 | 146263 | 166842
13 | 37:04:43 | 03:07:10 | 166843 | 180877
14 | 40:11:53 | 02:35:09 | 180878 | 192511
15 | 42:46:62 | 02:25:07 | 192512 | 203393
16 | 45:11:69 | 02:49:33 | 203394 | 216101
17 | 48:01:27 | 02:55:12 | 216102 | 229238
18 | 50:56:39 | 02:57:06 | 229239 | 242519
19 | 53:53:45 | 03:20:73 | 242520 | 257592
20 | 57:14:43 | 02:45:00 | 257593 | 269967
21 | 59:59:43 | 02:26:13 | 269968 | 280930
22 | 62:25:56 | 02:49:25 | 280931 | 293630
23 | 65:15:06 | 03:51:73 | 293631 | 311028
24 | 69:07:04 | 02:46:41 | 311029 | 323519
25 | 71:53:45 | 02:52:43 | 323520 | 336462
26 | 74:46:13 | 03:58:68 | 336463 | 354380

List of alternate offset correction values
# | Absolute | Relative | Confidence
–––––––––––––––––––––
1 | -36 | -42 | 9
2 | 0 | -6 | 4

AccurateRip Summary (DiscID: 00478615-05414391-9212751a)
Track 01 : OK (v2, confidence 5/18)
Track 02 : OK (v2, confidence 5/18)
Track 03 : OK (v2, confidence 5/18)
Track 04 : OK (v2, confidence 5/18)
Track 05 : OK (v2, confidence 5/18)
Track 06 : OK (v2, confidence 5/18)
Track 07 : OK (v2, confidence 5/18)
Track 08 : OK (v2, confidence 5/18)
Track 09 : OK (v2, confidence 5/18)
Track 10 : OK (v2, confidence 5/18)
Track 11 : OK (v2, confidence 5/18)
Track 12 : OK (v2, confidence 5/18)
Track 13 : OK (v2, confidence 5/18)
Track 14 : OK (v2, confidence 5/18)
Track 15 : OK (v2, confidence 5/18)
Track 16 : OK (v2, confidence 5/18)
Track 17 : OK (v2, confidence 5/18)
Track 18 : OK (v2, confidence 5/18)
Track 19 : OK (v2, confidence 5/18)
Track 20 : OK (v2, confidence 5/18)
Track 21 : OK (v2, confidence 5/18)
Track 22 : OK (v2, confidence 5/18)
Track 23 : OK (v2, confidence 5/18)
Track 24 : OK (v2, confidence 5/18)
Track 25 : OK (v2, confidence 5/18)
Track 26 : OK (v2, confidence 5/18)
->All tracks accurately ripped.

All Tracks
Album gain : -1.89 dB
Peak : 0.999969
Statistics
Read error : 0
Jitter error (maybe fixed) : 0
Retry sector count : 1
Damaged sector count : 0

Track 01
Filename : /Volumes/Data/Matt Monro - The Singer's Singer (2001) [FLAC]/CD1/01 - Matt Monro - Music To Watch Girls By.flac
Pre-gap length : 00:02:00

Track gain : -2.53 dB
Peak : 0.928253
CRC32 hash (test run) : 721E4EFB
CRC32 hash : 721E4EFB
CRC32 hash (skip zero) : AA7F0D99
AccurateRip v1 signature : E0CDACB5
AccurateRip v2 signature : 4A69C976
->Accurately ripped (v2, confidence 5/18)
Statistics
Read error : 0
Jitter error (maybe fixed) : 0
Retry sector count : 0
Damaged sector count : 0

Track 02
Filename : /Volumes/Data/Matt Monro - The Singer's Singer (2001) [FLAC]/CD1/02 - Matt Monro - Strangers In The Night (Stereo Mix).flac
Pre-gap length : 00:03:00

Track gain : -0.98 dB
Peak : 0.999969
CRC32 hash (test run) : AA685BA1
CRC32 hash : AA685BA1
CRC32 hash (skip zero) : 95175F46
AccurateRip v1 signature : C9F54767
AccurateRip v2 signature : DE65E2F1
->Accurately ripped (v2, confidence 5/18)
Statistics
Read error : 0
Jitter error (maybe fixed) : 0
Retry sector count : 0
Damaged sector count : 0

Track 03
Filename : /Volumes/Data/Matt Monro - The Singer's Singer (2001) [FLAC]/CD1/03 - Matt Monro - For All We Know.flac
Pre-gap length : 00:03:00

Track gain : -0.05 dB
Peak : 0.891266
CRC32 hash (test run) : 7FA94E1F
CRC32 hash : 7FA94E1F
CRC32 hash (skip zero) : 5DF1A4E3
AccurateRip v1 signature : 079315C8
AccurateRip v2 signature : 5D78D2A5
->Accurately ripped (v2, confidence 5/18)
Statistics
Read error : 0
Jitter error (maybe fixed) : 0
Retry sector count : 0
Damaged sector count : 0

Track 04
Filename : /Volumes/Data/Matt Monro - The Singer's Singer (2001) [FLAC]/CD1/04 - Matt Monro - Yesterday.flac
Pre-gap length : 00:03:00

Track gain : -1.59 dB
Peak : 0.623291
CRC32 hash (test run) : DAE80646
CRC32 hash : DAE80646
CRC32 hash (skip zero) : C5775827
AccurateRip v1 signature : 423B9B9A
AccurateRip v2 signature : 10451647
->Accurately ripped (v2, confidence 5/18)
Statistics
Read error : 0
Jitter error (maybe fixed) : 0
Retry sector count : 0
Damaged sector count : 0

Track 05
Filename : /Volumes/Data/Matt Monro - The Singer's Singer (2001) [FLAC]/CD1/05 - Matt Monro - 5.On A Clear Day You Can See Forever (Stereo Mix).flac
Pre-gap length : 00:03:00

Track gain : -2.21 dB
Peak : 0.732330
CRC32 hash (test run) : 81250189
CRC32 hash : 81250189
CRC32 hash (skip zero) : 486B603B
AccurateRip v1 signature : 94591274
AccurateRip v2 signature : 3F531B0B
->Accurately ripped (v2, confidence 5/18)
Statistics
Read error : 0
Jitter error (maybe fixed) : 0
Retry sector count : 0
Damaged sector count : 0

Track 06
Filename : /Volumes/Data/Matt Monro - The Singer's Singer (2001) [FLAC]/CD1/06 - Matt Monro - 6.For Once In My Life.flac
Pre-gap length : 00:03:00

Track gain : -0.63 dB
Peak : 0.740967
CRC32 hash (test run) : 39C30AE7
CRC32 hash : 39C30AE7
CRC32 hash (skip zero) : E5BE3253
AccurateRip v1 signature : D45FB017
AccurateRip v2 signature : 2EADF8F2
->Accurately ripped (v2, confidence 5/18)
Statistics
Read error : 0
Jitter error (maybe fixed) : 0
Retry sector count : 1
Damaged sector count : 0

Track 07
Filename : /Volumes/Data/Matt Monro - The Singer's Singer (2001) [FLAC]/CD1/07 - Matt Monro - He Ain't Heavy He's My Brother.flac
Pre-gap length : 00:03:00

Track gain : -1.43 dB
Peak : 0.725922
CRC32 hash (test run) : 42CFB88C
CRC32 hash : 42CFB88C
CRC32 hash (skip zero) : D59F4E2E
AccurateRip v1 signature : 109D4246
AccurateRip v2 signature : 0010F768
->Accurately ripped (v2, confidence 5/18)
Statistics
Read error : 0
Jitter error (maybe fixed) : 0
Retry sector count : 0
Damaged sector count : 0

Track 08
Filename : /Volumes/Data/Matt Monro - The Singer's Singer (2001) [FLAC]/CD1/08 - Matt Monro - September Song.flac
Pre-gap length : 00:03:00

Track gain : -2.29 dB
Peak : 0.687622
CRC32 hash (test run) : 4A4129B1
CRC32 hash : 4A4129B1
CRC32 hash (skip zero) : 9EC680BC
AccurateRip v1 signature : 3C95D945
AccurateRip v2 signature : 3BE65ACC
->Accurately ripped (v2, confidence 5/18)
Statistics
Read error : 0
Jitter error (maybe fixed) : 0
Retry sector count : 0
Damaged sector count : 0

Track 09
Filename : /Volumes/Data/Matt Monro - The Singer's Singer (2001) [FLAC]/CD1/09 - Matt Monro - 9.Love Is A Many Splendored Thing.flac
Pre-gap length : 00:03:00

Track gain : -3.86 dB
Peak : 0.724854
CRC32 hash (test run) : 133D41E4
CRC32 hash : 133D41E4
CRC32 hash (skip zero) : 8BE9E39E
AccurateRip v1 signature : 8502C589
AccurateRip v2 signature : 718AA801
->Accurately ripped (v2, confidence 5/18)
Statistics
Read error : 0
Jitter error (maybe fixed) : 0
Retry sector count : 0
Damaged sector count : 0

Track 10
Filename : /Volumes/Data/Matt Monro - The Singer's Singer (2001) [FLAC]/CD1/10 - Matt Monro - 10.Time After Time.flac
Pre-gap length : 00:03:00

Track gain : -2.31 dB
Peak : 0.646942
CRC32 hash (test run) : A65F0771
CRC32 hash : A65F0771
CRC32 hash (skip zero) : C4FCEF0D
AccurateRip v1 signature : B9071C3D
AccurateRip v2 signature : 1C296B28
->Accurately ripped (v2, confidence 5/18)
Statistics
Read error : 0
Jitter error (maybe fixed) : 0
Retry sector count : 0
Damaged sector count : 0

Track 11
Filename : /Volumes/Data/Matt Monro - The Singer's Singer (2001) [FLAC]/CD1/11 - Matt Monro - 11.What a Wonderful World.flac
Pre-gap length : 00:03:00

Track gain : -1.10 dB
Peak : 0.842743
CRC32 hash (test run) : 79834A92
CRC32 hash : 79834A92
CRC32 hash (skip zero) : DB17BA5B
AccurateRip v1 signature : D2A55D9F
AccurateRip v2 signature : 0A7DEB97
->Accurately ripped (v2, confidence 5/18)
Statistics
Read error : 0
Jitter error (maybe fixed) : 0
Retry sector count : 0
Damaged sector count : 0

Track 12
Filename : /Volumes/Data/Matt Monro - The Singer's Singer (2001) [FLAC]/CD1/12 - Matt Monro - Georgia On My Mind.flac
Pre-gap length : 00:03:00

Track gain : -3.96 dB
Peak : 0.609161
CRC32 hash (test run) : DA8A4F9D
CRC32 hash : DA8A4F9D
CRC32 hash (skip zero) : 87729BD8
AccurateRip v1 signature : 8D436C53
AccurateRip v2 signature : 15805EDF
->Accurately ripped (v2, confidence 5/18)
Statistics
Read error : 0
Jitter error (maybe fixed) : 0
Retry sector count : 0
Damaged sector count : 0

Track 13
Filename : /Volumes/Data/Matt Monro - The Singer's Singer (2001) [FLAC]/CD1/13 - Matt Monro - Alguien Canto (Stereo Mix).flac
Pre-gap length : 00:03:00

Track gain : -2.30 dB
Peak : 0.516937
CRC32 hash (test run) : 78A4DDA7
CRC32 hash : 78A4DDA7
CRC32 hash (skip zero) : 2789BD55
AccurateRip v1 signature : 33C6C375
AccurateRip v2 signature : 1CFDA697
->Accurately ripped (v2, confidence 5/18)
Statistics
Read error : 0
Jitter error (maybe fixed) : 0
Retry sector count : 0
Damaged sector count : 0

Track 14
Filename : /Volumes/Data/Matt Monro - The Singer's Singer (2001) [FLAC]/CD1/14 - Matt Monro - You're Gonna Hear From Me (Stereo Mix).flac
Pre-gap length : 00:03:00

Track gain : -1.64 dB
Peak : 0.933075
CRC32 hash (test run) : 20C1D3BF
CRC32 hash : 20C1D3BF
CRC32 hash (skip zero) : 15E5EC11
AccurateRip v1 signature : 67983F41
AccurateRip v2 signature : B8AB7522
->Accurately ripped (v2, confidence 5/18)
Statistics
Read error : 0
Jitter error (maybe fixed) : 0
Retry sector count : 0
Damaged sector count : 0

Track 15
Filename : /Volumes/Data/Matt Monro - The Singer's Singer (2001) [FLAC]/CD1/15 - Matt Monro - When Joanna Loved Me (Stereo Mix).flac
Pre-gap length : 00:03:00

Track gain : -1.54 dB
Peak : 0.895477
CRC32 hash (test run) : A9747F68
CRC32 hash : A9747F68
CRC32 hash (skip zero) : C73BAD20
AccurateRip v1 signature : D97804D1
AccurateRip v2 signature : B1FA9AAA
->Accurately ripped (v2, confidence 5/18)
Statistics
Read error : 0
Jitter error (maybe fixed) : 0
Retry sector count : 0
Damaged sector count : 0

Track 16
Filename : /Volumes/Data/Matt Monro - The Singer's Singer (2001) [FLAC]/CD1/16 - Matt Monro - Gonna Build A Mountain.flac
Pre-gap length : 00:03:00

Track gain : -2.27 dB
Peak : 0.832703
CRC32 hash (test run) : 928238C3
CRC32 hash : 928238C3
CRC32 hash (skip zero) : 0F7673A2
AccurateRip v1 signature : D4ED0D26
AccurateRip v2 signature : 3F6D1CDF
->Accurately ripped (v2, confidence 5/18)
Statistics
Read error : 0
Jitter error (maybe fixed) : 0
Retry sector count : 0
Damaged sector count : 0

Track 17
Filename : /Volumes/Data/Matt Monro - The Singer's Singer (2001) [FLAC]/CD1/17 - Matt Monro - My Friend My Friend.flac
Pre-gap length : 00:03:00

Track gain : -0.90 dB
Peak : 0.746613
CRC32 hash (test run) : 8B3B6F5F
CRC32 hash : 8B3B6F5F
CRC32 hash (skip zero) : B88F7033
AccurateRip v1 signature : FE48ED4C
AccurateRip v2 signature : F20D3AA5
->Accurately ripped (v2, confidence 5/18)
Statistics
Read error : 0
Jitter error (maybe fixed) : 0
Retry sector count : 0
Damaged sector count : 0

Track 18
Filename : /Volumes/Data/Matt Monro - The Singer's Singer (2001) [FLAC]/CD1/18 - Matt Monro - Everybody's Talkin'.flac
Pre-gap length : 00:03:00

Track gain : -3.41 dB
Peak : 0.844269
CRC32 hash (test run) : 973B4A15
CRC32 hash : 973B4A15
CRC32 hash (skip zero) : 9E23A16C
AccurateRip v1 signature : F004B587
AccurateRip v2 signature : 6147E890
->Accurately ripped (v2, confidence 5/18)
Statistics
Read error : 0
Jitter error (maybe fixed) : 0
Retry sector count : 0
Damaged sector count : 0

Track 19
Filename : /Volumes/Data/Matt Monro - The Singer's Singer (2001) [FLAC]/CD1/19 - Matt Monro - The Days of Wine and Roses.flac
Pre-gap length : 00:03:00

Track gain : -1.33 dB
Peak : 0.685272
CRC32 hash (test run) : CED5A7BD
CRC32 hash : CED5A7BD
CRC32 hash (skip zero) : 284A5B9D
AccurateRip v1 signature : 7EA48D3C
AccurateRip v2 signature : 84D2632D
->Accurately ripped (v2, confidence 5/18)
Statistics
Read error : 0
Jitter error (maybe fixed) : 0
Retry sector count : 0
Damaged sector count : 0

Track 20
Filename : /Volumes/Data/Matt Monro - The Singer's Singer (2001) [FLAC]/CD1/20 - Matt Monro - I'm Glad There Is You (Stereo Mix).flac
Pre-gap length : 00:03:00

Track gain : 0.57 dB
Peak : 0.881195
CRC32 hash (test run) : C83E8CBD
CRC32 hash : C83E8CBD
CRC32 hash (skip zero) : D0BA9512
AccurateRip v1 signature : FA9D91A2
AccurateRip v2 signature : 7D16AD22
->Accurately ripped (v2, confidence 5/18)
Statistics
Read error : 0
Jitter error (maybe fixed) : 0
Retry sector count : 0
Damaged sector count : 0

Track 21
Filename : /Volumes/Data/Matt Monro - The Singer's Singer (2001) [FLAC]/CD1/21 - Matt Monro - Stardust.flac
Pre-gap length : 00:03:00

Track gain : -2.30 dB
Peak : 0.566132
CRC32 hash (test run) : 0514AEC1
CRC32 hash : 0514AEC1
CRC32 hash (skip zero) : B00B57F7
AccurateRip v1 signature : A2FF2D34
AccurateRip v2 signature : 08D95D1D
->Accurately ripped (v2, confidence 5/18)
Statistics
Read error : 0
Jitter error (maybe fixed) : 0
Retry sector count : 0
Damaged sector count : 0

Track 22
Filename : /Volumes/Data/Matt Monro - The Singer's Singer (2001) [FLAC]/CD1/22 - Matt Monro - As Long As She Needs Me.flac
Pre-gap length : 00:03:00

Track gain : -1.88 dB
Peak : 0.653839
CRC32 hash (test run) : 417E8C75
CRC32 hash : 417E8C75
CRC32 hash (skip zero) : 6AFF7190
AccurateRip v1 signature : DA2D1164
AccurateRip v2 signature : BE41C082
->Accurately ripped (v2, confidence 5/18)
Statistics
Read error : 0
Jitter error (maybe fixed) : 0
Retry sector count : 0
Damaged sector count : 0

Track 23
Filename : /Volumes/Data/Matt Monro - The Singer's Singer (2001) [FLAC]/CD1/23 - Matt Monro - The Impossible Dream.flac
Pre-gap length : 00:03:00

Track gain : -0.56 dB
Peak : 0.882751
CRC32 hash (test run) : ACA2BED5
CRC32 hash : ACA2BED5
CRC32 hash (skip zero) : 30AE149E
AccurateRip v1 signature : D26BDCAC
AccurateRip v2 signature : 3657DBF4
->Accurately ripped (v2, confidence 5/18)
Statistics
Read error : 0
Jitter error (maybe fixed) : 0
Retry sector count : 0
Damaged sector count : 0

Track 24
Filename : /Volumes/Data/Matt Monro - The Singer's Singer (2001) [FLAC]/CD1/24 - Matt Monro - Over The Rainbow.flac
Pre-gap length : 00:03:00

Track gain : -2.34 dB
Peak : 0.749939
CRC32 hash (test run) : 73DD6AA6
CRC32 hash : 73DD6AA6
CRC32 hash (skip zero) : F2914B7C
AccurateRip v1 signature : 3C09AC27
AccurateRip v2 signature : 023D6BCB
->Accurately ripped (v2, confidence 5/18)
Statistics
Read error : 0
Jitter error (maybe fixed) : 0
Retry sector count : 0
Damaged sector count : 0

Track 25
Filename : /Volumes/Data/Matt Monro - The Singer's Singer (2001) [FLAC]/CD1/25 - Matt Monro - I Will Wait For You (Stereo Mix).flac
Pre-gap length : 00:03:00

Track gain : -0.87 dB
Peak : 0.816772
CRC32 hash (test run) : AA8023FD
CRC32 hash : AA8023FD
CRC32 hash (skip zero) : F25A513A
AccurateRip v1 signature : 20887173
AccurateRip v2 signature : 965994FB
->Accurately ripped (v2, confidence 5/18)
Statistics
Read error : 0
Jitter error (maybe fixed) : 0
Retry sector count : 0
Damaged sector count : 0

Track 26
Filename : /Volumes/Data/Matt Monro - The Singer's Singer (2001) [FLAC]/CD1/26 - Matt Monro - I Get Along Without You Very Well (Except Sometimes).flac
Pre-gap length : 00:03:00

Track gain : -1.59 dB
Peak : 0.602448
CRC32 hash (test run) : 5A2F1E46
CRC32 hash : 5A2F1E46
CRC32 hash (skip zero) : 2D5A72D5
AccurateRip v1 signature : A4DD970D
AccurateRip v2 signature : 3ACC7B61
->Accurately ripped (v2, confidence 5/18)
Statistics
Read error : 0
Jitter error (maybe fixed) : 0
Retry sector count : 0
Damaged sector count : 0

No errors occurred

End of status report

––-BEGIN XLD SIGNATURE––-
dVzW9efelfjGMMJUZ8lONdUdgfp704BH0QuwU3GvPwJS.QzScqJ95eTOgOmpPk.shHPlOKiyS6VH29UwzRxMeL3G05D_xEm_0X4C6gW
––-END XLD SIGNATURE––-


X Lossless Decoder version 20210101 (153.1)

XLD extraction logfile from 2021-03-03 09:04:12 +0000

Matt Monro / The Singer's Singer

Used drive : TSSTcorp CDDVDW SE-208GB (revision TS00)
Media type : Pressed CD

Ripper mode : XLD Secure Ripper
Disable audio cache : OK for the drive with a cache less than 1375KiB
Make use of C2 pointers : NO
Read offset correction : 6
Max retry count : 20
Gap status : Analyzed, Appended (except HTOA)

TOC of the extracted CD
Track | Start | Length | Start sector | End sector
––––––––––––––––––––––––––––-
1 | 00:00:00 | 03:02:24 | 0 | 13673
2 | 03:02:24 | 02:47:27 | 13674 | 26225
3 | 05:49:51 | 03:33:06 | 26226 | 42206
4 | 09:22:57 | 02:05:65 | 42207 | 51646
5 | 11:28:47 | 02:49:19 | 51647 | 64340
6 | 14:17:66 | 02:25:59 | 64341 | 75274
7 | 16:43:50 | 03:01:41 | 75275 | 88890
8 | 19:45:16 | 03:42:47 | 88891 | 105587
9 | 23:27:63 | 03:10:22 | 105588 | 119859
10 | 26:38:10 | 02:19:38 | 119860 | 130322
11 | 28:57:48 | 03:25:27 | 130323 | 145724
12 | 32:23:00 | 02:51:18 | 145725 | 158567
13 | 35:14:18 | 02:57:42 | 158568 | 171884
14 | 38:11:60 | 03:16:18 | 171885 | 186602
15 | 41:28:03 | 02:22:24 | 186603 | 197276
16 | 43:50:27 | 04:09:61 | 197277 | 216012
17 | 48:00:13 | 03:07:61 | 216013 | 230098
18 | 51:07:74 | 02:37:16 | 230099 | 241889
19 | 53:45:15 | 02:52:61 | 241890 | 254850
20 | 56:38:01 | 02:07:19 | 254851 | 264394
21 | 58:45:20 | 03:44:18 | 264395 | 281212
22 | 62:29:38 | 04:12:66 | 281213 | 300178
23 | 66:42:29 | 02:10:69 | 300179 | 309997
24 | 68:53:23 | 03:43:17 | 309998 | 326739
25 | 72:36:40 | 02:55:73 | 326740 | 339937
26 | 75:32:38 | 02:35:50 | 339938 | 351612

AccurateRip Summary (DiscID: 0047a3eb-053ecdd7-6b12501a)
Track 01 : OK (v2, confidence 13/13)
Track 02 : OK (v2, confidence 13/13)
Track 03 : OK (v2, confidence 13/13)
Track 04 : OK (v2, confidence 13/13)
Track 05 : OK (v2, confidence 13/13)
Track 06 : OK (v2, confidence 13/13)
Track 07 : OK (v2, confidence 13/13)
Track 08 : OK (v2, confidence 13/13)
Track 09 : OK (v2, confidence 13/13)
Track 10 : OK (v2, confidence 13/13)
Track 11 : OK (v2, confidence 13/13)
Track 12 : OK (v2, confidence 13/13)
Track 13 : OK (v2, confidence 13/13)
Track 14 : OK (v2, confidence 13/13)
Track 15 : OK (v2, confidence 13/13)
Track 16 : OK (v2, confidence 13/13)
Track 17 : OK (v2, confidence 13/13)
Track 18 : OK (v2, confidence 13/13)
Track 19 : OK (v2, confidence 13/13)
Track 20 : OK (v2, confidence 13/13)
Track 21 : OK (v2, confidence 13/13)
Track 22 : OK (v2, confidence 13/13)
Track 23 : OK (v2, confidence 13/13)
Track 24 : OK (v2, confidence 13/13)
Track 25 : OK (v2, confidence 13/13)
Track 26 : OK (v2, confidence 13/13)
->All tracks accurately ripped.

All Tracks
Album gain : -1.31 dB
Peak : 0.879822
Statistics
Read error : 0
Jitter error (maybe fixed) : 0
Retry sector count : 0
Damaged sector count : 0

Track 01
Filename : /Volumes/Data/Matt Monro - The Singer's Singer (2001) [FLAC]/CD2/01 - Matt Monro - Michelle.flac
Pre-gap length : 00:02:00

Track gain : 0.95 dB
Peak : 0.879822
CRC32 hash (test run) : 39B2143D
CRC32 hash : 39B2143D
CRC32 hash (skip zero) : 41598F66
AccurateRip v1 signature : 5613BD5C
AccurateRip v2 signature : AB99455F
->Accurately ripped (v2, confidence 13/13)
Statistics
Read error : 0
Jitter error (maybe fixed) : 0
Retry sector count : 0
Damaged sector count : 0

Track 02
Filename : /Volumes/Data/Matt Monro - The Singer's Singer (2001) [FLAC]/CD2/02 - Matt Monro - Portrait of My Love.flac
Pre-gap length : 00:03:00

Track gain : -1.14 dB
Peak : 0.714478
CRC32 hash (test run) : 69255F4B
CRC32 hash : 69255F4B
CRC32 hash (skip zero) : D2BDBF97
AccurateRip v1 signature : 0554CE1E
AccurateRip v2 signature : ADC17BC1
->Accurately ripped (v2, confidence 13/13)
Statistics
Read error : 0
Jitter error (maybe fixed) : 0
Retry sector count : 0
Damaged sector count : 0

Track 03
Filename : /Volumes/Data/Matt Monro - The Singer's Singer (2001) [FLAC]/CD2/03 - Matt Monro - Somewhere (Stereo Mix).flac
Pre-gap length : 00:03:00

Track gain : -2.33 dB
Peak : 0.602661
CRC32 hash (test run) : A04FDDB1
CRC32 hash : A04FDDB1
CRC32 hash (skip zero) : 7CB86DB6
AccurateRip v1 signature : E36749E0
AccurateRip v2 signature : BE1B6A72
->Accurately ripped (v2, confidence 13/13)
Statistics
Read error : 0
Jitter error (maybe fixed) : 0
Retry sector count : 0
Damaged sector count : 0

Track 04
Filename : /Volumes/Data/Matt Monro - The Singer's Singer (2001) [FLAC]/CD2/04 - Matt Monro - On a Wonderful Day Like Today (Stereo Mix).flac
Pre-gap length : 00:03:00

Track gain : -3.35 dB
Peak : 0.872711
CRC32 hash (test run) : 6B0C465A
CRC32 hash : 6B0C465A
CRC32 hash (skip zero) : 2E58F383
AccurateRip v1 signature : 06B751B1
AccurateRip v2 signature : 10E05701
->Accurately ripped (v2, confidence 13/13)
Statistics
Read error : 0
Jitter error (maybe fixed) : 0
Retry sector count : 0
Damaged sector count : 0

Track 05
Filename : /Volumes/Data/Matt Monro - The Singer's Singer (2001) [FLAC]/CD2/05 - Matt Monro - Born Free.flac
Pre-gap length : 00:03:00

Track gain : -3.40 dB
Peak : 0.689362
CRC32 hash (test run) : D7F7C711
CRC32 hash : D7F7C711
CRC32 hash (skip zero) : 5DBCF7F5
AccurateRip v1 signature : B3ED07EE
AccurateRip v2 signature : 541C47DC
->Accurately ripped (v2, confidence 13/13)
Statistics
Read error : 0
Jitter error (maybe fixed) : 0
Retry sector count : 0
Damaged sector count : 0

Track 06
Filename : /Volumes/Data/Matt Monro - The Singer's Singer (2001) [FLAC]/CD2/06 - Matt Monro - The Good Life (Stereo Mix).flac
Pre-gap length : 00:03:00

Track gain : -0.31 dB
Peak : 0.693298
CRC32 hash (test run) : CFF4A3BA
CRC32 hash : CFF4A3BA
CRC32 hash (skip zero) : 239AD51B
AccurateRip v1 signature : A1C188C7
AccurateRip v2 signature : A05B1DB1
->Accurately ripped (v2, confidence 13/13)
Statistics
Read error : 0
Jitter error (maybe fixed) : 0
Retry sector count : 0
Damaged sector count : 0

Track 07
Filename : /Volumes/Data/Matt Monro - The Singer's Singer (2001) [FLAC]/CD2/07 - Matt Monro - You're Sensational.flac
Pre-gap length : 00:03:00

Track gain : 0.11 dB
Peak : 0.719879
CRC32 hash (test run) : AD8051A4
CRC32 hash : AD8051A4
CRC32 hash (skip zero) : DCBBA37D
AccurateRip v1 signature : CED80E0D
AccurateRip v2 signature : 26491CF6
->Accurately ripped (v2, confidence 13/13)
Statistics
Read error : 0
Jitter error (maybe fixed) : 0
Retry sector count : 0
Damaged sector count : 0

Track 08
Filename : /Volumes/Data/Matt Monro - The Singer's Singer (2001) [FLAC]/CD2/08 - Matt Monro - The Shadow of Your Smile.flac
Pre-gap length : 00:03:00

Track gain : 0.92 dB
Peak : 0.677612
CRC32 hash (test run) : 30E9D182
CRC32 hash : 30E9D182
CRC32 hash (skip zero) : 3FCECAE1
AccurateRip v1 signature : BE9E5CA7
AccurateRip v2 signature : 306C5FDE
->Accurately ripped (v2, confidence 13/13)
Statistics
Read error : 0
Jitter error (maybe fixed) : 0
Retry sector count : 0
Damaged sector count : 0

Track 09
Filename : /Volumes/Data/Matt Monro - The Singer's Singer (2001) [FLAC]/CD2/09 - Matt Monro - No Me Dejes (If You Go Away) (Full Spanish Version).flac
Pre-gap length : 00:03:00

Track gain : 1.98 dB
Peak : 0.695770
CRC32 hash (test run) : E0231ECE
CRC32 hash : E0231ECE
CRC32 hash (skip zero) : FABEF295
AccurateRip v1 signature : 7A5C101F
AccurateRip v2 signature : 55CB3F34
->Accurately ripped (v2, confidence 13/13)
Statistics
Read error : 0
Jitter error (maybe fixed) : 0
Retry sector count : 0
Damaged sector count : 0

Track 10
Filename : /Volumes/Data/Matt Monro - The Singer's Singer (2001) [FLAC]/CD2/10 - Matt Monro - Honey on the Vine (Stereo Mix).flac
Pre-gap length : 00:03:00

Track gain : 2.01 dB
Peak : 0.662323
CRC32 hash (test run) : BBC785D7
CRC32 hash : BBC785D7
CRC32 hash (skip zero) : 82D2114D
AccurateRip v1 signature : 14814EA0
AccurateRip v2 signature : D2B34343
->Accurately ripped (v2, confidence 13/13)
Statistics
Read error : 0
Jitter error (maybe fixed) : 0
Retry sector count : 0
Damaged sector count : 0

Track 11
Filename : /Volumes/Data/Matt Monro - The Singer's Singer (2001) [FLAC]/CD2/11 - Matt Monro - You and Me Against the World (Solo Version).flac
Pre-gap length : 00:03:00

Track gain : -0.77 dB
Peak : 0.773590
CRC32 hash (test run) : B58473A3
CRC32 hash : B58473A3
CRC32 hash (skip zero) : 19089C1D
AccurateRip v1 signature : C022E31B
AccurateRip v2 signature : 688CF641
->Accurately ripped (v2, confidence 13/13)
Statistics
Read error : 0
Jitter error (maybe fixed) : 0
Retry sector count : 0
Damaged sector count : 0

Track 12
Filename : /Volumes/Data/Matt Monro - The Singer's Singer (2001) [FLAC]/CD2/12 - Matt Monro - Let Me Sing And I'm Happy.flac
Pre-gap length : 00:03:00

Track gain : -1.43 dB
Peak : 0.810242
CRC32 hash (test run) : 67113FF1
CRC32 hash : 67113FF1
CRC32 hash (skip zero) : 45893C83
AccurateRip v1 signature : EBEB8044
AccurateRip v2 signature : DACC7A89
->Accurately ripped (v2, confidence 13/13)
Statistics
Read error : 0
Jitter error (maybe fixed) : 0
Retry sector count : 0
Damaged sector count : 0

Track 13
Filename : /Volumes/Data/Matt Monro - The Singer's Singer (2001) [FLAC]/CD2/13 - Matt Monro - Sunrise, Sunset.flac
Pre-gap length : 00:03:00

Track gain : -0.48 dB
Peak : 0.664886
CRC32 hash (test run) : 3776857B
CRC32 hash : 3776857B
CRC32 hash (skip zero) : 60EA7F8A
AccurateRip v1 signature : D399C82A
AccurateRip v2 signature : E70FDBAD
->Accurately ripped (v2, confidence 13/13)
Statistics
Read error : 0
Jitter error (maybe fixed) : 0
Retry sector count : 0
Damaged sector count : 0

Track 14
Filename : /Volumes/Data/Matt Monro - The Singer's Singer (2001) [FLAC]/CD2/14 - Matt Monro - Let There Be Love.flac
Pre-gap length : 00:03:00

Track gain : -0.10 dB
Peak : 0.663025
CRC32 hash (test run) : 97512A68
CRC32 hash : 97512A68
CRC32 hash (skip zero) : 2E7B95EA
AccurateRip v1 signature : 3691B2EA
AccurateRip v2 signature : AF34538C
->Accurately ripped (v2, confidence 13/13)
Statistics
Read error : 0
Jitter error (maybe fixed) : 0
Retry sector count : 0
Damaged sector count : 0

Track 15
Filename : /Volumes/Data/Matt Monro - The Singer's Singer (2001) [FLAC]/CD2/15 - Matt Monro - This Is The Life (Stereo Mix).flac
Pre-gap length : 00:03:00

Track gain : 0.82 dB
Peak : 0.689240
CRC32 hash (test run) : DC00F345
CRC32 hash : DC00F345
CRC32 hash (skip zero) : DC30FA20
AccurateRip v1 signature : 867FED3E
AccurateRip v2 signature : 234E72BA
->Accurately ripped (v2, confidence 13/13)
Statistics
Read error : 0
Jitter error (maybe fixed) : 0
Retry sector count : 0
Damaged sector count : 0

Track 16
Filename : /Volumes/Data/Matt Monro - The Singer's Singer (2001) [FLAC]/CD2/16 - Matt Monro - Charade.flac
Pre-gap length : 00:03:00

Track gain : -2.78 dB
Peak : 0.723297
CRC32 hash (test run) : 15CAE574
CRC32 hash : 15CAE574
CRC32 hash (skip zero) : 738DD5A0
AccurateRip v1 signature : 168CE49C
AccurateRip v2 signature : 859B6D80
->Accurately ripped (v2, confidence 13/13)
Statistics
Read error : 0
Jitter error (maybe fixed) : 0
Retry sector count : 0
Damaged sector count : 0

Track 17
Filename : /Volumes/Data/Matt Monro - The Singer's Singer (2001) [FLAC]/CD2/17 - Matt Monro - Exodus (Main Theme).flac
Pre-gap length : 00:03:00

Track gain : -0.44 dB
Peak : 0.636444
CRC32 hash (test run) : 1704C502
CRC32 hash : 1704C502
CRC32 hash (skip zero) : 422DF0A9
AccurateRip v1 signature : B63DA4F1
AccurateRip v2 signature : 57B5EAF4
->Accurately ripped (v2, confidence 13/13)
Statistics
Read error : 0
Jitter error (maybe fixed) : 0
Retry sector count : 0
Damaged sector count : 0

Track 18
Filename : /Volumes/Data/Matt Monro - The Singer's Singer (2001) [FLAC]/CD2/18 - Matt Monro - From Russia With Love (Stereo Single Remix).flac
Pre-gap length : 00:03:00

Track gain : -5.11 dB
Peak : 0.819366
CRC32 hash (test run) : 7859D8C9
CRC32 hash : 7859D8C9
CRC32 hash (skip zero) : 8B146430
AccurateRip v1 signature : CBC9F30B
AccurateRip v2 signature : 11AFA4EB
->Accurately ripped (v2, confidence 13/13)
Statistics
Read error : 0
Jitter error (maybe fixed) : 0
Retry sector count : 0
Damaged sector count : 0

Track 19
Filename : /Volumes/Data/Matt Monro - The Singer's Singer (2001) [FLAC]/CD2/19 - Matt Monro - Singin' in the Rain.flac
Pre-gap length : 00:03:00

Track gain : 0.06 dB
Peak : 0.757996
CRC32 hash (test run) : B4AA568B
CRC32 hash : B4AA568B
CRC32 hash (skip zero) : 3AA2414E
AccurateRip v1 signature : 1239D5FC
AccurateRip v2 signature : D3E6E722
->Accurately ripped (v2, confidence 13/13)
Statistics
Read error : 0
Jitter error (maybe fixed) : 0
Retry sector count : 0
Damaged sector count : 0

Track 20
Filename : /Volumes/Data/Matt Monro - The Singer's Singer (2001) [FLAC]/CD2/20 - Matt Monro - Around The World (Stereo Mix).flac
Pre-gap length : 00:02:74

Track gain : -2.60 dB
Peak : 0.614319
CRC32 hash (test run) : 9A744A0B
CRC32 hash : 9A744A0B
CRC32 hash (skip zero) : 4B9E90BB
AccurateRip v1 signature : 9409A582
AccurateRip v2 signature : 71C9ABB6
->Accurately ripped (v2, confidence 13/13)
Statistics
Read error : 0
Jitter error (maybe fixed) : 0
Retry sector count : 0
Damaged sector count : 0

Track 21
Filename : /Volumes/Data/Matt Monro - The Singer's Singer (2001) [FLAC]/CD2/21 - Matt Monro - When I Fall In Love.flac
Pre-gap length : 00:03:00

Track gain : -0.11 dB
Peak : 0.694641
CRC32 hash (test run) : 711A3A51
CRC32 hash : 711A3A51
CRC32 hash (skip zero) : 25961C49
AccurateRip v1 signature : E5CF4633
AccurateRip v2 signature : CFDFDF6F
->Accurately ripped (v2, confidence 13/13)
Statistics
Read error : 0
Jitter error (maybe fixed) : 0
Retry sector count : 0
Damaged sector count : 0

Track 22
Filename : /Volumes/Data/Matt Monro - The Singer's Singer (2001) [FLAC]/CD2/22 - Matt Monro - Maria.flac
Pre-gap length : 00:03:00

Track gain : -1.95 dB
Peak : 0.714844
CRC32 hash (test run) : 00787A1B
CRC32 hash : 00787A1B
CRC32 hash (skip zero) : CFB19F7B
AccurateRip v1 signature : C796CBDE
AccurateRip v2 signature : 52747A32
->Accurately ripped (v2, confidence 13/13)
Statistics
Read error : 0
Jitter error (maybe fixed) : 0
Retry sector count : 0
Damaged sector count : 0

Track 23
Filename : /Volumes/Data/Matt Monro - The Singer's Singer (2001) [FLAC]/CD2/23 - Matt Monro - Real Live Girl (Stereo Mix).flac
Pre-gap length : 00:03:00

Track gain : -2.06 dB
Peak : 0.813293
CRC32 hash (test run) : D25194B4
CRC32 hash : D25194B4
CRC32 hash (skip zero) : 45D276AB
AccurateRip v1 signature : 76EC9A19
AccurateRip v2 signature : 399C1843
->Accurately ripped (v2, confidence 13/13)
Statistics
Read error : 0
Jitter error (maybe fixed) : 0
Retry sector count : 0
Damaged sector count : 0

Track 24
Filename : /Volumes/Data/Matt Monro - The Singer's Singer (2001) [FLAC]/CD2/24 - Matt Monro - On Days Like These.flac
Pre-gap length : 00:03:00

Track gain : 0.74 dB
Peak : 0.503693
CRC32 hash (test run) : 0B837FA2
CRC32 hash : 0B837FA2
CRC32 hash (skip zero) : 4D2F0B9A
AccurateRip v1 signature : FBF8EA53
AccurateRip v2 signature : 34DC431F
->Accurately ripped (v2, confidence 13/13)
Statistics
Read error : 0
Jitter error (maybe fixed) : 0
Retry sector count : 0
Damaged sector count : 0

Track 25
Filename : /Volumes/Data/Matt Monro - The Singer's Singer (2001) [FLAC]/CD2/25 - Matt Monro - I Have Dreamed.flac
Pre-gap length : 00:03:00

Track gain : -1.03 dB
Peak : 0.730591
CRC32 hash (test run) : 92655D18
CRC32 hash : 92655D18
CRC32 hash (skip zero) : B0304A63
AccurateRip v1 signature : 0D668B34
AccurateRip v2 signature : 2BF4272D
->Accurately ripped (v2, confidence 13/13)
Statistics
Read error : 0
Jitter error (maybe fixed) : 0
Retry sector count : 0
Damaged sector count : 0

Track 26
Filename : /Volumes/Data/Matt Monro - The Singer's Singer (2001) [FLAC]/CD2/26 - Matt Monro - Come Back To Me.flac
Pre-gap length : 00:03:00

Track gain : -2.16 dB
Peak : 0.646149
CRC32 hash (test run) : BE1DD3DF
CRC32 hash : BE1DD3DF
CRC32 hash (skip zero) : E7F467A2
AccurateRip v1 signature : 87FFD2FA
AccurateRip v2 signature : 9A8440CF
->Accurately ripped (v2, confidence 13/13)
Statistics
Read error : 0
Jitter error (maybe fixed) : 0
Retry sector count : 0
Damaged sector count : 0

No errors occurred

End of status report

––-BEGIN XLD SIGNATURE––-
sxQH1Le6SQUrkmgxNcQyq.MI7Fxkb.fIx_v9fMAUpIF_aT_6WzbiNgOLerIv4aoXfop6LfaYL_Qjoz9N3NsfGySpef1JFE5cBeT_pM0
––-END XLD SIGNATURE––-
X Lossless Decoder version 20210101 (153.1)

XLD extraction logfile from 2021-03-03 10:22:13 +0000

Various Artists / The Singer's Singer

Used drive : TSSTcorp CDDVDW SE-208GB (revision TS00)
Media type : Pressed CD

Ripper mode : XLD Secure Ripper
Disable audio cache : OK for the drive with a cache less than 1375KiB
Make use of C2 pointers : NO
Read offset correction : 6
Max retry count : 20
Gap status : Analyzed, Appended (except HTOA)

TOC of the extracted CD
Track | Start | Length | Start sector | End sector
––––––––––––––––––––––––––––-
1 | 00:00:00 | 03:30:02 | 0 | 15751
2 | 03:30:02 | 03:31:47 | 15752 | 31623
3 | 07:01:49 | 03:30:35 | 31624 | 47408
4 | 10:32:09 | 04:13:58 | 47409 | 66441
5 | 14:45:67 | 03:06:71 | 66442 | 80462
6 | 17:52:63 | 02:57:46 | 80463 | 93783
7 | 20:50:34 | 03:33:63 | 93784 | 109821
8 | 24:24:22 | 02:10:00 | 109822 | 119571
9 | 26:34:22 | 03:35:71 | 119572 | 135767
10 | 30:10:18 | 02:58:25 | 135768 | 149142
11 | 33:08:43 | 01:55:62 | 149143 | 157829
12 | 35:04:30 | 03:23:26 | 157830 | 173080
13 | 38:27:56 | 02:32:15 | 173081 | 184495
14 | 40:59:71 | 02:31:44 | 184496 | 195864
15 | 43:31:40 | 02:27:22 | 195865 | 206911
16 | 45:58:62 | 02:26:56 | 206912 | 217917
17 | 48:25:43 | 03:06:63 | 217918 | 231930
18 | 51:32:31 | 03:46:21 | 231931 | 248901
19 | 55:18:52 | 01:47:22 | 248902 | 256948
20 | 57:05:74 | 03:02:17 | 256949 | 270615
21 | 60:08:16 | 02:48:59 | 270616 | 283274
22 | 62:57:00 | 02:20:72 | 283275 | 293846
23 | 65:17:72 | 01:51:38 | 293847 | 302209
24 | 67:09:35 | 04:50:18 | 302210 | 323977
25 | 71:59:53 | 04:03:46 | 323978 | 342248

List of alternate offset correction values
# | Absolute | Relative | Confidence
–––––––––––––––––––––
1 | 12 | 6 | 7

AccurateRip Summary (DiscID: 004545be-04ca9f3f-5511d319)
Track 01 : OK (v2, confidence 10/17)
Track 02 : OK (v2, confidence 10/17)
Track 03 : OK (v2, confidence 10/17)
Track 04 : OK (v2, confidence 10/17)
Track 05 : OK (v2, confidence 10/17)
Track 06 : OK (v2, confidence 10/17)
Track 07 : OK (v2, confidence 10/17)
Track 08 : OK (v2, confidence 10/17)
Track 09 : OK (v2, confidence 10/17)
Track 10 : OK (v2, confidence 10/17)
Track 11 : OK (v2, confidence 10/17)
Track 12 : OK (v2, confidence 10/17)
Track 13 : OK (v2, confidence 10/17)
Track 14 : OK (v2, confidence 10/17)
Track 15 : OK (v2, confidence 10/17)
Track 16 : OK (v2, confidence 10/17)
Track 17 : OK (v2, confidence 10/17)
Track 18 : OK (v2, confidence 10/17)
Track 19 : OK (v2, confidence 9/16)
Track 20 : OK (v2, confidence 9/16)
Track 21 : OK (v2, confidence 10/17)
Track 22 : OK (v2, confidence 10/17)
Track 23 : OK (v2, confidence 9/16)
Track 24 : OK (v2, confidence 10/17)
Track 25 : OK (v2, confidence 10/17)
->All tracks accurately ripped.

All Tracks
Album gain : -1.74 dB
Peak : 0.999969
Statistics
Read error : 0
Jitter error (maybe fixed) : 0
Retry sector count : 0
Damaged sector count : 0

Track 01
Filename : /Volumes/Data/Various Artists - The Singer's Singer (2001) [FLAC]/CD4/01 - Matt Monro - You've Made Me So Very Happy.flac
Pre-gap length : 00:02:00

Track gain : 0.11 dB
Peak : 0.658630
CRC32 hash (test run) : 878AFE2A
CRC32 hash : 878AFE2A
CRC32 hash (skip zero) : 63A4E311
AccurateRip v1 signature : 970BE36C
AccurateRip v2 signature : 9636CABF
->Accurately ripped (v2, confidence 10/17)
Statistics
Read error : 0
Jitter error (maybe fixed) : 0
Retry sector count : 0
Damaged sector count : 0

Track 02
Filename : /Volumes/Data/Various Artists - The Singer's Singer (2001) [FLAC]/CD4/02 - Matt Monro - No PuedoQuitar Mis Ojos De Te (Can't Take My Eyes Off You).flac
Pre-gap length : 00:03:00

Track gain : -1.00 dB
Peak : 0.657532
CRC32 hash (test run) : 398F68DB
CRC32 hash : 398F68DB
CRC32 hash (skip zero) : 952F60C9
AccurateRip v1 signature : 226DA104
AccurateRip v2 signature : 705F1179
->Accurately ripped (v2, confidence 10/17)
Statistics
Read error : 0
Jitter error (maybe fixed) : 0
Retry sector count : 0
Damaged sector count : 0

Track 03
Filename : /Volumes/Data/Various Artists - The Singer's Singer (2001) [FLAC]/CD4/03 - Matt Monro - Be My Lady.flac
Pre-gap length : 00:03:00

Track gain : -0.07 dB
Peak : 0.773590
CRC32 hash (test run) : CFFA3E01
CRC32 hash : CFFA3E01
CRC32 hash (skip zero) : B34BA7DC
AccurateRip v1 signature : 9E51977F
AccurateRip v2 signature : B7B5CACB
->Accurately ripped (v2, confidence 10/17)
Statistics
Read error : 0
Jitter error (maybe fixed) : 0
Retry sector count : 0
Damaged sector count : 0

Track 04
Filename : /Volumes/Data/Various Artists - The Singer's Singer (2001) [FLAC]/CD4/04 - Matt Monro - Bridge Over Troubled Water.flac
Pre-gap length : 00:03:00

Track gain : -0.96 dB
Peak : 0.766754
CRC32 hash (test run) : FBED6296
CRC32 hash : FBED6296
CRC32 hash (skip zero) : 20416912
AccurateRip v1 signature : 2B87AE45
AccurateRip v2 signature : 6DA949ED
->Accurately ripped (v2, confidence 10/17)
Statistics
Read error : 0
Jitter error (maybe fixed) : 0
Retry sector count : 0
Damaged sector count : 0

Track 05
Filename : /Volumes/Data/Various Artists - The Singer's Singer (2001) [FLAC]/CD4/05 - Matt Monro - You're Closer To Me.flac
Pre-gap length : 00:03:00

Track gain : -1.55 dB
Peak : 0.791565
CRC32 hash (test run) : 8AACCD3C
CRC32 hash : 8AACCD3C
CRC32 hash (skip zero) : 87D4A728
AccurateRip v1 signature : 723E920E
AccurateRip v2 signature : 976C40C4
->Accurately ripped (v2, confidence 10/17)
Statistics
Read error : 0
Jitter error (maybe fixed) : 0
Retry sector count : 0
Damaged sector count : 0

Track 06
Filename : /Volumes/Data/Various Artists - The Singer's Singer (2001) [FLAC]/CD4/06 - Matt Monro - Hava Nagila.flac
Pre-gap length : 00:03:00

Track gain : -1.76 dB
Peak : 0.781738
CRC32 hash (test run) : E4996D0E
CRC32 hash : E4996D0E
CRC32 hash (skip zero) : 63EB733A
AccurateRip v1 signature : EB3F4006
AccurateRip v2 signature : C1A9A552
->Accurately ripped (v2, confidence 10/17)
Statistics
Read error : 0
Jitter error (maybe fixed) : 0
Retry sector count : 0
Damaged sector count : 0

Track 07
Filename : /Volumes/Data/Various Artists - The Singer's Singer (2001) [FLAC]/CD4/07 - Matt Monro - I Don't Want To Run Your Life.flac
Pre-gap length : 00:03:00

Track gain : -0.89 dB
Peak : 0.832703
CRC32 hash (test run) : 388D53A8
CRC32 hash : 388D53A8
CRC32 hash (skip zero) : 67BCDF8C
AccurateRip v1 signature : 4A5DF86F
AccurateRip v2 signature : A02401AF
->Accurately ripped (v2, confidence 10/17)
Statistics
Read error : 0
Jitter error (maybe fixed) : 0
Retry sector count : 0
Damaged sector count : 0

Track 08
Filename : /Volumes/Data/Various Artists - The Singer's Singer (2001) [FLAC]/CD4/08 - Matt Monro - The Sweetest Sounds.flac
Pre-gap length : 00:03:00

Track gain : -1.74 dB
Peak : 0.898468
CRC32 hash (test run) : AEE44CBC
CRC32 hash : AEE44CBC
CRC32 hash (skip zero) : 956A88A0
AccurateRip v1 signature : 2F308615
AccurateRip v2 signature : 14F52CE4
->Accurately ripped (v2, confidence 10/17)
Statistics
Read error : 0
Jitter error (maybe fixed) : 0
Retry sector count : 0
Damaged sector count : 0

Track 09
Filename : /Volumes/Data/Various Artists - The Singer's Singer (2001) [FLAC]/CD4/09 - Matt Monro - Memory.flac
Pre-gap length : 00:03:00

Track gain : 0.03 dB
Peak : 0.823242
CRC32 hash (test run) : 5918B69D
CRC32 hash : 5918B69D
CRC32 hash (skip zero) : 07AD68DA
AccurateRip v1 signature : 0BC10086
AccurateRip v2 signature : E13AE9F4
->Accurately ripped (v2, confidence 10/17)
Statistics
Read error : 0
Jitter error (maybe fixed) : 0
Retry sector count : 0
Damaged sector count : 0

Track 10
Filename : /Volumes/Data/Various Artists - The Singer's Singer (2001) [FLAC]/CD4/10 - Matt Monro - More.flac
Pre-gap length : 00:03:00

Track gain : -1.39 dB
Peak : 0.781219
CRC32 hash (test run) : ED6AE7EE
CRC32 hash : ED6AE7EE
CRC32 hash (skip zero) : FFB2DF50
AccurateRip v1 signature : 6C620291
AccurateRip v2 signature : 7143B7C2
->Accurately ripped (v2, confidence 10/17)
Statistics
Read error : 0
Jitter error (maybe fixed) : 0
Retry sector count : 0
Damaged sector count : 0

Track 11
Filename : /Volumes/Data/Various Artists - The Singer's Singer (2001) [FLAC]/CD4/11 - Matt Monro - Miss Brown To You.flac
Pre-gap length : 00:03:00

Track gain : -1.08 dB
Peak : 0.806122
CRC32 hash (test run) : EEFB8D18
CRC32 hash : EEFB8D18
CRC32 hash (skip zero) : E8D49590
AccurateRip v1 signature : AD492E4C
AccurateRip v2 signature : AE9FE5C3
->Accurately ripped (v2, confidence 10/17)
Statistics
Read error : 0
Jitter error (maybe fixed) : 0
Retry sector count : 0
Damaged sector count : 0

Track 12
Filename : /Volumes/Data/Various Artists - The Singer's Singer (2001) [FLAC]/CD4/12 - Matt Monro - The Auction.flac
Pre-gap length : 00:03:00

Track gain : -2.09 dB
Peak : 0.792572
CRC32 hash (test run) : 4F59C3D2
CRC32 hash : 4F59C3D2
CRC32 hash (skip zero) : D7A268FD
AccurateRip v1 signature : F8683F75
AccurateRip v2 signature : 1915A32C
->Accurately ripped (v2, confidence 10/17)
Statistics
Read error : 0
Jitter error (maybe fixed) : 0
Retry sector count : 0
Damaged sector count : 0

Track 13
Filename : /Volumes/Data/Various Artists - The Singer's Singer (2001) [FLAC]/CD4/13 - Matt Monro - A Place In Paris.flac
Pre-gap length : 00:03:00

Track gain : -1.29 dB
Peak : 0.802185
CRC32 hash (test run) : CCB4926D
CRC32 hash : CCB4926D
CRC32 hash (skip zero) : 0F8885A5
AccurateRip v1 signature : 7F9F4E32
AccurateRip v2 signature : 1D36CBB9
->Accurately ripped (v2, confidence 10/17)
Statistics
Read error : 0
Jitter error (maybe fixed) : 0
Retry sector count : 0
Damaged sector count : 0

Track 14
Filename : /Volumes/Data/Various Artists - The Singer's Singer (2001) [FLAC]/CD4/14 - Matt Monro - Fourth Blue Monday.flac
Pre-gap length : 00:03:00

Track gain : -1.76 dB
Peak : 0.782837
CRC32 hash (test run) : 24C4A040
CRC32 hash : 24C4A040
CRC32 hash (skip zero) : 69D8858B
AccurateRip v1 signature : 3384824F
AccurateRip v2 signature : B6E846E7
->Accurately ripped (v2, confidence 10/17)
Statistics
Read error : 0
Jitter error (maybe fixed) : 0
Retry sector count : 0
Damaged sector count : 0

Track 15
Filename : /Volumes/Data/Various Artists - The Singer's Singer (2001) [FLAC]/CD4/15 - Matt Monro - Hey (For Me).flac
Pre-gap length : 00:03:00

Track gain : -2.15 dB
Peak : 0.883636
CRC32 hash (test run) : 8FA75820
CRC32 hash : 8FA75820
CRC32 hash (skip zero) : 5FCE7190
AccurateRip v1 signature : 2F813C16
AccurateRip v2 signature : 94519F84
->Accurately ripped (v2, confidence 10/17)
Statistics
Read error : 0
Jitter error (maybe fixed) : 0
Retry sector count : 0
Damaged sector count : 0

Track 16
Filename : /Volumes/Data/Various Artists - The Singer's Singer (2001) [FLAC]/CD4/16 - Matt Monro - L'Etoile Du Sud (The Southern Star).flac
Pre-gap length : 00:02:74

Track gain : -3.53 dB
Peak : 0.544891
CRC32 hash (test run) : B8E561CF
CRC32 hash : B8E561CF
CRC32 hash (skip zero) : 087FD963
AccurateRip v1 signature : EC6CFA9F
AccurateRip v2 signature : 81E71503
->Accurately ripped (v2, confidence 10/17)
Statistics
Read error : 0
Jitter error (maybe fixed) : 0
Retry sector count : 0
Damaged sector count : 0

Track 17
Filename : /Volumes/Data/Various Artists - The Singer's Singer (2001) [FLAC]/CD4/17 - Matt Monro - I Should Care.flac
Pre-gap length : 00:03:00

Track gain : -3.81 dB
Peak : 0.754059
CRC32 hash (test run) : 2358DCAF
CRC32 hash : 2358DCAF
CRC32 hash (skip zero) : C5CBD2F1
AccurateRip v1 signature : 945D1B60
AccurateRip v2 signature : 20CC4676
->Accurately ripped (v2, confidence 10/17)
Statistics
Read error : 0
Jitter error (maybe fixed) : 0
Retry sector count : 0
Damaged sector count : 0

Track 18
Filename : /Volumes/Data/Various Artists - The Singer's Singer (2001) [FLAC]/CD4/18 - Matt Monro - I'm A Fool To Want You.flac
Pre-gap length : 00:03:00

Track gain : -2.88 dB
Peak : 0.770996
CRC32 hash (test run) : AA00A223
CRC32 hash : AA00A223
CRC32 hash (skip zero) : 8E2AD878
AccurateRip v1 signature : 822ACA3C
AccurateRip v2 signature : 2770A064
->Accurately ripped (v2, confidence 10/17)
Statistics
Read error : 0
Jitter error (maybe fixed) : 0
Retry sector count : 0
Damaged sector count : 0

Track 19
Filename : /Volumes/Data/Various Artists - The Singer's Singer (2001) [FLAC]/CD4/19 - Matt Monro - You Keep Me Swingin'.flac
Pre-gap length : 00:03:00

Track gain : -2.14 dB
Peak : 0.752930
CRC32 hash (test run) : 8E7BEC6E
CRC32 hash : 8E7BEC6E
CRC32 hash (skip zero) : 2CD3E77D
AccurateRip v1 signature : 62920495
AccurateRip v2 signature : F623DE29
->Accurately ripped (v2, confidence 9/16)
Statistics
Read error : 0
Jitter error (maybe fixed) : 0
Retry sector count : 0
Damaged sector count : 0

Track 20
Filename : /Volumes/Data/Various Artists - The Singer's Singer (2001) [FLAC]/CD4/20 - Matt Monro - I've Got The Moon On My Side.flac
Pre-gap length : 00:03:00

Track gain : -2.12 dB
Peak : 0.662872
CRC32 hash (test run) : 64563323
CRC32 hash : 64563323
CRC32 hash (skip zero) : DFD39940
AccurateRip v1 signature : 1C8CCA0B
AccurateRip v2 signature : F1BE2D0A
->Accurately ripped (v2, confidence 9/16)
Statistics
Read error : 0
Jitter error (maybe fixed) : 0
Retry sector count : 0
Damaged sector count : 0

Track 21
Filename : /Volumes/Data/Various Artists - The Singer's Singer (2001) [FLAC]/CD4/21 - Matt Monro - Before You Go.flac
Pre-gap length : 00:03:00

Track gain : -1.61 dB
Peak : 0.627838
CRC32 hash (test run) : B9D57D5B
CRC32 hash : B9D57D5B
CRC32 hash (skip zero) : A160BFBD
AccurateRip v1 signature : 1582E56A
AccurateRip v2 signature : C4918184
->Accurately ripped (v2, confidence 10/17)
Statistics
Read error : 0
Jitter error (maybe fixed) : 0
Retry sector count : 0
Damaged sector count : 0

Track 22
Filename : /Volumes/Data/Various Artists - The Singer's Singer (2001) [FLAC]/CD4/22 - Matt Monro - A Lot Of Living.flac
Pre-gap length : 00:03:00

Track gain : -2.34 dB
Peak : 0.999969
CRC32 hash (test run) : 339412BB
CRC32 hash : 339412BB
CRC32 hash (skip zero) : 65F621F6
AccurateRip v1 signature : 12003897
AccurateRip v2 signature : 6494BA45
->Accurately ripped (v2, confidence 10/17)
Statistics
Read error : 0
Jitter error (maybe fixed) : 0
Retry sector count : 0
Damaged sector count : 0

Track 23
Filename : /Volumes/Data/Various Artists - The Singer's Singer (2001) [FLAC]/CD4/23 - Listerine / Hartley's Peas - Horniman's Tea.flac
Pre-gap length : 00:03:00

Track gain : -2.86 dB
Peak : 0.663116
CRC32 hash (test run) : 4081C94F
CRC32 hash : 4081C94F
CRC32 hash (skip zero) : 1342CE24
AccurateRip v1 signature : 4720BE9F
AccurateRip v2 signature : 5E5A0664
->Accurately ripped (v2, confidence 9/16)
Statistics
Read error : 0
Jitter error (maybe fixed) : 0
Retry sector count : 0
Damaged sector count : 0

Track 24
Filename : /Volumes/Data/Various Artists - The Singer's Singer (2001) [FLAC]/CD4/24 - Zal / The Wonder Of Woolworths - Go Bowling.flac
Pre-gap length : 00:03:00

Track gain : -2.40 dB
Peak : 0.785248
CRC32 hash (test run) : 9097CD2C
CRC32 hash : 9097CD2C
CRC32 hash (skip zero) : B0C82E81
AccurateRip v1 signature : E36FE3DD
AccurateRip v2 signature : 1D180D00
->Accurately ripped (v2, confidence 10/17)
Statistics
Read error : 0
Jitter error (maybe fixed) : 0
Retry sector count : 0
Damaged sector count : 0

Track 25
Filename : /Volumes/Data/Various Artists - The Singer's Singer (2001) [FLAC]/CD4/25 - Matt Monro - The Party's Over.flac
Pre-gap length : 00:03:00

Track gain : 0.04 dB
Peak : 0.600861
CRC32 hash (test run) : 2BD46105
CRC32 hash : 2BD46105
CRC32 hash (skip zero) : 9D0AE8D9
AccurateRip v1 signature : C3179D01
AccurateRip v2 signature : BF7513B7
->Accurately ripped (v2, confidence 10/17)
Statistics
Read error : 0
Jitter error (maybe fixed) : 0
Retry sector count : 0
Damaged sector count : 0

No errors occurred

End of status report

––-BEGIN XLD SIGNATURE––-
8oTV.YogdQhEJEya_1cebhmNqVJa7CHF7vIlS.epyuh3lCtlQsojWUTT9lKbfpDU_ERHuYAkEqZ1RjFIpJKMvKGTFoIl2DAsbeO7xie
––-END XLD SIGNATURE––-