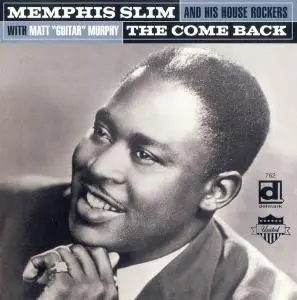 Memphis Slim and His House Rockers - The Come Back [Recorded 1952-1954] (2002)
EAC Rip | FLAC (image+.cue+log) - 322 MB | MP3 CBR 320 kbps (LAME 3.93) - 131 MB | Covers - 25 MB
Genre: Blues | RAR 3% Rec. | Label: Delmark Records (DE-762)
Collectors will be thrilled to learn that The Come Back contains 11 previously unreleased tracks, but even those who aren't hardcore collectors will find that this CD paints an exciting picture of Slim's two years at United.
Like John Lee Hooker, Memphis Slim was very much a label-hopper - from the '40s to the '80s, it was safe to assume that the singer/pianist wouldn't stay at one label for too long. In the '50s, Slim did some of his best work for United, a Chicago-based indie whose catalog has since been acquired by Delmark (another Windy City label). Slim's United period of 1952-1954 is the focus of The Come Back, a 20-track collection that Delmark assembled in 2002. This is a blues CD that has both jazz and rock appeal. Slim, like Jimmy Witherspoon and T-Bone Walker, was always a very jazz-influenced bluesman - his love of jazz comes through on vocal gems like "Call Before You Go Home" and "5 O'Clock Blues" as well as free-spirited, improvisation-minded instrumentals that include a previously unreleased performance of Arnett Cobb's "Smooth Sailin'." The jazz influence gave Slim's band a certain amount of urban sophistication, but not at the expense of grit - being sophisticated and gritty at same time was never a problem for Slim. The House Rocker who does the most to give The Come Back some rock appeal is Matt "Guitar" Murphy, a tough, rugged electric guitarist who was never afraid to sweat. These 1952-1954 recordings came just before the rock & roll revolution, and Murphy was the sort of bluesman who helped pave the way for that revolution - you can be sure that many of the British Invasion rockers who emerged in the '60s were well aware of Murphy's high-volume guitar.
Tracklist:
01. Only A Fool Has Fun (Previously unissued)
02. The Come Back (Alternate) (Previously unissued)
03. Shuffleboard (Previously unissued)
04. Living The Life I Love
05. Cool Down Baby (Previously unissued)
06. Nat Dee Special
07. I Love My Baby
08. Two Of A Kind (Previously unissued)
09. Smooth Sailin' (Previously unissued)
10. 5 O'clock Blues
11. Stewball (Previously unissued)
12. The Cat Creeps (Previously unissued)
13. Call Before You Go Home
14. Back Alley
15. This Is My Lucky Day
16. The Come Back
17. Midnight (Previously unissued)
18. St. Louis Woman (Previously unissued)
19. 5 O'clock Blues (Alternate)
20. She's Alright (Previously unissued)
Total time:
55:35
Exact Audio Copy V0.99 prebeta 4 from 23. January 2008

Отчёт EAC об извлечении, выполненном 23. сентября 2010, 20:43

Memphis Slim and His House Rockers with Matt "Guitar" Murphy / The Come Back

Дисковод: PIONEER DVD-RW DVR-110D Adapter: 1 ID: 1

Режим чтения : Достоверность
Использование точного потока : Да
Отключение кэша аудио : Да
Использование указателей C2 : Нет

Коррекция смещения при чтении : 48
Способность читать области Lead-in и Lead-out : Нет
Заполнение пропущенных сэмплов тишиной : Да
Удаление блоков с тишиной в начале и конце : Нет
При вычислениях CRC использовались нулевые сэмплы : Да
Интерфейс : Встроенный Win32-интерфейс для Win NT/2000

Выходной формат : Пользовательский кодировщик
Выбранный битрейт : 896 kBit/s
Качество : Высокий
Добавление ID3-тэга : Нет
Утилита сжатия : C:\Program Files\Exact Audio Copy\FLAC\FLAC.EXE
Дополнительные параметры : -6 -V -T "ARTIST=%a" -T "TITLE=%t" -T "ALBUM=%g" -T "DATE=%y" -T "TRACKNUMBER=%n" -T "GENRE=%m" -T "COMMENT=%e" %s -o %d


TOC извлечённого CD

Трек | Старт | Длительность | Начальный сектор | Конечный сектор
––––––––––––––––––––––––––––––––––-
1 | 0:00.00 | 2:39.42 | 0 | 11966
2 | 2:39.42 | 2:46.45 | 11967 | 24461
3 | 5:26.12 | 2:37.10 | 24462 | 36246
4 | 8:03.22 | 2:46.30 | 36247 | 48726
5 | 10:49.52 | 2:36.05 | 48727 | 60431
6 | 13:25.57 | 2:50.18 | 60432 | 73199
7 | 16:16.00 | 3:06.62 | 73200 | 87211
8 | 19:22.62 | 2:40.38 | 87212 | 99249
9 | 22:03.25 | 3:04.07 | 99250 | 113056
10 | 25:07.32 | 2:52.73 | 113057 | 126029
11 | 28:00.30 | 2:14.17 | 126030 | 136096
12 | 30:14.47 | 2:36.40 | 136097 | 147836
13 | 32:51.12 | 3:09.70 | 147837 | 162081
14 | 36:01.07 | 3:03.33 | 162082 | 175839
15 | 39:04.40 | 2:41.25 | 175840 | 187939
16 | 41:45.65 | 2:46.00 | 187940 | 200389
17 | 44:31.65 | 3:02.32 | 200390 | 214071
18 | 47:34.22 | 2:53.08 | 214072 | 227054
19 | 50:27.30 | 2:54.20 | 227055 | 240124
20 | 53:21.50 | 2:12.70 | 240125 | 250094


Характеристики диапазона извлечения и сообщения об ошибках

Выбранный диапазон

Имя файла G:\Torrents\Memphis Slim and his House Rockers - The Come Back\Memphis Slim and His House Rockers with Matt 'Guitar' Murphy - The Come Back.wav

Пиковый уровень 99.6 %
Качество диапазона 99.9 %
CRC теста F1613071
CRC копии F1613071
Копирование… OK

Ошибок не произошло


AccurateRip: сводка

Трек 1 нет в базе данных
Трек 2 нет в базе данных
Трек 3 нет в базе данных
Трек 4 нет в базе данных
Трек 5 нет в базе данных
Трек 6 нет в базе данных
Трек 7 нет в базе данных
Трек 8 нет в базе данных
Трек 9 нет в базе данных
Трек 10 нет в базе данных
Трек 11 нет в базе данных
Трек 12 нет в базе данных
Трек 13 нет в базе данных
Трек 14 нет в базе данных
Трек 15 нет в базе данных
Трек 16 нет в базе данных
Трек 17 нет в базе данных
Трек 18 нет в базе данных
Трек 19 нет в базе данных
Трек 20 нет в базе данных

Ни одного трека нет в базе AccurateRip

Конец отчёта
[CUETools log; Date: 19.12.2020 22:13:41; Version: 2.1.4]
[CTDB TOCID: LcpWkY1JncJVKhsGJpkAfnRBSCU-] found.
Track | CTDB Status
1 | (10/10) Accurately ripped
2 | (10/10) Accurately ripped
3 | (10/10) Accurately ripped
4 | (10/10) Accurately ripped
5 | (10/10) Accurately ripped
6 | (10/10) Accurately ripped
7 | (10/10) Accurately ripped
8 | (10/10) Accurately ripped
9 | (10/10) Accurately ripped
10 | (10/10) Accurately ripped
11 | (10/10) Accurately ripped
12 | (10/10) Accurately ripped
13 | (10/10) Accurately ripped
14 | (10/10) Accurately ripped
15 | (10/10) Accurately ripped
16 | (10/10) Accurately ripped
17 | (10/10) Accurately ripped
18 | (10/10) Accurately ripped
19 | (10/10) Accurately ripped
20 | (10/10) Accurately ripped
[AccurateRip ID: 002802a5-024c78c1-1d0d0614] found.
Track [ CRC | V2 ] Status
01 [5858983e|cdbd164a] (0+4/7) Accurately ripped
02 [e1bf5aa6|83526930] (0+3/6) Accurately ripped
03 [fc610a64|81193eac] (0+4/7) Accurately ripped
04 [02352920|3581fc96] (0+4/7) Accurately ripped
05 [542712ab|90b31006] (0+4/7) Accurately ripped
06 [36ccf90a|fd192a97] (0+4/7) Accurately ripped
07 [9d0273b6|83d22a1a] (0+4/7) Accurately ripped
08 [5a42c311|b9a99417] (0+3/6) Accurately ripped
09 [e8cb0c54|0d9c3001] (0+4/7) Accurately ripped
10 [f8433ae6|b0f57a04] (0+4/7) Accurately ripped
11 [b9a9e392|82c15715] (0+4/7) Accurately ripped
12 [11c28d85|98d05b11] (0+4/7) Accurately ripped
13 [21c9f9f4|2ec72eed] (0+4/7) Accurately ripped
14 [051cefbb|b8c5e8d0] (0+4/7) Accurately ripped
15 [0dcb56b9|095f1afa] (0+4/7) Accurately ripped
16 [b14fc4f4|835d4348] (0+4/7) Accurately ripped
17 [d5c157a7|ac358111] (0+4/7) Accurately ripped
18 [c8e142c0|51eba059] (0+3/6) Accurately ripped
19 [9b152c9b|42238b34] (0+3/6) Accurately ripped
20 [a7bad886|de437517] (0+4/7) Accurately ripped
Offsetted by -30:
01 [27c5279b] (0/7) No match (V2 was not tested)
02 [2117452f] (0/6) No match (V2 was not tested)
03 [745d5794] (0/7) No match (V2 was not tested)
04 [c370c258] (0/7) No match (V2 was not tested)
05 [bb8d2a85] (0/7) No match (V2 was not tested)
06 [effad95a] (0/7) No match (V2 was not tested)
07 [293dce70] (0/7) No match (V2 was not tested)
08 [caab0c75] (0/6) No match (V2 was not tested)
09 [72ecab6c] (0/7) No match (V2 was not tested)
10 [986d89a7] (0/7) No match (V2 was not tested)
11 [2726d4bd] (0/7) No match (V2 was not tested)
12 [16b525d5] (0/7) No match (V2 was not tested)
13 [10d19e89] (0/7) No match (V2 was not tested)
14 [d36bf067] (0/7) No match (V2 was not tested)
15 [514bb717] (0/7) No match (V2 was not tested)
16 [2c74af83] (0/7) No match (V2 was not tested)
17 [1bf58305] (0/7) No match (V2 was not tested)
18 [fc8e57bf] (0/6) No match (V2 was not tested)
19 [5b5a183f] (0/6) No match (V2 was not tested)
20 [6fac9387] (0/7) No match (V2 was not tested)

Track Peak [ CRC32 ] [W/O NULL] [ LOG ]
– 99,6 [F1613071] [4CBB1141] CRC32
01 96,0 [9223D118] [280B3D4E]
02 99,6 [CE637B86] [280E362E]
03 97,6 [01F8CFA8] [73413EC1]
04 97,0 [D4CEE59F] [80390749]
05 98,3 [4996CEAA] [755C46FA]
06 99,6 [C7A021C4] [E09E169C]
07 97,8 [63C55CCA] [D3158C34]
08 94,9 [C8C41889] [2C877CC9]
09 98,9 [E0CD2D71] [38C615DC]
10 93,9 [482844F6] [A10D9AC8]
11 78,4 [81E5DB76] [E28A378E]
12 99,1 [291557AC] [9F189E47]
13 98,5 [DC073C14] [4FE9E800]
14 99,3 [020BC1A3] [C98C1C0E]
15 99,6 [52E6ED5E] [B57DC85E]
16 97,4 [77DCA5CE] [7DDF92CD]
17 99,6 [59C0B8B3] [3F747A71]
18 99,6 [B2971526] [F77BAE45]
19 98,6 [3653BCB4] [8EE01912]
20 91,3 [69889383] [24370690]
Thanks to
zhconstSee also: