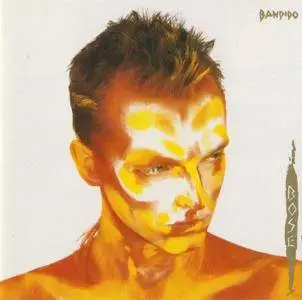 Miguel Bosé - Bandido (1984) [1992, Reissue]
Pop/Rock, Latin Pop, Electronic | EAC Rip | FLAC, Tracks+CUE+LOG+Scans (JPEG) | 43:10 Min. | 279,31 Mb
Label: CBS/Sony (EU) | Cat.# 466561 2 | Released: 1992 (1984)
Luis Miguel González Bosé (born April 3, 1956), usually known as Miguel Bosé, is a Panamanian-born Spanish musician and actor. Bosé became an honorary Colombian citizen in 2010. Propelled by his famous family and their friends, in 1971, Bosé started a career as an actor, participating in various movies. He quickly won spots on the basis of his talent and good looks alone, rather than his name, and he did study serious acting as well as dancing and singing. However, he did not make that many films, and in 1975 he decided a career change was due and started exploring his talents as a singer. With the assistance of Camilo Blanes he recorded his first singles. Two years later, in 1977, Bosé signed a contract with CBS Records, and he remained with them until 1984.
~Wikipedia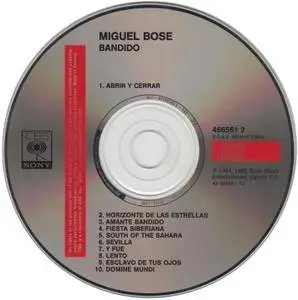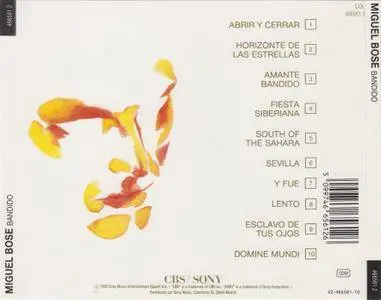 Release of this album:
1984 [LP CBS, Cat.# S 26216, Spain]
Release of this CD:
1992 [CD CBS/Sony (EU), Cat.# 466561 2 / UPC: 5099746656126]
℗ 1984, 1992 Sony Music Entertainment (Spain) S.A.
© 1992 Sony Music Entertainment (Spain) S.A.
Made in Austria
Credits:
Mixed By – Larry Alexander, Roberto Colombo
Mixed By [Assistant] – Rob Eaton
Producer – Roberto Colombo
Recorded By – Franco Santamaria, Gianmarco "Jerry" Pecoroni
Tracklist:
01. Abrir Y Cerrar (05:02)
02. Horizonte De Las Estrellas (04:16)
03. Amante Bandido (04:24)
04. Fiesta Siberiana (03:30)
05. South Of The Sahara (04:33)
06. Sevilla (04:46)
07. Y Fue (04:09)
08. Lento (04:32)
09. Esclavo De Tus Ojos (04:06)
10. Domine Mundi (03:51)
Exact Audio Copy V1.1 from 23. June 2015

Archivo Log de extracciones desde 19. Febrero 2016, 21:44

Miguel Bosé / Bandido

Usar unidad : ASUS DRW-24F1ST a Adapter: 1 ID: 0

Modo de Lectura : : Seguro
Utilizar corriente precisa : Sí
Caché de audio por defecto : No
Utilizar los punteros C2 : No

Corrección de Desplazamiento de Lectura : : 6
Sobreleer tanto en Lead-In como en Lead-Out : No
Rellenar las muestras faltantes con silencios : Sí
Eliminar silencios inicial y final : No
Muestras nulas usadas en los calculos de CRC : Sí
Interfaz usada : Interfaz propio de Win32 para Windowns NT y 2000
Manejo de huecos : No se detectó, por lo que anexa a la pista anterior

Formato de Salida utilizado : : Compresor definido por el Usuario
Velocidad de bits seleccionada : 768 kBit/s
Calidad : Alta
Añadir ID3 tag : No
linea de comandos del compresor : C:\Program Files (x86)\Exact Audio Copy\FLAC\FLAC.EXE
Opciones adicionales en línea de comandos : : -6 -V -T "ARTIST=%artist%" -T "TITLE=%title%" -T "ALBUM=%albumtitle%" -T "DATE=%year%" -T "TRACKNUMBER=%tracknr%" -T "GENRE=%genre%" -T "COMMENT=%comment%" -T "BAND=%albuminterpret%" -T "ALBUMARTIST=%albuminterpret%" -T "COMPOSER=%composer%" %haslyrics%–tag-from-file=LYRICS="%lyricsfile%"%haslyrics% -T "DISCNUMBER=%cdnumber%" -T "TOTALDISCS=%totalcds%" -T "TOTALTRACKS=%numtracks%" %hascover%–picture="%coverfile%"%hascover% %source% -o %dest%


TOC extraídos del CD

Pista | Inicio | Longitud | Inicio del sector | Fin del sector
–––––––––––––––––––––––––––––––––
1 | 0:00.00 | 5:02.25 | 0 | 22674
2 | 5:02.25 | 4:15.42 | 22675 | 41841
3 | 9:17.67 | 4:24.30 | 41842 | 61671
4 | 13:42.22 | 3:30.28 | 61672 | 77449
5 | 17:12.50 | 4:33.20 | 77450 | 97944
6 | 21:45.70 | 4:45.65 | 97945 | 119384
7 | 26:31.60 | 4:08.67 | 119385 | 138051
8 | 30:40.52 | 4:32.25 | 138052 | 158476
9 | 35:13.02 | 4:06.28 | 158477 | 176954
10 | 39:19.30 | 3:50.57 | 176955 | 194261


Pista 1

Nombre de Archivo F:\EAC\01 Abrir Y Cerrar.wav

Nivel Pico 97.9 %
Velocidad de extracción 3.0 X
Calidad de Pista 100.0 %
Copiar CRC 1538900C
No se puede verificar como precisa (confidencia 2) [C589E405], AccurateRip devuelto [C1C8049D] (AR v2)
Copia OK

Pista 2

Nombre de Archivo F:\EAC\02 Horizontes De Las Estrellas.wav

Nivel Pico 76.8 %
Velocidad de extracción 3.3 X
Calidad de Pista 100.0 %
Copiar CRC 62FB1E3A
No se puede verificar como precisa (confidencia 2) [22984113], AccurateRip devuelto [7909E395] (AR v2)
Copia OK

Pista 3

Nombre de Archivo F:\EAC\03 Amante Bandido.wav

Nivel Pico 98.3 %
Velocidad de extracción 3.6 X
Calidad de Pista 100.0 %
Copiar CRC E8F3C826
No se puede verificar como precisa (confidencia 2) [F2855438], AccurateRip devuelto [8502A4FA] (AR v2)
Copia OK

Pista 4

Nombre de Archivo F:\EAC\04 Fiesta Siberiana.wav

Nivel Pico 89.3 %
Velocidad de extracción 3.8 X
Calidad de Pista 100.0 %
Copiar CRC 90A77901
No se puede verificar como precisa (confidencia 2) [0734D2A2], AccurateRip devuelto [0C9992D9] (AR v2)
Copia OK

Pista 5

Nombre de Archivo F:\EAC\05 South of the Sahara.wav

Nivel Pico 58.6 %
Velocidad de extracción 4.1 X
Calidad de Pista 100.0 %
Copiar CRC FDBE4D70
No se puede verificar como precisa (confidencia 2) [CA73BBDD], AccurateRip devuelto [F2EB1FD3] (AR v2)
Copia OK

Pista 6

Nombre de Archivo F:\EAC\06 Sevilla.wav

Nivel Pico 96.3 %
Velocidad de extracción 4.2 X
Calidad de Pista 99.9 %
Copiar CRC 31840987
No se puede verificar como precisa (confidencia 2) [C888FABC], AccurateRip devuelto [9BD994E0] (AR v2)
Copia OK

Pista 7

Nombre de Archivo F:\EAC\07 Y Fu.wav

Nivel Pico 85.5 %
Velocidad de extracción 4.5 X
Calidad de Pista 100.0 %
Copiar CRC CD43CC69
No se puede verificar como precisa (confidencia 2) [4BBE44B8], AccurateRip devuelto [41D3A732] (AR v2)
Copia OK

Pista 8

Nombre de Archivo F:\EAC\08 Lento.wav

Nivel Pico 85.5 %
Velocidad de extracción 4.8 X
Calidad de Pista 100.0 %
Copiar CRC A51CAFFB
No se puede verificar como precisa (confidencia 2) [3E2D7B89], AccurateRip devuelto [193B514B] (AR v2)
Copia OK

Pista 9

Nombre de Archivo F:\EAC\09 Esclavo De Tus Ojos.wav

Nivel Pico 95.5 %
Velocidad de extracción 5.0 X
Calidad de Pista 100.0 %
Copiar CRC B48C39E0
No se puede verificar como precisa (confidencia 2) [65DBFA48], AccurateRip devuelto [D1F0B562] (AR v2)
Copia OK

Pista 10

Nombre de Archivo F:\EAC\10 Domine Mundi.wav

Nivel Pico 79.9 %
Velocidad de extracción 4.9 X
Calidad de Pista 99.9 %
Copiar CRC A714818C
No se puede verificar como precisa (confidencia 2) [B5A07F75], AccurateRip devuelto [8CD8476A] (AR v2)
Copia OK


Ninguna pista puede ser verificada como precisa
Tu puedes tener un prensado diferente de los encontrados en la base de datos

Sin Errores

Final del Informe

–– CUETools DB Plugin V2.1.6

[CTDB TOCID: .DnY6kP6HV1dXfH0XNowXj4ysqg-] disk not present in database
Submit result: .DnY6kP6HV1dXfH0XNowXj4ysqg- has been uploaded
––––––––––––––––––––––––––––––––––––––––
Analyzed: Miguel Bosé / Bandido
––––––––––––––––––––––––––––––––––––––––

DR Peak RMS Duration Track
––––––––––––––––––––––––––––––––––––––––
DR13 -0.18 dB -17.01 dB 5:02 01-Abrir Y Cerrar
DR11 -2.28 dB -15.83 dB 4:16 02-Horizontes De Las Estrellas
DR14 -0.14 dB -15.84 dB 4:24 03-Amante Bandido
DR13 -0.98 dB -16.32 dB 3:30 04-Fiesta Siberiana
DR12 -4.63 dB -18.94 dB 4:33 05-South of the Sahara
DR13 -0.32 dB -16.39 dB 4:46 06-Sevilla
DR13 -1.36 dB -15.71 dB 4:09 07-Y Fu
DR12 -1.36 dB -16.43 dB 4:32 08-Lento
DR13 -0.40 dB -16.33 dB 4:06 09-Esclavo De Tus Ojos
DR12 -1.95 dB -15.50 dB 3:51 10-Domine Mundi
––––––––––––––––––––––––––––––––––––––––

Number of tracks: 10
Official DR value: DR12

Samplerate: 44100 Hz
Channels: 2
Bits per sample: 16
Bitrate: 905 kbps
Codec: FLAC
================================================================================
See also:
Thanks to original releaser

password: BlondStyle