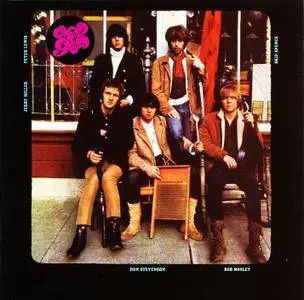 Moby Grape - Moby Grape (1967) Expanded Remastered 2007
EAC | FLAC | Tracks (Cue&Log) ~ 272 Mb | Mp3 (CBR320) ~ 118 Mb | Scans included | 00:48:12
Psychedelic Rock, Country-Rock, Folk-Rock | Label: Sundazed Music | # SC 11190
Few debuts are as initially powerful and permanently impressive as this 1967 set from San Francisco's Moby Grape. The triple-threat quintet (every member played, sang and wrote songs) serves up an utterly unique first course that mixes psychedelia, hook-filled pop, blues and country elements. The album tosses off diamond-delicate ballads and full bore rockers with equal soul and inspiration – and more energy than any other band then on the scene. Without a single duff cut, here's an album that plays as fresh and strong as the day it was first released. In 2003, the album was ranked number 121 on Rolling Stone magazine's list of the 500 greatest albums of all time.
Moby Grape's career was a long, sad series of minor disasters, in which nearly anything that could have gone wrong did (poor handling by their record company, a variety of legal problems, a truly regrettable deal with their manager, creative and personal differences among the bandmembers, and the tragic breakdown of guitarist and songwriter Skip Spence), but their self-titled debut album was their one moment of unqualified triumph. Moby Grape is one of the finest albums to come out of the San Francisco psychedelic scene (perhaps the finest), brimming with great songs and fresh ideas while blessedly avoiding the pitfalls that pockmarked the work of their contemporaries – no long, unfocused jams, no self-indulgent philosophy, and no attempts to sonically re-create the sound of an acid trip. Instead, Moby Grape built their sound around the brilliantly interwoven guitar work of Jerry Miller, Peter Lewis, and Skip Spence, and the clear, bright harmonies of all five members (drummer Don Stevenson and bassist Bob Mosley sang just as well as they held down the backbeat). As songwriters, Moby Grape blended straight-ahead rock & roll, smart pop, blues, country, and folk accents into a flavorful brew that was all their own, with a clever melodic sense that reflected the lysergic energy surrounding them without drowning in it. And producer David Rubinson got it all on tape in a manner that captured the band's infectious energy and soaring melodies with uncluttered clarity, while subtly exploring the possibilities of the stereo mixing process. "Omaha," "Fall on You," "Hey Grandma" and "8:05" sound like obvious hits (and might have been if Columbia hadn't released them as singles all at once), but the truth is there isn't a dud track to be found here, and time has been extremely kind to this record. Moby Grape is as refreshing today as it was upon first release, and if fate prevented the group from making a follow-up that was as consistently strong, for one brief shining moment Moby Grape proved to the world they were one of America's great bands. While history remembers the Grateful Dead and Jefferson Airplane as being more important, the truth is neither group ever made an album quite this good; however, while both of those bands have been reasonably well served on compact disc, San Francisco Sound's out-of-print CD edition of Moby Grape's debut was sonically flawed, and for a long time the best way to hear it in digital form was on Columbia/Legacy's 1993 anthology Vintage (also out of print), which featured all thirteen songs from the first album in proper sequence (albeit interrupted by studio chatter and an instrumental outtake). Sundazed's 2007 reissue finally give this album the re-mastered presentation it has long deserved; while the audio on Vintage emphasized the album's sharp high end, Bob Irwin's mastering is richer and better balanced, not to mention better detailed, with the guitars and vocals much improved in this version. The Sundazed edition also includes five relevant bonus tracks, including "Rounder" (the instrumental which appeared on the Vintage compilation), two songs from Moby Grape's first demo tape ("Looper" and "Indifference," which show the band was already a force to be reckoned with), an early take of "Bitter Wind" (which the band would re-record for their second album, Wow) and an unedited version of the non-LP cut "Sweet Ride," here expended to nearly six minutes. Sundazed's new edition of Moby Grape, complete with fine packaging and new liner notes by Gene Sculatti, treats this album like the treasure it truly is, and anyone interested in this band would do well to pick this up. [Moby Grape was reissued in 2007 with five bonus tracks.]



Review by Mark Deming, Allmusic.com
What a short, strange trip it was. And what a long, strange trip it turned into anyway.

Two Seattle bar-band honchos and two aspiring L.A. pros shoring up speedy psychedelic wonder boy Skip Spence, Moby Grape were assembled by hustler Matthew Katz in San Francisco in 1966 and recorded one magnificent album before Spence's paranoid schizophrenia got the better of him in 1968. That's the short part. The long part isn't the rest of this insanely overdue reissue – their spotty post-debut output on Columbia, a done deal by September 1969. It's that they've pursued their legend, and their career, ever since. They were still fighting Katz for their name forty years after they formed.

Unloosed on the world with famously failed five-singles-at-once hoopla in May 1967, Moby Grape comprises thirteen songs lasting an astonishing thirty-one minutes – just like the Ramones, only Moby Grape is, shall we say, more varied. Everybody wrote: the Northwest team of guitar whiz Jerry Miller and tub-thumper Don Stevenson has six tracks (one with Spence), r&b-style San Diego shouter Bob Mosley composed three; Loretta Young's son Peter Lewis and Spence each checked in with two. Harmonies run from sweet to intense, guitars likewise. Fast ones like the begin-with-a-bang "Hey Grandma" and Spence's anthemic "Omaha" rock as hard as the grungiest garage classics. Yet slow ones like the beseeching "8:05" and the resigned "Sitting by the Window" stand alongside the loveliest tunes in the country-rock canon this album initiated.

And then came – not quite nada, but close. Wow had one of the worst cases of Pepper-itis on record – creditable material like the jumpy "Can't Be So Bad" and the ticket-protesting "Murder in My Heart for the Judge" undermined by needless horns and strings, stereo separations, even musique concrète. Moby Grape '69 errs in the other direction – rather than hinting at country rock, it is the very beast, songwriting honorable and presentation flat. Cut in Nashville, Truly Fine Citizen is the same without the songs. The hippie self-indulgence of Grape Jam's wooden groove instrumentals originally occupied a Wow bonus disc.

What killed Moby Grape? Management nightmares, the implosion of the catalytic Spence, and the bummer of cutting a debut album as America's Beatles and watching it flop. That album remains, however – still a flash of youth so exhilarating that its surviving creators, all past sixty, cannot let it go.



Review by Robert Christgau, Rolling Stone, Oct. 18, 2007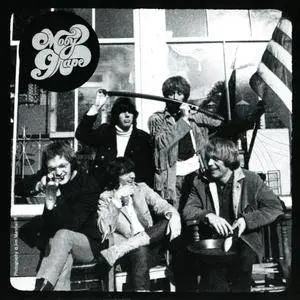 Tracklist:
01. Hey Grandma (2:46)
02. Mr. Blues (2:01)
03. Fall On You (1:56)
04. 8:05 (2:22)
05. Come in the Morning (2:16)
06. Omaha (2:46)
07. Naked, If I Want To (0:58)
08. Someday (2:43)
09. Ain't No Use (1:40)
10. Sitting by the Window (2:47)
11. Changes (3:24)
12. Lazy Me (1:48)
13. Indifference (4:19)

Bonus Tracks:
14. Rounder (instrumental) (2:04)
15. Looper (audition recording) (2:38)
16. Indifference (audition recording) (2:54)
17. Bitter Wind (alternate take) (2:50)
18. Sweet Ride (long version) (5:56)
EAC extraction logfile from 11. October 2007, 10:30 for CD
Moby Grape / Moby Grape

Used drive : PHILIPS DVD+-RW DVD8631 Adapter: 1 ID: 0
Read mode : Secure with NO C2, accurate stream, disable cache
Read offset correction : 618
Overread into Lead-In and Lead-Out : No

Used output format : C:\Program Files\Exact Audio Copy\flac.exe (User Defined Encoder)
256 kBit/s
Additional command line options : -8 -V -T "artist=%a" -T "title=%t" -T "album=%g" -T "date=%y" -T "tracknumber=%n" -T "genre=%m" %s

Other options :
Fill up missing offset samples with silence : Yes
Delete leading and trailing silent blocks : No
Installed external ASPI interface


Track 1
Filename C:\Documents and Settings\Mike\My Documents\(01) -Moby Grape -Moby Grape - Hey Grandma.wav

Pre-gap length 0:00:02.00

Peak level 94.9 %
Track quality 100.0 %
Test CRC 21C35154
Copy CRC 21C35154
Copy OK

Track 2
Filename C:\Documents and Settings\Mike\My Documents\(02) -Moby Grape -Moby Grape - Mr. Blues.wav

Pre-gap length 0:00:02.29

Peak level 92.6 %
Track quality 100.0 %
Test CRC 2D9EBF0C
Copy CRC 2D9EBF0C
Copy OK

Track 3
Filename C:\Documents and Settings\Mike\My Documents\(03) -Moby Grape -Moby Grape - Fall On You.wav

Pre-gap length 0:00:02.29

Peak level 97.2 %
Track quality 100.0 %
Test CRC 001C568C
Copy CRC 001C568C
Copy OK

Track 4
Filename C:\Documents and Settings\Mike\My Documents\(04) -Moby Grape -Moby Grape - 8-05.wav

Pre-gap length 0:00:02.30

Peak level 97.2 %
Track quality 99.9 %
Test CRC 37ED17AE
Copy CRC 37ED17AE
Copy OK

Track 5
Filename C:\Documents and Settings\Mike\My Documents\(05) -Moby Grape -Moby Grape - Come in the Morning.wav

Pre-gap length 0:00:02.29

Peak level 95.4 %
Track quality 99.9 %
Test CRC 53D9A08F
Copy CRC 53D9A08F
Copy OK

Track 6
Filename C:\Documents and Settings\Mike\My Documents\(06) -Moby Grape -Moby Grape - Omaha.wav

Pre-gap length 0:00:02.29

Peak level 100.0 %
Track quality 100.0 %
Test CRC BB1CFC60
Copy CRC BB1CFC60
Copy OK

Track 7
Filename C:\Documents and Settings\Mike\My Documents\(07) -Moby Grape -Moby Grape - Naked, If I Want To.wav

Pre-gap length 0:00:02.29

Peak level 88.1 %
Track quality 100.0 %
Test CRC CBD025E1
Copy CRC CBD025E1
Copy OK

Track 8
Filename C:\Documents and Settings\Mike\My Documents\(08) -Moby Grape -Moby Grape - Someday.wav

Pre-gap length 0:00:02.29

Peak level 99.9 %
Track quality 100.0 %
Test CRC 0EE9CB5A
Copy CRC 0EE9CB5A
Copy OK

Track 9
Filename C:\Documents and Settings\Mike\My Documents\(09) -Moby Grape -Moby Grape - Ain't No Use.wav

Pre-gap length 0:00:02.30

Peak level 100.0 %
Track quality 100.0 %
Test CRC B11C9CB6
Copy CRC B11C9CB6
Copy OK

Track 10
Filename C:\Documents and Settings\Mike\My Documents\(10) -Moby Grape -Moby Grape - Sitting by the Window.wav

Pre-gap length 0:00:02.29

Peak level 87.7 %
Track quality 100.0 %
Test CRC 36F28C5E
Copy CRC 36F28C5E
Copy OK

Track 11
Filename C:\Documents and Settings\Mike\My Documents\(11) -Moby Grape -Moby Grape - Changes.wav

Pre-gap length 0:00:02.29

Peak level 99.1 %
Track quality 100.0 %
Test CRC 01CCBA2C
Copy CRC 01CCBA2C
Copy OK

Track 12
Filename C:\Documents and Settings\Mike\My Documents\(12) -Moby Grape -Moby Grape - Lazy Me.wav

Pre-gap length 0:00:02.29

Peak level 97.2 %
Track quality 100.0 %
Test CRC E5CF4B4E
Copy CRC E5CF4B4E
Copy OK

Track 13
Filename C:\Documents and Settings\Mike\My Documents\(13) -Moby Grape -Moby Grape - Indifference.wav

Pre-gap length 0:00:02.29

Peak level 99.9 %
Track quality 100.0 %
Test CRC 19FDD8D3
Copy CRC 19FDD8D3
Copy OK

Track 14
Filename C:\Documents and Settings\Mike\My Documents\(14) -Moby Grape -Moby Grape - Rounder (instrumental).wav

Pre-gap length 0:00:04.90

Peak level 98.9 %
Track quality 99.9 %
Test CRC 2A226C8D
Copy CRC 2A226C8D
Copy OK

Track 15
Filename C:\Documents and Settings\Mike\My Documents\(15) -Moby Grape -Moby Grape - Looper (audition recording).wav

Pre-gap length 0:00:01.89

Peak level 100.0 %
Track quality 100.0 %
Test CRC 069BC60B
Copy CRC 069BC60B
Copy OK

Track 16
Filename C:\Documents and Settings\Mike\My Documents\(16) -Moby Grape -Moby Grape - Indifference (audition recording).wav

Pre-gap length 0:00:01.89

Peak level 99.6 %
Track quality 100.0 %
Test CRC 5E8F8FAE
Copy CRC 5E8F8FAE
Copy OK

Track 17
Filename C:\Documents and Settings\Mike\My Documents\(17) -Moby Grape -Moby Grape - Bitter Wind (alternate take).wav

Pre-gap length 0:00:01.89

Peak level 99.9 %
Track quality 100.0 %
Test CRC 5FA5DA6E
Copy CRC 5FA5DA6E
Copy OK

Track 18
Filename C:\Documents and Settings\Mike\My Documents\(18) -Moby Grape -Moby Grape - Sweet Ride (long version).wav

Pre-gap length 0:00:01.89

Peak level 99.9 %
Track quality 99.9 %
Test CRC 1C81452A
Copy CRC 1C81452A
Copy OK

No errors occured


End of status report
[CUETools log; Date: 14.03.2018 19:18:03; Version: 2.1.4]
[CTDB TOCID: 5vAEy3OeyYurxyq3.10rI67zUNQ-] found.
Track | CTDB Status
1 | (27/27) Accurately ripped
2 | (25/27) Accurately ripped
3 | (25/27) Accurately ripped
4 | (25/27) Accurately ripped
5 | (25/27) Accurately ripped
6 | (25/27) Accurately ripped
7 | (25/27) Accurately ripped
8 | (25/27) Accurately ripped
9 | (25/27) Accurately ripped
10 | (25/27) Accurately ripped
11 | (25/27) Accurately ripped
12 | (25/27) Accurately ripped
13 | (25/27) Accurately ripped
14 | (25/27) Accurately ripped
15 | (25/27) Accurately ripped
16 | (25/27) Accurately ripped
17 | (25/27) Accurately ripped
18 | (25/27) Accurately ripped
[AccurateRip ID: 001c133a-017bc9d1-f10b4b12] found.
Track [ CRC | V2 ] Status
01 [20583864|b09c3763] (17+21/45) Accurately ripped
02 [e6cd80fd|cc7289a4] (16+22/45) Accurately ripped
03 [afb32635|3fed4dc3] (16+21/44) Accurately ripped
04 [1a3b0cd9|c328d1cc] (17+21/45) Accurately ripped
05 [2ce1fc02|f7f990ba] (15+21/43) Accurately ripped
06 [bfce19cb|ce7ed55c] (17+23/47) Accurately ripped
07 [dc870bdf|ac3a38c7] (16+21/44) Accurately ripped
08 [523fd19a|c284f6a2] (15+21/43) Accurately ripped
09 [75e99794|6f155cae] (16+21/44) Accurately ripped
10 [13d868b9|5d69da7d] (16+22/45) Accurately ripped
11 [2e4da823|c1cc334c] (15+21/43) Accurately ripped
12 [d5decedc|305dc15c] (16+21/44) Accurately ripped
13 [da0510dc|fa63c0e8] (15+22/44) Accurately ripped
14 [580615a8|d5a72558] (15+21/43) Accurately ripped
15 [6c4aef08|5f23d7ab] (15+20/40) Accurately ripped
16 [dd7e0e38|a10353ad] (15+21/41) Accurately ripped
17 [a800622a|c604ddf9] (15+21/43) Accurately ripped
18 [62844bac|d6b94a76] (16+21/44) Accurately ripped
Offsetted by -667:
01 [da51ec2b] (02/45) Accurately ripped
02 [3a781a9d] (02/45) Accurately ripped
03 [f36f2156] (02/44) Accurately ripped
04 [3e518998] (02/45) Accurately ripped
05 [e4e8efe6] (02/43) Accurately ripped
06 [417b4c0d] (02/47) Accurately ripped
07 [c1fac6d3] (02/44) Accurately ripped
08 [646912e8] (02/43) Accurately ripped
09 [80812ecf] (02/44) Accurately ripped
10 [ad960126] (02/45) Accurately ripped
11 [5bd52ccb] (02/43) Accurately ripped
12 [0ed9fa5c] (02/44) Accurately ripped
13 [a391c3fd] (02/44) Accurately ripped
14 [60eb3eca] (02/43) Accurately ripped
15 [c35add03] (02/40) Accurately ripped
16 [f61cdca2] (02/41) Accurately ripped
17 [2233bb97] (02/43) Accurately ripped
18 [180d4112] (02/44) Accurately ripped
Offsetted by -42:
01 [799196a5] (02/45) Accurately ripped
02 [17d341bd] (02/45) Accurately ripped
03 [52dc8a13] (02/44) Accurately ripped
04 [3de4f53b] (02/45) Accurately ripped
05 [a828a8ba] (02/43) Accurately ripped
06 [af05e987] (02/47) Accurately ripped
07 [1c1a6c77] (02/44) Accurately ripped
08 [8299ecbe] (02/43) Accurately ripped
09 [e6a6c27e] (02/44) Accurately ripped
10 [4a0c437f] (02/45) Accurately ripped
11 [8412a3d3] (02/43) Accurately ripped
12 [05fae7dc] (02/44) Accurately ripped
13 [aa7404ba] (02/44) Accurately ripped
14 [9bc013a4] (02/43) Accurately ripped
15 [422ec472] (00/40) No match (V2 was not tested)
16 [b15e9aa4] (00/41) No match (V2 was not tested)
17 [cbb6daf0] (02/43) Accurately ripped
18 [758bc836] (02/44) Accurately ripped

Track Peak [ CRC32 ] [W/O NULL] [ LOG ]
– 100,0 [6DE0A568] [6924E74C]
01 94,9 [21C35154] [7BF108FC] CRC32
02 92,6 [2D9EBF0C] [D9D5D1E5] CRC32
03 97,2 [001C568C] [6D575312] CRC32
04 97,2 [37ED17AE] [172EF707] CRC32
05 95,4 [53D9A08F] [974B7C49] CRC32
06 100,0 [BB1CFC60] [74227E4D] CRC32
07 88,1 [CBD025E1] [FE5CCE0E] CRC32
08 99,9 [0EE9CB5A] [C6FCD1E7] CRC32
09 100,0 [B11C9CB6] [D66DB8D5] CRC32
10 87,7 [36F28C5E] [E1071F77] CRC32
11 99,1 [01CCBA2C] [A3F205AE] CRC32
12 97,2 [E5CF4B4E] [6CDBB3A1] CRC32
13 99,9 [19FDD8D3] [B7BFD3EE] CRC32
14 98,9 [2A226C8D] [BE1ACABD] CRC32
15 99,9 [069BC60B] [64099F03] CRC32
16 99,6 [5E8F8FAE] [CD3E78A3] CRC32
17 99,9 [5FA5DA6E] [4C90368E] CRC32
18 99,9 [1C81452A] [BDE14EB6] CRC32
foobar2000 1.2 / Dynamic Range Meter 1.1.1
log date: 2018-03-14 19:22:47

––––––––––––––––––––––––––––––––––––––––
Analyzed: Moby Grape / Moby Grape
––––––––––––––––––––––––––––––––––––––––

DR Peak RMS Duration Track
––––––––––––––––––––––––––––––––––––––––
DR9 -0.45 dB -12.59 dB 2:46 01-Hey Grandma
DR10 -0.66 dB -12.25 dB 2:01 02-Mr. Blues
DR10 -0.24 dB -12.54 dB 1:56 03-Fall On You
DR10 -0.24 dB -13.14 dB 2:22 04-8:05
DR9 -0.41 dB -11.50 dB 2:16 05-Come in the Morning
DR11 0.00 dB -13.94 dB 2:46 06-Omaha
DR10 -1.09 dB -13.66 dB 0:58 07-Naked, If I Want To
DR11 0.00 dB -14.28 dB 2:43 08-Someday
DR10 0.00 dB -12.04 dB 1:40 09-Ain't No Use
DR10 -1.14 dB -14.28 dB 2:47 10-Sitting by the Window
DR10 -0.07 dB -12.66 dB 3:24 11-Changes
DR9 -0.24 dB -12.19 dB 1:48 12-Lazy Me
DR10 0.00 dB -12.33 dB 4:19 13-Indifference
DR10 -0.09 dB -12.00 dB 2:04 14-Rounder (instrumental)
DR10 0.00 dB -12.65 dB 2:38 15-Looper (audition recording)
DR10 -0.03 dB -11.27 dB 2:54 16-Indifference (audition recording)
DR10 0.00 dB -11.70 dB 2:50 17-Bitter Wind (alternate take)
DR11 0.00 dB -13.10 dB 5:56 18-Sweet Ride (long version)
––––––––––––––––––––––––––––––––––––––––

Number of tracks: 18
Official DR value: DR10

Samplerate: 44100 Hz
Channels: 2
Bits per sample: 16
Bitrate: 804 kbps
Codec: FLAC
================================================================================