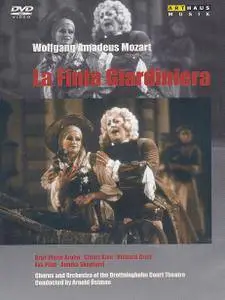 Arnold Östmann, Orchestra of the Drottningholm Court Theatre - Mozart: La Finta Giardiniera (2006/1988)
NTSC 4:3 (720x480) VBR | Italiano (LinearPCM, 2 ch) | 7.35 Gb (DVD9) | 150 min
Classical | Arthaus Musik | Sub: Italiano, Deutsch, English, Espanol, Francais
Mozart's charming opera tells the story of a Countess who disguises herself as a gardener in order to find and forgive her lover, who thinks he has killed her in a quarrel. The score is one of real musical delights with uncommonly rich and full orchestration and prominent parts for wind in particular. Arnold Östman conducts this Göran Järvefelt production in which the countes is played by Britt-Marie Aruhn.
Cast:
Don Anchise, Podestà di Lagonero - Stuart Kale
La Marchese Violante/Sandrina - Britt-Marie Aruhn
Il Contino Belfiore - Richard Croft
Arminda - Eva Pilat
Il Cavalier Ramiro - Annika Skoglund
Serpetta - Ann Christine Biel
Roberto/Nardo - Petteri Salomaa
Chorus and Orchestra of the Drottningholm Court Theatre
Conductor - Arnold Östmann