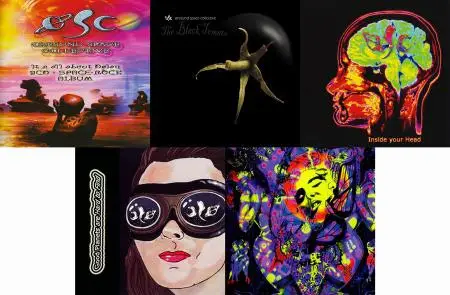 Oresund Space Collective - 5 Studio Albums (2006-2010)
EAC Rip | FLAC, WavPack (image+.cue+log) - 3,09 GB | MP3 CBR 320 kbps (LAME 3.93) - 1,09 GB | Covers - 428 MB
Genre: Psychedelic/Space Rock | RAR 3% Rec. | Label: Transubstans Records, Sulatron Records
Founded by Scott Heller aka Dr. Space (synth, management) in 2004 Øresund Space Collective are a multinational crew which get together as often as possible to play free form improvised space rock music. The band name derives from the Øresund Bridge, connecting Denmark and Sweden since the year 2000. The purpose is to offer another flavour with every new session. This is guaranteed by everlasting line-up changes. The whole OSC family comprises more than 30 members in the meanwhile, temporarily entrusted by nearly every existing Nordic psych/space band. They have toured all over in Europe whilst collaborating with Sula Bassana and others. The musical trademark is provided by a grooving backbone in general. This is decorated by playful multiple guitars and a proper proportion of synthesizer and organ input. The interplay is somnambulistic due to a special spirit. All in all their music blends elements of psychedelic, space, dub, jazz and krautrock. Nearly every studio session or live gig has been recorded - the best-of excerpts got a place on several studio albums, starting with the eponymous debut in 2006.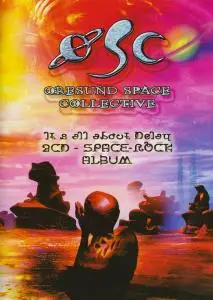 Øresund Space Collective - It's All About Delay (2006)
EAC Rip | FLAC (image+.cue+log) - 957 MB | MP3 CBR 320 kbps (LAME 3.93) - 366 MB | Covers - 267 MB
Genre: Psychedelic/Space Rock | RAR 3% Rec. | Label: Transubstans Records (TRANS026)
CD 1 Tracklist:
01. Rolling …
02. Cirkus Yoda 1
03. Cirkus Yoda 2
04. Nebula 4747
05. Isle Of Mogens
06. Shaved Cortex
07. Pink Jumps in The Ring
08. In Her Majesty's Secret Saucer
Total time:
01:16:20
CD 2 Tracklist:
01. Jupiter Flyby (In Memory of Doug Walker)
02. Alien Strip Club
03. Chris Ice Sack
04. The Tony Blair Witch Crocket Project
Total time:
01:19:01
Exact Audio Copy V1.0 beta 3 from 29. August 2011

Отчёт EAC об извлечении, выполненном 21. сентября 2014, 19:19

Øresund Space Collective / It's All About Delay

Дисковод: Optiarc DVD RW AD-7173A Adapter: 4 ID: 0

Режим чтения : Достоверность
Использование точного потока : Да
Отключение кэша аудио : Да
Использование указателей C2 : Нет

Коррекция смещения при чтении : 48
Способность читать области Lead-in и Lead-out : Нет
Заполнение пропущенных сэмплов тишиной : Да
Удаление блоков с тишиной в начале и конце : Нет
При вычислениях CRC использовались нулевые сэмплы : Да
Интерфейс : Встроенный Win32-интерфейс для Win NT/2000

Выходной формат : Пользовательский кодировщик
Выбранный битрейт : 128 kBit/s
Качество : Высокий
Добавление ID3-тега : Нет
Утилита сжатия : C:\Program Files (x86)\FLAC\flac.exe
Дополнительные параметры : -V -8 -T "Date=%year%" -T "Genre=%genre%" %source%


TOC извлечённого CD

Трек | Старт | Длительность | Начальный сектор | Конечный сектор
––––––––––––––––––––––––––––––––––-
1 | 0:00.00 | 12:15.54 | 0 | 55178
2 | 12:15.54 | 8:27.24 | 55179 | 93227
3 | 20:43.03 | 7:57.37 | 93228 | 129039
4 | 28:40.40 | 10:27.05 | 129040 | 176069
5 | 39:07.45 | 6:30.55 | 176070 | 205374
6 | 45:38.25 | 15:23.08 | 205375 | 274607
7 | 61:01.33 | 5:03.34 | 274608 | 297366
8 | 66:04.67 | 10:15.24 | 297367 | 343515


Характеристики диапазона извлечения и сообщения об ошибках

Выбранный диапазон

Имя файла D:\EAC\2006 - It's All About Delay\Oresund Space Collective - It's All About Delay CD 1.wav

Пиковый уровень 98.8 %
Скорость извлечения 2.1 X
Качество диапазона 99.9 %
CRC теста BDA7526C
CRC копии BDA7526C
Копирование… OK

Ошибок не произошло


AccurateRip: сводка

Трек 1 : извлечено точно (доверие 2) [99AD8518] (AR v1)
Трек 2 : извлечено точно (доверие 2) [0C95DEB7] (AR v1)
Трек 3 : извлечено точно (доверие 2) [960E19A2] (AR v1)
Трек 4 : извлечено точно (доверие 2) [FA298B86] (AR v1)
Трек 5 : извлечено точно (доверие 2) [BB0B78FD] (AR v1)
Трек 6 : извлечено точно (доверие 2) [1D050609] (AR v2)
Трек 7 : извлечено точно (доверие 2) [25905ECE] (AR v1)
Трек 8 : извлечено точно (доверие 2) [0F60F145] (AR v1)

Все треки извлечены точно

Конец отчёта

==== Контрольная сумма отчёта A81E63FEA7986726248D0FD3CDCA827954C7FA78388BC100C925F435BDD04A3C ====
[CUETools log; Date: 31.10.2020 0:10:48; Version: 2.1.4]
[CTDB TOCID: EeXAE_kaJF8046rQrWfUXrxeFGY-] found.
Track | CTDB Status
1 | (9/9) Accurately ripped
2 | (9/9) Accurately ripped
3 | (9/9) Accurately ripped
4 | (9/9) Accurately ripped
5 | (9/9) Accurately ripped
6 | (9/9) Accurately ripped
7 | (9/9) Accurately ripped
8 | (9/9) Accurately ripped
[AccurateRip ID: 001805ef-009ede77-7411e408] found.
Track [ CRC | V2 ] Status
01 [99ad8518|fac717e5] (2+3/5) Accurately ripped
02 [0c95deb7|34a27b09] (2+3/5) Accurately ripped
03 [960e19a2|a9a121d8] (2+3/5) Accurately ripped
04 [fa298b86|23fd65b5] (2+3/5) Accurately ripped
05 [bb0b78fd|bef132ba] (2+3/5) Accurately ripped
06 [894b51e7|1d050609] (2+4/6) Accurately ripped
07 [25905ece|80b2e30b] (2+3/5) Accurately ripped
08 [0f60f145|d4fba068] (2+3/5) Accurately ripped

Track Peak [ CRC32 ] [W/O NULL] [ LOG ]
– 98,8 [BDA7526C] [7CF10D48] CRC32
01 97,7 [961FB75E] [68364ECF]
02 97,7 [7208B67F] [FA043FF1]
03 97,7 [C1DDDB8E] [C2C6D4FC]
04 97,7 [C9B322C0] [10EAA49A]
05 98,8 [22DF2C29] [058116E8]
06 97,7 [E1E66D92] [0CD9EB7D]
07 97,7 [FF4EA573] [6EFB37C7]
08 97,7 [33A989AC] [83DA51F1]
Exact Audio Copy V1.0 beta 3 from 29. August 2011

Отчёт EAC об извлечении, выполненном 21. сентября 2014, 20:42

Øresund Space Collective / It's All About Delay CD 2

Дисковод: Optiarc DVD RW AD-7173A Adapter: 4 ID: 0

Режим чтения : Достоверность
Использование точного потока : Да
Отключение кэша аудио : Да
Использование указателей C2 : Нет

Коррекция смещения при чтении : 48
Способность читать области Lead-in и Lead-out : Нет
Заполнение пропущенных сэмплов тишиной : Да
Удаление блоков с тишиной в начале и конце : Нет
При вычислениях CRC использовались нулевые сэмплы : Да
Интерфейс : Встроенный Win32-интерфейс для Win NT/2000

Выходной формат : Пользовательский кодировщик
Выбранный битрейт : 128 kBit/s
Качество : Высокий
Добавление ID3-тега : Нет
Утилита сжатия : C:\Program Files (x86)\FLAC\flac.exe
Дополнительные параметры : -V -8 -T "Date=%year%" -T "Genre=%genre%" %source%


TOC извлечённого CD

Трек | Старт | Длительность | Начальный сектор | Конечный сектор
––––––––––––––––––––––––––––––––––-
1 | 0:00.00 | 25:46.20 | 0 | 115969
2 | 25:46.20 | 17:56.38 | 115970 | 196707
3 | 43:42.58 | 20:11.04 | 196708 | 287536
4 | 63:53.62 | 15:07.27 | 287537 | 355588


Характеристики диапазона извлечения и сообщения об ошибках

Выбранный диапазон

Имя файла D:\EAC\2008 - Inside Your Head\Oresund Space Collective - It's All About Delay CD 2.wav

Пиковый уровень 97.7 %
Скорость извлечения 2.4 X
Качество диапазона 100.0 %
CRC теста 8F1C1CCB
CRC копии 8F1C1CCB
Копирование… OK

Ошибок не произошло


AccurateRip: сводка

Трек 1 : извлечено точно (доверие 2) [7DEE22F0] (AR v1)
Трек 2 : извлечено точно (доверие 2) [8FB9D751] (AR v1)
Трек 3 : извлечено точно (доверие 2) [EEB01B18] (AR v1)
Трек 4 : извлечено точно (доверие 2) [17246324] (AR v1)

Все треки извлечены точно

Конец отчёта

==== Контрольная сумма отчёта DEA3DA6E437407E82A1161CABE991C51D4740FE834D50BF28F7933355F8CAF2B ====
[CUETools log; Date: 31.10.2020 0:11:09; Version: 2.1.4]
[CTDB TOCID: WR_lkCfltF3QxyOcoi1NfJ5XgK8-] found.
Track | CTDB Status
1 | (9/9) Accurately ripped
2 | (9/9) Accurately ripped
3 | (9/9) Accurately ripped
4 | (9/9) Accurately ripped
[AccurateRip ID: 000e959c-0039390e-35128504] found.
Track [ CRC | V2 ] Status
01 [7dee22f0|ba12b960] (2+2/4) Accurately ripped
02 [8fb9d751|075139a2] (2+3/5) Accurately ripped
03 [eeb01b18|fc8fae92] (2+2/4) Accurately ripped
04 [17246324|5effc174] (2+2/4) Accurately ripped

Track Peak [ CRC32 ] [W/O NULL] [ LOG ]
– 97,7 [8F1C1CCB] [8E722C19] CRC32
01 97,7 [4E4F167E] [88958EE6]
02 97,7 [85473820] [74D6CBF6]
03 97,7 [597F5CF9] [893E8A94]
04 97,7 [A9D1F419] [7E097C2D]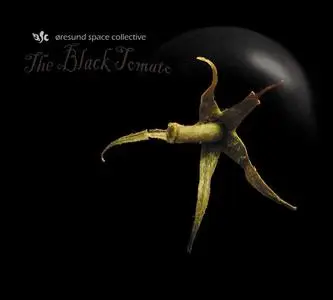 Øresund Space Collective - The Black Tomato (2007)
EAC Rip | FLAC (image+.cue+log) - 535 MB | MP3 CBR 320 kbps (LAME 3.93) - 182 MB | Covers - 12 MB
Genre: Psychedelic/Space Rock | RAR 3% Rec. | Label: Transubstans Records (Transubstans032)
Tracklist:
01. Rumble Part I
02. Rumble Part II
03. Rumble Part III
04. Rumble Part IV
05. Rumble Part V
06. The Black Tomato Part I
07. The Black Tomato Part II
08. The Black Tomato Part III
09. Viking Cleaner
Total time:
01:17:12
Exact Audio Copy V0.99 prebeta 4 from 23. January 2008

Отчёт EAC об извлечении, выполненном 5. марта 2010, 13:01

Oresund Space Collective / The Black Tomato

Дисковод: ASUS DRW-2014S1T Adapter: 1 ID: 0

Режим чтения : Достоверность
Использование точного потока : Да
Отключение кэша аудио : Да
Использование указателей C2 : Нет

Коррекция смещения при чтении : 6
Способность читать области Lead-in и Lead-out : Нет
Заполнение пропущенных сэмплов тишиной : Да
Удаление блоков с тишиной в начале и конце : Нет
При вычислениях CRC использовались нулевые сэмплы : Да
Интерфейс : Встроенный Win32-интерфейс для Win NT/2000

Выходной формат : Пользовательский кодировщик
Выбранный битрейт : 1024 kBit/s
Качество : Высокий
Добавление ID3-тэга : Нет
Утилита сжатия : C:\Program Files\Exact Audio Copy\FLAC\FLAC.EXE
Дополнительные параметры : -8 -V %s


TOC извлечённого CD

Трек | Старт | Длительность | Начальный сектор | Конечный сектор
––––––––––––––––––––––––––––––––––-
1 | 0:00.00 | 7:38.21 | 0 | 34370
2 | 7:38.21 | 10:15.41 | 34371 | 80536
3 | 17:53.62 | 9:37.55 | 80537 | 123866
4 | 27:31.42 | 8:05.67 | 123867 | 160308
5 | 35:37.34 | 2:58.17 | 160309 | 173675
6 | 38:35.51 | 8:02.04 | 173676 | 209829
7 | 46:37.55 | 11:45.43 | 209830 | 262747
8 | 58:23.23 | 12:19.54 | 262748 | 318226
9 | 70:43.02 | 6:28.66 | 318227 | 347392


Характеристики диапазона извлечения и сообщения об ошибках

Выбранный диапазон

Имя файла E:\Losless\Download\Oresund Space Collective - The Black Tomato\Oresund Space Collective - The Black Tomato.wav

Пиковый уровень 97.0 %
Качество диапазона 100.0 %
CRC теста 20B8F132
CRC копии 20B8F132
Копирование… OK

Ошибок не произошло


AccurateRip: сводка

Трек 1 точное извлечение (доверие 3) [62CBEAF4]
Трек 2 точное извлечение (доверие 3) [8ADC7042]
Трек 3 точное извлечение (доверие 3) [96971516]
Трек 4 точное извлечение (доверие 3) [EB569B9A]
Трек 5 точное извлечение (доверие 3) [D52BBA15]
Трек 6 точное извлечение (доверие 3) [6410BF06]
Трек 7 точное извлечение (доверие 3) [039AEE67]
Трек 8 точное извлечение (доверие 3) [34989733]
Трек 9 точное извлечение (доверие 3) [4F561E18]

Все треки извлечены точно

Конец отчёта
[CUETools log; Date: 31.10.2020 0:11:40; Version: 2.1.4]
[CTDB TOCID: ityRbNGJOkPDADIt193JOq_9XP0-] found.
Track | CTDB Status
1 | (13/14) Accurately ripped
2 | (13/14) Accurately ripped
3 | (13/14) Accurately ripped
4 | (13/14) Accurately ripped
5 | (14/14) Accurately ripped
6 | (14/14) Accurately ripped
7 | (14/14) Accurately ripped
8 | (14/14) Accurately ripped
9 | (14/14) Accurately ripped
[AccurateRip ID: 001a1b6e-00bf9f6e-7b121709] found.
Track [ CRC | V2 ] Status
01 [62cbeaf4|03f56f26] (5+3/8) Accurately ripped
02 [8adc7042|d0785fff] (5+3/8) Accurately ripped
03 [96971516|2aacd82b] (5+3/8) Accurately ripped
04 [eb569b9a|6baf3d92] (5+3/8) Accurately ripped
05 [d52bba15|411db850] (5+3/8) Accurately ripped
06 [6410bf06|dadd9e22] (5+3/8) Accurately ripped
07 [039aee67|3538cd04] (5+3/8) Accurately ripped
08 [34989733|fec9d090] (5+3/8) Accurately ripped
09 [4f561e18|5c71de7c] (5+3/8) Accurately ripped

Track Peak [ CRC32 ] [W/O NULL] [ LOG ]
– 97,0 [20B8F132] [FA6186CB] CRC32
01 97,0 [CB50FC4C] [90446BBC]
02 97,0 [E8222C54] [D5F9F314]
03 97,0 [1031A704] [CDCE3994]
04 97,0 [371874D1] [4459526C]
05 97,0 [C997DA39] [AA9CDBFF]
06 97,0 [8DB7D80E] [7ED8F7D3]
07 97,0 [53E00149] [6CE8931A]
08 97,0 [45F8BA8D] [3009A508]
09 97,0 [A8B3625F] [A5FD9324]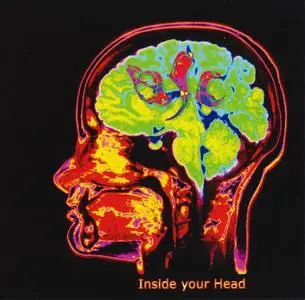 Øresund Space Collective - Inside Your Head (2008)
EAC Rip | FLAC (image+.cue+log) - 505 MB | MP3 CBR 320 kbps (LAME 3.93) - 166 MB | Covers - 133 MB
Genre: Psychedelic/Space Rock | RAR 3% Rec. | Label: Sulatron Records (st 0802)
Tracklist:
01. Substantia Nigra
02. Optic Chiasm
03. Fornix
04. Aqueduct Of Sylvius
05. Vermis
Total time:
01:10:34
Exact Audio Copy V1.0 beta 3 from 29. August 2011

Отчёт EAC об извлечении, выполненном 21. сентября 2014, 16:23

Oeresund Space Collective / Inside Your Head

Дисковод: Optiarc DVD RW AD-7173A Adapter: 4 ID: 0

Режим чтения : Достоверность
Использование точного потока : Да
Отключение кэша аудио : Да
Использование указателей C2 : Нет

Коррекция смещения при чтении : 48
Способность читать области Lead-in и Lead-out : Нет
Заполнение пропущенных сэмплов тишиной : Да
Удаление блоков с тишиной в начале и конце : Нет
При вычислениях CRC использовались нулевые сэмплы : Да
Интерфейс : Встроенный Win32-интерфейс для Win NT/2000

Выходной формат : Пользовательский кодировщик
Выбранный битрейт : 128 kBit/s
Качество : Высокий
Добавление ID3-тега : Нет
Утилита сжатия : C:\Program Files (x86)\FLAC\flac.exe
Дополнительные параметры : -V -8 -T "Date=%year%" -T "Genre=%genre%" %source%


TOC извлечённого CD

Трек | Старт | Длительность | Начальный сектор | Конечный сектор
––––––––––––––––––––––––––––––––––-
1 | 0:00.00 | 10:22.72 | 0 | 46721
2 | 10:22.72 | 16:35.24 | 46722 | 121370
3 | 26:58.21 | 12:53.12 | 121371 | 179357
4 | 39:51.33 | 9:56.30 | 179358 | 224087
5 | 49:47.63 | 20:46.46 | 224088 | 317583


Характеристики диапазона извлечения и сообщения об ошибках

Выбранный диапазон

Имя файла D:\EAC\2008 - Inside Your Head\Oeresund Space Collective - Inside Your Head.wav

Пиковый уровень 97.8 %
Скорость извлечения 2.1 X
Качество диапазона 99.9 %
CRC теста 9232E94F
CRC копии 9232E94F
Копирование… OK

Ошибок не произошло


AccurateRip: сводка

Трек 1 : извлечено точно (доверие 2) [42CE21B1] (AR v2)
Трек 2 : извлечено точно (доверие 2) [631027E9] (AR v2)
Трек 3 : извлечено точно (доверие 2) [6E15DCE7] (AR v2)
Трек 4 : извлечено точно (доверие 2) [E498D02A] (AR v2)
Трек 5 : извлечено точно (доверие 3) [D7847608] (AR v1)

Все треки извлечены точно

Конец отчёта

==== Контрольная сумма отчёта 6B54FAF499942586256B5917290D778C82C47434F1792DE7B968390D91C58A4A ====
[CUETools log; Date: 31.10.2020 0:12:32; Version: 2.1.4]
[CTDB TOCID: 0.xRjfI0EJuqANOD0QG0Rrpm23U-] found.
Track | CTDB Status
1 | (13/13) Accurately ripped
2 | (13/13) Accurately ripped
3 | (13/13) Accurately ripped
4 | (13/13) Accurately ripped
5 | (13/13) Accurately ripped
[AccurateRip ID: 000d9123-004019e6-44108a05] found.
Track [ CRC | V2 ] Status
01 [dacbfb74|42ce21b1] (3+4/7) Accurately ripped
02 [32397f01|631027e9] (3+4/7) Accurately ripped
03 [0c891144|6e15dce7] (3+4/7) Accurately ripped
04 [14656229|e498d02a] (3+4/7) Accurately ripped
05 [d7847608|0079eb63] (3+3/6) Accurately ripped

Track Peak [ CRC32 ] [W/O NULL] [ LOG ]
– 97,8 [9232E94F] [90C0B99E] CRC32
01 97,8 [2EFFA055] [778756A7]
02 97,8 [44DA0140] [89560FBD]
03 97,8 [6AE4B6E8] [BF8FE5B4]
04 97,8 [569B3456] [981C7CF5]
05 97,8 [BE4BD9A4] [7FEB08B2]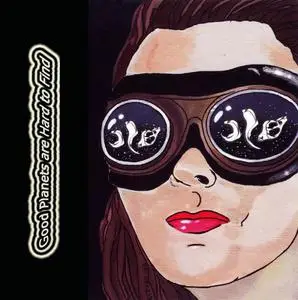 Øresund Space Collective - Good Planets Are Hard To Find (2009)
EAC Rip | WavPack (image+.cue+log) - 559 MB | MP3 CBR 320 kbps (LAME 3.93) - 188 MB | Covers - 11 MB
Genre: Psychedelic/Space Rock | RAR 3% Rec. | Label: Transubstans Records (Transubstans 044)
Tracklist:
01. Good Planets Are Hard To Find
02. Space Fountain
03. Orbital Elevator
04. PP746-3
05. My Heel Has A Beard
06. MTSST
Total time:
01:19:53
Exact Audio Copy V1.0 beta 1 from 15. November 2010

EAC extraction logfile from 19. May 2011, 0:43

Øresund Space Collective / Good Planets Are Hard To Find

Used drive : HL-DT-STDVDRAM GH22NS50 Adapter: 3 ID: 0

Read mode : Secure
Utilize accurate stream : Yes
Defeat audio cache : Yes
Make use of C2 pointers : No

Read offset correction : 667
Overread into Lead-In and Lead-Out : No
Fill up missing offset samples with silence : Yes
Delete leading and trailing silent blocks : No
Null samples used in CRC calculations : Yes
Used interface : Installed external ASPI interface

Used output format : Benutzerdefinierter Komprimierer
Selected bitrate : 1024 kBit/s
Quality : High
Add ID3 tag : No
Command line compressor : C:\Program Files (x86)\wavpack\wavpack.exe
Additional command line options : -hm -w "Year=%y" -w "Genre=%m" %s %d


TOC of the extracted CD

Track | Start | Length | Start sector | End sector
––––––––––––––––––––––––––––-
1 | 0:00.00 | 9:43.60 | 0 | 43784
2 | 9:43.60 | 8:51.10 | 43785 | 83619
3 | 18:34.70 | 16:12.07 | 83620 | 156526
4 | 34:47.02 | 19:35.71 | 156527 | 244722
5 | 54:22.73 | 6:01.08 | 244723 | 271805
6 | 60:24.06 | 19:28.66 | 271806 | 359471


Range status and errors

Selected range

Filename M:\O\Øresund Space Collective\Good Planets Are Hard To Find\LoosLess\Øresund Space Collective - Good Planets Are Hard To Find.wav

Peak level 97.9 %
Extraction speed 0.5 X
Range quality 99.9 %
Test CRC BB6C6AA4
Copy CRC BB6C6AA4
Copy OK

No errors occurred


AccurateRip summary

Track 1 accurately ripped (confidence 4) [F4AD7778]
Track 2 accurately ripped (confidence 4) [1E3D5C11]
Track 3 accurately ripped (confidence 4) [1176A348]
Track 4 accurately ripped (confidence 4) [EF06B6E2]
Track 5 accurately ripped (confidence 4) [3CBBDB9E]
Track 6 accurately ripped (confidence 4) [848B4562]

All tracks accurately ripped

End of status report

==== Log checksum 2E890CA0F462F848C2AA10C3223DF272D4C0E758A45E240CAED26B3C0AE74AE8 ====
[CUETools log; Date: 31.10.2020 0:13:17; Version: 2.1.4]
[CTDB TOCID: m7MOA8u12xvJdIjWPPy5utOOaqw-] found.
Track | CTDB Status
1 | (8/8) Accurately ripped
2 | (8/8) Accurately ripped
3 | (8/8) Accurately ripped
4 | (8/8) Accurately ripped
5 | (8/8) Accurately ripped
6 | (8/8) Accurately ripped
[AccurateRip ID: 0011b2fd-0060ab3e-5012b806] found.
Track [ CRC | V2 ] Status
01 [f4ad7778|6396c515] (5+4/9) Accurately ripped
02 [1e3d5c11|174f8f2c] (5+4/9) Accurately ripped
03 [1176a348|3749cfb7] (5+4/9) Accurately ripped
04 [ef06b6e2|2ff77ffc] (5+4/9) Accurately ripped
05 [3cbbdb9e|7ba8fafa] (5+4/9) Accurately ripped
06 [848b4562|72341f89] (5+4/9) Accurately ripped

Track Peak [ CRC32 ] [W/O NULL] [ LOG ]
– 97,9 [BB6C6AA4] [7B3A4DBD] CRC32
01 97,8 [BA924872] [0B44BEEC]
02 97,7 [43E91598] [1AB44972]
03 97,9 [9BA99AC6] [A229FCF4]
04 96,9 [472CB0B6] [C012572C]
05 97,7 [373800DE] [71306D49]
06 97,7 [365485EA] [807BC57A]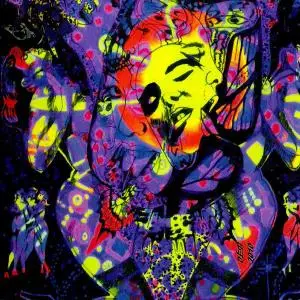 Øresund Space Collective - Slip Into The Vortex (2010)
EAC Rip | FLAC (image+.cue+log) - 533 MB | MP3 CBR 320 kbps (LAME 3.93) - 185 MB | Covers - 5 MB
Genre: Psychedelic/Space Rock | RAR 3% Rec. | Label: Transubstans Records (Transubstans 060)
Tracklist:
01. I Teleported To Acapulco
02. Mothership Machinery
03. Fondle The Frequency
04. Slip Into The Vortex
05. Sonic Snake
06. Lord Of Slumber
Total time:
01:18:33
Exact Audio Copy V0.99 prebeta 5 from 4. May 2009

EAC extraction logfile from 29. August 2010, 19:58

Шresund Space Collective / Slip Into The Vortex

Used drive : hp CDDVDW TS-L633N Adapter: 1 ID: 0

Read mode : Secure
Utilize accurate stream : Yes
Defeat audio cache : Yes
Make use of C2 pointers : No

Read offset correction : 6
Overread into Lead-In and Lead-Out : No
Fill up missing offset samples with silence : Yes
Delete leading and trailing silent blocks : No
Null samples used in CRC calculations : Yes
Used interface : Native Win32 interface for Win NT & 2000

Used output format : User Defined Encoder
Selected bitrate : 128 kBit/s
Quality : High
Add ID3 tag : No
Command line compressor : C:\Program Files (x86)\Exact Audio Copy\Flac\flac.exe
Additional command line options : -T "DATE=%y" -T "GENRE=%m" -8 -V %s


TOC of the extracted CD

Track | Start | Length | Start sector | End sector
––––––––––––––––––––––––––––-
1 | 0:00.00 | 9:55.49 | 0 | 44673
2 | 9:55.49 | 24:50.70 | 44674 | 156493
3 | 34:46.44 | 7:10.23 | 156494 | 188766
4 | 41:56.67 | 18:14.23 | 188767 | 270839
5 | 60:11.15 | 11:59.69 | 270840 | 324833
6 | 72:11.09 | 6:22.03 | 324834 | 353486


Range status and errors

Selected range

Filename C:\Users\Public\Music\Sample Music\Oresund Space Collective - Slip Into The Vortex - (2010)\Шresund Space Collective - Slip Into The Vortex.wav

Peak level 99.2 %
Range quality 100.0 %
Test CRC 7119F165
Copy CRC 7119F165
Copy OK

No errors occurred


AccurateRip summary

Track 1 not present in database
Track 2 not present in database
Track 3 not present in database
Track 4 not present in database
Track 5 not present in database
Track 6 not present in database

None of the tracks are present in the AccurateRip database

End of status report
[CUETools log; Date: 31.10.2020 0:13:42; Version: 2.1.4]
[CTDB TOCID: 8VpY7BMmlhia.ZdY_fHVFGczs98-] found.
Track | CTDB Status
1 | (14/14) Accurately ripped
2 | (13/14) Accurately ripped
3 | (14/14) Accurately ripped
4 | (14/14) Accurately ripped
5 | (14/14) Accurately ripped
6 | (14/14) Accurately ripped
[AccurateRip ID: 00146ed8-006c3538-53126906] found.
Track [ CRC | V2 ] Status
01 [bf36577f|4d4a1ae0] (0+4/4) Accurately ripped
02 [a5a8f15d|dc942a4f] (0+4/4) Accurately ripped
03 [122946b3|411a0db8] (0+4/4) Accurately ripped
04 [d601a94f|cee1a8f7] (0+4/4) Accurately ripped
05 [07e57347|0921eef0] (0+4/4) Accurately ripped
06 [08e73802|dd250a08] (0+4/4) Accurately ripped

Track Peak [ CRC32 ] [W/O NULL] [ LOG ]
– 99,2 [7119F165] [1FDFD415] CRC32
01 99,2 [0D7A83F5] [F4AFD777]
02 99,2 [0393B03D] [97E7EEAF]
03 99,2 [037818DF] [492ABE0C]
04 99,2 [FCBC8AAA] [B180D4B3]
05 99,2 [1AE1230B] [F97C02CB]
06 99,2 [CFF1D883] [803D8526]
Thanks to
Green_Buddha, Бертольд Шварц, Antikalk, kimichev