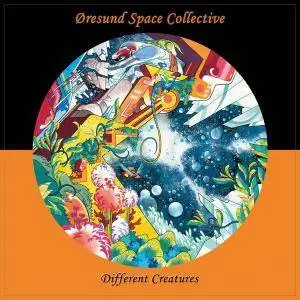 Oresund Space Collective - Different Creatures (2015)
WEB FLAC (tracks) - 884 MB | MP3 CBR 320 kbps (LAME 3.93) - 327 MB | Front cover
Genre: Psychedelic/Space Rock | RAR 3% Rec. | Label: Space Rock Productions
This marks the 20th Øresund Space Collective release. The music was recorded by a very special group of musicians from Sweden and Norway (plus Dr Space-Denmark) at the Black Tornado studio in Copenhagen. The members are from a wide variety of bands including Tangle Edge, Agusa, Camper von Beethoven, My brother the Wind, and Ex-Siena Root. The mixture of pedal steel, sitar, violin, mandolin, and theremin, presents a new and exciting sound and energy ranging from high energy space rock like Ride to Valhalla to very laid back country space blues with Jam for Jerry G and Indian space trance of the Digestive Raga. They created an unknown tribute to the Welsh band, Man, on the track, Man from Wales. There were some interesting sound experiments included as well to bridge the sides. Finally, the massive 45min, 20 steps towards the invisible Door.
Tracklist:
01. The Ride to Valhalla
02. Juggle the Juice
03. Digestive Raga
04. The MAN from Wales
05. Bon Voyage
06. Raga for Jerry G
07. 20 Steps towards the invisible Door
Total time:
02:02:22

PERFORMER: auCDtect Task Manager, ver. 1.6.0 RC1 build 1.6.0.1
Copyright © 2008-2010 y-soft. All rights reserved

ANALYZER: auCDtect: CD records authenticity detector, version 0.8.2
Copyright © 2004 Oleg Berngardt. All rights reserved.
Copyright © 2004 Alexander Djourik. All rights reserved.


FILE: 07. 20 Steps towards the invisible Door.flac
Size: 281151123 Hash: C6CC3F1F294951E5B4918C67E55D3BDE Accuracy: -m0
Conclusion: CDDA 100%
Signature: 743385F74C82D7128F3D48F66439D274B1625572
FILE: 06. Raga for Jerry G.flac
Size: 122560969 Hash: 13A16F334002A30B92A6AE94DB827CE3 Accuracy: -m0
Conclusion: MPEG 95%
Signature: 5CC3017DD28C61EFB1D01DBC312E24B49072656F
FILE: 05. Bon Voyage.flac
Size: 37985414 Hash: A7F69C050D132E1E7B670E77E8ACD5C2 Accuracy: -m0
Conclusion: CDDA 100%
Signature: 8D2A3489490E8C7B8202646C4CA97E7813EF333C
FILE: 04. The MAN from Wales.flac
Size: 89295154 Hash: D3B1613BAA283FF564A45FC9566F0F4E Accuracy: -m0
Conclusion: CDDA 100%
Signature: 75F6189E954884D59F9BEAA3093DD3FA6DEB646B
FILE: 03. Digestive Raga.flac
Size: 191680738 Hash: C2A27280D819DD42100D2FE4A08124AD Accuracy: -m0
Conclusion: MPEG 95%
Signature: 63727B5D54E04435D2BC6320A27C7B236DF6B06B
FILE: 02. Juggle the Juice.flac
Size: 26297270 Hash: 41A032B845EAA5BD9320517210932B5B Accuracy: -m0
Conclusion: CDDA 100%
Signature: 024647EDD369D8AD062F9D88A0D499B0B4785473
FILE: 01. The Ride to Valhalla.flac
Size: 150925998 Hash: 32E0FD6B5FD3AF51C2758F407F9357A5 Accuracy: -m0
Conclusion: CDDA 99%
Signature: E2D4954D2393EB5AAAA30EF002463B297B87FBD1