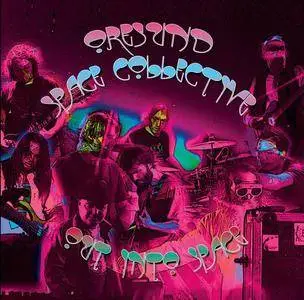 Øresund Space Collective - Out Into Space (2015)
WEB FLAC (tracks) - 1,39 GB | MP3 CBR 320 kbps (LAME 3.93) - 522 MB | Front cover
Genre: Psychedelic/Space Rock | RAR 3% Rec. | Label: Space Rock Productions
This live release was captured on the occasion of their celebrating 10 years of live Oresund Space Collective concerts. The first concert was at their local favorite club, Dragens Hule (RIP) in Feb 2005. Since that time the collective grew greatly from the roots of Mantric Muse and Bland Bladen to a multi-international collective of like minded musicians. The amazing venue, Loppen in Christiania was the site of this amazing night, which featured 3 sets of music with three completely different line up of musicians. Dr Space played in all three sets but all the rest of the musicians switched out for each set.
Tracklist:
01. Open the Skies
02. Flyby Guitar Hero
03. Has Anyone Seen Nick?
04. OSC History Lesson
05. The Man who ate Planets
06. The Last Glide
07. Jamming for your Mind
08. Stargate 7431
09. Circular Perimeter
10. Chocolate Orange Candle
11. Band Introductions II
12. One More Space Out
13. A Long Night amongst Friends
14. Band Introductions III
15. Find the way out of Here
16. Let it Groove
Total time:
03:41:23

PERFORMER: auCDtect Task Manager, ver. 1.6.0 RC1 build 1.6.0.1
Copyright © 2008-2010 y-soft. All rights reserved

ANALYZER: auCDtect: CD records authenticity detector, version 0.8.2
Copyright © 2004 Oleg Berngardt. All rights reserved.
Copyright © 2004 Alexander Djourik. All rights reserved.


FILE: 16. Let it Groove.flac
Size: 85729409 Hash: C7E3F5649E1A4BD3682D8F527A512DDA Accuracy: -m0
Conclusion: CDDA 100%
Signature: 62F42BCC294793D19788F5299384378EBDFA056A
FILE: 15. Find the way out of Here.flac
Size: 158402821 Hash: DDDBF8E5C33165FA3DE35E451520821A Accuracy: -m0
Conclusion: CDDA 99%
Signature: 27003F79B297734DE25009394A095E14F00F9817
FILE: 14. Band Introductions III.flac
Size: 4587271 Hash: 4937E447F2187FCBA42B8E14599C606C Accuracy: -m0
Conclusion: CDDA 100%
Signature: 1E3B1D0F21B4EF12D7D494522423EB882D55B8F4
FILE: 13. A Long Night amongst Friends.flac
Size: 236635403 Hash: DAB616A335FD0B132A36205BFB8BD122 Accuracy: -m0
Conclusion: CDDA 99%
Signature: 9E1D6DEC0D113E34816962CE7F896B633C9D3EDC
FILE: 12. One More Space Out.flac
Size: 98031142 Hash: 6143D2F500C6CF46A271BD838DCA01FF Accuracy: -m0
Conclusion: CDDA 100%
Signature: 55A4DD4B322564B08475237115016E6961A22F3A
FILE: 11. Band Introductions II.flac
Size: 1949580 Hash: CAD386A7E7831D059857C5562CF718BE Accuracy: -m0
Conclusion: CDDA 100%
Signature: 720173DF1A19DC8E794556AA32D31F5203D298D5
FILE: 10. Chocolate Orange Candle.flac
Size: 92512319 Hash: A912E4E6622291E917D678D25D14FFCD Accuracy: -m0
Conclusion: CDDA 100%
Signature: DEAB16DC884AA56048B63ABD1979A887BC537DA8
FILE: 09. Circular Perimeter.flac
Size: 87860568 Hash: 19B228A43DCD3DFF377EE085016218E6 Accuracy: -m0
Conclusion: CDDA 100%
Signature: 24545787138BBA4247702D92BDA728B6AC7BFD82
FILE: 08. Stargate 7431.flac
Size: 80888586 Hash: 2399FC8275AA8D77C758933E2607A0C9 Accuracy: -m0
Conclusion: CDDA 100%
Signature: 1CA6A620FFB0A46C2291C8E4C09965848725DBAF
FILE: 07. Jamming for your Mind.flac
Size: 90313452 Hash: E5F622C18A834A9DB514A5D0D4973F42 Accuracy: -m0
Conclusion: CDDA 100%
Signature: 0361B0027CBFB6233EB2CC99184CDB89C354733A
FILE: 06. The Last Glide.flac
Size: 91523422 Hash: 30E14292DDF88D4CEF60487CD2AC0958 Accuracy: -m0
Conclusion: CDDA 87%
Signature: C01ED6A7A7C9644F6C671F3DD0BFEA20DBA136EC
FILE: 05. The Man who ate Planets.flac
Size: 129823029 Hash: 1FDFB580B49FFFF231E2B572C6D39632 Accuracy: -m0
Conclusion: CDDA 86%
Signature: 7D715159EFA8A04239460A8B50EA2C632B35F635
FILE: 04. OSC History Lesson.flac
Size: 8215508 Hash: 9C9D1381A11E4588D8FFC3E76A8B43B7 Accuracy: -m0
Conclusion: CDDA 100%
Signature: F30E6409AF45DDFB9252552E3CEC9CC1924D2B3D
FILE: 03. Has Anyone Seen Nick-.flac
Size: 103110594 Hash: 8C142074D0DDFCE2C502DBAD5317CF45 Accuracy: -m0
Conclusion: CDDA 92%
Signature: D2D41BAB613EE8428ECB7FE97F7200F9787F115C
FILE: 02. Flyby Guitar Hero.flac
Size: 77688697 Hash: 3C4E376C88175C3B865A7E9FAB6A255F Accuracy: -m0
Conclusion: CDDA 100%
Signature: ABAAA3D5EC2E9B59CFFD3C38154B7B815ED2CFC9
FILE: 01. Open the Skies.flac
Size: 104550202 Hash: E65CF1BF16B9344D7903430F2C816546 Accuracy: -m0
Conclusion: CDDA 94%
Signature: 01BA842F29F0DC69CF31F94E575C868D40619044