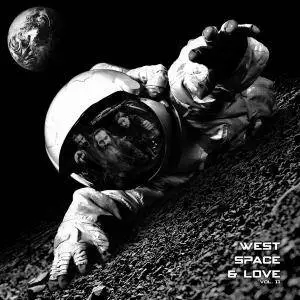 Øresund Space Collective - West, Space & Love Vol. II (2016)
WEB FLAC (tracks) - 229 MB | MP3 CBR 320 kbps (LAME 3.93) - 104 MB | Front cover
Genre: Psychedelic/Space Rock | RAR 3% Rec. | Label: Space Rock Productions
This album was recorded in Stockholm, Sweden on Dec 4-6th, 2015. This session was less improvised but recorded in several improvised layers with a few special guests joining in as well. The music is much more synthesizer based with KG playing amazing 70s inspired synths and organ, as well as bass, guitar, and sitar. Dr Space creating spacey sounds and drones, while Love performed a spoken word, and providing all the drum and percussion parts. The addition of Violin and Santoor really took the two Indian inspired pieces (Khan Paan, Øscilations in D-Minor) to another level. A fantastic instrumental, Kraut inspired ethnic musical journey!
Tracklist:
01. Floyd's Dream
02. Khan Paan
03. 2002
04. Pig in Space
05. Oscillation in D Minor
06. Anybody Out There
07. Time Compression
Total time:
44:16

PERFORMER: auCDtect Task Manager, ver. 1.6.0 RC1 build 1.6.0.1
Copyright © 2008-2010 y-soft. All rights reserved

ANALYZER: auCDtect: CD records authenticity detector, version 0.8.2
Copyright © 2004 Oleg Berngardt. All rights reserved.
Copyright © 2004 Alexander Djourik. All rights reserved.


FILE: 07 - Time Compression.flac
Size: 28331402 Hash: B9BAE898EBD9EA87B841F9A391516203 Accuracy: -m0
Conclusion: CDDA 99%
Signature: D11710B8FEE51F5BEB078A56BB9F3DAF58B7FBA3
FILE: 06 - Anybody Out There.flac
Size: 26467916 Hash: FD7DB60BF749A639609D5A5DA60692DB Accuracy: -m0
Conclusion: CDDA 100%
Signature: A6E1AECB923C5139595B4390E1856F2A5D990DA0
FILE: 05 - Oscillations in D minor.flac
Size: 62626376 Hash: ACBB2DD29B392BDF931CB93F034CB999 Accuracy: -m0
Conclusion: CDDA 100%
Signature: B171EDBAAC0DB8B8AB46BDEE9D3E05FDEAA1F9FF
FILE: 04 - Pig in Space.flac
Size: 13543384 Hash: 5A9453364A5C56B547ED53DEAB68B999 Accuracy: -m0
Conclusion: CDDA 100%
Signature: 265759EE71528900E6DF9671B87B9FFD682CF65C
FILE: 03 - 2002.flac
Size: 16353770 Hash: 23F8455BD680D3D7A880762B21DE64F2 Accuracy: -m0
Conclusion: CDDA 100%
Signature: 9AA6A2D592E1A655E6F1DD1E12119E87560CD92C
FILE: 02 - Khan Paan.flac
Size: 31177370 Hash: 8917102F672964FEBBE69D2F4C595F40 Accuracy: -m0
Conclusion: CDDA 100%
Signature: AEA3F7A0BD74DAB4BA0E8EBDCAC17B955BFF7D0D
FILE: 01 - Floyd's Dream.flac
Size: 55248134 Hash: CA211FBDF3C3101C99426A37071D28DC Accuracy: -m0
Conclusion: CDDA 99%
Signature: D24A85930D8D0AE079148A0E3714F5A5FE665501