ENGLISH
: Sir Elton Hercules John CBE (born Reginald Kenneth Dwight on 25 March 1947) is an English singer-songwriter, composer and pianist.
FRENCH
: Sir Elton Hercules John, né sous le nom de Reginald Kenneth Dwight est un chanteur/compositeur pop britannique, né le 25 mars 1947 à Pinner dans le Middlesex, une banlieue de Londres. Il reste l'un des plus gros vendeurs de disques de tous les temps, ses albums les plus célèbres étant Goodbye Yellow Brick Road, Captain Fantastic ou encore Blue Moves. Il a officiellement adopté le nom Elton Hercules John en 1972. Il a quatre demi-frères.
DEUTSCH
: Sir Elton Hercules John, CBE (* 25. März 1947 in Pinner (London), Middlesex; geboren als Reginald Kenneth Dwight) ist ein britischer Sänger, Komponist und Pianist. Mit 250 Millionen verkauften Tonträgern zählt er seit den frühen 1970er Jahren zu den erfolgreichsten Musikern aller Zeiten. Seine Kompositionen intoniert er, sich selbst auf dem Klavier begleitend, mit Blues-Falsett. Sein Repertoire reicht von Balladen über Rock- und Rock-'n'-Roll-Titel bis hin zu gospelartigen Blues- und Boogie-Nummern.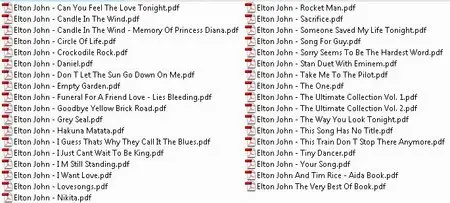 http://www.megaupload.com/?d=8U2E40K4
or
http://www.megaupload.com/?d=8R8A72YS
OR
http://rapidshare.com/files/207641741/Partitions_EltonJohn_162Mo.part1.rar
http://rapidshare.com/files/207676940/Partitions_EltonJohn_162Mo.part2.rar
Pass : MSF
Please don't download mirror links. This is discouraging for the uploaders who has spent so much time to propose you interesting things.