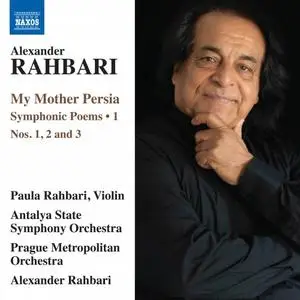 Paula Rahbari, Alexander Rahbari - My Mother Persia, Vol. 1 - Symphonic Poems Nos. 1-3 (2019)
FLAC tracks | 00:56:29 | 266 Mb
Genre: Classical / Label: Naxos
The Iranian conductor and composer Alexander Rahbari grew up with and trained in traditional Persian music with its most influential maestros. His eight symphonic poems, My Mother Persia, of which this is Volume 1 of 2, are full of melodies, rhythms and improvisations in these traditional styles, brought to life with the colours of modern orchestration. The first of these is an emotional violin concerto in which the soloist plays the role of the Nohe Khan, usually a tenor who sings in traditional Persian style at various religious ceremonies. Mother's Tears refers to a gathering of orphans and to Rahbari's own experiences of tragedy, contrasting with a subtext of mischief in Children's Prayer.
Track List:
01. My Mother Persia, Symphonic Poem No. 1 Nohe-khan I. Allegro
02. My Mother Persia, Symphonic Poem No. 1 Nohe-khan II. Andante
03. My Mother Persia, Symphonic Poem No. 1 Nohe-khan III. Allegro molto
04. My Mother Persia, Symphonic Poem No. 2 Mother's Tears (Live)
05. My Mother Persia, Symphonic Poem No. 3 Children's Prayer (Live)
ANALYZER: auCDtect: CD records authenticity detector, version 0.8.2
Copyright © 2004 Oleg Berngardt. All rights reserved.
Copyright © 2004 Alexander Djourik. All rights reserved.


FILE: 01. My Mother Persia, Symphonic Poem No. 1 ''Nohe-khan''- I. Allegro.flac
Size: 110404713 Hash: BC31B7DA29AFA56A04B57EE6EDE7CD25 Accuracy: -m40
Conclusion: CDDA 100%
Signature: 8D5399BAEE04765F838E0C0F1F63FDD7B699E744
FILE: 02. My Mother Persia, Symphonic Poem No. 1 ''Nohe-khan''- II. Andante.flac
Size: 22809139 Hash: D4A8A33CE94126BF0520C18731475A7E Accuracy: -m40
Conclusion: CDDA 100%
Signature: 3B383FABE2AF128E366607C43067AA5F89E3453E
FILE: 03. My Mother Persia, Symphonic Poem No. 1 ''Nohe-khan''- III. Allegro molto.flac
Size: 48286658 Hash: BCA1DC955D5DF9C635AFA711F7109244 Accuracy: -m40
Conclusion: CDDA 100%
Signature: E5B2627484BF8E71D43ADF281E22105883072FDD
FILE: 04. My Mother Persia, Symphonic Poem No. 2 ''Mother's Tears'' (Live).flac
Size: 39061752 Hash: 545ADAE7762C4900712ADD1F857D9084 Accuracy: -m40
Conclusion: CDDA 100%
Signature: 2E2F92B0D1E5CCCD7F7BE5663336B394A91D40E4
FILE: 05. My Mother Persia, Symphonic Poem No. 3 ''Children's Prayer'' (Live).flac
Size: 58645261 Hash: A5821B351C8C50271C89B1A91654FE0D Accuracy: -m40
Conclusion: CDDA 100%
Signature: C45A244BB9B774FC34F9DD637E87CF98AFAD6A1B