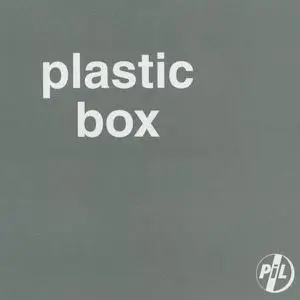 Public Image Ltd. - Plastic Box (1999/2009)
XLD Rip | FLAC (tracks, cue, log) - 2.09 GB | MP3 CBR 320 kbps - 714 MB
5:03:05 | Alternative Rock, Dub, Punk, Experimental | Label: EMI
Special 2009 four CD edition of this long-deleted 64 track anthology from John 'Johnny Rotten' Lydon and PIL. Rising from the ashes of the Sex Pistols in 1978, Public Image Limited were by definition one of the pioneers of Post-Punk groups. with John Lydon's vocals complemented by ex-Clash guitarist Keith Levene, drummer Jim Walker and the now legendary Jah Wobble on bass, the group created a more Dub-orientated style and their innovative music earned them five UK Top 20 Singles and five UK Top 20 Albums in a period stretching over three decades. Originally released in 1999, the Plastic Box provides a complete overview of the band's work, including tracks taken from every album together with John Peel sessions, remixes and much more. The first two discs cover the band's early years while the remaining two discs spotlight their mid and later periods. An excellent look into the music of a band that continues to defy categorization. EMI.
Most who own Plastic Box probably use the second half as coasters. Those who don't probably get headaches when listening to the first two, and a select few find much to love about the whole thing. As if conceding to the consensus that PiL's early years were their best, the first half is devoted to the band's first three studio LPs cut over four years, while the second half covers the remainder. Listeners get the entirety of Public Image/First Edition sans "Fodderstompf." The majority of Metal Box (issued as Second Edition in the U.S.) is included, with three of the original versions sacrificed for Peel Session counterparts that really take the cake. "Careering" is especially wonderful and harrowing, arguably the collective's finest recorded moment. Keith Levene goes bonkers with the keyboards, perhaps fostering the increased intensity amongst the remaining members. The 12" mix of "Swan Lake" ("Death Disco") gets the box set upgrade too, as well as a couple other worthwhile Metal Box outtakes. Closing out the second disc is the entirety of The Flowers of Romance, sequentially shuffled with an additional non-album track. The second half of Plastic Box hits upon each of the remaining studio LPs, with the odd rarity, single mix and Peel Session thrown in for completist bait. For those who want improved sound over their early CD issues, the money spent is a smart investment. A quick comparison of the first 20 seconds of "Annalisa" to the version found on an old copy of Public Image should be evidence enough; the bassline of "Chant" makes the gut feel as if it's being endlessly pummelled by a bouncing battering ram. Though vast and relatively pricey, Plastic Box is an excellent introduction, if only for the adventurous.
Tracklist
1-1 Public Image 2:58
1-2 The Cowboy Song 2:16
1-3 Theme 9:08
1-4 Religion I 1:25
1-5 Religion II 5:48
1-6 Annalisa 6:02
1-7 Low Life 3:38
1-8 Attack 2:56
1-9 Poptones (BBC Session) 4:32
1-10 Careering (BBC Session) 7:32
1-11 Chant (BBC Session) 5:14
1-12 Death Disco (12" Remix) 6:42
1-13 Half Mix - Meggamix 6:51
1-14 No Birds Do Sing 4:42
1-15 Memories 5:05
2-1 Another 3:51
2-2 Albatross 10:37
2-3 Socialist 3:11
2-4 The Suit 3:31
2-5 Bad Baby 4:31
2-6 Radio 4 4:23
2-7 Pied Piper 1:51
2-8 Flowers Of Romance 2:51
2-9 Four Enclosed Walls 4:44
2-10 Phenagen 2:40
2-11 Track 8 3:15
2-12 Hymie's Him 3:18
2-13 Under The House 4:33
2-14 Banging The Door 4:49
2-15 Go Back 3:46
2-16 Francis Massacre 3:31
2-17 Home Is Where The Heart Is 7:34
3-1 This Is Not A Love Song (12" Remix) 4:10
3-2 Blue Water 3:44
3-3 Bad Life 3:51
3-4 Question Mark 4:09
3-5 Solitaire 3:59
3-6 Tie Me To The Length Of That 5:18
3-7 Where Are You? 4:18
3-8 The Pardon 5:18
3-9 1981 3:17
3-10 The Order Of Death 4:50
3-11 F.F.F. 5:31
3-12 Rise 6:06
3-13 Fishing 5:19
3-14 Round 4:26
3-15 Home 5:50
3-16 Ease 8:10
4-1 Seattle 3:40
4-2 Angry 4:13
4-3 The Body (US 12" Mix) 3:41
4-4 Selfish Rubbish 3:34
4-5 Disappointed 5:34
4-6 Happy (Mixed By – Dave Meegan, Stephen Hague) 3:58
4-7 Warrior (12" Extended Version) 6:45
4-8 USLS 1 5:37
4-9 Don't Ask Me 3:43
4-10 Criminal 4:29
4-11 Luck's Up 4:07
4-12 God 5:34
4-13 Cruel (BBC Session) 5:25
4-14 Acid Drops (BBC Session) 6:48
4-15 Love Hope (BBC Session) 4:02
4-16 Think Tank (BBC Session) 5:25
X Lossless Decoder version 20140504 (147.0)

XLD extraction logfile from 2014-10-18 20:04:36 -0400

Public Image Ltd. / Plastic Box [Disc 1]

Used drive : MATSHITA DVD-R UJ-898 (revision HE13)
Media type : Pressed CD

Ripper mode : XLD Secure Ripper
Disable audio cache : OK for the drive with a cache less than 1375KiB
Make use of C2 pointers : NO
Read offset correction : 102
Max retry count : 20
Gap status : Analyzed, Appended (except HTOA)

TOC of the extracted CD
Track | Start | Length | Start sector | End sector
––––––––––––––––––––––––––––-
1 | 00:00:00 | 02:58:05 | 0 | 13354
2 | 02:58:05 | 02:16:62 | 13355 | 23616
3 | 05:14:67 | 09:08:13 | 23617 | 64729
4 | 14:23:05 | 01:26:07 | 64730 | 71186
5 | 15:49:12 | 05:48:60 | 71187 | 97346
6 | 21:37:72 | 06:02:15 | 97347 | 124511
7 | 27:40:12 | 03:38:00 | 124512 | 140861
8 | 31:18:12 | 02:56:13 | 140862 | 154074
9 | 34:14:25 | 04:32:10 | 154075 | 174484
10 | 38:46:35 | 07:32:60 | 174485 | 208444
11 | 46:19:20 | 05:14:67 | 208445 | 232061
12 | 51:34:12 | 06:42:30 | 232062 | 262241
13 | 58:16:42 | 06:51:20 | 262242 | 293086
14 | 65:07:62 | 04:42:53 | 293087 | 314289
15 | 69:50:40 | 05:06:02 | 314290 | 337241

AccurateRip Summary (DiscID: 002652b2-01bc7049-e911900f)
Track 01 : OK (v1+v2, confidence 26/26)
Track 02 : OK (v1+v2, confidence 26/26)
Track 03 : OK (v1+v2, confidence 25/25)
Track 04 : OK (v1+v2, confidence 25/25)
Track 05 : OK (v1+v2, confidence 25/25)
Track 06 : OK (v1+v2, confidence 25/25)
Track 07 : OK (v1+v2, confidence 25/25)
Track 08 : OK (v1+v2, confidence 25/25)
Track 09 : OK (v1+v2, confidence 26/26)
Track 10 : OK (v1+v2, confidence 26/26)
Track 11 : OK (v1+v2, confidence 26/26)
Track 12 : OK (v1+v2, confidence 25/25)
Track 13 : OK (v1+v2, confidence 26/26)
Track 14 : OK (v1+v2, confidence 25/25)
Track 15 : OK (v1+v2, confidence 25/25)
->All tracks accurately ripped.

All Tracks
Album gain : -7.49 dB
Peak : 0.988556
Statistics
Read error : 0
Jitter error (maybe fixed) : 0
Retry sector count : 0
Damaged sector count : 0

Track 01
Filename : /Users/asmoser/Music/Public Image Ltd. - Plastic Box [Disc 1] (1978) [FLAC]/01 Public Image.flac
Pre-gap length : 00:02:00

Track gain : -7.90 dB
Peak : 0.971710
CRC32 hash (test run) : 9BF3002E
CRC32 hash : 9BF3002E
CRC32 hash (skip zero) : 2596964E
AccurateRip v1 signature : 53942CAA
AccurateRip v2 signature : FDD59B66
->Accurately ripped (v1+v2, confidence 6+20/26)
Statistics
Read error : 0
Jitter error (maybe fixed) : 0
Retry sector count : 0
Damaged sector count : 0

Track 02
Filename : /Users/asmoser/Music/Public Image Ltd. - Plastic Box [Disc 1] (1978) [FLAC]/02 The Cowboy Song.flac

Track gain : -10.52 dB
Peak : 0.771973
CRC32 hash (test run) : 33EF43F3
CRC32 hash : 33EF43F3
CRC32 hash (skip zero) : 5163FF19
AccurateRip v1 signature : 37B5FBB2
AccurateRip v2 signature : 85605B6D
->Accurately ripped (v1+v2, confidence 6+20/26)
Statistics
Read error : 0
Jitter error (maybe fixed) : 0
Retry sector count : 0
Damaged sector count : 0

Track 03
Filename : /Users/asmoser/Music/Public Image Ltd. - Plastic Box [Disc 1] (1978) [FLAC]/03 Theme.flac

Track gain : -6.17 dB
Peak : 0.977448
CRC32 hash (test run) : 3120261C
CRC32 hash : 3120261C
CRC32 hash (skip zero) : 0CA60F16
AccurateRip v1 signature : 6E0FB09A
AccurateRip v2 signature : 186BCEB2
->Accurately ripped (v1+v2, confidence 6+19/25)
Statistics
Read error : 0
Jitter error (maybe fixed) : 0
Retry sector count : 0
Damaged sector count : 0

Track 04
Filename : /Users/asmoser/Music/Public Image Ltd. - Plastic Box [Disc 1] (1978) [FLAC]/04 Religion I.flac
Pre-gap length : 00:02:45

Track gain : -1.63 dB
Peak : 0.682800
CRC32 hash (test run) : 94CCFBFB
CRC32 hash : 94CCFBFB
CRC32 hash (skip zero) : 0F5D8CEB
AccurateRip v1 signature : 0736998E
AccurateRip v2 signature : 62283B42
->Accurately ripped (v1+v2, confidence 6+19/25)
Statistics
Read error : 0
Jitter error (maybe fixed) : 0
Retry sector count : 0
Damaged sector count : 0

Track 05
Filename : /Users/asmoser/Music/Public Image Ltd. - Plastic Box [Disc 1] (1978) [FLAC]/05 Religion II.flac

Track gain : -6.82 dB
Peak : 0.977478
CRC32 hash (test run) : 14945B06
CRC32 hash : 14945B06
CRC32 hash (skip zero) : C9E0A706
AccurateRip v1 signature : 7ABD58D9
AccurateRip v2 signature : 5FE2C346
->Accurately ripped (v1+v2, confidence 6+19/25)
Statistics
Read error : 0
Jitter error (maybe fixed) : 0
Retry sector count : 0
Damaged sector count : 0

Track 06
Filename : /Users/asmoser/Music/Public Image Ltd. - Plastic Box [Disc 1] (1978) [FLAC]/06 Annalisa.flac

Track gain : -7.23 dB
Peak : 0.977448
CRC32 hash (test run) : 195DD7CC
CRC32 hash : 195DD7CC
CRC32 hash (skip zero) : 3773D54A
AccurateRip v1 signature : 60989D81
AccurateRip v2 signature : 4BA92532
->Accurately ripped (v1+v2, confidence 6+19/25)
Statistics
Read error : 0
Jitter error (maybe fixed) : 0
Retry sector count : 0
Damaged sector count : 0

Track 07
Filename : /Users/asmoser/Music/Public Image Ltd. - Plastic Box [Disc 1] (1978) [FLAC]/07 Low Life.flac

Track gain : -8.01 dB
Peak : 0.977325
CRC32 hash (test run) : 5817A4C0
CRC32 hash : 5817A4C0
CRC32 hash (skip zero) : 9CA2F778
AccurateRip v1 signature : F38CF0A5
AccurateRip v2 signature : F3473437
->Accurately ripped (v1+v2, confidence 6+19/25)
Statistics
Read error : 0
Jitter error (maybe fixed) : 0
Retry sector count : 0
Damaged sector count : 0

Track 08
Filename : /Users/asmoser/Music/Public Image Ltd. - Plastic Box [Disc 1] (1978) [FLAC]/08 Attack.flac
Pre-gap length : 00:01:07

Track gain : -7.05 dB
Peak : 0.988556
CRC32 hash (test run) : 8A1E12D5
CRC32 hash : 8A1E12D5
CRC32 hash (skip zero) : 8F3EB4C5
AccurateRip v1 signature : 7B14FFF7
AccurateRip v2 signature : C075786D
->Accurately ripped (v1+v2, confidence 6+19/25)
Statistics
Read error : 0
Jitter error (maybe fixed) : 0
Retry sector count : 0
Damaged sector count : 0

Track 09
Filename : /Users/asmoser/Music/Public Image Ltd. - Plastic Box [Disc 1] (1979) [FLAC]/09 Poptones (BBC John Peel Session).flac

Track gain : -4.64 dB
Peak : 0.983124
CRC32 hash (test run) : 7D2B437D
CRC32 hash : 7D2B437D
CRC32 hash (skip zero) : D964B147
AccurateRip v1 signature : EBD3D429
AccurateRip v2 signature : 1D9B0222
->Accurately ripped (v1+v2, confidence 6+20/26)
Statistics
Read error : 0
Jitter error (maybe fixed) : 0
Retry sector count : 0
Damaged sector count : 0

Track 10
Filename : /Users/asmoser/Music/Public Image Ltd. - Plastic Box [Disc 1] (1979) [FLAC]/10 Careering (BBC John Peel Session).flac

Track gain : -6.05 dB
Peak : 0.983124
CRC32 hash (test run) : F555242F
CRC32 hash : F555242F
CRC32 hash (skip zero) : 0713F38B
AccurateRip v1 signature : FCBA68E2
AccurateRip v2 signature : 06C31BB4
->Accurately ripped (v1+v2, confidence 6+20/26)
Statistics
Read error : 0
Jitter error (maybe fixed) : 0
Retry sector count : 0
Damaged sector count : 0

Track 11
Filename : /Users/asmoser/Music/Public Image Ltd. - Plastic Box [Disc 1] (1979) [FLAC]/11 Chant (BBC John Peel Session).flac

Track gain : -6.21 dB
Peak : 0.876221
CRC32 hash (test run) : F0D8B70C
CRC32 hash : F0D8B70C
CRC32 hash (skip zero) : 5F0372FD
AccurateRip v1 signature : 90088879
AccurateRip v2 signature : FC049985
->Accurately ripped (v1+v2, confidence 6+20/26)
Statistics
Read error : 0
Jitter error (maybe fixed) : 0
Retry sector count : 0
Damaged sector count : 0

Track 12
Filename : /Users/asmoser/Music/Public Image Ltd. - Plastic Box [Disc 1] (1979) [FLAC]/12 Death Disco (12'' Remix).flac

Track gain : -7.86 dB
Peak : 0.988556
CRC32 hash (test run) : ED46556E
CRC32 hash : ED46556E
CRC32 hash (skip zero) : 3FA803BC
AccurateRip v1 signature : 3A11A1E3
AccurateRip v2 signature : 15107656
->Accurately ripped (v1+v2, confidence 6+19/25)
Statistics
Read error : 0
Jitter error (maybe fixed) : 0
Retry sector count : 0
Damaged sector count : 0

Track 13
Filename : /Users/asmoser/Music/Public Image Ltd. - Plastic Box [Disc 1] (1979) [FLAC]/13 1/2 Mix Megamix.flac

Track gain : -4.56 dB
Peak : 0.988556
CRC32 hash (test run) : 30C283DC
CRC32 hash : 30C283DC
CRC32 hash (skip zero) : 8E4222A6
AccurateRip v1 signature : B8BCCCE3
AccurateRip v2 signature : 185A7DA4
->Accurately ripped (v1+v2, confidence 6+20/26)
Statistics
Read error : 0
Jitter error (maybe fixed) : 0
Retry sector count : 0
Damaged sector count : 0

Track 14
Filename : /Users/asmoser/Music/Public Image Ltd. - Plastic Box [Disc 1] (1979) [FLAC]/14 No Birds Do Sing.flac

Track gain : -6.27 dB
Peak : 0.876709
CRC32 hash (test run) : E41C7FAD
CRC32 hash : E41C7FAD
CRC32 hash (skip zero) : 5EC944F1
AccurateRip v1 signature : CAD6152F
AccurateRip v2 signature : 0DDF4B10
->Accurately ripped (v1+v2, confidence 6+19/25)
Statistics
Read error : 0
Jitter error (maybe fixed) : 0
Retry sector count : 0
Damaged sector count : 0

Track 15
Filename : /Users/asmoser/Music/Public Image Ltd. - Plastic Box [Disc 1] (1979) [FLAC]/15 Memories.flac

Track gain : -6.39 dB
Peak : 0.971436
CRC32 hash (test run) : ED59AEEE
CRC32 hash : ED59AEEE
CRC32 hash (skip zero) : 7AD7B65D
AccurateRip v1 signature : A01F3FBC
AccurateRip v2 signature : E2113E88
->Accurately ripped (v1+v2, confidence 6+19/25)
Statistics
Read error : 0
Jitter error (maybe fixed) : 0
Retry sector count : 0
Damaged sector count : 0

No errors occurred

End of status report

––-BEGIN XLD SIGNATURE––-
WclccooZ2qYqVZTG5pj5l3g7mayW8j1QMBBQPkOxzJtcvuV_eeJBaSDgufZz2ib80Hx56in9xELBCzzY73.M76GnooRnfYwFHsZDyOS
––-END XLD SIGNATURE––-


X Lossless Decoder version 20140504 (147.0)

XLD extraction logfile from 2014-10-18 20:26:11 -0400

Public Image Ltd. / Plastic Box [Disc 2]

Used drive : MATSHITA DVD-R UJ-898 (revision HE13)
Media type : Pressed CD

Ripper mode : XLD Secure Ripper
Disable audio cache : OK for the drive with a cache less than 1375KiB
Make use of C2 pointers : NO
Read offset correction : 102
Max retry count : 20
Gap status : Analyzed, Appended (except HTOA)

TOC of the extracted CD
Track | Start | Length | Start sector | End sector
––––––––––––––––––––––––––––-
1 | 00:00:00 | 03:51:30 | 0 | 17354
2 | 03:51:30 | 10:37:32 | 17355 | 65161
3 | 14:28:62 | 03:11:13 | 65162 | 79499
4 | 17:40:00 | 03:31:17 | 79500 | 95341
5 | 21:11:17 | 04:31:28 | 95342 | 115694
6 | 25:42:45 | 04:23:65 | 115695 | 135484
7 | 30:06:35 | 01:51:45 | 135485 | 143854
8 | 31:58:05 | 02:51:20 | 143855 | 156699
9 | 34:49:25 | 04:44:22 | 156700 | 178021
10 | 39:33:47 | 02:40:25 | 178022 | 190046
11 | 42:13:72 | 03:15:38 | 190047 | 204709
12 | 45:29:35 | 03:18:37 | 204710 | 219596
13 | 48:47:72 | 04:33:30 | 219597 | 240101
14 | 53:21:27 | 04:49:25 | 240102 | 261801
15 | 58:10:52 | 03:46:55 | 261802 | 278806
16 | 61:57:32 | 03:31:10 | 278807 | 294641
17 | 65:28:42 | 07:33:73 | 294642 | 328689

List of alternate offset correction values
# | Absolute | Relative | Confidence
–––––––––––––––––––––
1 | 138 | 36 | 19

AccurateRip Summary (DiscID: 002ddc49-0235e096-e6111e11)
Track 01 : OK (v1+v2, confidence 15/33)
Track 02 : OK (v1+v2, confidence 15/32)
Track 03 : OK (v1+v2, confidence 15/32)
Track 04 : OK (v1+v2, confidence 15/32)
Track 05 : OK (v1+v2, confidence 15/32)
Track 06 : OK (v1+v2, confidence 15/31)
Track 07 : OK (v1+v2, confidence 16/34)
Track 08 : OK (v1+v2, confidence 15/34)
Track 09 : OK (v1+v2, confidence 15/32)
Track 10 : OK (v1+v2, confidence 15/31)
Track 11 : OK (v1+v2, confidence 15/32)
Track 12 : OK (v1+v2, confidence 15/32)
Track 13 : OK (v1+v2, confidence 15/33)
Track 14 : OK (v1+v2, confidence 15/33)
Track 15 : OK (v1+v2, confidence 15/32)
Track 16 : OK (v1+v2, confidence 15/31)
Track 17 : OK (v1+v2, confidence 15/32)
->All tracks accurately ripped.

All Tracks
Album gain : -6.45 dB
Peak : 0.982483
Statistics
Read error : 0
Jitter error (maybe fixed) : 0
Retry sector count : 0
Damaged sector count : 0

Track 01
Filename : /Users/asmoser/Music/Public Image Ltd. - Plastic Box [Disc 2] (1999) [FLAC]/01 Another.flac
Pre-gap length : 00:02:00

Track gain : -4.12 dB
Peak : 0.971771
CRC32 hash (test run) : 9FD943F4
CRC32 hash : 9FD943F4
CRC32 hash (skip zero) : 410680BD
AccurateRip v1 signature : 5CB9ED6A
AccurateRip v2 signature : BC15871F
->Accurately ripped (v1+v2, confidence 3+12/33)
Statistics
Read error : 0
Jitter error (maybe fixed) : 0
Retry sector count : 0
Damaged sector count : 0

Track 02
Filename : /Users/asmoser/Music/Public Image Ltd. - Plastic Box [Disc 2] (1999) [FLAC]/02 Albatross.flac
Pre-gap length : 00:01:67

Track gain : -6.13 dB
Peak : 0.875946
CRC32 hash (test run) : 0174A173
CRC32 hash : 0174A173
CRC32 hash (skip zero) : F6CD710C
AccurateRip v1 signature : 503E8388
AccurateRip v2 signature : 8219D449
->Accurately ripped (v1+v2, confidence 3+12/32)
Statistics
Read error : 0
Jitter error (maybe fixed) : 0
Retry sector count : 0
Damaged sector count : 0

Track 03
Filename : /Users/asmoser/Music/Public Image Ltd. - Plastic Box [Disc 2] (1999) [FLAC]/03 Socialist.flac
Pre-gap length : 00:01:37

Track gain : -5.27 dB
Peak : 0.875671
CRC32 hash (test run) : E851A58B
CRC32 hash : E851A58B
CRC32 hash (skip zero) : 55504524
AccurateRip v1 signature : 841306BE
AccurateRip v2 signature : F246C01D
->Accurately ripped (v1+v2, confidence 3+12/32)
Statistics
Read error : 0
Jitter error (maybe fixed) : 0
Retry sector count : 0
Damaged sector count : 0

Track 04
Filename : /Users/asmoser/Music/Public Image Ltd. - Plastic Box [Disc 2] (1999) [FLAC]/04 The Suit.flac

Track gain : -0.32 dB
Peak : 0.982391
CRC32 hash (test run) : E682B635
CRC32 hash : E682B635
CRC32 hash (skip zero) : 0262F214
AccurateRip v1 signature : E25FA733
AccurateRip v2 signature : E5FCED52
->Accurately ripped (v1+v2, confidence 3+12/32)
Statistics
Read error : 0
Jitter error (maybe fixed) : 0
Retry sector count : 0
Damaged sector count : 0

Track 05
Filename : /Users/asmoser/Music/Public Image Ltd. - Plastic Box [Disc 2] (1999) [FLAC]/05 Bad Baby.flac

Track gain : -3.94 dB
Peak : 0.982483
CRC32 hash (test run) : 558027D1
CRC32 hash : 558027D1
CRC32 hash (skip zero) : 4FCBB71C
AccurateRip v1 signature : 8F0742EB
AccurateRip v2 signature : 9F4C2A59
->Accurately ripped (v1+v2, confidence 3+12/32)
Statistics
Read error : 0
Jitter error (maybe fixed) : 0
Retry sector count : 0
Damaged sector count : 0

Track 06
Filename : /Users/asmoser/Music/Public Image Ltd. - Plastic Box [Disc 2] (1999) [FLAC]/06 Radio 4.flac

Track gain : -6.66 dB
Peak : 0.972076
CRC32 hash (test run) : 4AB4E9A3
CRC32 hash : 4AB4E9A3
CRC32 hash (skip zero) : 4CF05FD0
AccurateRip v1 signature : 63D51925
AccurateRip v2 signature : A9E3AE7D
->Accurately ripped (v1+v2, confidence 3+12/31)
Statistics
Read error : 0
Jitter error (maybe fixed) : 0
Retry sector count : 0
Damaged sector count : 0

Track 07
Filename : /Users/asmoser/Music/Public Image Ltd. - Plastic Box [Disc 2] (1999) [FLAC]/07 Pied Piper.flac

Track gain : -6.40 dB
Peak : 0.971741
CRC32 hash (test run) : 02865229
CRC32 hash : 02865229
CRC32 hash (skip zero) : BA393B2F
AccurateRip v1 signature : BA63D23D
AccurateRip v2 signature : EE0310BA
->Accurately ripped (v1+v2, confidence 3+13/34)
Statistics
Read error : 0
Jitter error (maybe fixed) : 0
Retry sector count : 0
Damaged sector count : 0

Track 08
Filename : /Users/asmoser/Music/Public Image Ltd. - Plastic Box [Disc 2] (1999) [FLAC]/08 Flowers Of Romance.flac

Track gain : -8.95 dB
Peak : 0.972107
CRC32 hash (test run) : 4B5253F4
CRC32 hash : 4B5253F4
CRC32 hash (skip zero) : 16ABCC3C
AccurateRip v1 signature : B379DA57
AccurateRip v2 signature : 22589BAC
->Accurately ripped (v1+v2, confidence 3+12/34)
Statistics
Read error : 0
Jitter error (maybe fixed) : 0
Retry sector count : 0
Damaged sector count : 0

Track 09
Filename : /Users/asmoser/Music/Public Image Ltd. - Plastic Box [Disc 2] (1999) [FLAC]/09 Four Enclosed Walls.flac

Track gain : -6.45 dB
Peak : 0.972137
CRC32 hash (test run) : A3793BC9
CRC32 hash : A3793BC9
CRC32 hash (skip zero) : 1C297875
AccurateRip v1 signature : B5F7831D
AccurateRip v2 signature : DD492009
->Accurately ripped (v1+v2, confidence 3+12/32)
Statistics
Read error : 0
Jitter error (maybe fixed) : 0
Retry sector count : 0
Damaged sector count : 0

Track 10
Filename : /Users/asmoser/Music/Public Image Ltd. - Plastic Box [Disc 2] (1999) [FLAC]/10 Phenagen.flac

Track gain : -6.42 dB
Peak : 0.972076
CRC32 hash (test run) : BE790F42
CRC32 hash : BE790F42
CRC32 hash (skip zero) : 956F292B
AccurateRip v1 signature : E46894DC
AccurateRip v2 signature : 7003912E
->Accurately ripped (v1+v2, confidence 3+12/31)
Statistics
Read error : 0
Jitter error (maybe fixed) : 0
Retry sector count : 0
Damaged sector count : 0

Track 11
Filename : /Users/asmoser/Music/Public Image Ltd. - Plastic Box [Disc 2] (1999) [FLAC]/11 Track 8.flac

Track gain : -5.31 dB
Peak : 0.971985
CRC32 hash (test run) : DCA62353
CRC32 hash : DCA62353
CRC32 hash (skip zero) : 38D7D7EE
AccurateRip v1 signature : C819BC43
AccurateRip v2 signature : 5105A32E
->Accurately ripped (v1+v2, confidence 3+12/32)
Statistics
Read error : 0
Jitter error (maybe fixed) : 0
Retry sector count : 0
Damaged sector count : 0

Track 12
Filename : /Users/asmoser/Music/Public Image Ltd. - Plastic Box [Disc 2] (1999) [FLAC]/12 Hymies Him.flac

Track gain : -4.13 dB
Peak : 0.972168
CRC32 hash (test run) : 7F2A2780
CRC32 hash : 7F2A2780
CRC32 hash (skip zero) : EF2F4B1D
AccurateRip v1 signature : 31083C76
AccurateRip v2 signature : 378F2331
->Accurately ripped (v1+v2, confidence 3+12/32)
Statistics
Read error : 0
Jitter error (maybe fixed) : 0
Retry sector count : 0
Damaged sector count : 0

Track 13
Filename : /Users/asmoser/Music/Public Image Ltd. - Plastic Box [Disc 2] (1999) [FLAC]/13 Under The House.flac

Track gain : -5.98 dB
Peak : 0.972137
CRC32 hash (test run) : F042BB2F
CRC32 hash : F042BB2F
CRC32 hash (skip zero) : 0DA18305
AccurateRip v1 signature : 15514D53
AccurateRip v2 signature : 2DF2A264
->Accurately ripped (v1+v2, confidence 3+12/33)
Statistics
Read error : 0
Jitter error (maybe fixed) : 0
Retry sector count : 0
Damaged sector count : 0

Track 14
Filename : /Users/asmoser/Music/Public Image Ltd. - Plastic Box [Disc 2] (1999) [FLAC]/14 Banging The Door.flac

Track gain : -6.87 dB
Peak : 0.972076
CRC32 hash (test run) : BA8A0F7E
CRC32 hash : BA8A0F7E
CRC32 hash (skip zero) : 42FCAF5D
AccurateRip v1 signature : 43F83D81
AccurateRip v2 signature : 2F426BF5
->Accurately ripped (v1+v2, confidence 3+12/33)
Statistics
Read error : 0
Jitter error (maybe fixed) : 0
Retry sector count : 0
Damaged sector count : 0

Track 15
Filename : /Users/asmoser/Music/Public Image Ltd. - Plastic Box [Disc 2] (1999) [FLAC]/15 Go Back.flac

Track gain : -6.97 dB
Peak : 0.972168
CRC32 hash (test run) : DF6AA3EF
CRC32 hash : DF6AA3EF
CRC32 hash (skip zero) : 982A71C3
AccurateRip v1 signature : 14BA9E81
AccurateRip v2 signature : 3127B97F
->Accurately ripped (v1+v2, confidence 3+12/32)
Statistics
Read error : 0
Jitter error (maybe fixed) : 0
Retry sector count : 0
Damaged sector count : 0

Track 16
Filename : /Users/asmoser/Music/Public Image Ltd. - Plastic Box [Disc 2] (1999) [FLAC]/16 Francis Massacre.flac

Track gain : -7.65 dB
Peak : 0.972015
CRC32 hash (test run) : 2412EA9F
CRC32 hash : 2412EA9F
CRC32 hash (skip zero) : 266D29DA
AccurateRip v1 signature : 462BE011
AccurateRip v2 signature : 67A76F12
->Accurately ripped (v1+v2, confidence 3+12/31)
Statistics
Read error : 0
Jitter error (maybe fixed) : 0
Retry sector count : 0
Damaged sector count : 0

Track 17
Filename : /Users/asmoser/Music/Public Image Ltd. - Plastic Box [Disc 2] (1999) [FLAC]/17 Home Is Where The Heart Is.flac

Track gain : -3.10 dB
Peak : 0.966553
CRC32 hash (test run) : 3E45E4D0
CRC32 hash : 3E45E4D0
CRC32 hash (skip zero) : 4D286A9B
AccurateRip v1 signature : A04B07A7
AccurateRip v2 signature : 9EC23024
->Accurately ripped (v1+v2, confidence 3+12/32)
Statistics
Read error : 0
Jitter error (maybe fixed) : 0
Retry sector count : 0
Damaged sector count : 0

No errors occurred

End of status report

––-BEGIN XLD SIGNATURE––-
vKn8l.3bmzwjiYt2KMIFS28TSEaAtDc7BKwWrIiNwYUjrWCb7BV5LEUwXhCR26DZPoccZvhb54XEzJWC7TE96DL8SCIzaSbdoSpE7f4
––-END XLD SIGNATURE––-


X Lossless Decoder version 20140504 (147.0)

XLD extraction logfile from 2014-10-18 22:29:34 -0400

Public Image Ltd. / Plastic Box [Disc 3]

Used drive : MATSHITA DVD-R UJ-898 (revision HE13)
Media type : Pressed CD

Ripper mode : XLD Secure Ripper
Disable audio cache : OK for the drive with a cache less than 1375KiB
Make use of C2 pointers : NO
Read offset correction : 102
Max retry count : 20
Gap status : Analyzed, Appended (except HTOA)

TOC of the extracted CD
Track | Start | Length | Start sector | End sector
––––––––––––––––––––––––––––-
1 | 00:00:00 | 04:10:22 | 0 | 18771
2 | 04:10:22 | 03:44:10 | 18772 | 35581
3 | 07:54:32 | 03:51:28 | 35582 | 52934
4 | 11:45:60 | 04:09:50 | 52935 | 71659
5 | 15:55:35 | 03:59:25 | 71660 | 89609
6 | 19:54:60 | 05:18:22 | 89610 | 113481
7 | 25:13:07 | 04:18:48 | 113482 | 132879
8 | 29:31:55 | 05:18:60 | 132880 | 156789
9 | 34:50:40 | 03:17:10 | 156790 | 171574
10 | 38:07:50 | 04:50:55 | 171575 | 193379
11 | 42:58:30 | 05:31:32 | 193380 | 218236
12 | 48:29:62 | 06:06:03 | 218237 | 245689
13 | 54:35:65 | 05:19:67 | 245690 | 269681
14 | 59:55:57 | 04:26:55 | 269682 | 289686
15 | 64:22:37 | 05:49:65 | 289687 | 315926
16 | 70:12:27 | 08:11:10 | 315927 | 352761

AccurateRip Summary (DiscID: 0029a2cb-01fcdd22-f7125f10)
Track 01 : OK (v1+v2, confidence 35/35)
Track 02 : OK (v1+v2, confidence 36/36)
Track 03 : OK (v1+v2, confidence 36/36)
Track 04 : OK (v1+v2, confidence 35/35)
Track 05 : OK (v1+v2, confidence 34/34)
Track 06 : OK (v1+v2, confidence 35/35)
Track 07 : OK (v1+v2, confidence 34/34)
Track 08 : OK (v1+v2, confidence 34/34)
Track 09 : OK (v1+v2, confidence 34/34)
Track 10 : OK (v1+v2, confidence 35/35)
Track 11 : OK (v1+v2, confidence 35/35)
Track 12 : OK (v1+v2, confidence 35/35)
Track 13 : OK (v1+v2, confidence 34/34)
Track 14 : OK (v1+v2, confidence 35/35)
Track 15 : OK (v1+v2, confidence 35/35)
Track 16 : OK (v1+v2, confidence 34/34)
->All tracks accurately ripped.

All Tracks
Album gain : -6.38 dB
Peak : 0.988556
Statistics
Read error : 0
Jitter error (maybe fixed) : 0
Retry sector count : 0
Damaged sector count : 0

Track 01
Filename : /Users/asmoser/Music/Public Image Ltd. - Plastic Box [Disc 3] (1983) [FLAC]/01 This Is Not A Love Song (12'' Remix).flac
Pre-gap length : 00:02:00

Track gain : -7.51 dB
Peak : 0.966492
CRC32 hash (test run) : 8F972F63
CRC32 hash : 8F972F63
CRC32 hash (skip zero) : 9C50FFC2
AccurateRip v1 signature : CF5E2989
AccurateRip v2 signature : ED1C78B3
->Accurately ripped (v1+v2, confidence 16+19/35)
Statistics
Read error : 0
Jitter error (maybe fixed) : 0
Retry sector count : 0
Damaged sector count : 0

Track 02
Filename : /Users/asmoser/Music/Public Image Ltd. - Plastic Box [Disc 3] (1983) [FLAC]/02 Blue Water.flac

Track gain : -0.71 dB
Peak : 0.988556
CRC32 hash (test run) : 2F6C9583
CRC32 hash : 2F6C9583
CRC32 hash (skip zero) : 9CF8510A
AccurateRip v1 signature : 26AEE525
AccurateRip v2 signature : 83507C45
->Accurately ripped (v1+v2, confidence 17+19/36)
Statistics
Read error : 0
Jitter error (maybe fixed) : 0
Retry sector count : 0
Damaged sector count : 0

Track 03
Filename : /Users/asmoser/Music/Public Image Ltd. - Plastic Box [Disc 3] (1984) [FLAC]/03 Bad Life.flac

Track gain : -6.20 dB
Peak : 0.988556
CRC32 hash (test run) : 04376075
CRC32 hash : 04376075
CRC32 hash (skip zero) : B4AF7C8A
AccurateRip v1 signature : 4DD3BBEA
AccurateRip v2 signature : 577220C4
->Accurately ripped (v1+v2, confidence 17+19/36)
Statistics
Read error : 0
Jitter error (maybe fixed) : 0
Retry sector count : 0
Damaged sector count : 0

Track 04
Filename : /Users/asmoser/Music/Public Image Ltd. - Plastic Box [Disc 3] (1984) [FLAC]/04 Question Mark.flac

Track gain : -4.92 dB
Peak : 0.988556
CRC32 hash (test run) : E49D48FB
CRC32 hash : E49D48FB
CRC32 hash (skip zero) : F195E6DE
AccurateRip v1 signature : 45EBCB6B
AccurateRip v2 signature : BABEC199
->Accurately ripped (v1+v2, confidence 16+19/35)
Statistics
Read error : 0
Jitter error (maybe fixed) : 0
Retry sector count : 0
Damaged sector count : 0

Track 05
Filename : /Users/asmoser/Music/Public Image Ltd. - Plastic Box [Disc 3] (1984) [FLAC]/05 Solitaire.flac

Track gain : -5.04 dB
Peak : 0.988556
CRC32 hash (test run) : 03701E57
CRC32 hash : 03701E57
CRC32 hash (skip zero) : 027F8F5E
AccurateRip v1 signature : CE4BB7B2
AccurateRip v2 signature : 3410EC5E
->Accurately ripped (v1+v2, confidence 15+19/34)
Statistics
Read error : 0
Jitter error (maybe fixed) : 0
Retry sector count : 0
Damaged sector count : 0

Track 06
Filename : /Users/asmoser/Music/Public Image Ltd. - Plastic Box [Disc 3] (1984) [FLAC]/06 Tie Me To The Length Of That.flac

Track gain : -4.86 dB
Peak : 0.988556
CRC32 hash (test run) : 76BD28AD
CRC32 hash : 76BD28AD
CRC32 hash (skip zero) : 6C6D2381
AccurateRip v1 signature : BACB754F
AccurateRip v2 signature : 0F14D7B9
->Accurately ripped (v1+v2, confidence 16+19/35)
Statistics
Read error : 0
Jitter error (maybe fixed) : 0
Retry sector count : 0
Damaged sector count : 0

Track 07
Filename : /Users/asmoser/Music/Public Image Ltd. - Plastic Box [Disc 3] (1984) [FLAC]/07 Where Are You?.flac

Track gain : -7.13 dB
Peak : 0.988556
CRC32 hash (test run) : 6ECB7EEF
CRC32 hash : 6ECB7EEF
CRC32 hash (skip zero) : 99D9D62B
AccurateRip v1 signature : 056E07FA
AccurateRip v2 signature : E92F0CFA
->Accurately ripped (v1+v2, confidence 15+19/34)
Statistics
Read error : 0
Jitter error (maybe fixed) : 0
Retry sector count : 0
Damaged sector count : 0

Track 08
Filename : /Users/asmoser/Music/Public Image Ltd. - Plastic Box [Disc 3] (1984) [FLAC]/08 The Pardon.flac

Track gain : -5.23 dB
Peak : 0.988556
CRC32 hash (test run) : 8A29E6C7
CRC32 hash : 8A29E6C7
CRC32 hash (skip zero) : 90BDF7F9
AccurateRip v1 signature : 141AA56D
AccurateRip v2 signature : D43A6767
->Accurately ripped (v1+v2, confidence 15+19/34)
Statistics
Read error : 0
Jitter error (maybe fixed) : 0
Retry sector count : 0
Damaged sector count : 0

Track 09
Filename : /Users/asmoser/Music/Public Image Ltd. - Plastic Box [Disc 3] (1984) [FLAC]/09 1981.flac

Track gain : -4.76 dB
Peak : 0.988556
CRC32 hash (test run) : 4100BCB8
CRC32 hash : 4100BCB8
CRC32 hash (skip zero) : 10789000
AccurateRip v1 signature : 9DF4C8C9
AccurateRip v2 signature : 0BA51731
->Accurately ripped (v1+v2, confidence 15+19/34)
Statistics
Read error : 0
Jitter error (maybe fixed) : 0
Retry sector count : 0
Damaged sector count : 0

Track 10
Filename : /Users/asmoser/Music/Public Image Ltd. - Plastic Box [Disc 3] (1984) [FLAC]/10 The Order Of Death.flac

Track gain : -4.26 dB
Peak : 0.988556
CRC32 hash (test run) : 33727779
CRC32 hash : 33727779
CRC32 hash (skip zero) : 2E5781A0
AccurateRip v1 signature : 7D4122D4
AccurateRip v2 signature : A9C37E92
->Accurately ripped (v1+v2, confidence 16+19/35)
Statistics
Read error : 0
Jitter error (maybe fixed) : 0
Retry sector count : 0
Damaged sector count : 0

Track 11
Filename : /Users/asmoser/Music/Public Image Ltd. - Plastic Box [Disc 3] (1986) [FLAC]/11 F.F.F..flac
Pre-gap length : 00:01:55

Track gain : -5.71 dB
Peak : 0.988556
CRC32 hash (test run) : A8A32209
CRC32 hash : A8A32209
CRC32 hash (skip zero) : 8D10C22F
AccurateRip v1 signature : 7522F7DC
AccurateRip v2 signature : B48F2475
->Accurately ripped (v1+v2, confidence 16+19/35)
Statistics
Read error : 0
Jitter error (maybe fixed) : 0
Retry sector count : 0
Damaged sector count : 0

Track 12
Filename : /Users/asmoser/Music/Public Image Ltd. - Plastic Box [Disc 3] (1986) [FLAC]/12 Rise.flac

Track gain : -5.47 dB
Peak : 0.988556
CRC32 hash (test run) : C090EB2A
CRC32 hash : C090EB2A
CRC32 hash (skip zero) : EEEF1D77
AccurateRip v1 signature : 38FE0714
AccurateRip v2 signature : 9308338C
->Accurately ripped (v1+v2, confidence 16+19/35)
Statistics
Read error : 0
Jitter error (maybe fixed) : 0
Retry sector count : 0
Damaged sector count : 0

Track 13
Filename : /Users/asmoser/Music/Public Image Ltd. - Plastic Box [Disc 3] (1986) [FLAC]/13 Fishing.flac

Track gain : -7.50 dB
Peak : 0.988556
CRC32 hash (test run) : BE1CB68B
CRC32 hash : BE1CB68B
CRC32 hash (skip zero) : D5ACEB58
AccurateRip v1 signature : 5264EFDC
AccurateRip v2 signature : 16DA5B16
->Accurately ripped (v1+v2, confidence 16+18/34)
Statistics
Read error : 0
Jitter error (maybe fixed) : 0
Retry sector count : 0
Damaged sector count : 0

Track 14
Filename : /Users/asmoser/Music/Public Image Ltd. - Plastic Box [Disc 3] (1986) [FLAC]/14 Round.flac

Track gain : -6.85 dB
Peak : 0.988556
CRC32 hash (test run) : 4798B710
CRC32 hash : 4798B710
CRC32 hash (skip zero) : D1D387E2
AccurateRip v1 signature : AF36B527
AccurateRip v2 signature : AE9FFA48
->Accurately ripped (v1+v2, confidence 16+19/35)
Statistics
Read error : 0
Jitter error (maybe fixed) : 0
Retry sector count : 0
Damaged sector count : 0

Track 15
Filename : /Users/asmoser/Music/Public Image Ltd. - Plastic Box [Disc 3] (1986) [FLAC]/15 Home.flac

Track gain : -8.00 dB
Peak : 0.988556
CRC32 hash (test run) : A6423034
CRC32 hash : A6423034
CRC32 hash (skip zero) : A7583934
AccurateRip v1 signature : 1280CA40
AccurateRip v2 signature : D81B60DB
->Accurately ripped (v1+v2, confidence 16+19/35)
Statistics
Read error : 0
Jitter error (maybe fixed) : 0
Retry sector count : 0
Damaged sector count : 0

Track 16
Filename : /Users/asmoser/Music/Public Image Ltd. - Plastic Box [Disc 3] (1986) [FLAC]/16 Ease.flac
Pre-gap length : 00:01:54

Track gain : -4.94 dB
Peak : 0.988556
CRC32 hash (test run) : A26D7A77
CRC32 hash : A26D7A77
CRC32 hash (skip zero) : FBFE435D
AccurateRip v1 signature : 6CC320E3
AccurateRip v2 signature : A559E039
->Accurately ripped (v1+v2, confidence 15+19/34)
Statistics
Read error : 0
Jitter error (maybe fixed) : 0
Retry sector count : 0
Damaged sector count : 0

No errors occurred

End of status report

––-BEGIN XLD SIGNATURE––-
V_LqLDtCG64hyFJaH9Quv4ZS7BOK5.cJW3njyBobXG1tDLkIDupw5WVgh6YhX5R5YHI49frS08lgDGgADzNP7tVgYddrwX1QMJeZJtW
––-END XLD SIGNATURE––-


X Lossless Decoder version 20140504 (147.0)

XLD extraction logfile from 2014-10-18 23:10:17 -0400

Public Image Ltd. / Plastic Box [Disc 4]

Used drive : MATSHITA DVD-R UJ-898 (revision HE13)
Media type : Pressed CD

Ripper mode : XLD Secure Ripper
Disable audio cache : OK for the drive with a cache less than 1375KiB
Make use of C2 pointers : NO
Read offset correction : 102
Max retry count : 20
Gap status : Analyzed, Appended (except HTOA)

TOC of the extracted CD
Track | Start | Length | Start sector | End sector
––––––––––––––––––––––––––––-
1 | 00:00:00 | 03:40:37 | 0 | 16536
2 | 03:40:37 | 04:13:40 | 16537 | 35551
3 | 07:54:02 | 03:41:40 | 35552 | 52166
4 | 11:35:42 | 03:34:08 | 52167 | 68224
5 | 15:09:50 | 05:34:22 | 68225 | 93296
6 | 20:43:72 | 03:58:38 | 93297 | 111184
7 | 24:42:35 | 06:45:30 | 111185 | 141589
8 | 31:27:65 | 05:37:60 | 141590 | 166924
9 | 37:05:50 | 03:43:05 | 166925 | 183654
10 | 40:48:55 | 04:29:47 | 183655 | 203876
11 | 45:18:27 | 04:07:60 | 203877 | 222461
12 | 49:26:12 | 05:34:18 | 222462 | 247529
13 | 55:00:30 | 05:25:47 | 247530 | 271951
14 | 60:26:02 | 06:48:63 | 271952 | 302614
15 | 67:14:65 | 04:02:00 | 302615 | 320764
16 | 71:16:65 | 05:25:10 | 320765 | 345149

AccurateRip Summary (DiscID: 002a78fc-02066d44-ea11fa10)
Track 01 : OK (v1+v2, confidence 36/36)
Track 02 : OK (v1+v2, confidence 36/36)
Track 03 : OK (v1+v2, confidence 36/36)
Track 04 : OK (v1+v2, confidence 36/36)
Track 05 : OK (v1+v2, confidence 35/35)
Track 06 : OK (v1+v2, confidence 35/35)
Track 07 : OK (v1+v2, confidence 36/36)
Track 08 : OK (v1+v2, confidence 35/35)
Track 09 : OK (v1+v2, confidence 35/35)
Track 10 : OK (v1+v2, confidence 33/33)
Track 11 : OK (v1+v2, confidence 35/35)
Track 12 : OK (v1+v2, confidence 35/35)
Track 13 : OK (v1+v2, confidence 36/36)
Track 14 : OK (v1+v2, confidence 36/36)
Track 15 : OK (v1+v2, confidence 36/36)
Track 16 : OK (v1+v2, confidence 35/35)
->All tracks accurately ripped.

All Tracks
Album gain : -9.37 dB
Peak : 0.988556
Statistics
Read error : 0
Jitter error (maybe fixed) : 0
Retry sector count : 0
Damaged sector count : 0

Track 01
Filename : /Users/asmoser/Music/Public Image Ltd. - Plastic Box [Disc 4] (1987) [FLAC]/01 Seattle.flac
Pre-gap length : 00:02:00

Track gain : -7.70 dB
Peak : 0.982758
CRC32 hash (test run) : BA23A0D3
CRC32 hash : BA23A0D3
CRC32 hash (skip zero) : 51D63AFD
AccurateRip v1 signature : FCA64ECC
AccurateRip v2 signature : EA27A9D9
->Accurately ripped (v1+v2, confidence 16+20/36)
Statistics
Read error : 0
Jitter error (maybe fixed) : 0
Retry sector count : 0
Damaged sector count : 0

Track 02
Filename : /Users/asmoser/Music/Public Image Ltd. - Plastic Box [Disc 4] (1987) [FLAC]/02 Angry.flac

Track gain : -6.30 dB
Peak : 0.988556
CRC32 hash (test run) : A687A885
CRC32 hash : A687A885
CRC32 hash (skip zero) : 59996585
AccurateRip v1 signature : 575D2A24
AccurateRip v2 signature : EEBB00A9
->Accurately ripped (v1+v2, confidence 16+20/36)
Statistics
Read error : 0
Jitter error (maybe fixed) : 0
Retry sector count : 0
Damaged sector count : 0

Track 03
Filename : /Users/asmoser/Music/Public Image Ltd. - Plastic Box [Disc 4] (1987) [FLAC]/03 The Body (US 12'' Mix).flac

Track gain : -7.44 dB
Peak : 0.982727
CRC32 hash (test run) : 8550F0D7
CRC32 hash : 8550F0D7
CRC32 hash (skip zero) : C9BF7FAC
AccurateRip v1 signature : D5AC7360
AccurateRip v2 signature : 295099C4
->Accurately ripped (v1+v2, confidence 16+20/36)
Statistics
Read error : 0
Jitter error (maybe fixed) : 0
Retry sector count : 0
Damaged sector count : 0

Track 04
Filename : /Users/asmoser/Music/Public Image Ltd. - Plastic Box [Disc 4] (1987) [FLAC]/04 Selfish Rubbish.flac

Track gain : -8.13 dB
Peak : 0.982727
CRC32 hash (test run) : D61EC599
CRC32 hash : D61EC599
CRC32 hash (skip zero) : BCCDAEE9
AccurateRip v1 signature : D5115774
AccurateRip v2 signature : E273A7E3
->Accurately ripped (v1+v2, confidence 16+20/36)
Statistics
Read error : 0
Jitter error (maybe fixed) : 0
Retry sector count : 0
Damaged sector count : 0

Track 05
Filename : /Users/asmoser/Music/Public Image Ltd. - Plastic Box [Disc 4] (1989) [FLAC]/05 Disappointed.flac

Track gain : -8.18 dB
Peak : 0.982849
CRC32 hash (test run) : ED1BCB74
CRC32 hash : ED1BCB74
CRC32 hash (skip zero) : FB89C18C
AccurateRip v1 signature : 349E1F81
AccurateRip v2 signature : 847127D8
->Accurately ripped (v1+v2, confidence 15+20/35)
Statistics
Read error : 0
Jitter error (maybe fixed) : 0
Retry sector count : 0
Damaged sector count : 0

Track 06
Filename : /Users/asmoser/Music/Public Image Ltd. - Plastic Box [Disc 4] (1989) [FLAC]/06 Happy.flac

Track gain : -6.68 dB
Peak : 0.982758
CRC32 hash (test run) : AB73875B
CRC32 hash : AB73875B
CRC32 hash (skip zero) : C4B07491
AccurateRip v1 signature : D6B63C32
AccurateRip v2 signature : 026D2C8E
->Accurately ripped (v1+v2, confidence 15+20/35)
Statistics
Read error : 0
Jitter error (maybe fixed) : 0
Retry sector count : 0
Damaged sector count : 0

Track 07
Filename : /Users/asmoser/Music/Public Image Ltd. - Plastic Box [Disc 4] (1989) [FLAC]/07 Warrior (12'' Extended Version).flac

Track gain : -6.99 dB
Peak : 0.982880
CRC32 hash (test run) : A3143DAB
CRC32 hash : A3143DAB
CRC32 hash (skip zero) : 872F95A5
AccurateRip v1 signature : AAA890F4
AccurateRip v2 signature : 1A390BEF
->Accurately ripped (v1+v2, confidence 16+20/36)
Statistics
Read error : 0
Jitter error (maybe fixed) : 0
Retry sector count : 0
Damaged sector count : 0

Track 08
Filename : /Users/asmoser/Music/Public Image Ltd. - Plastic Box [Disc 4] (1989) [FLAC]/08 USLS 1.flac

Track gain : -4.78 dB
Peak : 0.982788
CRC32 hash (test run) : 5553F944
CRC32 hash : 5553F944
CRC32 hash (skip zero) : 41899ED4
AccurateRip v1 signature : 1E060990
AccurateRip v2 signature : D1302272
->Accurately ripped (v1+v2, confidence 15+20/35)
Statistics
Read error : 0
Jitter error (maybe fixed) : 0
Retry sector count : 0
Damaged sector count : 0

Track 09
Filename : /Users/asmoser/Music/Public Image Ltd. - Plastic Box [Disc 4] (1990) [FLAC]/09 Don't Ask Me.flac

Track gain : -8.86 dB
Peak : 0.988556
CRC32 hash (test run) : E418EC39
CRC32 hash : E418EC39
CRC32 hash (skip zero) : 02112F51
AccurateRip v1 signature : FE32146C
AccurateRip v2 signature : 58ED6BCA
->Accurately ripped (v1+v2, confidence 15+20/35)
Statistics
Read error : 0
Jitter error (maybe fixed) : 0
Retry sector count : 0
Damaged sector count : 0

Track 10
Filename : /Users/asmoser/Music/Public Image Ltd. - Plastic Box [Disc 4] (1992) [FLAC]/10 Criminal.flac

Track gain : -10.31 dB
Peak : 0.983704
CRC32 hash (test run) : 293B5923
CRC32 hash : 293B5923
CRC32 hash (skip zero) : 2E242BFB
AccurateRip v1 signature : 53213DB8
AccurateRip v2 signature : 4BB57F70
->Accurately ripped (v1+v2, confidence 14+19/33)
Statistics
Read error : 0
Jitter error (maybe fixed) : 0
Retry sector count : 0
Damaged sector count : 0

Track 11
Filename : /Users/asmoser/Music/Public Image Ltd. - Plastic Box [Disc 4] (1992) [FLAC]/11 Luck's Up.flac

Track gain : -8.73 dB
Peak : 0.983673
CRC32 hash (test run) : F3D734E8
CRC32 hash : F3D734E8
CRC32 hash (skip zero) : 19491CC4
AccurateRip v1 signature : 38511F28
AccurateRip v2 signature : 6F15D031
->Accurately ripped (v1+v2, confidence 15+20/35)
Statistics
Read error : 0
Jitter error (maybe fixed) : 0
Retry sector count : 0
Damaged sector count : 0

Track 12
Filename : /Users/asmoser/Music/Public Image Ltd. - Plastic Box [Disc 4] (1992) [FLAC]/12 God.flac

Track gain : -8.44 dB
Peak : 0.983582
CRC32 hash (test run) : 10133446
CRC32 hash : 10133446
CRC32 hash (skip zero) : 2F0EF6C7
AccurateRip v1 signature : C9BF6472
AccurateRip v2 signature : 12478DD9
->Accurately ripped (v1+v2, confidence 15+20/35)
Statistics
Read error : 0
Jitter error (maybe fixed) : 0
Retry sector count : 0
Damaged sector count : 0

Track 13
Filename : /Users/asmoser/Music/Public Image Ltd. - Plastic Box [Disc 4] (1992) [FLAC]/13 Cruel (BBC Mark Goodier Session).flac

Track gain : -9.31 dB
Peak : 0.977844
CRC32 hash (test run) : 106C02E2
CRC32 hash : 106C02E2
CRC32 hash (skip zero) : 23481EB6
AccurateRip v1 signature : 34C0C8A0
AccurateRip v2 signature : ABD6B084
->Accurately ripped (v1+v2, confidence 16+20/36)
Statistics
Read error : 0
Jitter error (maybe fixed) : 0
Retry sector count : 0
Damaged sector count : 0

Track 14
Filename : /Users/asmoser/Music/Public Image Ltd. - Plastic Box [Disc 4] (1992) [FLAC]/14 Acid Drops (BBC Mark Goodier Session).flac

Track gain : -10.50 dB
Peak : 0.977875
CRC32 hash (test run) : 2BCF10A3
CRC32 hash : 2BCF10A3
CRC32 hash (skip zero) : B01F6D17
AccurateRip v1 signature : F4156DEA
AccurateRip v2 signature : ED8D7EFB
->Accurately ripped (v1+v2, confidence 16+20/36)
Statistics
Read error : 0
Jitter error (maybe fixed) : 0
Retry sector count : 0
Damaged sector count : 0

Track 15
Filename : /Users/asmoser/Music/Public Image Ltd. - Plastic Box [Disc 4] (1992) [FLAC]/15 Love Hope (BBC Mark Goodier Session).flac

Track gain : -10.01 dB
Peak : 0.988556
CRC32 hash (test run) : 587BE026
CRC32 hash : 587BE026
CRC32 hash (skip zero) : 5824F21C
AccurateRip v1 signature : 3D61DFA2
AccurateRip v2 signature : B3C9DDCD
->Accurately ripped (v1+v2, confidence 16+20/36)
Statistics
Read error : 0
Jitter error (maybe fixed) : 0
Retry sector count : 0
Damaged sector count : 0

Track 16
Filename : /Users/asmoser/Music/Public Image Ltd. - Plastic Box [Disc 4] (1992) [FLAC]/16 Think Tank (BBC Mark Goodier Session).flac

Track gain : -9.95 dB
Peak : 0.977448
CRC32 hash (test run) : 870927DD
CRC32 hash : 870927DD
CRC32 hash (skip zero) : 67B31876
AccurateRip v1 signature : 671FCDA5
AccurateRip v2 signature : 948FBE49
->Accurately ripped (v1+v2, confidence 16+19/35)
Statistics
Read error : 0
Jitter error (maybe fixed) : 0
Retry sector count : 0
Damaged sector count : 0

No errors occurred

End of status report

––-BEGIN XLD SIGNATURE––-
Z5ssgkyFk8LLnfQJrBgKnN25Qnoiw_nIG9e.BV6DGdH_MBcWQUKGKwv3bLM2yAj84w7l0qmXamClPBJ2bOu7DC1uEkySV6R3NcuJlIO
––-END XLD SIGNATURE––-