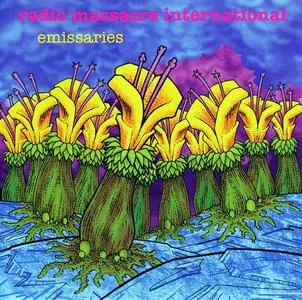 Radio Massacre International - Emissaries (2005)
EAC Rip | FLAC (image+.cue+log) - 791 MB | MP3 CBR 320 kbps (LAME 3.93) - 321 MB | Covers - 84 MB
Genre: Electronic, Berlin School | RAR 3% Rec. | Label: Cuneiform Records (Rune 211/212)
The trio made up of Steve Dinsdale, Duncan Goddard and Gary Houghton play various sequencers, mellotrones, guitars, Fender Squires, Moogs and samplers all to good effect. Radio Massacre International has been playing together since 1979, first as a band called DAS, which released 12 albums between 1980-87, and have recorded together as RMI since 1993. Emissaries is a 2-CD set, the first being a studio set of 6 tracks that make up the hour long Emissaries Suite, and the second documents a live radio performance from 2004.
CD 1 Tracklist (The Emissaries Suite):
01. Seeds Crossing the Interstellar Void
02. A Priest Crossing Frozen Water
03. Mad Bob's Self-Inflicted Torment
04. The Emissaries Reveal Themselves
05. The Ice Garden
06. A Promise of Salvation
Total time:
59:58
CD 2 Tracklist (Ancillary Bloom):
01. An Interstellar Vacuum is far from Empty
02. Mobile Star Systems
03. A Piano Wanders the Incandescent Vapours
04. Sympathy for the Bedeviled
05. The Arrival of the Seeds
06. Deliverance from Nuclear Winter
Total time:
01:16:34
Exact Audio Copy V0.99 prebeta 4 from 23. January 2008

Отчёт EAC об извлечении, выполненном 21. декабря 2008, 2:15

Radio Massacre International / Emissaries: CD1 - The Emissaries Suite

Дисковод: Optiarc DVD RW AD-7191A Adapter: 0 ID: 0

Режим чтения : Достоверность
Использование точного потока : Да
Отключение кэша аудио : Да
Использование указателей C2 : Нет

Коррекция смещения при чтении : 6
Способность читать области Lead-in и Lead-out : Нет
Заполнение пропущенных сэмплов тишиной : Да
Удаление блоков с тишиной в начале и конце : Нет
При вычислениях CRC использовались нулевые сэмплы : Да
Интерфейс : Установленный внешний ASPI-интерфейс

Выходной формат : Внутренние WAV-операции
Формат сэмплов : 44.100 Гц; 16 бит; стерео


TOC извлечённого CD

Трек | Старт | Длительность | Начальный сектор | Конечный сектор
––––––––––––––––––––––––––––––––––-
1 | 0:00.00 | 16:22.62 | 0 | 73711
2 | 16:22.62 | 13:23.20 | 73712 | 133956
3 | 29:46.07 | 9:58.67 | 133957 | 178873
4 | 39:44.74 | 9:08.74 | 178874 | 220047
5 | 48:53.73 | 7:37.01 | 220048 | 254323
6 | 56:30.74 | 3:27.01 | 254324 | 269849
7 | 62:30.00 | 7:17.69 | 281250 | 314093


Характеристики диапазона извлечения и сообщения об ошибках

Выбранный диапазон

Имя файла C:\Uploads\RMI - 2005 - Emissaries\CD1 - The Emissaries Suite.wav

Пиковый уровень 70.7 %
Качество диапазона 100.0 %
CRC теста 16160DAC
CRC копии 16160DAC
Копирование… OK

Ошибок не произошло


AccurateRip: сводка

Трек 1 нет в базе данных
Трек 2 нет в базе данных
Трек 3 нет в базе данных
Трек 4 нет в базе данных
Трек 5 нет в базе данных
Трек 6 нет в базе данных

Ни одного трека нет в базе AccurateRip

Конец отчёта
[CUETools log; Date: 04.12.2019 3:41:33; Version: 2.1.4]
CD-Extra data track length 07:17:69.
[CTDB TOCID: nDtkzhu.IY8QkCVFphkjnIw4vZQ-] found.
Track | CTDB Status
1 | (7/7) Accurately ripped
2 | (7/7) Accurately ripped
3 | (7/7) Accurately ripped
4 | (7/7) Accurately ripped
5 | (7/7) Accurately ripped
6 | (7/7) Accurately ripped
[AccurateRip ID: 0011ede1-005ceba2-77105b07] found.
Track [ CRC | V2 ] Status
01 [a2d65632|4f551b15] (05+06/11) Accurately ripped
02 [7def4ed8|35944dec] (05+06/11) Accurately ripped
03 [93582cf6|e7c6b651] (05+06/11) Accurately ripped
04 [f0708fb1|eeb1debc] (05+06/11) Accurately ripped
05 [87c94be5|4a6e2fbb] (05+06/11) Accurately ripped
06 [9fdbbee6|475ef5db] (05+06/11) Accurately ripped

Track Peak [ CRC32 ] [W/O NULL] [ LOG ]
– 70,7 [16160DAC] [41B6CD46] CRC32
01 70,7 [B1A3C550] [F57A5656]
02 70,7 [B34954D1] [740E30FA]
03 70,3 [15536FEB] [9BFDA50F]
04 70,1 [7A427D42] [61D80CEE]
05 67,7 [FC288B91] [3AD3E2D4]
06 67,7 [D5CC925D] [A149F1BB]
Exact Audio Copy V0.99 prebeta 4 from 23. January 2008

Отчёт EAC об извлечении, выполненном 21. декабря 2008, 2:41

Radio Massacre International / Emissaries: CD2 - Ancillary Blooms

Дисковод: Optiarc DVD RW AD-7191A Adapter: 0 ID: 0

Режим чтения : Достоверность
Использование точного потока : Да
Отключение кэша аудио : Да
Использование указателей C2 : Нет

Коррекция смещения при чтении : 6
Способность читать области Lead-in и Lead-out : Нет
Заполнение пропущенных сэмплов тишиной : Да
Удаление блоков с тишиной в начале и конце : Нет
При вычислениях CRC использовались нулевые сэмплы : Да
Интерфейс : Установленный внешний ASPI-интерфейс

Выходной формат : Внутренние WAV-операции
Формат сэмплов : 44.100 Гц; 16 бит; стерео


TOC извлечённого CD

Трек | Старт | Длительность | Начальный сектор | Конечный сектор
––––––––––––––––––––––––––––––––––-
1 | 0:00.00 | 12:14.31 | 0 | 55080
2 | 12:14.31 | 13:02.23 | 55081 | 113753
3 | 25:16.54 | 11:11.61 | 113754 | 164139
4 | 36:28.40 | 9:36.27 | 164140 | 207366
5 | 46:04.67 | 16:16.40 | 207367 | 280606
6 | 62:21.32 | 14:12.43 | 280607 | 344549


Характеристики диапазона извлечения и сообщения об ошибках

Выбранный диапазон

Имя файла C:\Uploads\RMI - 2005 - Emissaries\CD2 - Ancillary Blooms.wav

Пиковый уровень 98.7 %
Качество диапазона 100.0 %
CRC теста C5EA8C1D
CRC копии C5EA8C1D
Копирование… OK

Ошибок не произошло


AccurateRip: сводка

Трек 1 нет в базе данных
Трек 2 нет в базе данных
Трек 3 нет в базе данных
Трек 4 нет в базе данных
Трек 5 нет в базе данных
Трек 6 нет в базе данных

Ни одного трека нет в базе AccurateRip

Конец отчёта
[CUETools log; Date: 04.12.2019 3:42:34; Version: 2.1.4]
[CTDB TOCID: H2vCHrehha2Di9fQph79QjKARyY-] found.
Track | CTDB Status
1 | (8/8) Accurately ripped
2 | (8/8) Accurately ripped
3 | (8/8) Accurately ripped
4 | (8/8) Accurately ripped
5 | (8/8) Accurately ripped
6 | (8/8) Accurately ripped
[AccurateRip ID: 0011c8bb-005f3838-5311f206] found.
Track [ CRC | V2 ] Status
01 [60bc1ad8|b40b420b] (06+05/11) Accurately ripped
02 [c58ff972|6a33bdda] (06+05/11) Accurately ripped
03 [87d00707|256907ea] (06+05/11) Accurately ripped
04 [34faa1b7|7439dd41] (06+05/11) Accurately ripped
05 [b82463cd|790e80bb] (06+05/11) Accurately ripped
06 [e6b1865d|cffaa868] (06+05/11) Accurately ripped

Track Peak [ CRC32 ] [W/O NULL] [ LOG ]
– 98,7 [C5EA8C1D] [5884FA0E] CRC32
01 94,3 [C6564DE9] [8334E6BE]
02 92,8 [F84868BD] [EFBC5674]
03 91,5 [5C56A614] [2808C1F8]
04 93,9 [292205DB] [E0A435F0]
05 63,5 [C1780CF5] [C6D0D899]
06 98,7 [A619FFDC] [3C9B87A3]
Thanks to
mr_suicideSee also:
Radio Massacre International - Septentrional (2006)
Radio Massacre International - Time & Motion (2010)