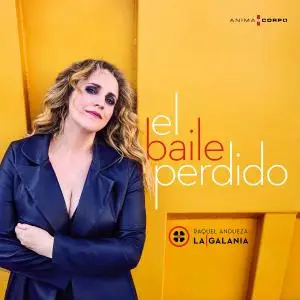 Raquel Andueza, La Galanía - El Baile Perdido (2019)
WEB FLAC (tracks) - 269 MB | Tracks: 15 | 61:18 min
Style: Classical | Label: Anima e Corpo Música
The lost dance includes a selection of sung dances, whose melodies have been reconstructed by musicologist Álvaro Torrente from poems of the time and various indirect testimonies that have been preserved such as poetic metrics, harmonic schemes, guitar strumming patterns. , instrumental variations and, in some cases, fragments included in educated compositions. This is a dozen pieces that allow you to relive the authentic soundtrack of the Spanish Golden Age.
Between the decades of 1580 and 1620 there was the flowering of a wide spectrum of sung dances that, coming from streets, taverns or brothels, became very popular among the people and the elites, spreading rapidly throughout Europe. The poems were mostly anonymous, since many of these dances were banned due to their lascivious and sinful character, although illustrious poets such as Cervantes, Lope de Vega or Quevedo also cultivated them. But, precisely because they are popular music known to all, their melodies were rarely written, so that, in most cases, their loudness fell into oblivion.
Tracklist:
01. A la zambarambé (guineo)
02. Baile del polvillo
03. Jácara de La Méndez
04. Chacona
05. Arrojome las naranjicas (folías)
06. Baile del Ay, ay, ay
07. Una batalla de Amor (zarabanda)
08. Folías
09. Españoles bríos (canarios)
10. Préstame esos ojos (seguidillas)
11. Tonadilla y jácara nueva de la Zangarilleja
12. Pavanas
13. ¿Dónde va la niña bonita? (gascona)
14. Secutor de la vara
15. El baile de la chacona


FILE: 01. A la zambarambé (guineo).flac
Size: 15477822 Hash: 82104E95EFEBC17621EF175B7D6E8631 Accuracy: -m0
Conclusion: CDDA 100%
Signature: 744AC52E207DB9C1B1C546F9077E8F8DAA9DFCF2
FILE: 02. Baile del polvillo.flac
Size: 14666940 Hash: 59E9F05B1007CE98215D61D6BAA12259 Accuracy: -m0
Conclusion: CDDA 100%
Signature: CC112AACB1D3A2E088C5D58DA2FE47E7A68B4001
FILE: 03. Jácara de La Méndez.flac
Size: 33791259 Hash: D151DC2B198BFCB826AF478FA8C6CED4 Accuracy: -m0
Conclusion: CDDA 100%
Signature: 8A101454CAB6E45F15FF84A3515FA5A4D9E8E18F
FILE: 04. Chacona.flac
Size: 14732456 Hash: 8B2B1C35FF4FE74667FC50CFBCD108AE Accuracy: -m0
Conclusion: CDDA 100%
Signature: A84310C9BBD5C2A5B107411EEF3B1286058D8C1E
FILE: 05. Arrojome las naranjicas (folías).flac
Size: 15222129 Hash: B5E996A56F6C0D5AD11E408F65960460 Accuracy: -m0
Conclusion: CDDA 100%
Signature: 4FE7DEAE6710DF3A4FFF7E8CA8D76FBD8ADFB1BD
FILE: 06. Baile del Ay, ay, ay.flac
Size: 16841408 Hash: 03A3D40B5F9326D3DFBE8F9D0DC98A74 Accuracy: -m0
Conclusion: CDDA 99%
Signature: E6833B8C8B6B696DFDB37B8090F3FD3C05DFDC44
FILE: 07. Una batalla de Amor (zarabanda).flac
Size: 27631332 Hash: C0E3997BDF940CEECD9C27231B41B654 Accuracy: -m0
Conclusion: CDDA 100%
Signature: ED2CD473F33988B5CC0C237C4D3CD7FC4F75BD24
FILE: 08. Folías.flac
Size: 14818842 Hash: DD12BA3B2C0B691249384545DF0BFD2B Accuracy: -m0
Conclusion: CDDA 100%
Signature: 8A8BF1DA4E250B467DF375C87C3462572F4910E5
FILE: 09. Españoles bríos (canarios).flac
Size: 20159544 Hash: 3525D1A54C9390AE6F1982601BA73FD4 Accuracy: -m0
Conclusion: CDDA 100%
Signature: F629F73FFF25587AFD072AEB295844FED6C099DA
FILE: 10. Préstame esos ojos (seguidillas).flac
Size: 11727556 Hash: 834C6F36935034E1C196316CBE2CB739 Accuracy: -m0
Conclusion: CDDA 100%
Signature: E163DD03C4B53687D3EB9CA40B18D358BB5B990D
FILE: 11. Tonadilla y jácara nueva de la Zangarilleja.flac
Size: 20511439 Hash: B1BFCA2D44ECE2878380A7EA06C0CEDA Accuracy: -m0
Conclusion: CDDA 100%
Signature: A4FB134A12EFD31E99408984229B69F721E720EF
FILE: 12. Pavanas.flac
Size: 11771973 Hash: D1F06C04E87FC97B9653B53C730B7867 Accuracy: -m0
Conclusion: CDDA 100%
Signature: A4BFC79B199D48179BF54AE675F1962A4715AAF4
FILE: 13. ¿Dónde va la niña bonita_ (gascona).flac
Size: 25211902 Hash: 0CF89797CD9D368E4F9D1A1511138995 Accuracy: -m0
Conclusion: CDDA 100%
Signature: 8E72882C6FD180AB34DDF73BC20C4DEF28C07449
FILE: 14. Secutor de la vara.flac
Size: 21113895 Hash: 8349A13FCCCB624B3F9D15E5DE538F00 Accuracy: -m0
Conclusion: CDDA 99%
Signature: 2EB5934199F8B20CDF62B14E918A5D4EF93E6BC6
FILE: 15. El baile de la chacona.flac
Size: 19069463 Hash: B71FDF540F0B3D08EE65E9C5AE159DB7 Accuracy: -m0
Conclusion: CDDA 100%
Signature: 62B8D738926E00D3EA6C821B5689B918758AB823