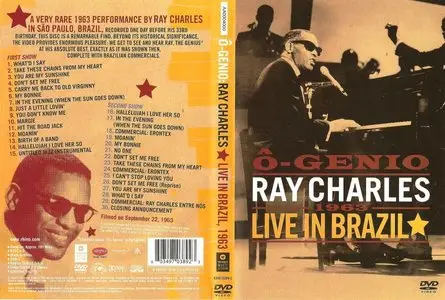 Ray Charles - Ô-Genio: Live In Brazil, 1963 (2004)
DVD9 | Video: NTSC 720x480 (4:3) | Audio: Dolby AC3 2.0 | 5.5 Gb | Time: 53:19 + 48:20
Rhino Home Video/Warner Music | 034970398-2
R&B, Soul, Jazz, Blues
A Very Rare 1963 Performance by Ray Charles in Sao Paulo, Brazil, Recorded One Day Before His 33rd Birthday. This Disc is a Remarkable Find. Beyond It's Historical Significance, The Video Provides Enormous Pleasure: We Get to See and Hear Ray, The Genous at His Absolute Best, Exactly as It Was Shown Then, Complete with Brazilian Commercials.

FIRST SHOW
01. What'd I Say
02. Take These Chains From My Heart
03. You Are My Sunshine
04. Don't Set Me Free
05. Carry Me Back to Old Virginny
06. My Bonnie
07. In the Evening (When the Sun Goes Down)
08. Just a Little Lovin'
09. You Don't Know Me
10. Margie
11. Hit the Road Jack
12. Moanin'
13. Birth of a Band
14. Hallelujah I Love Her So
15. Untitled Jazz Instrumental
SECOND WHOW
16. Hallelujah I Love Her So
17. In the Evening (When the Sun Goes Down)
18. Commericial: Erontex
19. Moanin'
20. My Bonnie
21. No One
22. Don't Set Me Free
23. Take These Chains From My Heart
24. Commerical: Erontex
25. I Can't Stop Loving You
26. Don't Set Me Free (Reprise)
27. You Are My Sunshine
28. What's I Say
29. Commercial: Ray Charles Entre Nos
30. Closing Announcement
Subtitles: English
Musicians
• Oliver Beener, Roy Burrows, Phil Guilbeau - trumpet
• Julian Priester, Keg Johnson, James Harbert, Henderson Chambers - trombone
• Harold Minerve, Danny Turner - alto saxophone
• David Fathead Newman, Tina Brooks - tenor saxophone
• Leroy Cooper - baritone saxophone
• Wilbert Hogan - drums
• Sonny Forriest - guitar
• Edgar Willis - bass
• The Raelettes: Margie Hendricks, Gwen Berry, Darlene McCrea, Patricia Richards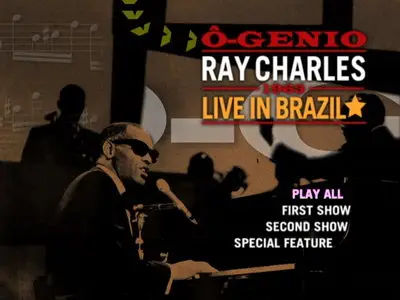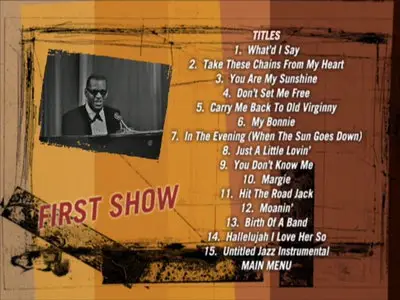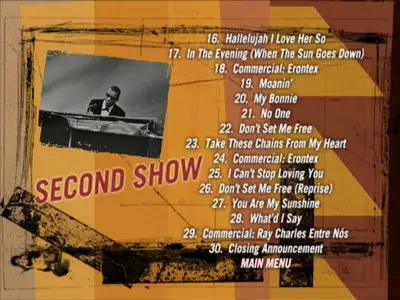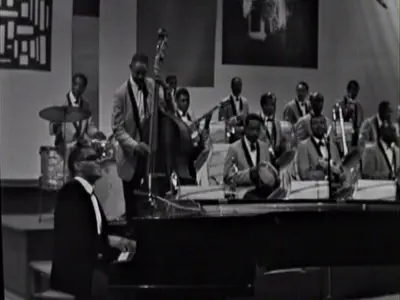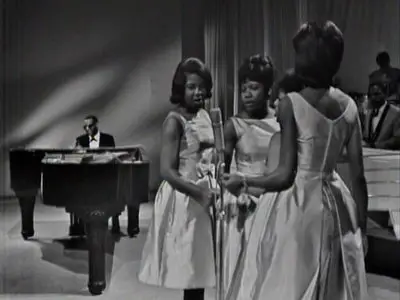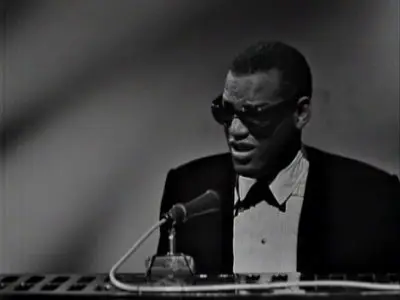 Size: 5.41 Gb ( 5 677 442,00 KBytes ) - DVD-9
Enabled regions: 1, 2, 3, 4, 5, 6, 7, 8

VTS_01 :
Play Length: 00:00:00
Video: NTSC 4:3 (720x480) VBR
Audio:
English (Dolby AC3, 2 ch)
English (Dolby AC3, 2 ch)

VTS_02 :
Play Length: 00:00:00
Video: NTSC 4:3 (720x480) VBR
Audio:
English (Dolby AC3, 2 ch)
English (Dolby AC3, 2 ch)

VTS_03 :
Play Length: 00:00:00
Video: NTSC 4:3 (720x480) VBR
Audio:
English (Dolby AC3, 2 ch)
English (Dolby AC3, 2 ch)

VTS_04 :
Play Length: 00:00:00
Video: NTSC 4:3 (720x480) VBR
Audio:
English (Dolby AC3, 2 ch)
English (Dolby AC3, 2 ch)

VTS_05 :
Play Length: 00:00:22
Video: NTSC 4:3 (720x480) VBR
Audio:
English (Dolby AC3, 2 ch)
English (Dolby AC3, 2 ch)

VTS_06 :
Play Length: 00:00:00
Video: NTSC 4:3 (720x480) VBR
Audio:
English (Dolby AC3, 2 ch)

VTS_07 :
Play Length: 00:53:19+{00:53:19}
Video: NTSC 4:3 (720x480) VBR
Audio:
English (Dolby AC3, 2 ch)

VTS_08 :
Play Length: 00:48:20+{00:48:20}+{00:05:20}
Video: NTSC 4:3 (720x480) VBR
Audio:
English (Dolby AC3, 2 ch)
Subtitles:
English
Many thanks to the original uploader: Artem777