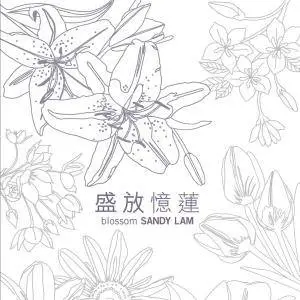 [林忆莲] Sandy Lam - Blossom Sandy Lam (2005)
MP3 320 kbps | 3CD, 02:56:54 min | Cover included | 408 mb
Genre: Chinese Pop, Cantopop, Mandopop
Sandy's sound is in full Blossom! One of Canto-pop's most celebrated ballad singers, Sandy Lam comes alive on this deluxe 3 CD combo. It features a grand collection of some her most beloved songs including "Extreme Love , "Rainy Day", "Best Actor", "Slightly Cool", "Letting Loose", "Ruins of Love" as well as "Grey". Also offering special re-mix versions of such hits as "Slanting" + "Man Staying at Home" on the third CD, this ultimate Sandy compilation presents a musical treasure no true fan can afford to miss!
Tracklist:
CD1
01 - You're My Man 03:45
02 - Wei Liang 04:16
03 - Long Street of the Iceberg 03:50
04 - One Minute the City One Minute Love 04:16
05 - Dawn (Ⅰ) 05:01
06 - This Situation Just Waiting to Recall 04:00
07 - Enthusiasm 04:22
08 - Flee Reinforced Forest 03:39
09 - Still 04:57
10 - Outrightly 03:50
11 - Whether This Is the Fate 04:19
12 - Ruins of Love 04:31
13 - I Don't Know 04:12
14 - Night a Traveler 04:36
15 - Heartbreak Lane 03:41
16 - Under the Sun Umbrella 03:32
CD2
01 - Gray 04:00
02 - Crazy 04:15
03 - Thank You 05:32
04 - Morning 04:23
05 - Three-Shift Midnight 04:09
06 - People Do Not Fall in Love with a Home 04:57
07 - You Make Me Sexy 04:34
08 - Family Man 03:36
09 - Indulgence 04:41
10 - Encounter 04:20
11 - Only Live Once 04:14
12 - Swing Lipstick 03:58
13 - Best Actor 03:43
14 - Drops of Sweat 04:21
15 - Rainy Day 05:03
16 - East and West 04:20
CD3
01 - 05 Bloom Sandy (Mega Mix) 07:01
02 - Speak More Mistakes Are Excited to Dance Version 05:14
03 - Shih Tzu Fire Burning in India 06:18
04 - Family Man (Extended Mix) 04:57
05 - Tilt 114 Degrees (Power Mix) 05:27
06 - Gray (Double Mix) 11:04