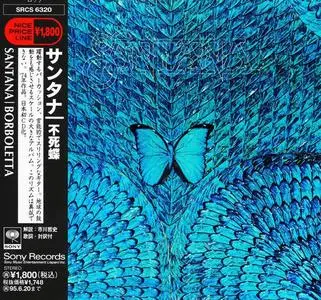 Santana - Borboletta (1974) [Japanese Edition 1993]
EAC Rip | FLAC (image+.cue+log) - 301 MB | MP3 CBR 320 kbps (LAME 3.93) - 117 MB | Covers - 109 MB
Genre: Jazz Rock, Latin Rock | RAR 3% Rec. | Label: Sony Music (SRCS 6320)
Borboletta was the first new Santana band studio album in 11 months and the group's sixth overall. Once again, individual credits were listed for each song. The main problem was that the band seemed to be coasting; Carlos turned in the usual complement of high-pitched lead guitar work, and the percussionists pounded away, but the Santana sound had long since taken over from any individual composition, and the records were starting to sound alike. That, in turn, started to make them inessential; Borboletta spent less time on the charts than any previous Santana album.
Tracklist:
01. Spring Manifestations (Sound Effects)
02. Canto De Los Flores
03. Life Is Anew
04. Give And Take
05. One With The Sun
06. Aspirations
07. Practice What You Preach
08. Mirage
09. Here And Now
10. Flor De Canela
11. Promise Of A Fisherman
12. Borboletta
Total time:
49:55
Exact Audio Copy V1.0 beta 3 from 29. August 2011

Отчёт EAC об извлечении, выполненном 14. июня 2012, 22:10

Santana / Borboletta [SRCS 6320]

Дисковод: PLEXTOR CD-R PREMIUM2 Adapter: 0 ID: 0

Режим чтения : Достоверность
Использование точного потока : Да
Отключение кэша аудио : Да
Использование указателей C2 : Нет

Коррекция смещения при чтении : 30
Способность читать области Lead-in и Lead-out : Да
Заполнение пропущенных сэмплов тишиной : Да
Удаление блоков с тишиной в начале и конце : Нет
При вычислениях CRC использовались нулевые сэмплы : Да
Интерфейс : Встроенный Win32-интерфейс для Win NT/2000

Выходной формат : Внутренние WAV-операции
Формат сэмплов : 44.100 Гц; 16 бит; стерео


TOC извлечённого CD

Трек | Старт | Длительность | Начальный сектор | Конечный сектор
––––––––––––––––––––––––––––––––––-
1 | 0:00.00 | 1:04.37 | 0 | 4836
2 | 1:04.37 | 3:46.30 | 4837 | 21816
3 | 4:50.67 | 4:15.45 | 21817 | 40986
4 | 9:06.37 | 5:44.18 | 40987 | 66804
5 | 14:50.55 | 4:22.02 | 66805 | 86456
6 | 19:12.57 | 5:09.73 | 86457 | 109704
7 | 24:22.55 | 4:31.20 | 109705 | 130049
8 | 28:54.00 | 4:42.30 | 130050 | 151229
9 | 33:36.30 | 3:01.20 | 151230 | 164824
10 | 36:37.50 | 2:20.15 | 164825 | 175339
11 | 38:57.65 | 8:06.55 | 175340 | 211844
12 | 47:04.45 | 2:50.50 | 211845 | 224644


Характеристики диапазона извлечения и сообщения об ошибках

Выбранный диапазон

Имя файла F:\Santana - Borboletta [Japan SRCS 6320] - 1974\Santana - Borboletta [SRCS 6320].wav

Пиковый уровень 99.9 %
Скорость извлечения 2.2 X
Качество диапазона 99.9 %
CRC теста EE05EC4B
CRC копии EE05EC4B
Копирование… OK

Ошибок не произошло


AccurateRip: сводка

Трек 1 отсутствует в базе данных
Трек 2 отсутствует в базе данных
Трек 3 отсутствует в базе данных
Трек 4 отсутствует в базе данных
Трек 5 отсутствует в базе данных
Трек 6 отсутствует в базе данных
Трек 7 отсутствует в базе данных
Трек 8 отсутствует в базе данных
Трек 9 отсутствует в базе данных
Трек 10 отсутствует в базе данных
Трек 11 отсутствует в базе данных
Трек 12 отсутствует в базе данных

Ни одного трека нет в базе AccurateRip

Конец отчёта

–– CUETools DB Plugin V2.1.4

[CTDB TOCID: m0SXXD0zf9FH_jBhByr3mNzRjQY-] found
Submit result: already submitted
Track | CTDB Status
1 | (1/1) Accurately ripped
2 | (1/1) Accurately ripped
3 | (1/1) Accurately ripped
4 | (1/1) Accurately ripped
5 | (1/1) Accurately ripped
6 | (1/1) Accurately ripped
7 | (1/1) Accurately ripped
8 | (1/1) Accurately ripped
9 | (1/1) Accurately ripped
10 | (1/1) Accurately ripped
11 | (1/1) Accurately ripped
12 | (1/1) Accurately ripped


==== Контрольная сумма отчёта 1A99B2EEADB38FD13F75B78A19C9249BA1BEEFFBD4BE5650DD9752D0E166F7B6 ====
[CUETools log; Date: 26.03.2020 17:05:44; Version: 2.1.4]
[CTDB TOCID: m0SXXD0zf9FH_jBhByr3mNzRjQY-] found.
Track | CTDB Status
1 | (10/10) Accurately ripped
2 | (10/10) Accurately ripped
3 | (10/10) Accurately ripped
4 | (10/10) Accurately ripped
5 | (10/10) Accurately ripped
6 | (10/10) Accurately ripped
7 | (10/10) Accurately ripped
8 | (10/10) Accurately ripped
9 | (10/10) Accurately ripped
10 | (10/10) Accurately ripped
11 | (10/10) Accurately ripped
12 | (10/10) Accurately ripped
[AccurateRip ID: 00152fff-00caf419-ad0bb30c] found.
Track [ CRC | V2 ] Status
01 [28b2ff89|6b3830d2] (0+7/7) Accurately ripped
02 [3e519862|59aab777] (0+7/7) Accurately ripped
03 [32c2ecd3|bf616c96] (0+7/7) Accurately ripped
04 [7d85806b|ce834a8d] (0+7/7) Accurately ripped
05 [595f4827|d0227d1f] (0+7/7) Accurately ripped
06 [7c4c2c3d|e5eed413] (0+7/7) Accurately ripped
07 [bde82a44|e0685701] (0+7/7) Accurately ripped
08 [3932a5ab|388c2ffb] (0+7/7) Accurately ripped
09 [880ce6ed|1a75087c] (0+7/7) Accurately ripped
10 [a376c0cd|25375d1b] (0+7/7) Accurately ripped
11 [93c7bf54|af2838f8] (0+7/7) Accurately ripped
12 [fdea9f8b|ed32a006] (0+7/7) Accurately ripped

Track Peak [ CRC32 ] [W/O NULL] [ LOG ]
– 99,9 [EE05EC4B] [9E199A12] CRC32
01 31,2 [88DF2282] [5A19A4DF]
02 58,6 [05816771] [DAF02D89]
03 96,3 [C1A4F7A5] [22546F5B]
04 95,5 [75EE6A8D] [3DC30222]
05 99,9 [84AB6EFA] [5BAE2BC9]
06 96,8 [116850A1] [A4DD4149]
07 93,4 [30F1B0F4] [5E8A27F2]
08 96,8 [EA5141D9] [87A2F0BF]
09 93,6 [0EE7D730] [F1836102]
10 99,8 [A205AED8] [F64FB162]
11 98,5 [550D24B6] [375E4CD0]
12 47,5 [AE761B77] [14534834]
Thanks to
StripakulinaSee also:
Santana - 2 Studio Almums (1969-1972) [MFSL, 2007-2011]
Carlos Santana & Mahavishn... Surrender (1973) [MFSL, 2011]
Santana - Black Magic Woman: The Best Of Santana (1999)
Santana - Santana IV (2016)