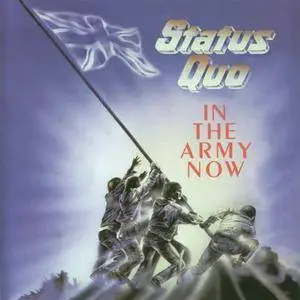 Status Quo - In The Army Now (1986) (Bonus Tracks)
Rock | 1cd | EAC Rip | Flac + Cue + Log | covers
Mercury Records, 983 412-5 | rem: 2006 | 600Mb
Almost four years after their last studio album, and two years after Francis Rossi and Rick Parfitt agreed to relaunch the hitherto moribund band, Status Quo bounced back with an album that came as close as Christmas to restating the glories that most fans believed were buried a decade earlier. The title track sets things off in the way they mean to go on, a romping cover of a Bolland & Bolland number that could not have been further from the Quo norm if it had tried. But the band make it its own, and then keep on sparking, through an excellent cover of Ian Hunter's "Speechless," on to the hit single "Dreamin'," and peaking with the seething "Overdose." Indeed, no matter how many crimes against their own reputation may have been committed by Quo earlier in the decade, In the Army Now offered salvation and forgiveness all round. And, just for a moment there, it felt like this was one reunion that really was going to improve on its prototype.
~AllmusicTrack listing
01. Rollin' Home (4:24)
02. Calling (4:04)
03. In Your Eyes (5:08)
04. Save Me (4:24)
05. In The Army Now (4:41)
06. Dreamin' (2:55)
07. End Of The Line (4:59)
08. Invitation (3:16)
09. Red Sky (4:15)
10. Speechless (3:41)
11. Overdose (5:21)
12. Lonely [bonus] (5:07)
13. Keep Me Guessing [bonus] (4:31)
14. Don't Give It Up [bonus] (4:22)
15. Heartburn [bonus] (4:45)
16. Late Last Night [bonus] (2:57)
17. Long Legged Girls [bonus] (5:34)
Personnel
- Francis Rossi - vocals, guitar
- Rick Parfitt - vocals, guitar
- John Edwards - bass
- Andy Bown - keyboards
- Jeff Rich - drums

EAC extraction logfile from 19. November 2006, 13:36 for CD
Status Quo / In The Army Now

Used drive : _NEC DVD_RW ND-3500AG Adapter: 0 ID: 1
Read mode : Secure with NO C2, accurate stream, disable cache
Read offset correction : 48
Overread into Lead-In and Lead-Out : No

Used output format : Internal WAV Routines
44.100 Hz; 16 Bit; Stereo

Other options :
Fill up missing offset samples with silence : Yes
Delete leading and trailing silent blocks : No
Installed external ASPI interface


Track 1
Filename H:\STATUS QUO\Status Quo - In The Army Now (1986) {2006 reissue, bonus tracks}\01 - Rollin' Home.wav

Pre-gap length 0:00:02.00

Peak level 97.7 %
Track quality 100.0 %
Test CRC 2F7B70CF
Copy CRC 2F7B70CF
Copy OK

Track 2
Filename H:\STATUS QUO\Status Quo - In The Army Now (1986) {2006 reissue, bonus tracks}\02 - Calling.wav

Peak level 97.7 %
Track quality 100.0 %
Test CRC 84D3F896
Copy CRC 84D3F896
Copy OK

Track 3
Filename H:\STATUS QUO\Status Quo - In The Army Now (1986) {2006 reissue, bonus tracks}\03 - In Your Eyes.wav

Peak level 97.7 %
Track quality 100.0 %
Test CRC 520C8E11
Copy CRC 520C8E11
Copy OK

Track 4
Filename H:\STATUS QUO\Status Quo - In The Army Now (1986) {2006 reissue, bonus tracks}\04 - Save Me.wav

Peak level 97.7 %
Track quality 99.9 %
Test CRC 54A6D7AA
Copy CRC 54A6D7AA
Copy OK

Track 5
Filename H:\STATUS QUO\Status Quo - In The Army Now (1986) {2006 reissue, bonus tracks}\05 - In The Army Now.wav

Peak level 97.7 %
Track quality 100.0 %
Test CRC DDA9A0EB
Copy CRC DDA9A0EB
Copy OK

Track 6
Filename H:\STATUS QUO\Status Quo - In The Army Now (1986) {2006 reissue, bonus tracks}\06 - Dreamin'.wav

Peak level 97.7 %
Track quality 100.0 %
Test CRC BDD9F884
Copy CRC BDD9F884
Copy OK

Track 7
Filename H:\STATUS QUO\Status Quo - In The Army Now (1986) {2006 reissue, bonus tracks}\07 - End Of The Line.wav

Peak level 97.7 %
Track quality 100.0 %
Test CRC 14598255
Copy CRC 14598255
Copy OK

Track 8
Filename H:\STATUS QUO\Status Quo - In The Army Now (1986) {2006 reissue, bonus tracks}\08 - Invitation.wav

Peak level 97.7 %
Track quality 100.0 %
Test CRC C995A1CD
Copy CRC C995A1CD
Copy OK

Track 9
Filename H:\STATUS QUO\Status Quo - In The Army Now (1986) {2006 reissue, bonus tracks}\09 - Red Sky.wav

Peak level 97.7 %
Track quality 100.0 %
Test CRC 338C4F0C
Copy CRC 338C4F0C
Copy OK

Track 10
Filename H:\STATUS QUO\Status Quo - In The Army Now (1986) {2006 reissue, bonus tracks}\10 - Speechless.wav

Peak level 97.7 %
Track quality 100.0 %
Test CRC 35BC5307
Copy CRC 35BC5307
Copy OK

Track 11
Filename H:\STATUS QUO\Status Quo - In The Army Now (1986) {2006 reissue, bonus tracks}\11 - Overdose.wav

Peak level 97.7 %
Track quality 100.0 %
Test CRC 39548454
Copy CRC 39548454
Copy OK

Track 12
Filename H:\STATUS QUO\Status Quo - In The Army Now (1986) {2006 reissue, bonus tracks}\12 - Lonely [bonus].wav

Peak level 97.7 %
Track quality 100.0 %
Test CRC 82582CD9
Copy CRC 82582CD9
Copy OK

Track 13
Filename H:\STATUS QUO\Status Quo - In The Army Now (1986) {2006 reissue, bonus tracks}\13 - Keep Me Guessing [bonus].wav

Peak level 97.7 %
Track quality 100.0 %
Test CRC BAACB22D
Copy CRC BAACB22D
Copy OK

Track 14
Filename H:\STATUS QUO\Status Quo - In The Army Now (1986) {2006 reissue, bonus tracks}\14 - Don't Give It Up [bonus].wav

Peak level 97.7 %
Track quality 100.0 %
Test CRC F5BBA4F0
Copy CRC F5BBA4F0
Copy OK

Track 15
Filename H:\STATUS QUO\Status Quo - In The Army Now (1986) {2006 reissue, bonus tracks}\15 - Heartburn [bonus].wav

Peak level 97.7 %
Track quality 100.0 %
Test CRC CA8F92B0
Copy CRC CA8F92B0
Copy OK

Track 16
Filename H:\STATUS QUO\Status Quo - In The Army Now (1986) {2006 reissue, bonus tracks}\16 - Late Last Night [bonus].wav

Peak level 97.7 %
Track quality 100.0 %
Test CRC ECFE5C2A
Copy CRC ECFE5C2A
Copy OK

Track 17
Filename H:\STATUS QUO\Status Quo - In The Army Now (1986) {2006 reissue, bonus tracks}\17 - Long Legged Girls [bonus].wav

Peak level 97.7 %
Track quality 100.0 %
Test CRC A707F984
Copy CRC A707F984
Copy OK

No errors occured


End of status report



[CUETools log; Date: 2016. 11. 07. 12:53:10; Version: 2.1.6]
[AccurateRip ID: 002da6db-02423c34-e3117811] found.
Track [ CRC | V2 ] Status
01 [85d27ae1|c0e68ed8] (23+55/80) Accurately ripped
02 [5d1f3a84|17b0e8b9] (26+54/82) Accurately ripped
03 [cebebd81|d66db870] (26+54/82) Accurately ripped
04 [f3fc3fc2|35bc6332] (26+54/82) Accurately ripped
05 [94943d20|42aae7bb] (26+54/82) Accurately ripped
06 [07daf37e|93c3f870] (26+54/82) Accurately ripped
07 [abb8e23a|3e15a758] (26+54/82) Accurately ripped
08 [c54de595|99776623] (26+54/82) Accurately ripped
09 [d7101d1a|19d1de0a] (26+54/82) Accurately ripped
10 [159b155f|9c0960b6] (26+54/82) Accurately ripped
11 [4e86d2a5|c4cff731] (26+54/82) Accurately ripped
12 [d8536467|330562e7] (26+53/81) Accurately ripped
13 [9265b7c7|fa218d2f] (26+54/82) Accurately ripped
14 [f457025e|9d46b5dc] (26+54/82) Accurately ripped
15 [3b9382fa|3acfa559] (26+54/82) Accurately ripped
16 [30b958f4|50a9bde7] (26+54/82) Accurately ripped
17 [76757ae9|950b9b51] (26+50/78) Accurately ripped
Offsetted by 6:
01 [1992b7ef] (02/80) Accurately ripped
02 [bf1b158f] (02/82) Accurately ripped
03 [5cb4df8e] (02/82) Accurately ripped
04 [8e1924e3] (02/82) Accurately ripped
05 [d1c1719f] (02/82) Accurately ripped
06 [2a7b3a76] (02/82) Accurately ripped
07 [3223e89c] (02/82) Accurately ripped
08 [45f0cae6] (02/82) Accurately ripped
09 [6ed5ff94] (02/82) Accurately ripped
10 [1f254ba7] (02/82) Accurately ripped
11 [3f8b6089] (02/82) Accurately ripped
12 [9a70f096] (02/81) Accurately ripped
13 [7e66b6d1] (02/82) Accurately ripped
14 [e7529027] (02/82) Accurately ripped
15 [1627a29a] (02/82) Accurately ripped
16 [15e53965] (02/82) Accurately ripped
17 [b7a35076] (02/78) Accurately ripped

Track Peak [ CRC32 ] [W/O NULL] [ LOG ]
– 97,7 [0366CC67] [E4D96973]
01 97,7 [2F7B70CF] [0BB79B74] CRC32
02 97,7 [84D3F896] [3A5AD5C1] CRC32
03 97,7 [520C8E11] [D09D8EBD] CRC32
04 97,7 [54A6D7AA] [29AFCDDC] CRC32
05 97,7 [DDA9A0EB] [AA028100] CRC32
06 97,7 [BDD9F884] [ED3B48B3] CRC32
07 97,7 [14598255] [A021FCCB] CRC32
08 97,7 [C995A1CD] [8F5D39A3] CRC32
09 97,7 [338C4F0C] [22B7557C] CRC32
10 97,7 [35BC5307] [158562D3] CRC32
11 97,7 [39548454] [F1B2BEB8] CRC32
12 97,7 [82582CD9] [BB79865B] CRC32
13 97,7 [BAACB22D] [ABD4C283] CRC32
14 97,7 [F5BBA4F0] [9ACD1D71] CRC32
15 97,7 [CA8F92B0] [59B31B6A] CRC32
16 97,7 [ECFE5C2A] [40263ED2] CRC32
17 97,7 [A707F984] [C42C302D] CRC32


Thx to oak13