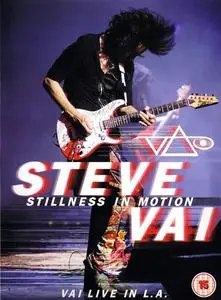 Steve Vai - Stillness in Motion: Live in L.A. (2015)
Blu-ray: MPEG-4 AVC, 1080i, 29.970 fps | LPCM, 1536 kbps, 48 kHz, 2.0
BDRip: MKV, AVC, 1280x720 (16:9), 29.970 fps | PCM, 1536 kbps, 48 kHz, 2.0
Instrumental Rock | 02:36:09 | ~ 43.61 + 11.89 Gb
Stillness In Motion: Vai Live in L.A. was recorded October 2012 at Club Nokia in LA while Steve was on his two year worldwide Story of Light tour. This live 2DVD features new, arresting arrangements of his classic material and fan favorites, including material from his latest album, 2012 s The Story Of Light, plus exciting bonus material from his latest world tour. The DVD also includes over 3 hours of a video diary showing Steve and his band in rehearsals and goes through highlights from some the 253 shows they played around the world.
Steve Vai - Stillness in Motion: Live in L.A. (2015):
Tracklist:
1. Intro/Racing the World
2. Velorum
3. Band Intros
4. Building the Church
5. Tender Surrender
6. Gravity Storm
7. The Trillium's Launch
8. Weeping China Doll
9. John the Revelator
10. The Moon and I
11. The Animal
12. Whispering a Prayer
13. The Audience Is Listening
14. Where Are We
15. Rescue Me or Bury Me
16. Sisters
17. Treasure Island
18. Beastly Rap
19. Salamanders In the Sun
20. Pusa Road
21. Earthquake Sky, Drum Solo
22. I'm Tired
23. The Ultra Zone
24. Frank
25. Build Me a Song L.A.
26. For the Love of God
27. Taurus Bulba
Disc Title: Steve Vai - Stillness in Motion Live in L.A. 12
Disc Size: 45 624 565 636 bytes
Protection: AACS
BD-Java: No
BDInfo: 0.7.3.3
Notes:
BDINFO HOME:
Cinema Squid
http://www.cinemasquid.com/blu-ray/tools/bdinfo
INCLUDES FORUMS REPORT FOR:
AVS Forum Blu-ray Audio and Video Specifications Thread
http://www.avsforum.com/avs-vb/showthread.php?t=1155731
WARNING: Report is incomplete because: Scan has not been run.
********************
PLAYLIST: 00001.MPLS
********************
<–- BEGIN FORUMS PASTE –->
                                                                                                                Total   Video                                             
Title                                                           Codec   Length  Movie Size      Disc Size       Bitrate Bitrate Main Audio Track                          Secondary Audio Track
-----                                                           ------  ------- --------------  --------------  ------- ------- ------------------                        ---------------------
00001.MPLS                                                      AVC     2:36:09 0               45 624 565 636  0,00    0,00    LPCM 2.0 1536Kbps (48kHz/16-bit)          


DISC INFO:

Disc Title:     Steve Vai - Stillness in Motion Live in L.A. 12
Disc Size:      45 624 565 636 bytes
Protection:     AACS
BD-Java:        No
BDInfo:         0.7.3.3

PLAYLIST REPORT:

Name:                   00001.MPLS
Length:                 2:36:09.693 (h:m:s.ms)
Size:                   0 bytes
Total Bitrate:          0,00 Mbps

VIDEO:

Codec                   Bitrate             Description     
-----                   -------             -----------     
MPEG-4 AVC Video        0 kbps              1080i / 29,970 fps / 16:9 / High Profile 4.1

AUDIO:

Codec                           Language        Bitrate         Description     
-----                           --------        -------         -----------     
LPCM Audio                      English         1536 kbps       2.0 / 48 kHz / 1536 kbps / 16-bit

FILES:

Name            Time In         Length          Size            Total Bitrate   
----            -------         ------          ----            -------------   
00001.M2TS      0:00:00.000     2:02:01.514     0               0               
00002.M2TS      2:02:01.514     0:34:08.179     0               0               

CHAPTERS:

Number          Time In         Length          Avg Video Rate  Max 1-Sec Rate  Max 1-Sec Time  Max 5-Sec Rate  Max 5-Sec Time  Max 10Sec Rate  Max 10Sec Time  Avg Frame Size  Max Frame Size  Max Frame Time  
------          -------         ------          --------------  --------------  --------------  --------------  --------------  --------------  --------------  --------------  --------------  --------------  
1               0:00:00.000     0:06:45.404     0 kbps          0 kbps          00:00:00.000    0 kbps          00:00:00.000    0 kbps          00:00:00.000    0 bytes         0 bytes         00:00:00.000    
2               0:06:45.404     0:06:14.374     0 kbps          0 kbps          00:00:00.000    0 kbps          00:00:00.000    0 kbps          00:00:00.000    0 bytes         0 bytes         00:00:00.000    
3               0:12:59.779     0:01:31.090     0 kbps          0 kbps          00:00:00.000    0 kbps          00:00:00.000    0 kbps          00:00:00.000    0 bytes         0 bytes         00:00:00.000    
4               0:14:30.869     0:06:17.377     0 kbps          0 kbps          00:00:00.000    0 kbps          00:00:00.000    0 kbps          00:00:00.000    0 bytes         0 bytes         00:00:00.000    
5               0:20:48.247     0:06:57.417     0 kbps          0 kbps          00:00:00.000    0 kbps          00:00:00.000    0 kbps          00:00:00.000    0 bytes         0 bytes         00:00:00.000    
6               0:27:45.664     0:06:08.367     0 kbps          0 kbps          00:00:00.000    0 kbps          00:00:00.000    0 kbps          00:00:00.000    0 bytes         0 bytes         00:00:00.000    
7               0:33:54.032     0:03:54.233     0 kbps          0 kbps          00:00:00.000    0 kbps          00:00:00.000    0 kbps          00:00:00.000    0 bytes         0 bytes         00:00:00.000    
8               0:37:48.266     0:06:29.389     0 kbps          0 kbps          00:00:00.000    0 kbps          00:00:00.000    0 kbps          00:00:00.000    0 bytes         0 bytes         00:00:00.000    
9               0:44:17.655     0:03:59.238     0 kbps          0 kbps          00:00:00.000    0 kbps          00:00:00.000    0 kbps          00:00:00.000    0 bytes         0 bytes         00:00:00.000    
10              0:48:16.893     0:07:01.421     0 kbps          0 kbps          00:00:00.000    0 kbps          00:00:00.000    0 kbps          00:00:00.000    0 bytes         0 bytes         00:00:00.000    
11              0:55:18.315     0:08:22.502     0 kbps          0 kbps          00:00:00.000    0 kbps          00:00:00.000    0 kbps          00:00:00.000    0 bytes         0 bytes         00:00:00.000    
12              1:03:40.817     0:12:02.721     0 kbps          0 kbps          00:00:00.000    0 kbps          00:00:00.000    0 kbps          00:00:00.000    0 bytes         0 bytes         00:00:00.000    
13              1:15:43.539     0:08:04.484     0 kbps          0 kbps          00:00:00.000    0 kbps          00:00:00.000    0 kbps          00:00:00.000    0 bytes         0 bytes         00:00:00.000    
14              1:23:48.023     0:02:03.122     0 kbps          0 kbps          00:00:00.000    0 kbps          00:00:00.000    0 kbps          00:00:00.000    0 bytes         0 bytes         00:00:00.000    
15              1:25:51.146     0:05:16.316     0 kbps          0 kbps          00:00:00.000    0 kbps          00:00:00.000    0 kbps          00:00:00.000    0 bytes         0 bytes         00:00:00.000    
16              1:31:07.462     0:03:44.223     0 kbps          0 kbps          00:00:00.000    0 kbps          00:00:00.000    0 kbps          00:00:00.000    0 bytes         0 bytes         00:00:00.000    
17              1:34:51.686     0:03:39.219     0 kbps          0 kbps          00:00:00.000    0 kbps          00:00:00.000    0 kbps          00:00:00.000    0 bytes         0 bytes         00:00:00.000    
18              1:38:30.905     0:01:53.113     0 kbps          0 kbps          00:00:00.000    0 kbps          00:00:00.000    0 kbps          00:00:00.000    0 bytes         0 bytes         00:00:00.000    
19              1:40:24.018     0:01:18.077     0 kbps          0 kbps          00:00:00.000    0 kbps          00:00:00.000    0 kbps          00:00:00.000    0 bytes         0 bytes         00:00:00.000    
20              1:41:42.095     0:02:51.171     0 kbps          0 kbps          00:00:00.000    0 kbps          00:00:00.000    0 kbps          00:00:00.000    0 bytes         0 bytes         00:00:00.000    
21              1:44:33.267     0:01:55.114     0 kbps          0 kbps          00:00:00.000    0 kbps          00:00:00.000    0 kbps          00:00:00.000    0 bytes         0 bytes         00:00:00.000    
22              1:46:28.381     0:02:39.159     0 kbps          0 kbps          00:00:00.000    0 kbps          00:00:00.000    0 kbps          00:00:00.000    0 bytes         0 bytes         00:00:00.000    
23              1:49:07.541     0:06:16.376     0 kbps          0 kbps          00:00:00.000    0 kbps          00:00:00.000    0 kbps          00:00:00.000    0 bytes         0 bytes         00:00:00.000    
24              1:55:23.917     0:06:37.563     0 kbps          0 kbps          00:00:00.000    0 kbps          00:00:00.000    0 kbps          00:00:00.000    0 bytes         0 bytes         00:00:00.000    
25              2:02:01.480     0:00:00.033     0 kbps          0 kbps          00:00:00.000    0 kbps          00:00:00.000    0 kbps          00:00:00.000    0 bytes         0 bytes         00:00:00.000    
26              2:02:01.514     0:11:38.364     0 kbps          0 kbps          00:00:00.000    0 kbps          00:00:00.000    0 kbps          00:00:00.000    0 bytes         0 bytes         00:00:00.000    
27              2:13:39.878     0:04:35.975     0 kbps          0 kbps          00:00:00.000    0 kbps          00:00:00.000    0 kbps          00:00:00.000    0 bytes         0 bytes         00:00:00.000    
28              2:18:15.854     0:17:53.839     0 kbps          0 kbps          00:00:00.000    0 kbps          00:00:00.000    0 kbps          00:00:00.000    0 bytes         0 bytes         00:00:00.000    

STREAM DIAGNOSTICS:

File            PID             Type            Codec           Language                Seconds                 Bitrate                 Bytes           Packets         
----            ---             ----            -----           --------                --------------          --------------          -------------   -----           
00001.M2TS      4113 (0x1011)   0x1B            AVC                                     0                       0                       0               0               
00001.M2TS      4352 (0x1100)   0x80            LPCM            eng (English)           0                       0                       0               0               
00002.M2TS      4113 (0x1011)   0x1B            AVC                                     0                       0                       0               0               
00002.M2TS      4352 (0x1100)   0x80            LPCM            eng (English)           0                       0                       0               0               


<–– END FORUMS PASTE ––>
QUICK SUMMARY:
Disc Title: Steve Vai - Stillness in Motion Live in L.A. 12
Disc Size: 45 624 565 636 bytes
Protection: AACS
BD-Java: No
Playlist: 00001.MPLS
Size: 0 bytes
Length: 2:36:09.693
Total Bitrate: 0,00 Mbps
Video: MPEG-4 AVC Video / 0 kbps / 1080i / 29,970 fps / 16:9 / High Profile 4.1
Audio: English / LPCM Audio / 2.0 / 48 kHz / 1536 kbps / 16-bit
********************
PLAYLIST: 00003.MPLS
********************
<–- BEGIN FORUMS PASTE –->
                                                                                                                Total   Video                                             
Title                                                           Codec   Length  Movie Size      Disc Size       Bitrate Bitrate Main Audio Track                          Secondary Audio Track
-----                                                           ------  ------- --------------  --------------  ------- ------- ------------------                        ---------------------
00003.MPLS                                                      AVC     0:00:52 0               45 624 565 636  0,00    0,00    LPCM 2.0 1536Kbps (48kHz/16-bit)          


DISC INFO:

Disc Title:     Steve Vai - Stillness in Motion Live in L.A. 12
Disc Size:      45 624 565 636 bytes
Protection:     AACS
BD-Java:        No
BDInfo:         0.7.3.3

PLAYLIST REPORT:

Name:                   00003.MPLS
Length:                 0:00:52.052 (h:m:s.ms)
Size:                   0 bytes
Total Bitrate:          0,00 Mbps

VIDEO:

Codec                   Bitrate             Description     
-----                   -------             -----------     
MPEG-4 AVC Video        0 kbps              1080i / 29,970 fps / 16:9 / High Profile 4.1

AUDIO:

Codec                           Language        Bitrate         Description     
-----                           --------        -------         -----------     
LPCM Audio                      English         1536 kbps       2.0 / 48 kHz / 1536 kbps / 16-bit

FILES:

Name            Time In         Length          Size            Total Bitrate   
----            -------         ------          ----            -------------   
00003.M2TS      0:00:00.000     0:00:52.052     0               0               

CHAPTERS:

Number          Time In         Length          Avg Video Rate  Max 1-Sec Rate  Max 1-Sec Time  Max 5-Sec Rate  Max 5-Sec Time  Max 10Sec Rate  Max 10Sec Time  Avg Frame Size  Max Frame Size  Max Frame Time  
------          -------         ------          --------------  --------------  --------------  --------------  --------------  --------------  --------------  --------------  --------------  --------------  
1               0:00:00.000     0:00:52.052     0 kbps          0 kbps          00:00:00.000    0 kbps          00:00:00.000    0 kbps          00:00:00.000    0 bytes         0 bytes         00:00:00.000    

STREAM DIAGNOSTICS:

File            PID             Type            Codec           Language                Seconds                 Bitrate                 Bytes           Packets         
----            ---             ----            -----           --------                --------------          --------------          -------------   -----           
00003.M2TS      4113 (0x1011)   0x1B            AVC                                     0                       0                       0               0               
00003.M2TS      4352 (0x1100)   0x80            LPCM            eng (English)           0                       0                       0               0               


<–– END FORUMS PASTE ––>
QUICK SUMMARY:
Disc Title: Steve Vai - Stillness in Motion Live in L.A. 12
Disc Size: 45 624 565 636 bytes
Protection: AACS
BD-Java: No
Playlist: 00003.MPLS
Size: 0 bytes
Length: 0:00:52.052
Total Bitrate: 0,00 Mbps
Video: MPEG-4 AVC Video / 0 kbps / 1080i / 29,970 fps / 16:9 / High Profile 4.1
Audio: English / LPCM Audio / 2.0 / 48 kHz / 1536 kbps / 16-bit
********************
PLAYLIST: 00000.MPLS
********************
<–- BEGIN FORUMS PASTE –->
                                                                                                                Total   Video                                             
Title                                                           Codec   Length  Movie Size      Disc Size       Bitrate Bitrate Main Audio Track                          Secondary Audio Track
-----                                                           ------  ------- --------------  --------------  ------- ------- ------------------                        ---------------------
00000.MPLS                                                      AVC     0:00:20 0               45 624 565 636  0,00    0,00    LPCM 2.0 1536Kbps (48kHz/16-bit)          


DISC INFO:

Disc Title:     Steve Vai - Stillness in Motion Live in L.A. 12
Disc Size:      45 624 565 636 bytes
Protection:     AACS
BD-Java:        No
BDInfo:         0.7.3.3

PLAYLIST REPORT:

Name:                   00000.MPLS
Length:                 0:00:20.019 (h:m:s.ms)
Size:                   0 bytes
Total Bitrate:          0,00 Mbps

VIDEO:

Codec                   Bitrate             Description     
-----                   -------             -----------     
MPEG-4 AVC Video        0 kbps              1080i / 29,970 fps / 16:9 / High Profile 4.1

AUDIO:

Codec                           Language        Bitrate         Description     
-----                           --------        -------         -----------     
LPCM Audio                      English         1536 kbps       2.0 / 48 kHz / 1536 kbps / 16-bit

FILES:

Name            Time In         Length          Size            Total Bitrate   
----            -------         ------          ----            -------------   
00000.M2TS      0:00:00.000     0:00:20.019     0               0               

CHAPTERS:

Number          Time In         Length          Avg Video Rate  Max 1-Sec Rate  Max 1-Sec Time  Max 5-Sec Rate  Max 5-Sec Time  Max 10Sec Rate  Max 10Sec Time  Avg Frame Size  Max Frame Size  Max Frame Time  
------          -------         ------          --------------  --------------  --------------  --------------  --------------  --------------  --------------  --------------  --------------  --------------  
1               0:00:00.000     0:00:20.019     0 kbps          0 kbps          00:00:00.000    0 kbps          00:00:00.000    0 kbps          00:00:00.000    0 bytes         0 bytes         00:00:00.000    

STREAM DIAGNOSTICS:

File            PID             Type            Codec           Language                Seconds                 Bitrate                 Bytes           Packets         
----            ---             ----            -----           --------                --------------          --------------          -------------   -----           
00000.M2TS      4113 (0x1011)   0x1B            AVC                                     0                       0                       0               0               
00000.M2TS      4352 (0x1100)   0x80            LPCM            eng (English)           0                       0                       0               0               


<–– END FORUMS PASTE ––>
QUICK SUMMARY:
Disc Title: Steve Vai - Stillness in Motion Live in L.A. 12
Disc Size: 45 624 565 636 bytes
Protection: AACS
BD-Java: No
Playlist: 00000.MPLS
Size: 0 bytes
Length: 0:00:20.019
Total Bitrate: 0,00 Mbps
Video: MPEG-4 AVC Video / 0 kbps / 1080i / 29,970 fps / 16:9 / High Profile 4.1
Audio: English / LPCM Audio / 2.0 / 48 kHz / 1536 kbps / 16-bit
General
Unique ID : 300664000929805575006504511548196051924 (0xE231C7BF0DC0A86DE150472AA206DBD4)
Complete name : E:\Mix\Steve Vai - Stillness in Motion Live in L.A\Steve Vai - Stillness in Motion Live in L.A.BDRip720p.mkv
Format : Matroska
Format version : Version 2
File size : 11.5 GiB
Duration : 2h 36mn
Overall bit rate : 10.5 Mbps
Movie name : Steve Vai - Stillness in Motion Live in L.A.BDRip720p @ rutracker.org
Encoded date : UTC 2019-11-15 18:00:40
Writing application : mkvmerge v35.0.0 ('All The Love In The World') 64-bit
Writing library : libebml v1.3.9 + libmatroska v1.5.2
DURATION : 02:36:09.696000000
NUMBER_OF_FRAMES : 299831
NUMBER_OF_BYTES : 1798981440
_STATISTICS_WRITING_APP : mkvmerge v35.0.0 ('All The Love In The World') 64-bit
_STATISTICS_WRITING_DATE_UTC : 2019-11-15 18:00:40
_STATISTICS_TAGS : BPS DURATION NUMBER_OF_FRAMES NUMBER_OF_BYTES

Video
ID : 1
Format : AVC
Format/Info : Advanced Video Codec
Format profile : High@L4.1
Format settings, CABAC : Yes
Format settings, ReFrames : 9 frames
Codec ID : V_MPEG4/ISO/AVC
Duration : 2h 36mn
Nominal bit rate : 9 000 Kbps
Width : 1 280 pixels
Height : 720 pixels
Display aspect ratio : 16:9
Frame rate mode : Constant
Frame rate : 29.970 fps
Color space : YUV
Chroma subsampling : 4:2:0
Bit depth : 8 bits
Scan type : Progressive
Bits/(Pixel*Frame) : 0.326
Title : anbelk27 @ rutracker.org
Writing library : x264 core 157 r2935 545de2f
Encoding settings : cabac=1 / ref=9 / deblock=1:-2:-3 / analyse=0x3:0x133 / me=umh / subme=11 / psy=1 / psy_rd=1.10:0.05 / mixed_ref=1 / me_range=40 / chroma_me=1 / trellis=2 / 8x8dct=1 / cqm=0 / deadzone=21,11 / fast_pskip=1 / chroma_qp_offset=-3 / threads=6 / lookahead_threads=1 / sliced_threads=0 / nr=0 / decimate=1 / interlaced=0 / bluray_compat=0 / constrained_intra=0 / bframes=8 / b_pyramid=2 / b_adapt=2 / b_bias=0 / direct=3 / weightb=1 / open_gop=0 / weightp=2 / keyint=300 / keyint_min=29 / scenecut=50 / intra_refresh=0 / rc_lookahead=75 / rc=2pass / mbtree=1 / bitrate=9000 / ratetol=1.0 / qcomp=0.60 / qpmin=0 / qpmax=69 / qpstep=4 / cplxblur=20.0 / qblur=0.5 / vbv_maxrate=50000 / vbv_bufsize=62500 / nal_hrd=none / filler=0 / ip_ratio=1.40 / aq=1:1.00
Default : Yes
Forced : No

Audio
ID : 2
Format : PCM
Codec ID : A_PCM/INT/LIT
Duration : 2h 36mn
Bit rate mode : Constant
Channel(s) : 2 channels
Sampling rate : 48.0 KHz
Bit depth : 16 bits
Title : PCM 2.0 @ 16 bit
Default : Yes
Forced : No

Menu
00:00:00.000 : en: 1. Intro/Racing the World
00:06:45.404 : en: 2. Velorum
00:12:59.779 : en: 3. Band Intros
00:14:30.869 : en: 4. Building the Church
00:20:48.247 : en: 5. Tender Surrender
00:27:45.664 : en: 6. Gravity Storm
00:33:54.032 : en: 7. The Trillium's Launch
00:37:48.266 : en: 8. Weeping China Doll
00:44:17.655 : en: 9. John the Revelator
00:48:16.893 : en: 10. The Moon and I
00:55:18.315 : en: 11. The Animal
01:03:40.817 : en: 12. Whispering a Prayer
01:15:43.539 : en: 13. The Audience Is Listening
01:23:48.023 : en: 14. Where Are We
01:25:51.146 : en: 15. Rescue Me or Bury Me
01:31:07.462 : en: 16. Sisters
01:34:51.686 : en: 17. Treasure Island
01:38:30.905 : en: 18. Beastly Rap
01:40:24.018 : en: 19. Salamanders In the Sun
01:41:42.095 : en: 20. Pusa Road
01:44:33.267 : en: 21. Earthquake Sky, Drum Solo
01:46:28.381 : en: 22. I'm Tired
01:49:07.541 : en: 23. The Ultra Zone
01:55:23.917 : en: 24. Frank
02:02:01.480 : en: 25. Build Me a Song L.A.
02:02:01.514 : en: 26. For the Love of God
02:13:39.878 : en: 27. Taurus Bulba/Credits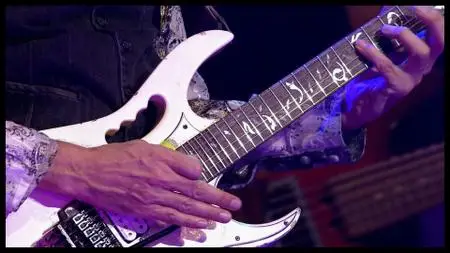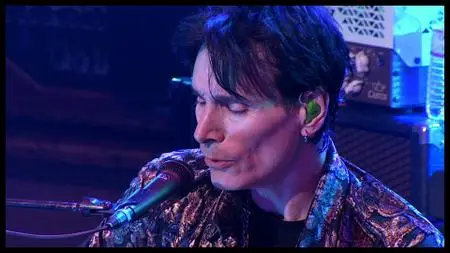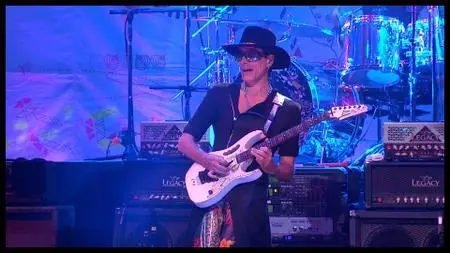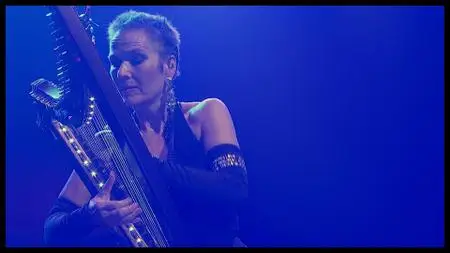 All thanks go to the original releasers
Steve Vai
in my Blog
Download Steve Vai - Stillness in Motion: Live in L.A. (2015):