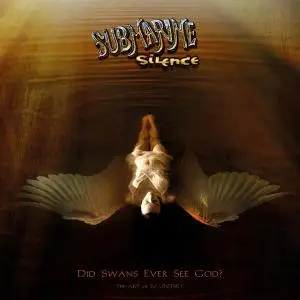 Submarine Silence - Did Swans Ever See God? (2020)
WEB FLAC (tracks) - 311 MB | MP3 CBR 320 kbps (LAME 3.93) - 108 MB | Front cover
Genre: Progressive Rock | RAR 3% Rec. | Label: Ma.Ra.Cash Records
"Did Swans Ever See God?" is the fourth studio album by Italian act Submarine Silence, the side project of members of progressive band Moongarden. Absent from the scene since 2016, they return to delight us with an album that continues the long journey that began in 2001 with the homonymous "Submarine Silence".
The band finds itself once again wandering between the typical sounds of the Symphonic Progressive Rock of clear Anglo-Saxon matrix, confirming the predilection for the exploration and reinterpretation of musical scenarios created in the 70s by the great masters dear to all of us (Genesis, Yes , King Crimson, Steve Hackett, Anthony Phillips, Camel), supported by original Mellotron and hammond sounds, a la Tony Banks.
It is impressive how the group knows, apparently with nonchalance, to go from riffs that refer to 'Nursery Crime' by Genesis (as in Undone) or to complex intertwining (counterpoints) almost exclusive property of the great IQs of the early 80s (Deeper kind of Cumber) .
The result is a full, complete, balanced and expertly refined sound thanks also to the use of almost perfect arrangements, edited by Cristiano Roversi himself, and to guitar solos, indifferently by six or twelve strings caressed by the hands of David Cremoni, which closely resemble the great Michael Holmes (IQ) in solos, scattered here and there, some of which (Echoes Of Silence II The Answer) are true masterpieces.
Tracklist:
01. Undone
02. Echoes of Silence
03. Runaway Strain
04. A Deeper Kind of Cumber
05. Aftereffect
06. Echoes of Silence, Pt. 2: The Answer
Total time:
45:38

PERFORMER: auCDtect Task Manager, ver. 1.6.0 RC1 build 1.6.0.1
Copyright © 2008-2010 y-soft. All rights reserved

ANALYZER: auCDtect: CD records authenticity detector, version 0.8.2
Copyright © 2004 Oleg Berngardt. All rights reserved.
Copyright © 2004 Alexander Djourik. All rights reserved.


FILE: 06 - Echoes of Silence, Pt. 2 (The Answer).flac
Size: 66813216 Hash: DB8CFF157A53F1BCE1592A71946EE81A Accuracy: -m0
Conclusion: CDDA 100%
Signature: 83116EF327E66E0BEAA3CDD63BFE0A19F3A502F7
FILE: 05 - Aftereffect.flac
Size: 42266770 Hash: 80E3A83CFC6D52001921423927AE347E Accuracy: -m0
Conclusion: CDDA 100%
Signature: B48F7654D518E173DB1FBB2350040B5C490985AC
FILE: 04 - A Deeper Kind of Cumber.flac
Size: 47529299 Hash: 4C87764E27BCE339B7814F7AC2CABE81 Accuracy: -m0
Conclusion: CDDA 100%
Signature: 1DAB1FE79FEC5ADC8227E5B110CBD2366FA08C0A
FILE: 03 - Runaway Strain.flac
Size: 66083987 Hash: 3FE1F8514D8A9530109329A58AB21FBB Accuracy: -m0
Conclusion: CDDA 100%
Signature: 32759373AD2CC6DFA6082B5AE376ABA68DC4E88A
FILE: 02 - Echoes of Silence.flac
Size: 22223270 Hash: CAC83B190D2AB334C07E565B4691D83C Accuracy: -m0
Conclusion: CDDA 100%
Signature: 268E077B921280971E9C7B5EFD3E1B7AD7CE229B
FILE: 01 - Undone.flac
Size: 72118909 Hash: 348EF23E45116069AB6B6DFF836B8141 Accuracy: -m0
Conclusion: CDDA 100%
Signature: 07719AC8F7E7263DF58711A3FAB50AA2CC0B3395
See also:
Submarine Silence - 3 Studio Albums (2001-2016)