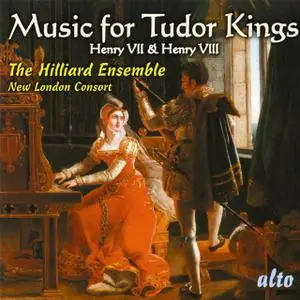 The Hilliard Ensemble - Music For Tudor Kings: Henry Vii & Viii (2007)
WEB | FLAC (tracks) - 394 MB | 01:17:03
Genre: Classical, Vocal | Label: Alto
These discs come from LPs recorded in the 1970s – unfortunately the reader of the booklet does not learn exactly where or when from the booklet, which is also something of a graphic design catastrophe. The Hilliard Ensemble, formed in 1974, took a great leap forward in the investigation and performance of English Renaissance music. It took its name not from baritone and leader Paul Hillier but from that of an Elizabethan portraitist, Nicholas Hilliard. These discs cover a couple of generations' worth of English madrigals and other songs, interspersed with instrumental works and a few songs from other countries. None is well known even today, and all are on a level with the famous madrigals – one of the things the Hilliard crew showed was that the Renaissance repertoire had depths that nobody beyond a few scholars had started to plumb. Overall, the performances hold up better than many others from the early days of early music. It's worth remembering that, until the relatively recent emergence of training programs specifically devoted to early music, singers had to forget almost everything they knew in order to perform this music effectively. A quick piece like Cornysh's Hoyda Hoyda Jolly Rutterkin (a rutterkin is a beguiler, in case you were wondering) comes through as an impenetrable mass of vibrato. But nowhere do the singers devote anything less than full awareness to the words they are singing, and many of the slower pieces have a refreshing presence of passion and absence of cuteness. The composers for the music on disc two are not specified, but you can figure most of them out from the booklet (two pieces are by Henry III himself, but most are anonymous). Most of the performers making music from the Renaissance era today have relied to some degree on these recordings as models, and they're still very much worth hearing. No texts are included.
Track List:
01. I Love Unloved
02. Woefully Arrayed
03. That Was My Woe
04. Ah Gentle Jesu
05. Most Clear Of Colour
06. Hoyda Hoyda, Jolly Rutterkin
07. O Lusty May
08. This Day Daws
09. Begone Sweit Night
10. En Vray Amoure
11. O My Heart
12. Madame D'amours
13. Consort Piece Xx
14. Absent I Am
15. My Heartly Service
16. Hey Trolly Lolly Lo!
17. En Frolyk Weson
18. Be Peace! Ye Make Me Spill My Ale!
19. The Duke Of Sommersette's Dompe
20. Ah Robin
21. I Love Unloved
22. Up I Arose In Verno Tampore
23. Puzzle Canon Vi
24. And I Were A Maiden
25. England Be Glad
Performers:
The Hilliard Ensemble
–––––––––––-
DON'T MODIFY THIS FILE
–––––––––––-
PERFORMER: auCDtect Task Manager, ver. 1.6.0 RC1 build 1.6.0.1
Copyright © 2008-2010 y-soft. All rights reserved
http://y-soft.org
ANALYZER: auCDtect: CD records authenticity detector, version 0.8.2
Copyright © 2004 Oleg Berngardt. All rights reserved.
Copyright © 2004 Alexander Djourik. All rights reserved.
FILE: 1 I Love Unloved.flac
Size: 8415701 Hash: 17F7389B398744F44DE34C4EB121A05B Accuracy: -m0
Conclusion: CDDA 100%
Signature: 63602CCB88A57E3B25B550362ADF2C38E381A861
FILE: 10 En Vray Amoure.flac
Size: 5514895 Hash: 2968F622485627AA06CC93D225A19E2C Accuracy: -m0
Conclusion: CDDA 100%
Signature: 352D471B06949CD0E225063ECE63CE43CEE4DE37
FILE: 11 O My Heart.flac
Size: 6342195 Hash: 49026E63310B52FD76B52950C6404BBB Accuracy: -m0
Conclusion: CDDA 100%
Signature: E85B00151099B98CE13E15E67DC6D1632691ECB8
FILE: 12 Madame D'amours.flac
Size: 19431213 Hash: A50A2B5FC114980FD4F1F14D4546F4B6 Accuracy: -m0
Conclusion: CDDA 100%
Signature: 8DF9506FEDA8933D0605645B578786D4009A6B5C
FILE: 13 Consort Piece Xx.flac
Size: 4280509 Hash: 1B46628FC892609E61DD46FE84752225 Accuracy: -m0
Conclusion: CDDA 100%
Signature: 684F71587BB41E057D8A66C29CFB890CCCAF6670
FILE: 14 Absent I Am.flac
Size: 12588651 Hash: 0F3AF0E23A092B178894724DB906EC2F Accuracy: -m0
Conclusion: CDDA 99%
Signature: E14A972DC1E5F2AAC44CA9571305ACA85700FF0C
FILE: 15 My Heartly Service.flac
Size: 32232433 Hash: E57ABC93DDC35FDEE8D3F6CE47DD09F9 Accuracy: -m0
Conclusion: CDDA 100%
Signature: EFF3DD3969EEC2231DD8CD199061BDBD924C5457
FILE: 16 Hey Trolly Lolly Lo!.flac
Size: 23659439 Hash: A081503809BC0CF7F469B58AECE5A7E0 Accuracy: -m0
Conclusion: CDDA 100%
Signature: 1CCCB002CFA9CFCC8C70F3169FFA607D7F2A0FD1
FILE: 17 En Frolyk Weson.flac
Size: 11268742 Hash: 0BD29CED0065BC67388B4402A6DDBA72 Accuracy: -m0
Conclusion: CDDA 100%
Signature: 7A8C486187F7DC3241EFE32E001C6126CB3077C9
FILE: 18 Be Peace! Ye Make Me Spill My Ale!.flac
Size: 9664132 Hash: 8087BA134A706489929C026F047B224A Accuracy: -m0
Conclusion: CDDA 100%
Signature: 36D65F6F9DA055F4026C96F6AC92407EF43F2176
FILE: 19 The Duke Of Sommersette's Dompe.flac
Size: 8537405 Hash: AD90208002DDA93419FFE9B68A47DC9B Accuracy: -m0
Conclusion: CDDA 100%
Signature: 22B43080991802E3F490350714044582382DA76C
FILE: 2 Woefully Arrayed.flac
Size: 41396822 Hash: CD385424E224A40798C3BC8E9618D172 Accuracy: -m0
Conclusion: CDDA 100%
Signature: 2A35894D73533A0096FF330EE6AC629D19243B4E
FILE: 20 Ah Robin.flac
Size: 10446362 Hash: 607C7C747BE91FADE78ECBE7885E0A92 Accuracy: -m0
Conclusion: CDDA 100%
Signature: 3BD7E9E742E2E5B3393D1DC87B486C5AC34A66DD
FILE: 21 I Love Unloved.flac
Size: 22431103 Hash: 4DB31E207B45D36694FF77424DC2BE4A Accuracy: -m0
Conclusion: CDDA 100%
Signature: B7AA599F3ADEE96A34B565AD30C9F3C6FBE950C3
FILE: 22 Up I Arose In Verno Tampore.flac
Size: 8210183 Hash: 933BC35FD4891408A7B60AA88256EF12 Accuracy: -m0
Conclusion: CDDA 99%
Signature: 71F20672DE158B37173BF2CE618679A342FEFC65
FILE: 23 Puzzle Canon Vi.flac
Size: 5736802 Hash: BFF9BF28CE9EB562A6103AD8D24359E9 Accuracy: -m0
Conclusion: CDDA 100%
Signature: B3FAE7C8D521FA3FE5750B28D7570B65B7466975
FILE: 24 And I Were A Maiden.flac
Size: 12347499 Hash: 0AC4C8911B771965B09456B21E4C3FC0 Accuracy: -m0
Conclusion: CDDA 100%
Signature: 2E30A852E67E32B24982B83D9AAC094A1FB2C05A
FILE: 25 England Be Glad.flac
Size: 10028725 Hash: 2E477CD8A5409DAE0D7B3194B902EEA8 Accuracy: -m0
Conclusion: CDDA 100%
Signature: B935AFC27925702D0137D30732D49310735C7AA3
FILE: 3 That Was My Woe.flac
Size: 10103511 Hash: EA35148389C0CF461930C7A2C51754D7 Accuracy: -m0
Conclusion: CDDA 100%
Signature: 6831B782F639B1F537D478C575550506A4489292
FILE: 4 Ah Gentle Jesu.flac
Size: 33942024 Hash: 2A7A646B9E3A09A0BCD4BD7E41BCE606 Accuracy: -m0
Conclusion: CDDA 100%
Signature: E44EA60A6B1D63DD7996C5CBA5CDF95D8CE2C6D8
FILE: 5 Most Clear Of Colour.flac
Size: 9776001 Hash: B82DA404812D975471D73BEE9BAD0DE6 Accuracy: -m0
Conclusion: CDDA 100%
Signature: A88662E59AEDE365CBF5243EBC2AFF7BF8C75466
FILE: 6 Hoyda Hoyda, Jolly Rutterkin.flac
Size: 23101938 Hash: F4A302D3708B9076DF062EE5E2412953 Accuracy: -m0
Conclusion: CDDA 100%
Signature: 293CC5A5E110792A8A0E2CC0FC58AB22B7412448
FILE: 7 O Lusty May.flac
Size: 10122817 Hash: 1A3DC4D70EA7803CC3B5120A75BEE951 Accuracy: -m0
Conclusion: CDDA 100%
Signature: 3D10A33310B9A4ED89EB55843183E71A6F2AB659
FILE: 8 This Day Daws.flac
Size: 21561221 Hash: ED767EE1D4780AA8F7B1203A4A0BAD91 Accuracy: -m0
Conclusion: CDDA 100%
Signature: E8EABE5FDE5B792117D40B206FBCEA09CF5B1689
FILE: 9 Begone Sweit Night.flac
Size: 14223320 Hash: 034D824DD4218CDEC5A61638165480CE Accuracy: -m0
Conclusion: CDDA 100%
Signature: ACCB23E861124239F881F896060835DB9CA07272