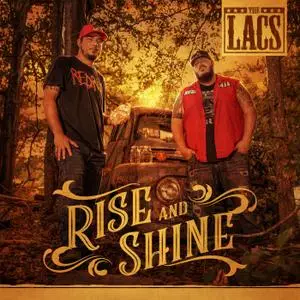 The Lacs - Rise and Shine (2019)
Country | 00:43:42 | WEB FLAC (tracks) | 301,62 MB
Label: Dirt Rock Empire
The LACS career trajectory accelerates with every new album and every new beat. Staying steadfastly true to who they are, the new studio album Rise and Shine is a 12-pack of country infused anthems with a fresh take on what they know best. Amongst Pandora Radio's Top 25 Streaming Country artists. The LACS path to the top of the Billboard Country charts has been the result of consistently feeding their base by connecting with fans both at their exciting live shows and through their recorded music. With three #3 Billboard Country albums already under their belt, The LACS newest studio album Rise And Shine is destined to follow suit. Their numbers continue to speak volumes: over 100 Million YouTube views. 175 cumulative weeks on Billboard's Country album chart, 1+ million digital tracks sold, over 700,000 albums sold, and more than half a billion streams upon album release of Rise And Shine. In addition, the group's touring revenue has quadrupled in the past two years (now more than 150 dates a year.) Southern rock-infused guitar riffs combined with acoustic country offerings make up Rise And Shine. The LACS team up with Nate Kenyon, Danny Boone and Hard Target on the new album. In support of the new album the second leg of The LACS tour kicks off this Fall with Black Stone Cherry and more than 25 cities already on the books. More live shows, including festival dates, club dates, mud bogs etc., will be announced in the coming weeks.
01. The Lacs - Rise n Shine (4:03)
02. The Lacs; Nate Kenyon - City Boys Nightmare (feat. Nate Kenyon) (3:41)
03. The Lacs - Own Woods (3:02)
04. The Lacs - Bottle On a Shelf (3:58)
05. The Lacs; Danny Boone - High School Hallways (feat. Danny Boone) (3:56)
06. The Lacs - Great Moments (1:12)
07. The Lacs - Redneck Roots (3:31)
08. The Lacs; Nate Kenyon - Muddy Where Your Mouth Is (feat. Nate Kenyon) (4:26)
09. The Lacs - Out the Window (3:31)
10. The Lacs - Night Falls (4:05)
11. The Lacs; Hard Target - Feet Don't Fail Me (feat. Hard Target) (4:15)
12. The Lacs - Ya'll (4:03)
ANALYZER: auCDtect: CD records authenticity detector, version 0.8.2
Copyright © 2004 Oleg Berngardt. All rights reserved.
Copyright © 2004 Alexander Djourik. All rights reserved.


FILE: 12. Ya'll.flac
Size: 29758688 Hash: 5606FA05CAE6E39C4B70C3584F450CE5 Accuracy: -m8
Conclusion: CDDA 100%
Signature: 3D501AAE719A1A5BB1C1B9207F0FF7875EFC9B4E
FILE: 11. Feet Don't Fail Me (Feat. Hard Target).flac
Size: 31826790 Hash: 78B8610B6A20040A7AA28980F12371B4 Accuracy: -m8
Conclusion: CDDA 99%
Signature: 195CEF65A933DD7AE8CC3D88676F1B4832041D7D
FILE: 10. Night Falls.flac
Size: 28366083 Hash: E636CED2011B6AFB432C4B0E7A7CFE6D Accuracy: -m8
Conclusion: CDDA 100%
Signature: 383441000F6ABDCC5C1DFCE7DBE23515FD6B4EA1
FILE: 09. Out The Window.flac
Size: 26415089 Hash: 4CAA7248338BF80C2E852E83BB957DB3 Accuracy: -m8
Conclusion: CDDA 100%
Signature: 928F28F1A622290290B930BC579ABAA4F2532DB2
FILE: 08. Muddy Where Your Mouth Is (Feat. Nate Kenyon).flac
Size: 34047707 Hash: 68597E8775A24613CFD91D5336E7104F Accuracy: -m8
Conclusion: CDDA 100%
Signature: 56F4C6CDA7D82E6D31FEBA01EF838CED7E544703
FILE: 07. Redneck Roots.flac
Size: 26948168 Hash: DBDB8824D4CD31976CD11E49C8FDEDE1 Accuracy: -m8
Conclusion: CDDA 99%
Signature: 5DD73C342A0254C106D7AA98CFB1DB10F7707CB7
FILE: 06. Great Moments.flac
Size: 6739177 Hash: FA137E95777CD79133EAF03ADC147728 Accuracy: -m8
Conclusion: CDDA 99%
Signature: B20A36AECDCBB973007E4D8899E6950597BB2587
FILE: 05. High School Hallways (Feat. Danny Boone).flac
Size: 24704348 Hash: 3F713B49E5B3CC641A3B4C265650ED85 Accuracy: -m8
Conclusion: CDDA 100%
Signature: E7B8B4DCC1F972738E98F3D0596E0E789197EEEE
FILE: 04. Bottle On A Shelf.flac
Size: 27055325 Hash: 010961803D60C14FA41E259148F68ADB Accuracy: -m8
Conclusion: CDDA 100%
Signature: 80BE4E5904E8214845AF3F07867A0B79E1E03528
FILE: 03. Own Woods.flac
Size: 22718384 Hash: B58516794AF14A4CD63FE1BAF0DE3952 Accuracy: -m8
Conclusion: CDDA 100%
Signature: 7480FF57F99944482257736E9BA7D64889483A6A
FILE: 02. City Boys Nightmare (Feat. Nate Kenyon).flac
Size: 27821800 Hash: 9AA5D376DD6FCDA2809F0E434B92B659 Accuracy: -m8
Conclusion: CDDA 100%
Signature: C308D414ABFC2D1B680703DC63F65946FB2C682A
FILE: 01. Rise N Shine.flac
Size: 29864901 Hash: 311D44D42046EE7E9A46B33F5BD33CBE Accuracy: -m8
Conclusion: CDDA 100%
Signature: 526385A810E2B190F37EF9FDF8C622A60CC9A5C1