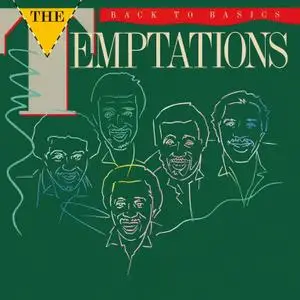 The Temptations - Back To Basics (1983/2015)
R&B, Soul/Funk, Motown | WEB FLAC (tracks) / MP3 CBR 320 kbps | Front Cover | 41:27 | 271,58 / 100,85 Mb
Label: Uni/Motown (EU) | Released: 2015-06-08 (1983)
Although "Reunion" was a chart topper, the group's 1983 "Surface Thrills" barely made a dent. Changes were in order. "Back to Basics" marks the Temptations reuniting with producer Norman Whitfield for the first time since 1973. At his best, Whitfield could draw hard-edged and earthy performances from the Temptations, especially lead singer Dennis Edwards. That's certainly true of the first track. The underrated "Miss Busy Body" finds Whitfield's production style suitably updated and has Dennis Edwards in great voice, shouting the immortal line, "Girl button up that lip/And get on up and shake them hips." The aerial ballad "Sail Away" features a vocal from new falsetto lead Ron Tyson. As Edwards took a powder during the sessions, the always engaging Ali-Ollie Woodson filled his role. The hard-edged "Stop the World Right Here" is Woodson's debut and immediately displayed a voice that merged the best parts of David Ruffin and Edwards. The track was Woodson's only appearance here. As Whitfield produced five of the ten tracks, the rest of Back to Basics is pretty much standard issue fare. The biggest flop here is "The Battle Song," which is an excruciating, bravado-filled session featuring the Four Tops. The jaunty "Hollywood" has Edwards exhibiting his penchant for howling over Tyson. It works though. The group's 1980 classic, "Isn't the Night Fantastic," which came from Power shows up here and gets a smooth, atmospheric Whitfield-styled remix, although his name did not appear on the credits. Although "Back to Basics" wasn't a full-fledged album filled with Whitfield's tracks, what's here is worth listening to.
~Review by Jason Elias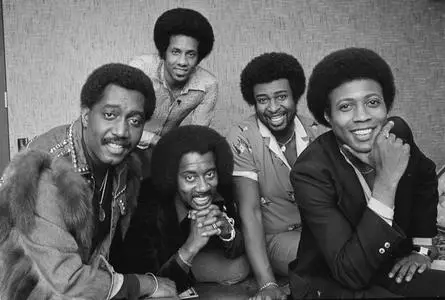 Release of the album:
1983, October [LP Gordy, Cat.# 6085GL, USA]
Release of this Qobuz digital release:
2015, June, 8 [CD Uni/Motown (EU)]
© 1983 Motown Records, a Division of UMG Recordings, Inc.
℗ 2015 Motown Records, a Division of UMG Recordings, Inc.
Credits:
Arranged By [Rhythm] – Norman Whitfield (tracks: 1 to 4, 8)
Art Direction – Johnny Lee
Bass – Billy Bass (tracks: 1 to 4, 8), David Stephen Cochrane (tracks: 1 to 4, 8)
Coordinator [Album Coordination] – Roxanna Gordy Wright
Design – Andy Engel
Drums – Jerry Blaze Thompson (tracks: 1 to 4, 8)
Engineer – Bob Robitaille (tracks: 1 to 4, 8), Leonard Jackson (tracks: 1 to 4, 8), Ralph Sutton (tracks: 1 to 4, 8), Steve Smith (tracks: 1 to 4, 8)
Executive Producer – Berry Gordy
Guitar – Eddie Willis (tracks: 1 to 4, 8), Gary "Funk Doctor" Thompson (tracks: 1 to 4, 8)
Keyboards – Walter Downing (tracks: 1 to 4, 8)
Management [Project Manager] – Suzee Wendy Ikeda
Mastered By – John Matousek
Mixed By – Norman Whitfield (tracks: 1 to 4, 8), Norman Anthony Whitfield (tracks: 1 to 4, 8), Russ "The Mix King" Terrana
Orchestrated By [Direction] – Bruce Miller (tracks: 1 to 4, 8)
Percussion – Terral Santiel (tracks: 1 to 4, 8)
Producer – Angelo Bond (tracks: 7), Berry Gordy (tracks: 7), Harvey Fuqua (tracks: 6), Norman Whitfield (tracks: 1 to 4, 8), Willie Hutch (tracks: 5)
Programmed By [Dx] – Norman Anthony Whitfield (tracks: 1 to 4, 8)
Recorded By [Recording Engineer] – Norman Anthony Whitfield (tracks: 1 to 4, 8), Philip Walters (tracks: 1 to 4, 8)
Synthesizer – David Stephen Cochrane (tracks: 1 to 4, 8)
Vocoder – Robert Franklin Justice (tracks: 1 to 4, 8)
Tracklist:
01. Miss Busy Body (Get Your Body Busy) (04:48)
02. Sail Away (05:05)
03. Outlaw (04:36)
04. Stop The World Right Here (I Wanna Get Off) (06:27)
05. The Battle Song (I'm The One) (05:21)
06. Hollywood (03:59)
07. Isn't The Night Fantastic (04:59)
08. Make Me Believe In Love Again (06:12)
–––––––––––-

DON'T MODIFY THIS FILE

–––––––––––-

PERFORMER: auCDtect Task Manager, ver. 1.6.0 RC1 build 1.6.0.1
Copyright © 2008-2010 y-soft. All rights reserved

ANALYZER: auCDtect: CD records authenticity detector, version 0.8.2
Copyright © 2004 Oleg Berngardt. All rights reserved.
Copyright © 2004 Alexander Djourik. All rights reserved.


FILE: 08. The Temptations - Make Me Believe In Love Again.flac
Size: 34569410 Hash: 2C62F58799560B12D7A1D1F8820C5DA1 Accuracy: -m0
Conclusion: CDDA 100%
Signature: 74A31402F4A1286C030D610750AA3CC0EE2CD53A
FILE: 07. The Temptations - Isn't The Night Fantastic.flac
Size: 34233908 Hash: 4D1F889004D84F43EF66E238F77E0706 Accuracy: -m0
Conclusion: CDDA 100%
Signature: 12C5C7176F6B1D0E7EE0657517DD000201215ECF
FILE: 06. The Temptations - Hollywood.flac
Size: 27545569 Hash: DE5EFEC215B9175639065B8A98A9A33E Accuracy: -m0
Conclusion: CDDA 100%
Signature: 7C54AE308C15BA4CF671F378DC8FD73777C92E64
FILE: 05. The Temptations - The Battle Song (I'm The One).flac
Size: 37703687 Hash: C608CBE7EBBDA05AF8D959DC74C4701D Accuracy: -m0
Conclusion: CDDA 99%
Signature: 7DDBCEDA754F18F05731EBCA4732CF071CB1C488
FILE: 04. The Temptations - Stop The World Right Here (I Wanna Get Off).flac
Size: 45777494 Hash: DF8E33744288F0410525A704F586CB51 Accuracy: -m0
Conclusion: CDDA 94%
Signature: A724348253CF517BAA1214E830B62194D4680DB5
FILE: 03. The Temptations - Outlaw.flac
Size: 29541335 Hash: F76005AE998015A9220275ECC4197482 Accuracy: -m0
Conclusion: CDDA 100%
Signature: CC7625B3FD9EA1AD544FFE94FA0BE06DC1DB971D
FILE: 02. The Temptations - Sail Away.flac
Size: 32108950 Hash: 1F2A30BCE88A0A7751953DDBC9D292DB Accuracy: -m0
Conclusion: CDDA 100%
Signature: 766B3C4C07EEA0C1A522B5FB838474F0DEFF7560
FILE: 01. The Temptations - Miss Busy Body (Get Our Body Busy).flac
Size: 32951176 Hash: 42F03CA99E2C91737CF15E9ACDC88C94 Accuracy: -m0
Conclusion: CDDA 100%
Signature: 722B5F6D24D8848E54921AD9739F977623BD4E65
––––––––––––––––––––––––––––––––––––––––
Analyzed: The Temptations / Back To Basics
––––––––––––––––––––––––––––––––––––––––

DR Peak RMS Duration Track
––––––––––––––––––––––––––––––––––––––––
DR12 -0.44 dB -14.16 dB 4:48 01-Miss Busy Body (Get Our Body Busy)
DR10 -0.54 dB -13.95 dB 5:05 02-Sail Away
DR11 -0.34 dB -13.91 dB 4:36 03-Outlaw
DR12 -0.46 dB -14.24 dB 6:27 04-Stop The World Right Here (I Wanna Get Off)
DR11 -0.02 dB -12.74 dB 5:21 05-The Battle Song (I'm The One)
DR12 -0.44 dB -14.26 dB 3:59 06-Hollywood
DR13 -0.63 dB -14.90 dB 4:59 07-Isn't The Night Fantastic
DR11 -1.95 dB -16.94 dB 6:12 08-Make Me Believe In Love Again
––––––––––––––––––––––––––––––––––––––––

Number of tracks: 8
Official DR value: DR11

Samplerate: 44100 Hz
Channels: 2
Bits per sample: 16
Bitrate: 738 kbps
Codec: FLAC
================================================================================
See also: