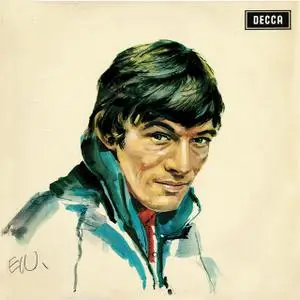 Dave Berry - This Special Sound Of Dave Berry (1966 Reissue) (2016)
WEB | FLAC (tracks) - 275 MB | MP3 (CBR 320 kbps) - 95 MB | 35:49
Genre: Pop Rock | Label: Decca
Dave Berry's second album had his usual aggravatingly inconsistent mixture of corny pop ballads, good British Invasion rock-a-ballads, and surprisingly tough bluesy rockers. Speaking of corny pop ballads, they don't come much gushier than the vile "Mama," which did give him one of his three U.K. Top Five singles. Another of those Top Five singles, a cover of Bobby Goldsboro's "Little Things," is here too. Yet those two numbers are far from the highlights of a record whose program seemed selected in a desperate effort to appeal to several corners of the pop audience at once, with highly variable yet sometimes good results. As for the most successful tracks, "I Love You Babe" (written by folkie Mick Softley, who wrote some of Donovan's early recordings) is a grinding blues-rocker that accelerates into a rave-up; "So Goes Love" one of his trademark haunted ballads, with the same volume pedal guitar effects heard on his hit single "The Crying Game"; and "Same Game" a very good mid-tempo ballad that might have made a good single (and certainly would have been a better, if not necessarily more commercial single than "Mama"). At other points he seems to be trying on a style just for the sake of being versatile, with "It's Gonna Be Fine" sounding very much like a mid-1960s uptown Philly soul production; "Alright Baby" like Georgie Fame; and "Soft Lights" like the soppiest British romantic pop music of the era. The cover of Gary Lewis and the Playboys' "Green Grass" is another misfire, but it's redeemed by "Love Has Gone Out of Your Life," the kind of moody mid-tempo tune that suited Berry best.
Track List:
01. Mama
02. I Ain't Going With You Babe
03. It's Gonna Be Fine
04. So Goes Love
05. You Made A Fool Of Me
06. Sticks And Stones
07. Now And From Now On
08. Same Game
09. Alright Baby
10. I Love You Babe
11. Soft Lights
12. Green Grass
13. Love Has Gone Out Of Your Life
14. Little Things
–––––––––––-
DON'T MODIFY THIS FILE
–––––––––––-
PERFORMER: auCDtect Task Manager, ver. 1.6.0 RC1 build 1.6.0.1
Copyright © 2008-2010 y-soft. All rights reserved
http://y-soft.org
ANALYZER: auCDtect: CD records authenticity detector, version 0.8.2
Copyright © 2004 Oleg Berngardt. All rights reserved.
Copyright © 2004 Alexander Djourik. All rights reserved.
FILE: 1 Mama.flac
Size: 19220473 Hash: 5398C9948F806E7BD1A8C3634617246C Accuracy: -m0
Conclusion: CDDA 99%
Signature: A39358E8243AA311D1BE69B1373720A1E2F8566F
FILE: 10 I Love You Babe.flac
Size: 27134600 Hash: EF05E3BCB8C44B7A2197ADC80A7F888B Accuracy: -m0
Conclusion: CDDA 100%
Signature: 095E9A0AE4787DC525AD72BBD26C5E7DB9AD194F
FILE: 11 Soft Lights.flac
Size: 16268254 Hash: ECB2B945B2C684AFBFDAB92384966D4B Accuracy: -m0
Conclusion: CDDA 100%
Signature: 9417F7DB5EA4B84C89674725BA4397CA821D2B03
FILE: 12 Green Grass.flac
Size: 15592775 Hash: 67C9843040172EC8A23480011AE2F116 Accuracy: -m0
Conclusion: CDDA 100%
Signature: 5FF42FD4BD728E6576F386C42E77DF181814CACD
FILE: 13 Love Has Gone Out Of Your Life.flac
Size: 16133038 Hash: F7D4F12147A7D4065FC22CBFBFA7A889 Accuracy: -m0
Conclusion: CDDA 100%
Signature: A7EC10D53A16A2E15A0C29463C1AACC3387B0F18
FILE: 14 Little Things.flac
Size: 17807205 Hash: E56A9712FCD1D1EF72687D7482DD93C2 Accuracy: -m0
Conclusion: CDDA 100%
Signature: 1094419A87528FB4665454B1D15907E8E5D9CEC6
FILE: 2 I Ain't Going With You Babe.flac
Size: 27512331 Hash: 6668D1E2F3BA4AFC5A9BF9EF7224C5D6 Accuracy: -m0
Conclusion: CDDA 100%
Signature: 298B6CB40EF57F634E791633C79958DE0107E318
FILE: 3 It's Gonna Be Fine.flac
Size: 14794714 Hash: 1FBDA97FEB77AE6A23439F7F8A7ABA11 Accuracy: -m0
Conclusion: CDDA 99%
Signature: 49C996F800EC61ABAF1BA01B72D2B3675122733A
FILE: 4 So Goes Love.flac
Size: 23439967 Hash: 3FB993F6F84339D21DF133FF54BCAE34 Accuracy: -m0
Conclusion: CDDA 100%
Signature: F34496D1424E501439A413B0E9BE623B30A50C25
FILE: 5 You Made A Fool Of Me.flac
Size: 16439666 Hash: 3CA1B2138E61B1EC507213AA6DEFBD74 Accuracy: -m0
Conclusion: CDDA 100%
Signature: 97AC0D9B9618BE47806A5D4C305DDF76F29F283F
FILE: 6 Sticks And Stones.flac
Size: 17683816 Hash: A4F0156FE5C0AA4B1C3BFF999A056949 Accuracy: -m0
Conclusion: CDDA 100%
Signature: 96211226875F7586B5DF6B84120B21F91EBDE37C
FILE: 7 Now And From Now On.flac
Size: 15620062 Hash: CB795587C145EB0E914F5138AD4527E6 Accuracy: -m0
Conclusion: CDDA 100%
Signature: 90A0488DF447E2747A54212321233D1ED6839388
FILE: 8 Same Game.flac
Size: 18961622 Hash: F5F8D900D3A99E955C33D274E20B4368 Accuracy: -m0
Conclusion: CDDA 100%
Signature: A264C52E1BE20FC264CA7F061E422954873024C4
FILE: 9 Alright Baby.flac
Size: 15633311 Hash: 3BB07EA62B9EE8E8C7CC092C238E6156 Accuracy: -m0
Conclusion: CDDA 100%
Signature: 25ABABA583EF4921746E900298B6E0EC865568E6
Download: