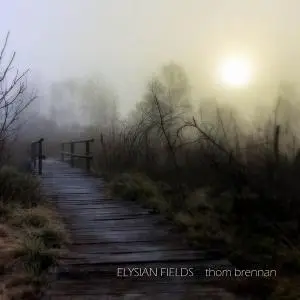 Thom Brennan - Elysian Fields (2019)
WEB FLAC (tracks) - 409 MB | MP3 CBR 320 kbps (LAME 3.93) - 174 MB | Front cover
Genre: Ambient | RAR 3% Rec. | Label: Self-released
Inspired by landscapes and the natural world, Thom Brennans' music defines a unique and organic style of electronic sound-painting… a colorful and private world of harmonic soundscapes and rhythmic journeys. Ambient impressionism… soundtracks for the imagination often recorded during extended live studio improvisations. A shifting terrain of layered textures and thematic patterns creating an unfolding drama in sound, while remaining firmly anchored in the worlds of "ambient drone" and "ambient space".
Tracklist:
01. Elysian Fields, Pt. 1
02. Elysian Fields, Pt. 2
03. Elysian Fields, Pt. 3
04. Elysian Fields, Pt. 4
05. Elysian Fields, Pt. 5
06. Elysian Fields, Pt. 6
07. Elysian Fields, Pt. 7
08. Elysian Fields, Pt. 8
09. Elysian Fields, Pt. 9
Total time:
01:13:31

PERFORMER: auCDtect Task Manager, ver. 1.6.0 RC1 build 1.6.0.1
Copyright © 2008-2010 y-soft. All rights reserved

ANALYZER: auCDtect: CD records authenticity detector, version 0.8.2
Copyright © 2004 Oleg Berngardt. All rights reserved.
Copyright © 2004 Alexander Djourik. All rights reserved.


FILE: 09. Elysian Fields, Pt. 9.flac
Size: 37208917 Hash: 680186FFC64BFC74034026086867BEF5 Accuracy: -m0
Conclusion: CDDA 100%
Signature: 1AE8B0603245C597B60A0A6A36CA190474560096
FILE: 08. Elysian Fields, Pt. 8.flac
Size: 34130128 Hash: B8B70F0944B730CEEAF9552AAD50750B Accuracy: -m0
Conclusion: CDDA 100%
Signature: 83DE56AFA51437590257080C9166AFEAEC866995
FILE: 07. Elysian Fields, Pt. 7.flac
Size: 90511070 Hash: 6EBE70CE1715774D0F3A9AF00B760C09 Accuracy: -m0
Conclusion: CDDA 100%
Signature: 1CBD4CB8285953C8F75E6338E46F7B4A4FE527E1
FILE: 06. Elysian Fields, Pt. 6.flac
Size: 37394794 Hash: FB2C237ABDAB6B606D56B2E151569771 Accuracy: -m0
Conclusion: CDDA 85%
Signature: 4983465424977D80A9BCFB33321CE8834AC42A30
FILE: 05. Elysian Fields, Pt. 5.flac
Size: 42823643 Hash: F657D52C66F4EFFC106300CCC42E0310 Accuracy: -m0
Conclusion: CDDA 100%
Signature: 9CAF46387F11D0F80559CCF00561866218F9D09C
FILE: 04. Elysian Fields, Pt. 4.flac
Size: 34064842 Hash: 19E2DBE67E5B211B63D7FFADBB475E96 Accuracy: -m0
Conclusion: CDDA 86%
Signature: 02FD441E0709C43037C45E8485A539BE32FFE58A
FILE: 03. Elysian Fields, Pt. 3.flac
Size: 33409475 Hash: EF288B388F34F9DD1AB461034F3AAC72 Accuracy: -m0
Conclusion: CDDA 100%
Signature: 7DC813530366B89113C9DB70B66EE099D613D0D5
FILE: 02. Elysian Fields, Pt. 2.flac
Size: 65069326 Hash: C04B8E9B02AEF154793396A03838CAFE Accuracy: -m0
Conclusion: CDDA 100%
Signature: F3CD5159EF5D4848658DB99A0EAF7A938F5B8DFB
FILE: 01. Elysian Fields, Pt. 1.flac
Size: 42202769 Hash: 5AD3219CB553312AEF9612C68F3BA6EB Accuracy: -m0
Conclusion: CDDA 100%
Signature: 4C49C5B3EA9F3AAA79D9903C88CF288733ECA6F3