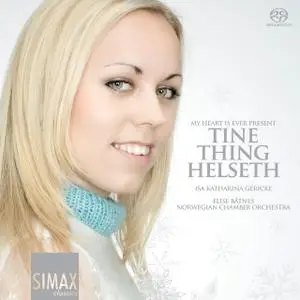 Tine Thing Helseth - My Heart Is Ever Present (2009)
WEB | FLAC (tracks) - 256 MB | 55:41
Genre: Classical | Label: Simax Classics
22-year-old Tine Thing Helseth performs as soloist in front of the best orchestras of Europe on a full time basis. Her highly successful debut recording last year with the classic trumpet concertos is followed now by a beautiful album where Tine performs a selection Christmas music in classic arrangements.
Since her breakthrough in 2006 with the Eurovision Young Musician Finale, Tine Thing Helseth's development has moved on at an amazing pace. In 2009 she was made a Borletti-Buitoni Fellow, and her diary is now filled with concert dates all over the world. On 'My Heart is Ever Present', Tine teams up once again with the Norwegian Chamber Orchestra, led by Elise Båtnes. Isa Katharina Gericke joins in for versions of Handel's two showpieces for soprano, trumpet and orchestra, plus "Eg veit I Himmelrik ei Borg" (I know a Castle in Heavens High). And among the all time classics of Bach/Gounod, Holst, Reger and others, Tine also presents a beautiful piece she has written herself: "Engledans" (Angels' dance).
Track List:
01. In The Bleak Midwinter 2:49
02. Et Lite Barn Så Lystelig (A Tiny Child So Full Of Joy) 2:07
03. Mitt Hjerte Alltid Vanker (My Heart Is Ever Present) 4:14
04. Maria Wiegenlied 2:12
05. Angels From The Realms Of Glory 2:37
06. Ode For The Birthday Of Queen Anne "Eternal Source Of Light Divine" 2:53
07. Sinfonia In D, G. 8 4:54
08. Ave Maria 2:57
09. Engledans (Angels Dance) 2:50
10. Kirken Er Et Gammelt Hus (Buildt On The Rock The Church Doth Stand) 3:13
11. Let The Bright Seraphim From "Samson" 5:30
12. Hymn 3:28
13. Ingen Vinner Frem Til Den Evige Ro (None Shall Win Eternal Peace) 2:03
14. Eg Veit I Himmelrik Ei Borg (I Know A Stronghold In Heaven) 3:44
15. O Holy Night 4:14
16. In Dulci Jubilo 2:28
17. Deilig Er Jorden (How Wonderful Is The Earth) 3:23
Performers:
Trumpet – Tine Thing Helseth
Harp – Birgitte Volan Håvik
Orchestra – Det Norske Kammerorkester
Organ, Harpsichord – Christian Kjos
Soprano Vocals – Isa Katharina Gericke
Violin – Elise Båtnes
–––––––––––-
DON'T MODIFY THIS FILE
–––––––––––-
PERFORMER: auCDtect Task Manager, ver. 1.6.0 RC1 build 1.6.0.1
Copyright © 2008-2010 y-soft. All rights reserved
http://y-soft.org
ANALYZER: auCDtect: CD records authenticity detector, version 0.8.2
Copyright © 2004 Oleg Berngardt. All rights reserved.
Copyright © 2004 Alexander Djourik. All rights reserved.
FILE: 1 In The Bleak Midwinter.flac
Size: 9947578 Hash: B74DFF6766495CC003844EDA5B1C7CBD Accuracy: -m0
Conclusion: CDDA 100%
Signature: E632BE9B43364DBB1E88B288D55D792562DD31AA
FILE: 10 Built On The Rock The Church Doth Stand.flac
Size: 13037647 Hash: 522E10CA3EF739926FB4BDAF73887288 Accuracy: -m0
Conclusion: CDDA 100%
Signature: 2777C84AC85447D038219A1B496340D34B09D5B1
FILE: 11 'Let The Bright Seraphim' From Samson.flac
Size: 27815311 Hash: A6CE5D6EE09239BAD806B8D9230692DF Accuracy: -m0
Conclusion: CDDA 100%
Signature: 0D5B9B64C563CAB81E445028A718A0849814B7BF
FILE: 12 Hymne.flac
Size: 16184078 Hash: 7774254BB8CF03775D4008EF17D24E07 Accuracy: -m0
Conclusion: CDDA 100%
Signature: A6D0A1C553F07BE4BBC300235752428E662BD008
FILE: 13 None Shall Win Eternal Peace.flac
Size: 7329387 Hash: 6611C033A42D47481590B831D2A338E7 Accuracy: -m0
Conclusion: CDDA 85%
Signature: 52FB2160E86F48572D1D78D714A11C702E32391A
FILE: 14 I Know A Stronghold In Heaven.flac
Size: 16503398 Hash: 92D35C01EEF87EA56847204DC56523A8 Accuracy: -m0
Conclusion: CDDA 99%
Signature: 4CBB79F9CDDC68672636CCFD0E875DE9C6C1FDE8
FILE: 15 O Holy Night.flac
Size: 19105333 Hash: 8D38E941C31D94BDAF015BC308775F33 Accuracy: -m0
Conclusion: CDDA 100%
Signature: 83509183390CE003A9C326FF98F314EC1D9CC737
FILE: 16 In Dulci Jubilo.flac
Size: 13444081 Hash: 65D8A2DD2AF15B644684EBBD10325E2D Accuracy: -m0
Conclusion: CDDA 100%
Signature: F4B289A595A760B34D328A8B7D1AF03091A5F340
FILE: 17 How Wonderful Is The Earth.flac
Size: 12468251 Hash: E3C9DF31A0B8EB9C1C393D9C95849960 Accuracy: -m0
Conclusion: CDDA 100%
Signature: A129C6D194EDCAC867000473ABE245F48FFAB543
FILE: 2 A Tiny Child So Full Of Joy.flac
Size: 8192947 Hash: 9294CB76A565623FBF64968DD5769513 Accuracy: -m0
Conclusion: CDDA 100%
Signature: 6DDA5A25E06639D0ED76F5589E1C74CDE6E10636
FILE: 3 My Heart Is Ever Present.flac
Size: 18140934 Hash: F6B624084AAA2292606833D0D404586A Accuracy: -m0
Conclusion: CDDA 100%
Signature: 6E07603C0A7E68EEBB3EB10D383EEBD55BECF0BA
FILE: 4 Maria Wiegenlied.flac
Size: 10098722 Hash: DBD942907D323CBC4150C6B376709173 Accuracy: -m0
Conclusion: CDDA 100%
Signature: B87E593EB5372E8D0B51BCB82E52D1ACB4E3CE94
FILE: 5 Angels From The Realms Of Glory.flac
Size: 12410655 Hash: 53FA1A43C3805975E673D1B30145739B Accuracy: -m0
Conclusion: CDDA 100%
Signature: AF19488F15132229EA37AB7D3458F210E374B603
FILE: 6 Ode For The Birthday Of Queen Anne 'Eternal Source Of Light Divine'.flac
Size: 13276317 Hash: 594C775C6097AFC73C8B42FFC8528508 Accuracy: -m0
Conclusion: CDDA 100%
Signature: D1856FC8D31D88AE3F79137B5894BCC39D14D3CA
FILE: 7 Sinfonia In D, G.8.flac
Size: 23205470 Hash: 095500675AACB15A8AD0B846C451526E Accuracy: -m0
Conclusion: CDDA 100%
Signature: 7FA03412B7F682C3743881F0564A1D9B679B1781
FILE: 8 Ave Maria.flac
Size: 10014552 Hash: 513E8F1E0936197668F29F65C2091572 Accuracy: -m0
Conclusion: CDDA 100%
Signature: 6E7B79233FC97CFD43D7E53CDF78BE2FC8A27DBC
FILE: 9 Angels Dance.flac
Size: 13286581 Hash: 32E0EE86738D2A00755D51CA5435A3EC Accuracy: -m0
Conclusion: CDDA 100%
Signature: 3DC1D429F5B167474859903C8FC0E080CA6AC7A3
Download: