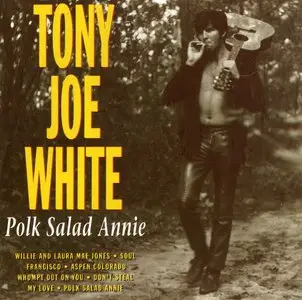 Tony Joe White - Polk Salad Annie (1999)
EAC Rip | FLAC (Img) + Cue + Log ~ 211 Mb | MP3 CBR320 ~ 94 Mb
Full Scans | 00:35:59 | RAR 5% Recovery
Swamp Rock, Blues Rock, Pop Rock, Country, Blue-Eyed Soul | Movie Play Gold #MPG 74021
Album originally released under the title "Black And White" (1969). Black and White was the first album released by Tony Joe White. It contained the single "Polk Salad Annie" which was a staple of Elvis Presley's live sets in the 1970s. It was recorded at RCA Victor Studios, Nashville and produced by Billy Swan. "Polk Salad Annie"'s lyrics describe the lifestyle of a generic Southern girl. Traditionally, the term to describe the type of food highlighted in the song is "poke salad." Its 1968 single release peaked at #8 on the Billboard Hot 100. The song vividly recreates the Southern roots of White's childhood and his music reflects this earthy rural background. As a child he listened not only to local bluesmen and countrysingers but also to the Cajun music of Louisiana, that rare hybrid of traditional musical styles introduced by French settlers at the turn of the century.
When "Polk Salad Annie" blared from transistor radio speakers in the summer of 1969, the first thought was of Creedence Clearwater Revival, for Tony Joe White's swamp rock bore more than a passing resemblance to the sound John Fogerty whipped up on Bayou Country and Green River. But White was the real thing – he really was from the bayou country of Louisiana, while Fogerty's bayou country was conjured up in Berkeley, CA. Plus, White had a mellow baritone voice that sounded like it had been dredged up from the bottom of the Delta. Besides "Annie," side one of this album includes several other White originals. The best of these are "Willie and Laura Mae Jones," a song about race relations with an arrangement similar to "Ballad of Billie Joe," and "Soul Francisco," a short piece of funky fluff that had been a big hit in Europe in 1968. "Aspen, Colorado" presages the later "Rainy Night in Georgia," a White composition popularized by Brook Benton. The second side consists of covers of contemporary hits, with the funky "Who's Making Love" and "Scratch My Back" faring better than the slow stuff. Dusty Springfield had a minor hit with "Willie and Laura Mae Jones," and White's songs were recorded by other performers through the years, but "Polk Salad Annie" and the gators that got her granny provided his only march in the American hit parade.



~ Jim Newsom, All Music
***************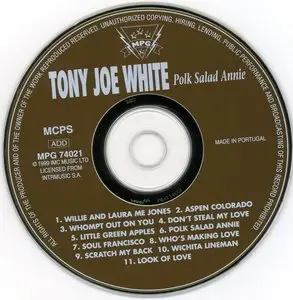 Track List:
01. Willie and Laura Mae Jones [0:04:55.60]
02. Soul Francisco [0:01:57.23]
03. Aspen Colorado [0:02:49.30]
04. Whompt out on you [0:02:23.60]
05. Don't steal my love [0:03:49.50]
06. Polk salad Annie [0:03:44.67]
07. Who's making love [0:03:12.33]
08. Scratch my back [0:03:02.10]
09. Little green apples [0:03:57.05]
10. Wichita lineman [0:02:50.07]
11. Look of love [0:03:15.73]
Exact Audio Copy V1.0 beta 3 from 29. August 2011

Отчёт EAC об извлечении, выполненном 9. сентября 2014, 16:12

Tony Joe White / Polk salad Annie

Дисковод: SlimtypeDVD A DS8A5SH Adapter: 0 ID: 1

Режим чтения : Достоверность
Использование точного потока : Да
Отключение кэша аудио : Да
Использование указателей C2 : Нет

Коррекция смещения при чтении : 6
Способность читать области Lead-in и Lead-out : Нет
Заполнение пропущенных сэмплов тишиной : Да
Удаление блоков с тишиной в начале и конце : Нет
При вычислениях CRC использовались нулевые сэмплы : Да
Интерфейс : Встроенный Win32-интерфейс для Win NT/2000

Выходной формат : Внутренние WAV-операции
Формат сэмплов : 44.100 Гц; 16 бит; стерео


TOC извлечённого CD

Трек | Старт | Длительность | Начальный сектор | Конечный сектор
––––––––––––––––––––––––––––––––––-
1 | 0:00.32 | 4:55.60 | 32 | 22216
2 | 4:56.17 | 1:57.23 | 22217 | 31014
3 | 6:53.40 | 2:49.30 | 31015 | 43719
4 | 9:42.70 | 2:23.60 | 43720 | 54504
5 | 12:06.55 | 3:49.50 | 54505 | 71729
6 | 15:56.30 | 3:44.67 | 71730 | 88596
7 | 19:41.22 | 3:12.33 | 88597 | 103029
8 | 22:53.55 | 3:02.10 | 103030 | 116689
9 | 25:55.65 | 3:57.05 | 116690 | 134469
10 | 29:52.70 | 2:50.07 | 134470 | 147226
11 | 32:43.02 | 3:15.73 | 147227 | 161924


Характеристики диапазона извлечения и сообщения об ошибках

Выбранный диапазон

Имя файла F:\Tony Joe White - Polk salad Annie - 1999\Tony Joe White - Polk salad Annie.wav

Пиковый уровень 92.9 %
Скорость извлечения 1.6 X
Качество диапазона 99.9 %
CRC теста C13B9EE9
CRC копии C338AF5D
Копирование… OK

Ошибок не произошло


AccurateRip: сводка

Трек 1 отсутствует в базе данных
Трек 2 отсутствует в базе данных
Трек 3 отсутствует в базе данных
Трек 4 отсутствует в базе данных
Трек 5 отсутствует в базе данных
Трек 6 отсутствует в базе данных
Трек 7 отсутствует в базе данных
Трек 8 отсутствует в базе данных
Трек 9 отсутствует в базе данных
Трек 10 отсутствует в базе данных
Трек 11 отсутствует в базе данных

Ни одного трека нет в базе AccurateRip

Конец отчёта

==== Контрольная сумма отчёта E3308C7B4C8CE67D5434BC82B8EE29E4E4CF1D7344405D843176C45F61903CF5 ====
[CUETools log; Date: 06.02.2015 8:45:11; Version: 2.1.5]
Pregap length 00:00:32.
[CTDB TOCID: ymFtrrWt6opK1EAPhoh.OUccPHQ-] found.
Track | CTDB Status
1 | (1/1) Accurately ripped
2 | (1/1) Accurately ripped
3 | (1/1) Accurately ripped
4 | (1/1) Accurately ripped
5 | (1/1) Accurately ripped
6 | (1/1) Accurately ripped
7 | (1/1) Accurately ripped
8 | (1/1) Accurately ripped
9 | (1/1) Accurately ripped
10 | (1/1) Accurately ripped
11 | (1/1) Accurately ripped
[AccurateRip ID: 000ee136-00806fc6-b0086f0b] found.
Track [ CRC | V2 ] Status
01 [1e23ebe6|fb57ad0e] (2+6/8) Accurately ripped
02 [e7e2a417|b5ce571d] (2+6/8) Accurately ripped
03 [5c1d30d6|1458c511] (2+6/8) Accurately ripped
04 [f82d2cd6|581166c3] (2+6/8) Accurately ripped
05 [290e0f8f|310ac575] (2+6/8) Accurately ripped
06 [c648bb40|61f73c19] (2+6/8) Accurately ripped
07 [d766a820|89fe8ec2] (2+6/8) Accurately ripped
08 [7b186130|f39d6852] (2+6/8) Accurately ripped
09 [6f5833c4|02cc7a62] (2+5/7) Accurately ripped
10 [e6792644|07a6b689] (2+6/8) Accurately ripped
11 [8a36590b|6cb68802] (3+6/9) Accurately ripped

Track Peak [ CRC32 ] [W/O NULL] [ LOG ]
– 92,9 [C338AF5D] [F468E360] CRC32
01 92,5 [2D78F63E] [3316B620]
02 89,7 [53CAA126] [5D68E852]
03 92,1 [9365666C] [BE0D5D78]
04 87,7 [8F1527EE] [BE1ED574]
05 86,2 [2495B037] [E3580D53]
06 91,4 [43CA22A1] [248E9433]
07 92,9 [4318C6FB] [CA2B14BE]
08 84,7 [61BA4441] [0AD64A54]
09 89,4 [6342258E] [BF28B97D]
10 88,7 [63AC8A11] [2829FC10]
11 91,3 [AA4F8BE2] [CDBA49E1]