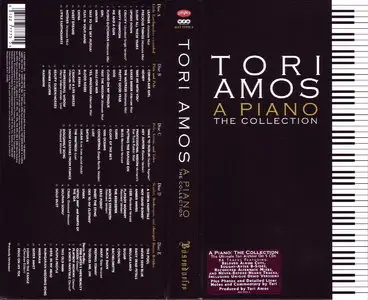 Tori Amos - A Piano: The Collection (2006) 5 CD Box Set
EAC | APE | Image (Cue&Log) ~ 2.2 Gb (incl 5%) | Mp3 (CBR320/Stereo) ~ 900 Mb (incl 5%) | Full Scans ~ 510 Mb
Genre: Piano Rock, Alternative Rock, Alternative Pop Rock | Label: Rhino, Warner | # 8122 77775 5 | Time: 06:23:13

A Piano: The Collection is a five-disc box set spanning the first 15 years of the solo career of American singer and song-writer Tori Amos. Released on September 26, 2006 by Rhino Records as part of the contract Amos negotiated with Warner Bros., the set consists of classics, rarities, demos, B-sides and a string of unreleased songs from album sessions. Intimate, confessional, poetic, and defiantly independent, Amos' songs touch on self, family, religion, femininity, pain, and love with a searching spirit that translates powerfully into songcraft. This momentous box spans the depth and breadth of her extraordinary repertoire, spotlighting both album versions and a sprawling tapestry of rarities. Disc A - Little Earthquakes extended Disc B - Pink And Pele Disc C - Pele/Venus/Tales Disc D - Scarlet/Beekeeper/Choirgirl Disc E - Bonus B-sides.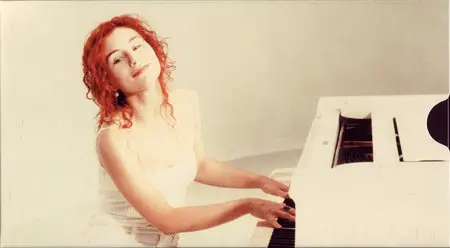 A Piano: The Collection is a mammoth undertaking by Tori Amos and Rhino Records. This box set collects album cuts, B-sides, unedited and alternate versions, demos, and seven previously unissued cuts. Making one's way through it is to enter a labyrinth, a parallel but alternate universe that traces the development of the artist from her earliest recordings (with the exception of Y Kant Tori Read, of course) through her transformation as a conceptual songwriter, musician, and artisan who has moved tumultuously through the pop world without, it appears, ever losing her vision or sense of herself. Amos produced this set, and Rhino cross-licensed material from Epic as well. Amos annotates each track here in the handsome hardbound book that accompanies it, which also contains a boatload of photos and an essay by Lorraine Ali. The set comes packaged under a large plastic piano keyboard – this aspect of it is simply irritating. The "piano as part of the package" has been done before – and done better – in other artists' retrospectives. It's cheesy.

The five discs here, however, cover virtually every part of Amos' iconic, often iconoclastic career. Virtually every part of Little Earthquakes is explored, which is why disc one is titled "Little Earthquakes Extended" (since basically three versions of the album were completed). These include the singles, such as the unedited 45 version of "Crucify," the alternate mix of "Flying Dutchman," and an alternate mix of "Mother." Even the unissued "Take Me With You" from the Little Earthquakes session is here, but it appears on disc two. With all the B-sides and alternates issued, Little Earthquakes is , in retrospect, a far more prophetic and ever wider ranging offering than the officially released original version. Much of Amos' restlessness as an artist is revealed even at this early stage. Beginning with disc two, the remainder of her recordings are picked from, rather than presented in their complete versions. From disc two on, Amos picks and chooses from her catalog, providing many alternate mixes – perhaps she liked them better than the original versions. For instance, the presented mixes of "The Waitress" and "Baker Baker" are revelatory in their sense of drama and dynamic. A different version of "Caught a Sneeze" from Boys for Pele offers a sense of just how strange and beguiling this cut is. The B-sides include "Honey," which was the flip of "Pretty Good Year," and a live version of "Professional Widow," which came on the backside of "Hey Jupiter." Disc three is compiled from the rest of Pele, To Venus and Back, and Tales of a Librarian, and is simply loaded with remixes, including Armand Van Helden's badass take on "Professional Widow," the single remix of "Concertina," and "Sugar" from the soundcheck on the To Venus and Back tour. It's a dizzying and sometimes off-kilter and troubling disc, especially coming as it does smack in the middle of the package. However there is the "Walk to Dublin (Sucker Remix)" that has never been officially released.

Cutting through the fourth disc, you can't help but notice that it does feel rushed as it covers material from the Epic period, including selections from Scarlet's Walk, Beekeeper, and From the Choirgirl Hotel – it's wildly arrayed in textures and colors that don't seem to fit together. Add into the mix four tracks that have never been released, from who knows what sessions, and you have a serious car crash. But then again, there's beauty in this kind of mashup, too, in that the sonic chaos is even violent at times as you juxtapose cuts such as a remix of "Jackie's Strength" with the unreleased "Zero Point" and then jump to "Sweet the Sting" from Beekeeper; this mishmash, though creates and contains a new symmetry and a new series of angles with no center except for the artist herself. Discs three and four are real challenges, but also far more rewarding given all the cracks in the sidewalk that Amos chose to step on rather than jump across. Here is where the tale of the artist is told, actually, in the continuing conflicts of style and how to weave substance that was ever more abstract into these new soundworlds she'd chosen. The last disc contains 11 B-sides that were featured as additional tracks on singles and EPs, and there is one more unreleased cut in "Peeping Tommi." The final 11 cuts contain more flipsides and a medley of demos, which make for another kind of insanity. These contain three unreleased demos of "Fire Eater's Wife/Beauty Queen," "Playboy Mommy," and "A Sorta Fairytale" before folding back into the otherwise issued recordings. It's as if they're folded in to the mix in order (so to speak) to sort something out – to break up the disparate tracks but in the end only making them more so. It's not only curious but infuriating, seductive, engaging, and sometimes utterly puzzling.

After all is said and done, however, there is silence, and with that comes the sense and enormity of the sheer wonder of it all. Amos has pissed off everybody at one time or another, even her hardest core of fans who've stuck with her through thick and thin. Given that she's only been out there in the public ears and eyes for 16 years, she has gone through numerous phases and stages, and it reminds one of Bob Dylan, the true iconoclast who seems to be enjoying a resurgence in popularity in 2006. Amos' reach is long, and for all its beauty, there are knots, warts, cuts, and bruises. And that's what A Piano is, ultimately: an embarkation through a provocative and sometimes grotesque journey, through bruises and kisses which offer a new look through the past as it points toward the future – which is exactly what a box set is supposed to do.


Review by Thom Jurek, Allmusic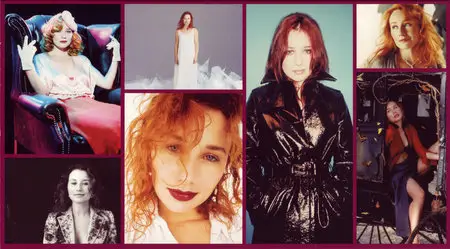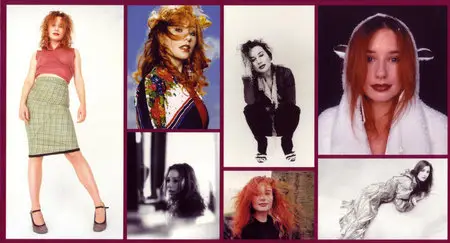 Tori Amos (born Myra Ellen Amos) was one of several female singer/songwriters who combined the stark lyrical attack of alternative rock with a distinctly '70s musical approach, creating music that fell between the orchestrated meditations of Kate Bush and the stripped-down poetics of Joni Mitchell. In addition, she revived the singer/songwriter traditions of the '70s while reestablishing the piano as a rock & roll instrument. With her 1992 album Little Earthquakes, Amos built a dedicated following that expanded with her second album, Under the Pink, before giving way to a decade-spanning legacy.

The daughter of a Methodist preacher, Amos was born in North Carolina but raised in Maryland. She began singing and playing piano in the church choir at the age of four, and songwriting followed shortly afterward. Amos proved to be a quick learner, and her instrumental prowess earned her a scholarship to the preparatory school at Baltimore's Peabody Conservatory. While studying at Peabody, she became infatuated with rock & roll, particularly the music of Led Zeppelin. She lost her scholarship at the age of 11 – quite possibly due to her interest in popular music – but continuing writing songs nevertheless, eventually moving to Los Angeles in her late teens to become a pop singer. Atlantic Records signed her in 1987, and Amos recorded an uninspired pop-metal album called Y Kant Tori Read the following year. The record was a complete failure, attracting no attention from radio or press and selling very few copies; nevertheless, she didn't lose her record contract. By 1990, Amos had adopted a new approach, singing spare, haunting, semiconfessional piano ballads that were arranged like Kate Bush but had the melodies and lyrical approach of Joni Mitchell. Atlantic sponsored a trip to England in 1991, where she played a series of concerts in support of an EP, Me and a Gun.

The harrowing "Me and a Gun" was an autobiographical song, telling the tale of Amos' own experience with rape. It gained positive reviews throughout the media, and both the EP and the supporting concerts sold well. Little Earthquakes, Amos' first album as a singer/songwriter, was released in 1992 and fared well in both the U.S. and the U.K. The same year, she released the Crucify EP, which featured cover songs like Nirvana's "Smells Like Teen Spirit" and Led Zeppelin's "Thank You." Delivered in early 1994, Under the Pink, the proper follow-up to Little Earthquakes, was an even bigger hit, selling over a million copies and launching the minor hit singles "God" and "Cornflake Girl." Two years later, Amos delivered her third album, Boys for Pele, her most ambitious and difficult record to date. The album debuted at number two and quickly went platinum.

Amos spent much of 1997 dealing with personal matters, including a miscarriage and a marriage. She also worked on her fourth album, From the Choirgirl Hotel, which was released in the spring of 1998. The two-disc To Venus and Back followed in 1999 to coincide with a tour with Alanis Morissette. In 2001, Amos returned with the covers album Strange Little Girls, which also marked her last release for Atlantic.

The next year, she found a new label home with Epic and followed with Scarlet's Walk in October. Her eighth studio album, an autobiographical record titled The Beekeeper, was released in 2005. The massive five-disc Piano collection arrived in 2006, boasting a cornucopia of album cuts, B-sides, unedited and alternate versions, demos, and seven previously unissued tracks, followed by the typically eclectic and hard-rocking American Doll Posse in 2007, an all-new collection of songs that found the artist assuming five archetypal personalities, all of whom were based on feminine gods in Greek and Roman mythology.

As she toured in support of the album, Amos released live digital recordings of each concert as part of the Legs and Boots concert series, which grew to encompass 27 albums. Although each release was made available via iTunes and other online vendors, Amos also released a "best-of" Legs and Boots compilation in March 2009, having created its track list from various recordings during the tour. Meanwhile, she also focused on new material that had been written during the tour, which she soon compiled into her tenth studio album. Entitled Abnormally Attracted to Sin, the album was released in May 2009 by Universal Republic, Amos' new record label. A holiday album, Midwinter Graces, followed closely behind, appearing before the end of 2009 and garnering warm reviews.


Biography by Stephen Thomas Erlewine, Allmusic
Official Website
Wiki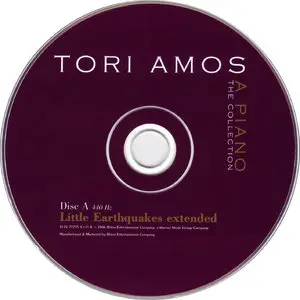 Disc A: Little Earthquakes Extended
EAC | APE | Image (Cue&Log) ~ 460 Mb (incl 5%) | Mp3 (CBR320/Stereo) ~ 180 Mb (incl 5%) | Time: 01:15:29
Tracklist:
01. Leather (Alternate Mix) [3:13]
02. Precious Things (Alternate Mix) [4:31]
03. Silent All These Years [4:13]
04. Upside Down [4:22]
05. Crucify (Unedited Single Version) [4:27]
06. Happy Phantom [3:16]
07. Me and a Gun [3:43]
08. Flying Dutchman (Alternate Mix) [6:29]
09. Girl [4:08]
10. Winter [5:43]
11. Take to the Sky (Russia) [4:18]
12. Tear in Your Hand [4:42]
13. China [4:59]
14. Sweet Dreams [3:28]
15. Mother (Alternate Mix) [7:01]
16. Little Earthquakes [6:55]
Exact Audio Copy V0.99 prebeta 4 from 23. January 2008

EAC extraction logfile from 7. April 2008, 16:21

Tori Amos / A Piano: The Collection (Disc A: Little Earthquakes Extended)

Used drive : _NEC DVD_RW ND-3550A Adapter: 1 ID: 0

Read mode : Secure
Utilize accurate stream : Yes
Defeat audio cache : Yes
Make use of C2 pointers : No

Read offset correction : 48
Overread into Lead-In and Lead-Out : No
Fill up missing offset samples with silence : Yes
Delete leading and trailing silent blocks : No
Null samples used in CRC calculations : Yes
Used interface : Installed external ASPI interface

Used output format : Monkey's Audio Lossless Encoder v3.99 DLL
Sample format : Normal Lossless Compression


TOC of the extracted CD

Track | Start | Length | Start sector | End sector
––––––––––––––––––––––––––––-
1 | 0:00.00 | 3:12.54 | 0 | 14453
2 | 3:12.54 | 4:30.60 | 14454 | 34763
3 | 7:43.39 | 4:12.65 | 34764 | 53728
4 | 11:56.29 | 4:22.02 | 53729 | 73380
5 | 16:18.31 | 4:27.02 | 73381 | 93407
6 | 20:45.33 | 3:15.41 | 93408 | 108073
7 | 24:00.74 | 3:43.27 | 108074 | 124825
8 | 27:44.26 | 6:29.29 | 124826 | 154029
9 | 34:13.55 | 4:08.01 | 154030 | 172630
10 | 38:21.56 | 5:43.20 | 172631 | 198375
11 | 44:05.01 | 4:18.28 | 198376 | 217753
12 | 48:23.29 | 4:42.29 | 217754 | 238932
13 | 53:05.58 | 4:59.00 | 238933 | 261357
14 | 58:04.58 | 3:28.33 | 261358 | 276990
15 | 61:33.16 | 7:01.06 | 276991 | 308571
16 | 68:34.22 | 6:54.65 | 308572 | 339686


Range status and errors

Selected range

Filename E:\!tracker\TORIGRAPHY\2006(09) - (5CD Compilation) - A Piano - The Collection\A\Tori Amos - A Piano - The Collection (Disc A - Little Earthquakes Extended).ape

Peak level 99.9 %
Range quality 100.0 %
Test CRC 38DDA024
Copy CRC 38DDA024
Copy OK

No errors occurred


AccurateRip summary

Track 1 accurately ripped (confidence 2) [34E25AB5]
Track 2 accurately ripped (confidence 2) [59131DE9]
Track 3 accurately ripped (confidence 2) [63CA8DA2]
Track 4 accurately ripped (confidence 2) [90814F81]
Track 5 accurately ripped (confidence 2) [F787BB07]
Track 6 accurately ripped (confidence 2) [9871B452]
Track 7 accurately ripped (confidence 2) [523418FA]
Track 8 accurately ripped (confidence 2) [9523A796]
Track 9 accurately ripped (confidence 2) [98AB3F25]
Track 10 accurately ripped (confidence 2) [629DC3D9]
Track 11 accurately ripped (confidence 2) [E710EE3B]
Track 12 accurately ripped (confidence 2) [C28FCB40]
Track 13 accurately ripped (confidence 2) [54651AA7]
Track 14 accurately ripped (confidence 2) [A24D834D]
Track 15 accurately ripped (confidence 2) [BEA93416]
Track 16 accurately ripped (confidence 2) [6F2DA121]

All tracks accurately ripped

End of status report
[CUETools log; Date: 24.06.2011 9:47:53; Version: 2.1.1]
[AccurateRip ID: 0028c178-01f0fb55-ee11b110] found.
Track [ CRC ] Status
01 [34e25ab5] (14/72) Accurately ripped
02 [59131de9] (14/72) Accurately ripped
03 [63ca8da2] (14/73) Accurately ripped
04 [90814f81] (14/75) Accurately ripped
05 [f787bb07] (14/73) Accurately ripped
06 [9871b452] (14/72) Accurately ripped
07 [523418fa] (14/73) Accurately ripped
08 [9523a796] (14/76) Accurately ripped
09 [98ab3f25] (14/71) Accurately ripped
10 [629dc3d9] (14/71) Accurately ripped
11 [e710ee3b] (14/74) Accurately ripped
12 [c28fcb40] (14/71) Accurately ripped
13 [54651aa7] (14/72) Accurately ripped
14 [a24d834d] (14/73) Accurately ripped
15 [bea93416] (13/70) Accurately ripped
16 [6f2da121] (12/65) Accurately ripped
Offsetted by 664:
01 [a667eed7] (07/72) Accurately ripped
02 [0d7337ef] (07/72) Accurately ripped
03 [f9494f62] (07/73) Accurately ripped
04 [46e37c71] (07/75) Accurately ripped
05 [b224cf5c] (07/73) Accurately ripped
06 [dd8e6211] (07/72) Accurately ripped
07 [d3fb08d3] (07/73) Accurately ripped
08 [4bec75b4] (07/76) Accurately ripped
09 [b040a5fd] (07/71) Accurately ripped
10 [2566ceb9] (07/71) Accurately ripped
11 [c6816c67] (07/74) Accurately ripped
12 [0061f40a] (07/71) Accurately ripped
13 [14f3e00b] (07/72) Accurately ripped
14 [46ca3480] (07/73) Accurately ripped
15 [64b9ee0e] (07/70) Accurately ripped
16 [19a07869] (07/65) Accurately ripped

Track Peak [ CRC32 ] [W/O NULL] [ LOG ]
– 99,9 [38DDA024] [2AE535D5] CRC32
01 99,8 [49A6A9E1] [FCB131A1]
02 99,9 [21CFAA1F] [A54C575E]
03 99,6 [4DAC36E5] [16796DA6]
04 99,6 [5E21A652] [214C1B2C]
05 99,8 [140A74D7] [52A2E16E]
06 99,8 [F00B9641] [D6D790B0]
07 99,8 [3EB728A3] [2906A431]
08 99,8 [E4C62EC7] [973E204A]
09 99,9 [6897C5BE] [93496D87]
10 99,8 [F2D5673D] [A0D50627]
11 99,8 [D03F211E] [C7DE3750]
12 99,9 [883B3BB1] [2A0D9924]
13 99,8 [973EDD3D] [4BF55BA7]
14 99,9 [264A4E9A] [BB747113]
15 99,8 [A851117B] [501975BA]
16 99,9 [42B87D86] [D73B8B26]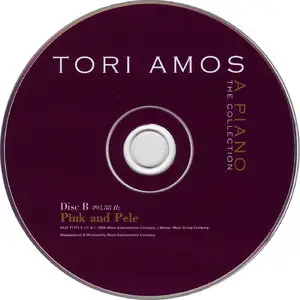 Disc B: Pink and Pele
EAC | APE | Image (Cue&Log) ~ 465 Mb (incl 5%) | Mp3 (CBR320/Stereo) ~ 186 Mb (incl 5%) | Time: 01:17:56
Tracklist:
01. Cornflake Girl [5:07]
02. Honey [3:43]
03. Take Me with You [4:40]
04. Baker Baker (Alternate Mix) [3:26]
05. The Waitress (Alternate Mix) [3:07]
06. Pretty Good Year [3:21]
07. God [3:54]
08. Cloud on My Tongue [4:36]
09. Past the Mission (Alternate Mix) [4:07]
10. Bells for Her [5:17]
11. Yes, Anastasia (Alternate Mix) [9:22]
12. Blood Roses [3:56]
13. Mr.Zebra [1:06]
14. Caught a Lite Sneeze (Alternate Mix) [4:24]
15. Professional Widow (Merry Widow Version - Live) [4:04]
16. Beauty Queen / Horses [5:57]
17. Father Lucifer [3:40]
18. Marianne [4:10]
Exact Audio Copy V0.99 prebeta 4 from 23. January 2008

EAC extraction logfile from 7. April 2008, 22:00

Tori Amos / A Piano: The Collection (Disc B: Pink and Pele)

Used drive : _NEC DVD_RW ND-3550A Adapter: 1 ID: 0

Read mode : Secure
Utilize accurate stream : Yes
Defeat audio cache : Yes
Make use of C2 pointers : No

Read offset correction : 48
Overread into Lead-In and Lead-Out : No
Fill up missing offset samples with silence : Yes
Delete leading and trailing silent blocks : No
Null samples used in CRC calculations : Yes
Used interface : Installed external ASPI interface

Used output format : Monkey's Audio Lossless Encoder v3.99 DLL
Sample format : Normal Lossless Compression


TOC of the extracted CD

Track | Start | Length | Start sector | End sector
––––––––––––––––––––––––––––-
1 | 0:00.00 | 5:06.47 | 0 | 22996
2 | 5:06.47 | 3:42.61 | 22997 | 39707
3 | 8:49.33 | 4:40.17 | 39708 | 60724
4 | 13:29.50 | 3:25.51 | 60725 | 76150
5 | 16:55.26 | 3:07.19 | 76151 | 90194
6 | 20:02.45 | 3:20.64 | 90195 | 105258
7 | 23:23.34 | 3:54.01 | 105259 | 122809
8 | 27:17.35 | 4:36.31 | 122810 | 143540
9 | 31:53.66 | 4:06.73 | 143541 | 162063
10 | 36:00.64 | 5:17.28 | 162064 | 185866
11 | 41:18.17 | 9:21.59 | 185867 | 228000
12 | 50:40.01 | 3:55.68 | 228001 | 245693
13 | 54:35.69 | 1:05.71 | 245694 | 250639
14 | 55:41.65 | 4:24.21 | 250640 | 270460
15 | 60:06.11 | 4:03.63 | 270461 | 288748
16 | 64:09.74 | 5:56.44 | 288749 | 315492
17 | 70:06.43 | 3:40.33 | 315493 | 332025
18 | 73:47.01 | 4:09.65 | 332026 | 350765


Range status and errors

Selected range

Filename E:\!tracker\TORIGRAPHY\2006(09) - (5CD Compilation) - A Piano - The Collection\B\Tori Amos - A Piano - The Collection (Disc B - Pink and Pele).ape

Peak level 99.9 %
Range quality 100.0 %
Test CRC 510AA51E
Copy CRC 510AA51E
Copy OK

No errors occurred


AccurateRip summary

Track 1 accurately ripped (confidence 2) [D8CCABDA]
Track 2 accurately ripped (confidence 2) [B8D064CA]
Track 3 accurately ripped (confidence 2) [141771EA]
Track 4 accurately ripped (confidence 2) [BC622F45]
Track 5 accurately ripped (confidence 2) [D6144469]
Track 6 accurately ripped (confidence 2) [8A111F00]
Track 7 accurately ripped (confidence 2) [E7FEB629]
Track 8 accurately ripped (confidence 2) [0B303764]
Track 9 accurately ripped (confidence 2) [6A60AD34]
Track 10 accurately ripped (confidence 2) [2E18AC0C]
Track 11 accurately ripped (confidence 2) [AF0921E4]
Track 12 accurately ripped (confidence 2) [18959229]
Track 13 accurately ripped (confidence 2) [BE0326CD]
Track 14 accurately ripped (confidence 2) [E041F5FF]
Track 15 accurately ripped (confidence 2) [1F55A406]
Track 16 accurately ripped (confidence 2) [B2155485]
Track 17 accurately ripped (confidence 2) [B8CDDA27]
Track 18 accurately ripped (confidence 2) [C05DF19E]

All tracks accurately ripped

End of status report
[CUETools log; Date: 24.06.2011 4:31:02; Version: 2.1.1]
[AccurateRip ID: 0032380b-02a15173-e2124412] found.
Track [ CRC ] Status
01 [d8ccabda] (13/69) Accurately ripped
02 [b8d064ca] (13/70) Accurately ripped
03 [141771ea] (13/72) Accurately ripped
04 [bc622f45] (13/70) Accurately ripped
05 [d6144469] (13/70) Accurately ripped
06 [8a111f00] (13/70) Accurately ripped
07 [e7feb629] (13/70) Accurately ripped
08 [0b303764] (13/69) Accurately ripped
09 [6a60ad34] (13/70) Accurately ripped
10 [2e18ac0c] (13/69) Accurately ripped
11 [af0921e4] (13/69) Accurately ripped
12 [18959229] (13/70) Accurately ripped
13 [be0326cd] (13/70) Accurately ripped
14 [e041f5ff] (13/70) Accurately ripped
15 [1f55a406] (13/71) Accurately ripped
16 [b2155485] (13/70) Accurately ripped
17 [b8cdda27] (13/70) Accurately ripped
18 [c05df19e] (12/68) Accurately ripped
Offsetted by 664:
01 [294270c1] (07/69) Accurately ripped
02 [1199e089] (07/70) Accurately ripped
03 [046d0c09] (07/72) Accurately ripped
04 [1d5edfe0] (07/70) Accurately ripped
05 [ede19a9d] (07/70) Accurately ripped
06 [ca17c9a1] (07/70) Accurately ripped
07 [8f592993] (07/70) Accurately ripped
08 [c961a1ed] (07/69) Accurately ripped
09 [13b8d8a5] (07/70) Accurately ripped
10 [8e4ce4ba] (07/69) Accurately ripped
11 [bf3b24f4] (07/69) Accurately ripped
12 [30d4b856] (07/70) Accurately ripped
13 [6f1b0180] (07/70) Accurately ripped
14 [10f61353] (07/70) Accurately ripped
15 [e3550288] (07/71) Accurately ripped
16 [d4096070] (07/70) Accurately ripped
17 [1a8f91e5] (07/70) Accurately ripped
18 [a06725a8] (07/68) Accurately ripped

Track Peak [ CRC32 ] [W/O NULL] [ LOG ]
– 99,9 [510AA51E] [75FCF303] CRC32
01 99,9 [36101B22] [17C9E08D]
02 99,8 [D191F393] [FBCB17E1]
03 99,9 [6C4DE2BB] [A2817413]
04 99,8 [3A07BCA9] [81B6C10C]
05 99,9 [7D173F73] [65E9AE15]
06 99,8 [FB2C0BD9] [1835268C]
07 99,9 [A4E12AB3] [29215F35]
08 99,8 [A6FD8559] [D3379BF8]
09 99,8 [40AC6F14] [42A0776C]
10 93,3 [7747CAE1] [01E4E994]
11 99,8 [FBFBC02B] [11E67B5C]
12 99,9 [22C2201B] [27422493]
13 99,8 [BFB5FF3E] [06AA7598]
14 99,8 [2F9D4038] [A7A00510]
15 99,8 [B2F472C0] [EB19AFF5]
16 99,6 [F8D1DD30] [DE232200]
17 99,8 [97C8D9C8] [EBA991EE]
18 99,8 [E8C5E1BC] [5F74419A]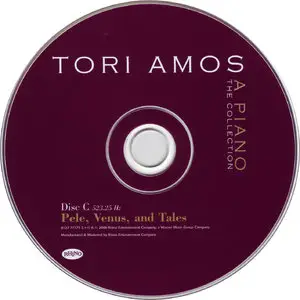 Disc C: Pele, Venus and Tales
EAC | APE | Image (Cue&Log) ~ 472 Mb (incl 5%) | Mp3 (CBR320/Stereo) ~ 181 Mb (incl 5%) | Time: 01:16:00
Tracklist:
01. Walk to Dublin (Sucker Reprise) [5:26]
02. Hey Jupiter (Dakota Version) [6:04]
03. Professional Widow (Armand's Star Trunk Funkin' Mix) [3:48]
04. Putting the Damage On [5:07]
05. Bliss (Remixed Version) [3:42]
06. Suede [4:58]
07. Glory of the 80's [4:05]
08. 1000 Oceans [4:19]
09. Concertina (Single Remix Version) [3:58]
10. Lust [3:52]
11. Datura [8:26]
12. Sugar (Live from Sound Check) [5:11]
13. The Waitress (Live) [9:49]
14. Snow Cherries from France [2:56]
15. Doughnut Song (Remixed Version) [4:21]
Exact Audio Copy V0.99 prebeta 4 from 23. January 2008

EAC extraction logfile from 8. April 2008, 0:14

Tori Amos / A Piano: The Collection (Disc C: Pele, Venus and Tales)

Used drive : _NEC DVD_RW ND-3550A Adapter: 1 ID: 0

Read mode : Secure
Utilize accurate stream : Yes
Defeat audio cache : Yes
Make use of C2 pointers : No

Read offset correction : 48
Overread into Lead-In and Lead-Out : No
Fill up missing offset samples with silence : Yes
Delete leading and trailing silent blocks : No
Null samples used in CRC calculations : Yes
Used interface : Installed external ASPI interface

Used output format : Monkey's Audio Lossless Encoder v3.99 DLL
Sample format : Normal Lossless Compression


TOC of the extracted CD

Track | Start | Length | Start sector | End sector
––––––––––––––––––––––––––––-
1 | 0:00.00 | 5:25.72 | 0 | 24446
2 | 5:25.72 | 6:03.47 | 24447 | 51718
3 | 11:29.44 | 3:47.56 | 51719 | 68799
4 | 15:17.25 | 5:07.26 | 68800 | 91850
5 | 20:24.51 | 3:41.47 | 91851 | 108472
6 | 24:06.23 | 4:58.30 | 108473 | 130852
7 | 29:04.53 | 4:05.06 | 130853 | 149233
8 | 33:09.59 | 4:18.46 | 149234 | 168629
9 | 37:28.30 | 3:57.44 | 168630 | 186448
10 | 41:25.74 | 3:51.62 | 186449 | 203835
11 | 45:17.61 | 8:26.08 | 203836 | 241793
12 | 53:43.69 | 5:10.63 | 241794 | 265106
13 | 58:54.57 | 9:49.09 | 265107 | 309290
14 | 68:43.66 | 2:55.44 | 309291 | 322459
15 | 71:39.35 | 4:21.11 | 322460 | 342045


Range status and errors

Selected range

Filename E:\!tracker\TORIGRAPHY\2006(09) - (5CD Compilation) - A Piano - The Collection\C\Tori Amos - A Piano - The Collection (Disc C - Pele, Venus and Tales).ape

Peak level 99.9 %
Range quality 100.0 %
Test CRC 9CB4B3ED
Copy CRC 9CB4B3ED
Copy OK

No errors occurred


AccurateRip summary

Track 1 accurately ripped (confidence 2) [E6D0EE25]
Track 2 accurately ripped (confidence 2) [AD12BE0D]
Track 3 accurately ripped (confidence 2) [98618C8A]
Track 4 accurately ripped (confidence 2) [B7E80C5B]
Track 5 accurately ripped (confidence 2) [DA68E683]
Track 6 accurately ripped (confidence 2) [8E4A6237]
Track 7 accurately ripped (confidence 2) [330F85C8]
Track 8 accurately ripped (confidence 2) [C581E9CD]
Track 9 accurately ripped (confidence 2) [DA09A3CC]
Track 10 accurately ripped (confidence 2) [292A75B0]
Track 11 accurately ripped (confidence 2) [0A8CBD17]
Track 12 accurately ripped (confidence 2) [753B6E27]
Track 13 accurately ripped (confidence 2) [A964F843]
Track 14 accurately ripped (confidence 2) [13876F8D]
Track 15 accurately ripped (confidence 2) [338D6866]

All tracks accurately ripped

End of status report
[CUETools log; Date: 24.06.2011 4:32:39; Version: 2.1.1]
[AccurateRip ID: 0028aa1e-01ce8305-d511d00f] found.
Track [ CRC ] Status
01 [e6d0ee25] (11/68) Accurately ripped
02 [ad12be0d] (11/67) Accurately ripped
03 [98618c8a] (11/66) Accurately ripped
04 [b7e80c5b] (11/64) Accurately ripped
05 [da68e683] (11/69) Accurately ripped
06 [8e4a6237] (11/67) Accurately ripped
07 [330f85c8] (11/67) Accurately ripped
08 [c581e9cd] (11/66) Accurately ripped
09 [da09a3cc] (11/67) Accurately ripped
10 [292a75b0] (11/65) Accurately ripped
11 [0a8cbd17] (11/67) Accurately ripped
12 [753b6e27] (11/68) Accurately ripped
13 [a964f843] (10/65) Accurately ripped
14 [13876f8d] (10/66) Accurately ripped
15 [338d6866] (09/65) Accurately ripped
Offsetted by 664:
01 [88025b58] (07/68) Accurately ripped
02 [0994cd8a] (07/67) Accurately ripped
03 [43b0f714] (07/66) Accurately ripped
04 [f660d1c3] (07/64) Accurately ripped
05 [f953c375] (07/69) Accurately ripped
06 [a045163f] (07/67) Accurately ripped
07 [c3021b30] (07/67) Accurately ripped
08 [352cd29d] (07/66) Accurately ripped
09 [de94a1f1] (07/67) Accurately ripped
10 [0dc33963] (07/65) Accurately ripped
11 [f9790259] (07/67) Accurately ripped
12 [dea791bb] (07/68) Accurately ripped
13 [8bd6e50d] (07/65) Accurately ripped
14 [45c821cd] (07/66) Accurately ripped
15 [a102fe56] (07/65) Accurately ripped

Track Peak [ CRC32 ] [W/O NULL] [ LOG ]
– 99,9 [9CB4B3ED] [65506577] CRC32
01 99,9 [D0EAE189] [4A9008D5]
02 99,8 [A9A5329F] [B3CD16CD]
03 99,8 [FA56DDE5] [568B1C81]
04 99,8 [3B56D428] [0786A4FE]
05 99,9 [420C5ED5] [CCDC61F1]
06 99,6 [7C4D77FA] [FE5556F4]
07 99,8 [30D80382] [91D357EE]
08 99,8 [EFA83AF4] [2E0F556B]
09 99,8 [4DAE4FA0] [A3F89060]
10 99,8 [C37061EF] [C87214C8]
11 99,9 [663ADABE] [F00C181E]
12 99,8 [8F854850] [34825EE5]
13 99,9 [A36B9D6D] [397D64CE]
14 99,8 [072A207B] [CAA67C5A]
15 99,9 [C78FC453] [A9CEDBC8]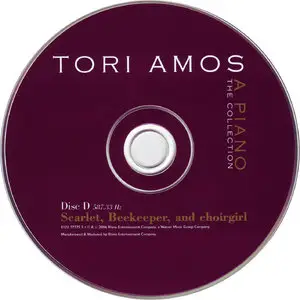 Disc D: Scarlet, Beekeeper and Choirgirl
EAC | APE | Image (Cue&Log) ~ 466 Mb (incl 5%) | Mp3 (CBR320/Stereo) ~ 175 Mb (incl 5%) | Time: 01:17:02
Tracklist:
01. A Sorta Fairytale [5:31]
02. Not David Bowie [3:55]
03. Amber Waves [3:41]
04. Iieee (Remixed Version) [4:09]
05. Playboy Mommy (Remixed Version) [4:07]
06. The Beekeeper [6:51]
07. Jackie's Strength (Remixed Version) [4:27]
08. Zero Point [8:56]
09. Sweet the Sting [4:17]
10. Ode to My Clothes [2:05]
11. Spark [4:14]
12. Intro Jam and Marys of the Sea [8:56]
13. Cruel (Remixed Version) [4:06]
14. Dolphin Song [5:53]
15. Gold Dust [5:54]
Exact Audio Copy V0.99 prebeta 4 from 23. January 2008

EAC extraction logfile from 8. April 2008, 1:52

Tori Amos / A Piano: The Collection (Disc D: Scarlet, Beekeeper and Choirgirl)

Used drive : ASUS CRW-5232AS Adapter: 1 ID: 1

Read mode : Secure
Utilize accurate stream : Yes
Defeat audio cache : Yes
Make use of C2 pointers : No

Read offset correction : 6
Overread into Lead-In and Lead-Out : No
Fill up missing offset samples with silence : Yes
Delete leading and trailing silent blocks : No
Null samples used in CRC calculations : Yes
Used interface : Installed external ASPI interface

Used output format : Monkey's Audio Lossless Encoder v3.99 DLL
Sample format : Normal Lossless Compression


TOC of the extracted CD

Track | Start | Length | Start sector | End sector
––––––––––––––––––––––––––––-
1 | 0:00.00 | 5:30.68 | 0 | 24817
2 | 5:30.68 | 3:55.17 | 24818 | 42459
3 | 9:26.10 | 3:40.62 | 42460 | 59021
4 | 13:06.72 | 4:09.22 | 59022 | 77718
5 | 17:16.19 | 4:07.18 | 77719 | 96261
6 | 21:23.37 | 6:51.34 | 96262 | 127120
7 | 28:14.71 | 4:26.62 | 127121 | 147132
8 | 32:41.58 | 8:55.52 | 147133 | 187309
9 | 41:37.35 | 4:17.13 | 187310 | 206597
10 | 45:54.48 | 2:04.41 | 206598 | 215938
11 | 47:59.14 | 4:14.18 | 215939 | 235006
12 | 52:13.32 | 8:55.58 | 235007 | 275189
13 | 61:09.15 | 4:06.06 | 275190 | 293645
14 | 65:15.21 | 5:53.10 | 293646 | 320130
15 | 71:08.31 | 5:53.47 | 320131 | 346652


Range status and errors

Selected range

Filename E:\!tracker\TORIGRAPHY\2006(09) - (5CD Compilation) - A Piano - The Collection\D\Tori Amos - A Piano - The Collection (Disc D - Scarlet, Beekeeper and Choirgirl).ape

Peak level 99.9 %
Range quality 100.0 %
Test CRC 77EF0A2A
Copy CRC 77EF0A2A
Copy OK

No errors occurred


AccurateRip summary

Track 1 accurately ripped (confidence 2) [4192121B]
Track 2 accurately ripped (confidence 2) [9C4F92DA]
Track 3 accurately ripped (confidence 2) [773DE8D6]
Track 4 accurately ripped (confidence 2) [341A94C6]
Track 5 accurately ripped (confidence 2) [20817C53]
Track 6 accurately ripped (confidence 2) [89FF4157]
Track 7 accurately ripped (confidence 2) [EAA5E34D]
Track 8 accurately ripped (confidence 2) [924B1551]
Track 9 accurately ripped (confidence 2) [FFC20852]
Track 10 accurately ripped (confidence 2) [069EAE2D]
Track 11 accurately ripped (confidence 2) [69B1EFF6]
Track 12 accurately ripped (confidence 2) [5133BCDF]
Track 13 accurately ripped (confidence 2) [5BC54E3B]
Track 14 accurately ripped (confidence 2) [13CAADBB]
Track 15 accurately ripped (confidence 2) [157E2044]

All tracks accurately ripped

End of status report
[CUETools log; Date: 24.06.2011 4:35:11; Version: 2.1.1]
[AccurateRip ID: 00288321-01d05455-f6120e0f] found.
Track [ CRC ] Status
01 [4192121b] (10/64) Accurately ripped
02 [9c4f92da] (10/67) Accurately ripped
03 [773de8d6] (10/65) Accurately ripped
04 [341a94c6] (10/65) Accurately ripped
05 [20817c53] (10/64) Accurately ripped
06 [89ff4157] (10/64) Accurately ripped
07 [eaa5e34d] (10/63) Accurately ripped
08 [924b1551] (10/65) Accurately ripped
09 [ffc20852] (10/62) Accurately ripped
10 [069eae2d] (10/66) Accurately ripped
11 [69b1eff6] (10/64) Accurately ripped
12 [5133bcdf] (10/66) Accurately ripped
13 [5bc54e3b] (10/66) Accurately ripped
14 [13caadbb] (10/65) Accurately ripped
15 [157e2044] (10/63) Accurately ripped
Offsetted by 664:
01 [09162d9f] (07/64) Accurately ripped
02 [ac6c7d0d] (07/67) Accurately ripped
03 [3029bbf7] (07/65) Accurately ripped
04 [02264dfe] (07/65) Accurately ripped
05 [96b2302b] (07/64) Accurately ripped
06 [97a6ce07] (07/64) Accurately ripped
07 [a14c747c] (07/63) Accurately ripped
08 [2d65d0b9] (07/65) Accurately ripped
09 [6a3f9a47] (06/62) Accurately ripped
10 [16275247] (07/66) Accurately ripped
11 [81a87d4c] (07/64) Accurately ripped
12 [3d336407] (07/66) Accurately ripped
13 [661cb73b] (07/66) Accurately ripped
14 [b0ba9f63] (07/65) Accurately ripped
15 [33e57e44] (06/63) Accurately ripped

Track Peak [ CRC32 ] [W/O NULL] [ LOG ]
– 99,9 [77EF0A2A] [63CD2F71] CRC32
01 99,9 [EBD9BC7C] [CFBA41B0]
02 99,9 [42C15B2B] [99B01C00]
03 99,8 [D073EDF1] [626777B2]
04 99,9 [6FF3637C] [99046B52]
05 99,8 [EAC8AB7D] [DB561D75]
06 99,9 [F37AEC00] [2E374D5C]
07 99,8 [E1F15206] [C7BAB08E]
08 99,8 [8C3E25CB] [85F0A1D3]
09 99,8 [2800F402] [97F34AC1]
10 99,8 [56A28A81] [78D6E8A7]
11 99,8 [9FE41699] [932B4BDD]
12 99,8 [1BFDEA93] [472A16D2]
13 99,8 [4DBA0C57] [D52BF733]
14 99,8 [9CEAE707] [CA7F5F7E]
15 99,4 [15D10C96] [90DD76B2]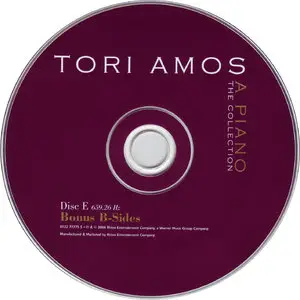 Disc Е: Bonus B-Sides
EAC | APE | Image (Cue&Log) ~ 416 Mb (incl 5%) | Mp3 (CBR320/Stereo) ~ 175 Mb (incl 5%) | Time: 01:16:44
Tracklist:
01. The Pool [2:52]
02. Never Seen Blue [3:39]
03. Daisy Dead Petals [3:03]
04. Beulah Land [2:57]
05. Sugar [4:28]
06. Cooling [4:39]
07. Bachelorette [3:34]
08. Black Swan [4:02]
09. Mary (Tales Version) [4:42]
10. Peeping Tommi [4:19]
11. Toodles Mr.Jim [2:50]
12. Fire-Eater's Wife / Beauty Queen (Demo) [3:12]
13. Playboy Mommy (Demo) [1:35]
14. A Sorta Fairytale (Demo) [3:09]
15. This Old Man [1:45]
16. Purple People [4:12]
17. Here. In My Head [3:53]
18. Hungarian Wedding Song [1:01]
19. Merman [3:47]
20. Sister Janet [4:01]
21. Home on the Range (Cherokee Edition) [5:23]
22. Frog on My Toe [3:43]
Exact Audio Copy V0.99 prebeta 4 from 23. January 2008

EAC extraction logfile from 8. April 2008, 11:33

Tori Amos / A Piano: The Collection (Disc E: Bonus B-Sides)

Used drive : _NEC DVD_RW ND-3550A Adapter: 1 ID: 0

Read mode : Secure
Utilize accurate stream : Yes
Defeat audio cache : Yes
Make use of C2 pointers : No

Read offset correction : 48
Overread into Lead-In and Lead-Out : No
Fill up missing offset samples with silence : Yes
Delete leading and trailing silent blocks : No
Null samples used in CRC calculations : Yes
Used interface : Installed external ASPI interface

Used output format : Monkey's Audio Lossless Encoder v3.99 DLL
Sample format : Normal Lossless Compression


TOC of the extracted CD

Track | Start | Length | Start sector | End sector
––––––––––––––––––––––––––––-
1 | 0:00.00 | 2:52.03 | 0 | 12902
2 | 2:52.03 | 3:38.62 | 12903 | 29314
3 | 6:30.65 | 3:03.08 | 29315 | 43047
4 | 9:33.73 | 2:57.15 | 43048 | 56337
5 | 12:31.13 | 4:27.46 | 56338 | 76408
6 | 16:58.59 | 4:39.37 | 76409 | 97370
7 | 21:38.21 | 3:34.14 | 97371 | 113434
8 | 25:12.35 | 4:01.43 | 113435 | 131552
9 | 29:14.03 | 4:42.20 | 131553 | 152722
10 | 33:56.23 | 4:19.36 | 152723 | 172183
11 | 38:15.59 | 2:49.39 | 172184 | 184897
12 | 41:05.23 | 3:11.50 | 184898 | 199272
13 | 44:16.73 | 1:34.65 | 199273 | 206387
14 | 45:51.63 | 3:09.05 | 206388 | 220567
15 | 49:00.68 | 1:44.46 | 220568 | 228413
16 | 50:45.39 | 4:12.29 | 228414 | 247342
17 | 54:57.68 | 3:52.66 | 247343 | 264808
18 | 58:50.59 | 1:01.32 | 264809 | 269415
19 | 59:52.16 | 3:46.69 | 269416 | 286434
20 | 63:39.10 | 4:00.40 | 286435 | 304474
21 | 67:39.50 | 5:22.38 | 304475 | 328662
22 | 73:02.13 | 3:42.57 | 328663 | 345369


Range status and errors

Selected range

Filename E:\!tracker\TORIGRAPHY\2006(09) - (5CD Compilation) - A Piano - The Collection\E\Tori Amos - A Piano - The Collection (Disc E - Bonus B-Sides).ape

Peak level 99.8 %
Range quality 100.0 %
Test CRC 59152E6B
Copy CRC 59152E6B
Copy OK

No errors occurred


AccurateRip summary

Track 1 accurately ripped (confidence 2) [BD05A7BE]
Track 2 accurately ripped (confidence 2) [0CEB34B5]
Track 3 accurately ripped (confidence 2) [33CEB829]
Track 4 accurately ripped (confidence 2) [CD50A55F]
Track 5 accurately ripped (confidence 2) [B01256D6]
Track 6 accurately ripped (confidence 2) [339402B7]
Track 7 accurately ripped (confidence 2) [D9B45DD1]
Track 8 accurately ripped (confidence 2) [7B3575DC]
Track 9 accurately ripped (confidence 2) [6DEBC584]
Track 10 accurately ripped (confidence 2) [C57DF957]
Track 11 accurately ripped (confidence 2) [46BCA63B]
Track 12 accurately ripped (confidence 2) [A13C740B]
Track 13 accurately ripped (confidence 2) [08570AC7]
Track 14 accurately ripped (confidence 2) [5517FFB0]
Track 15 accurately ripped (confidence 2) [A44C1CA6]
Track 16 accurately ripped (confidence 2) [B63A1EE0]
Track 17 accurately ripped (confidence 2) [1F5F1899]
Track 18 accurately ripped (confidence 2) [B80522AF]
Track 19 accurately ripped (confidence 2) [2D6DD23E]
Track 20 accurately ripped (confidence 2) [EE633F7B]
Track 21 accurately ripped (confidence 2) [141BDA69]
Track 22 accurately ripped (confidence 2) [FF457F62]

All tracks accurately ripped

End of status report
[CUETools log; Date: 24.06.2011 4:38:49; Version: 2.1.1]
[AccurateRip ID: 003c9903-03c569f5-4011fc16] found.
Track [ CRC ] Status
01 [bd05a7be] (12/68) Accurately ripped
02 [0ceb34b5] (12/67) Accurately ripped
03 [33ceb829] (12/68) Accurately ripped
04 [cd50a55f] (12/67) Accurately ripped
05 [b01256d6] (12/68) Accurately ripped
06 [339402b7] (12/68) Accurately ripped
07 [d9b45dd1] (12/67) Accurately ripped
08 [7b3575dc] (12/67) Accurately ripped
09 [6debc584] (12/66) Accurately ripped
10 [c57df957] (12/67) Accurately ripped
11 [46bca63b] (12/68) Accurately ripped
12 [a13c740b] (12/68) Accurately ripped
13 [08570ac7] (12/69) Accurately ripped
14 [5517ffb0] (12/69) Accurately ripped
15 [a44c1ca6] (12/68) Accurately ripped
16 [b63a1ee0] (12/67) Accurately ripped
17 [1f5f1899] (12/67) Accurately ripped
18 [b80522af] (12/66) Accurately ripped
19 [2d6dd23e] (12/66) Accurately ripped
20 [ee633f7b] (12/67) Accurately ripped
21 [141bda69] (12/66) Accurately ripped
22 [ff457f62] (12/66) Accurately ripped
Offsetted by 664:
01 [2616ef53] (07/68) Accurately ripped
02 [796cf23d] (07/67) Accurately ripped
03 [ace8b7e4] (07/68) Accurately ripped
04 [de65b6a1] (07/67) Accurately ripped
05 [c3d24f74] (07/68) Accurately ripped
06 [b93cc8b7] (07/68) Accurately ripped
07 [fa327ccc] (07/67) Accurately ripped
08 [3525ae63] (07/67) Accurately ripped
09 [7e84a692] (07/66) Accurately ripped
10 [0d3f37aa] (07/67) Accurately ripped
11 [81e052f3] (07/68) Accurately ripped
12 [6324758b] (07/68) Accurately ripped
13 [febce931] (07/69) Accurately ripped
14 [14bd0081] (07/69) Accurately ripped
15 [677638e8] (07/68) Accurately ripped
16 [aa4dd8f4] (07/67) Accurately ripped
17 [f180d375] (07/67) Accurately ripped
18 [bcb9a043] (07/66) Accurately ripped
19 [fd9ab409] (07/66) Accurately ripped
20 [2cde3402] (07/67) Accurately ripped
21 [d0f08217] (07/66) Accurately ripped
22 [0adc17f2] (07/66) Accurately ripped

Track Peak [ CRC32 ] [W/O NULL] [ LOG ]
– 99,8 [59152E6B] [4E217BF6] CRC32
01 99,5 [614AC8F1] [81FA1298]
02 99,6 [A970FCB8] [AC2089AD]
03 99,8 [CE5B8EE2] [1B250003]
04 99,7 [9BE92368] [7C3AC94C]
05 99,8 [3AF6F72F] [3D480E93]
06 93,0 [0FE0BE1C] [E1DE9EFB]
07 99,8 [EB1FF26A] [7CB75402]
08 99,8 [357EE770] [C635A0C2]
09 99,8 [E14FF1C5] [C0C8F566]
10 99,8 [7C4E4A02] [3BF8D152]
11 99,8 [527B4C8C] [28A64330]
12 99,7 [CC7B84D6] [CD2B511E]
13 79,0 [F37E2DFA] [186A5CC4]
14 99,8 [BBEF726B] [2863DA58]
15 99,4 [E9BED961] [3636E477]
16 99,8 [81106789] [BDE982DD]
17 99,8 [E74762C7] [F6687CA9]
18 99,4 [0599D0E2] [4F2B2F37]
19 96,0 [E538EBA2] [D0E18752]
20 99,8 [B19B2C2E] [49FF9FF8]
21 99,7 [4C2792EA] [E81C8526]
22 99,5 [47964722] [DE433FE3]