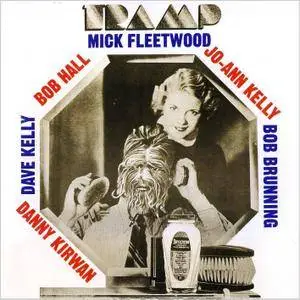 Tramp - Tramp (1969) CD release 1990
EAC | FLAC | Tracks (Cue&Log) ~ 200 Mb | Mp3 (CBR320) ~ 86 Mb | Scans included
Genre: British Blues, Blues Rock | Label: Appaloosa | # AP062-2 | Time: 00:34:08
A classic example of the whole not matching the component parts, Tramp featured several high-profile veterans of the British blues boom including Mick Fleetwood (drums), Bob Brunning (bass), Danny Kirwan (guitar), Dave Kelly (vocals), Jo Ann Kelly (vocals) and Bob Hall (keyboards). Hall, like Brunning, had earlier been co-leader of the Brunning-Hall Sunflower Blues Band. Tramp made their debut for Music Man Records in 1969 with a self-titled collection which lacked direction or convincing songwriting. Far better were the group's singles, 'Each Day' (1969) and 'Vietnam Rose' (1970).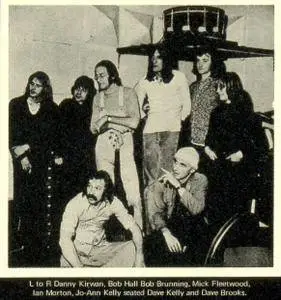 Tracklist:
01. Own Up (02:49)
02. Same Old Thing (02:06)
03. What You Gonna Do (02:53)
04. Somebody Watching Me (02:59)
05. Too Late Now (02:43)
06. Baby What You Want Me To Do (04:11)
07. Street Walking Blues (03:19)
08. On The Scene (02:47)
09. Month Of Sundays (03:42)
10. Hard Work (04:23)
11. Another Day (02:11)
Exact Audio Copy V1.0 beta 3 from 29. August 2011

Отчёт EAC об извлечении, выполненном 3. февраля 2017, 15:04

Tramp / Tramp

Дисковод: HL-DT-STDVDRAM GH24NSB0 Adapter: 0 ID: 0

Режим чтения : Достоверность
Использование точного потока : Да
Отключение кэша аудио : Да
Использование указателей C2 : Нет

Коррекция смещения при чтении : 6
Способность читать области Lead-in и Lead-out : Нет
Заполнение пропущенных сэмплов тишиной : Да
Удаление блоков с тишиной в начале и конце : Нет
При вычислениях CRC использовались нулевые сэмплы : Да
Интерфейс : Встроенный Win32-интерфейс для Win NT/2000
Обработка зазоров : Добавлено к предыдущему треку

Выходной формат : Пользовательский кодировщик
Выбранный битрейт : 896 kBit/s
Качество : Высокий
Добавление ID3-тега : Нет
Утилита сжатия : C:\Users\Alex\Desktop\EAC_1.0_beta_3_Portable_Multilingual\App\EAC\FLAC\flac.exe
Дополнительные параметры : -V -8 -T "Genre=%genre%" -T "Artist=%artist%" -T "Title=%title%" -T "Album=%albumtitle%" -T "Date=%year%" -T "Tracknumber=%tracknr%" -T "Comment=%comment%" %source%


TOC извлечённого CD

Трек | Старт | Длительность | Начальный сектор | Конечный сектор
––––––––––––––––––––––––––––––––––-
1 | 0:00.33 | 2:49.42 | 33 | 12749
2 | 2:50.00 | 2:06.35 | 12750 | 22234
3 | 4:56.35 | 2:53.33 | 22235 | 35242
4 | 7:49.68 | 2:59.15 | 35243 | 48682
5 | 10:49.08 | 2:43.37 | 48683 | 60944
6 | 13:32.45 | 4:11.25 | 60945 | 79794
7 | 17:43.70 | 3:19.48 | 79795 | 94767
8 | 21:03.43 | 2:47.02 | 94768 | 107294
9 | 23:50.45 | 3:42.63 | 107295 | 124007
10 | 27:33.33 | 4:23.52 | 124008 | 143784
11 | 31:57.10 | 2:11.23 | 143785 | 153632


Трек 1

Имя файла C:\Users\Alex\Desktop\Рипы\Tramp 1969 Tramp (Appaloosa AP062-2) (1990)\01 - Own Up.wav

Длина предзазора 0:00:02.33

Пиковый уровень 67.6 %
Скорость извлечения 0.9 X
Качество трека 100.0 %
CRC теста E12149AC
CRC копии E12149AC
Копирование… OK

Трек 2

Имя файла C:\Users\Alex\Desktop\Рипы\Tramp 1969 Tramp (Appaloosa AP062-2) (1990)\02 - Same Old Thing.wav

Пиковый уровень 65.4 %
Скорость извлечения 0.8 X
Качество трека 99.9 %
CRC теста E51ADF28
CRC копии E51ADF28
Копирование… OK

Трек 3

Имя файла C:\Users\Alex\Desktop\Рипы\Tramp 1969 Tramp (Appaloosa AP062-2) (1990)\03 - What You Gonna Do.wav

Пиковый уровень 58.0 %
Скорость извлечения 1.1 X
Качество трека 100.0 %
CRC теста 282BE90B
CRC копии 282BE90B
Копирование… OK

Трек 4

Имя файла C:\Users\Alex\Desktop\Рипы\Tramp 1969 Tramp (Appaloosa AP062-2) (1990)\04 - Somebody Watching Me.wav

Пиковый уровень 67.6 %
Скорость извлечения 1.2 X
Качество трека 100.0 %
CRC теста 2BC70FEF
CRC копии 2BC70FEF
Копирование… OK

Трек 5

Имя файла C:\Users\Alex\Desktop\Рипы\Tramp 1969 Tramp (Appaloosa AP062-2) (1990)\05 - Too Late Now.wav

Пиковый уровень 38.1 %
Скорость извлечения 1.2 X
Качество трека 100.0 %
CRC теста 963AF3D0
CRC копии 963AF3D0
Копирование… OK

Трек 6

Имя файла C:\Users\Alex\Desktop\Рипы\Tramp 1969 Tramp (Appaloosa AP062-2) (1990)\06 - Baby What You Want Me To Do.wav

Пиковый уровень 67.6 %
Скорость извлечения 1.2 X
Качество трека 99.9 %
CRC теста 49670F8C
CRC копии 49670F8C
Копирование… OK

Трек 7

Имя файла C:\Users\Alex\Desktop\Рипы\Tramp 1969 Tramp (Appaloosa AP062-2) (1990)\07 - Street Walking Blues.wav

Пиковый уровень 67.6 %
Скорость извлечения 1.4 X
Качество трека 100.0 %
CRC теста 9DF0D07A
CRC копии 9DF0D07A
Копирование… OK

Трек 8

Имя файла C:\Users\Alex\Desktop\Рипы\Tramp 1969 Tramp (Appaloosa AP062-2) (1990)\08 - On The Scene.wav

Пиковый уровень 53.9 %
Скорость извлечения 1.4 X
Качество трека 100.0 %
CRC теста 36B7147F
CRC копии 36B7147F
Копирование… OK

Трек 9

Имя файла C:\Users\Alex\Desktop\Рипы\Tramp 1969 Tramp (Appaloosa AP062-2) (1990)\09 - Month Of Sundays.wav

Пиковый уровень 59.9 %
Скорость извлечения 1.6 X
Качество трека 100.0 %
CRC теста 15EB28A0
CRC копии 15EB28A0
Копирование… OK

Трек 10

Имя файла C:\Users\Alex\Desktop\Рипы\Tramp 1969 Tramp (Appaloosa AP062-2) (1990)\10 - Hard Work.wav

Пиковый уровень 67.4 %
Скорость извлечения 1.7 X
Качество трека 100.0 %
CRC теста 9E088108
CRC копии 9E088108
Копирование… OK

Трек 11

Имя файла C:\Users\Alex\Desktop\Рипы\Tramp 1969 Tramp (Appaloosa AP062-2) (1990)\11 - Another Day.wav

Пиковый уровень 67.6 %
Скорость извлечения 1.6 X
Качество трека 100.0 %
CRC теста F7D9F2CA
CRC копии F7D9F2CA
Копирование… OK

Ошибок не произошло

Конец отчёта

==== Контрольная сумма отчёта 8A64094794B9AB31DB7375B1AE343BD6271D6EA5EF0430006F50C37129BB0071 ====
foobar2000 1.2 / Dynamic Range Meter 1.1.1
log date: 2017-02-04 02:26:24

––––––––––––––––––––––––––––––––––––––––
Analyzed: Tramp / Tramp
––––––––––––––––––––––––––––––––––––––––

DR Peak RMS Duration Track
––––––––––––––––––––––––––––––––––––––––
DR11 -3.40 dB -16.26 dB 2:50 01-Own Up
DR12 -3.68 dB -18.72 dB 2:06 02-Same Old Thing
DR11 -4.73 dB -19.77 dB 2:53 03-What You Gonna Do
DR13 -3.40 dB -18.54 dB 2:59 04-Somebody Watching Me
DR13 -8.37 dB -26.05 dB 2:43 05-Too Late Now
DR11 -3.40 dB -16.77 dB 4:11 06-Baby What You Want Me To Do
DR12 -3.40 dB -18.72 dB 3:20 07-Street Walking Blues
DR12 -5.37 dB -19.87 dB 2:47 08-On The Scene
DR13 -4.44 dB -20.77 dB 3:43 09-Month Of Sundays
DR11 -3.42 dB -16.29 dB 4:24 10-Hard Work
DR12 -3.40 dB -17.43 dB 2:11 11-Another Day
––––––––––––––––––––––––––––––––––––––––

Number of tracks: 11
Official DR value: DR12

Samplerate: 44100 Hz
Channels: 2
Bits per sample: 16
Bitrate: 888 kbps
Codec: FLAC
================================================================================