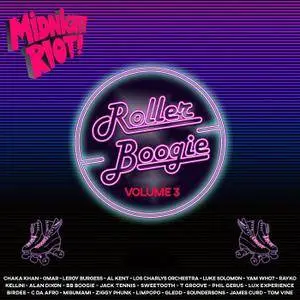 VA - Roller Boogie Vol 3 (2018)
MP3 CBR 320 kbps | 3:03:20 | 428 Mb
Genre: Disco / Label: Midnight Riot
Get your skates on: there's a roller-disco at Midnight Riot HQ and everyone's invited! Naturally, there's heaps of highlights to be found on the imprint's third tribute to the early '80s roller-boogie sound. Amongst the 19 party-starting gems on show you'll fid a brilliant BB Boogie collaboration with original electrofunk sensation Leroy Burgess (the wonderfully soulful "Tonight We're Gonna"), a storming disco-house rub of Tom Vine's "Disco Scene" by Classic chief Luke Solomon, a fantastically rubbery P-funk excursion by C Da Afro and a typically expansive and musically rich Al Kent revision of Soundersons' "He Doesn't Love Me". Throw in killer cuts from Rayko, Sweetoth and Kellini, and you have another stellar collection of skate-ready jams.
Track List:
1. T-Groove - Roller Skate (feat The Precious Lo's - extended mix) (05:44)
2. BB Boogie - Tonight We're Gonna (feat Leroy Burgess - Bb Boogie remix) (07:10)
3. Birdee - Give Into Love (feat Chloe Amber) (08:16)
4. The Wanda - Baby Don't You Go (feat Chaka Khan & Beres Hammond - Dr Packer remix) (06:55)
5. Los Charly's Orchestra - History (feat Omar) (04:08)
6. Tom Vine - Disco Scene (Luke Solomon remix) (07:07)
7. C Da Afro - Too Hot To Handle (07:24)
8. Lux Experience - On Tha 1 (07:59)
9. Alan Dixon - Square Skating (06:23)
10. Gledd - Ny City (06:00)
11. Jack Tennis - Le Funk (06:39)
12. James Curd - A Lazy Boy Get Down (06:12)
13. Soundersons - He Doesn't Love Me (Al Kent remix) (05:59)
14. Sweetooth - Disco Fantasy (06:27)
15. Misumami, Phil Gerus - The Proof (04:29)
16. Rayko - Straight From The Heart (Urgent Disco edit) (06:38)
17. Kim & Buran - Delayed Flight (Limpopo remix) (07:12)
18. Kellini - Klatresti (05:57)
19. Roller Boogie Vol 3 (continuous DJ mix) (01:06:32)