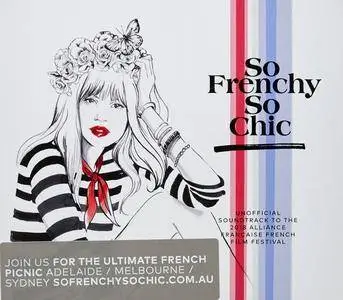 VA - So Frenchy So Chic 2018 (2017)
MP3 CBR 320 kbps | 1:36:21 | 241 Mb
Genre: World, French Pop, Indie, Chanson / Label: Cartell
Brand new edition of annual compilation So Frenchy, So Chic, available on Cartell via Inertia! New version released every year in tandem with the So Frenchy, So Chic Festival, which takes place in January 2018 in Sydney, Melbourne and Adelaide. Compilation features tracks from Frànçois and The Atlas Mountains, Melanie De Biasio, and more! Double CD, in jewel case with O-Card slipcase BON!
Track List:
1. Ezechiel Pailhès - Éternel Été
2. Frànçois and The Atlas Mountains - Grand Dérèglement
3. Therapie Taxi - Jean-Paul
4. SuperBravo Pourquoi
5. Ben Mazué - La Mer Est Calme
6. Camille Piscine
7. Clara Luciani - Comme Toi
8. Baptiste W. Hamon - Ballade d'Alan Seeger
9. Albin de la Simone - Une Femme
10. Calypso Valois Cannibales
11. Malik Djoudi - Sous Garantie
12. Ali Danel - La Nuit Qui Vient
13. Gaël Faure - La Saison
14. Nouvelle Frontière - L'archipel
15. Eddy de Pretto - Fête de Trop
16. Calypso Valois - Le jour
17. Athanase Granson Fanny
18. Vaiteani - Belle-Île-en-Mer, Marie-Galante
19. Fishbach - Un Autre Que Moi
20. Brigitte Palladium
21. Melanie De Biasio - Your Freedom Is The End Of Me
22. General Elektriks - Whisper To Me
23. Moodoid - Reptile
24. Isaac Delusion - Isabella
25. Mai Lan - Vampire
26. Vianney - Je M'em Vais
27. Ricky Hollywood - Matin