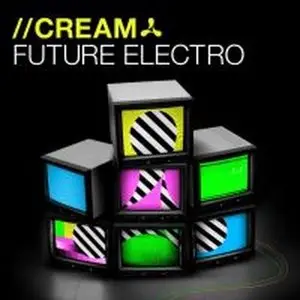 VA - Cream Future Electro (2009)
Genre: Electronic | MP3 | VBR avg 178 kbps | 237:50 min | 337.41MB
The other day group BPM released a compilation album called "Cream Future Electro". 2009 has been the year of electro influenced beats and has seen artists like David Guetta, Deadmau5 plus Calvin Harris ruling the charts and taking the sound to mass appeal. 2010 looks set to follow this as musical styles get mashed and dirty! Always the innovators, Cream grab the sound by the scruff of the neck and head into the electro age with Cream Future Electro, mixing up 2009's biggest tunes, crossover new music with a credible edge, future anthems and heavyweight electro classics on a 3xCD set.
Track List

CD1:
01. Sebastian Ingrosso – Kidsos (DBN Remix)
02. Medina – You and I (Deadmau5 Remix)
03. James Talk And Ridney – West End Girls (Club Mix 2009)
04. Joris Voom – Chase The Mouse
05. The Bingo Players – Devotion
06. Fatboy Slim Vs Fedde le Grand – Praise You 2009 (F L G Remix)
07. Wolfgang Gartner – Wolfgangs 5th Symphony
08. Lucky Charmes And Tony Verdult – Body Sweat
09. David Vendetta ft Syd Bayliss – She Turns Around
10. Moby – One Time We Lived (Laurent Wolf Remix)
11. Remady – No Superstar (James Kayn Remix)
12. Diva And Jones – E (Without Me) (David Jones Mix)
13. MYNC vs Harry Choo Choo Romero And Jose Nunez – Boogers (Avicii Dumb Dumb Remix)
14. Empire Of The Sun – We Are The People (Style Of Eye Remix)
15. Wippenberg – Pong (Tocadisco Remix)
16. Axwell And Laidback Luke ft. Deborah Cox – Leave The World Behind (Dimitri Vegas And Like Mike vs SHM Dark Forest Edit)
17. Deadmau5 – FML
18. John Dahlback – Autumn
19. Paul van Dyk – For An Angel 2009 (Spencer And Hill Remix)
20. Avicii – Ryu (Laidback Luke Edit)
21. Cirez D – On Off
22. Dustin Zahn – Stranger (To Stability) (Len Faki Podium Remix)
23. Tiesto – Louder Than Boom

CD2:
01. Armand Van Helden Presents Old School Junkies – The Funk Phenomena (Starkillers 2010 Remix)
02. Chuckie – Let The Bass Kick (Original Extended Mix)
03. Dada Life – Lets Get Bleeped Tonight
04. Spencer And Hill – Cool (Afrojack Remix)
05. Crookers ft Kelis – No Security (Bart B More Remix)
06. David Guetta And Afrojack ft Wynter – Toyfriend
07. Simian Mobile Disco – Audacity of Huge (Dekker And Johan Remix)
08. Groove Armada – I Won't Kneel (Joe And Will Ask Remix)
09. Passion Pit – Little Secrets (Jack Beats Remix)
10. Yeah Yeah Yeahs – Heads Will Roll (Passion Pit Remix)
11. Ou Est Le Swimming Pool – Dance The Way I Feel (Armand Van Helden Club Mix)
12. Fever Ray – Seven (Crookers Remix)
13. FM Audio – Killer (Afrojack Remix)
14. Little Boots – Remedy (A1 Bassline Get Hype Remix)
15. Silvio Ecomo And Chuckie – Moombah! (Afrojack Remix)
16. Calvin Harris – Im Not Alone (Herve's See You At The Festival Remix)
17. Kissy Sellout – This Kiss (Jack Beats Mix)
18. Fake Blood – Mars (Jack Beats Remix)
19. Deekline – I Don't Smoke 09 (Utah Saints Remix)
20. The Prodigy – Take Me To The Hospital (Adam F And Horx Remix)
21. Bloc Party – One More Chance (Alex Metric Remix)
22. Together – Hardcore Uproar 2009 (Lee Mortimer Remix)
23. Tiesto and Sneaky Sound System – I Will Be Here (Benny Benassi Remix)
CD3:
01. Robyn ft Kleerup – With Every Heartbeat (Tong And Spoon Wonderland Remix)
02. Freeform Five – No More Conversations (Mylo ReEdit)
03. Dave Spoon – At Night
04. A Studio – SOS (Tocadisco Remix)
05. Bodyrox ft Luciana – Yeah Yeah (D Ramirez Remix)
06. Mylo – In My Arms (Tocadiscos Zwischen Den Stuhlen Mix)
07. Tomas Andersson – Washing Up (Tiga Remix)
08. Wekan – Skid (Touche Remix)
09. Royksopp – What Else Is There (Trentemoller Remix)
10. Roger Sanchez – Lost (D Ramierz Lost In Rave Remix)
11. Eyerer And Chopstick ft Zdar – Haunting (Make My Day) (Dabruck & Klein Remix)
12. Djuma Soundsystem – Les Djinns (Swen Weber Remix)
13. Cicada – The Things You Say (Dirty South Remix)
14. MANDY ft Booka Shade – Body Language
15. Evermore Vs Dirty South – Its Too Late
16. The Egg – Walking Away (Tocadisco Remix)
17. Deadmau5 – Arguru
18. Dirty South ft Rudy – Let It Go (Axwell Remix)
19. The Killers – Mr Brightside (Jacques Lu Conts Thin White Duke Remix)