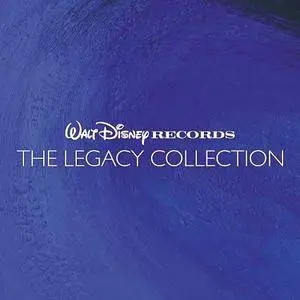 V.A. - Walt Disney Records: The Legacy Collection (Vol.01-Vol.12, 2014-2015)
Score, Soundtrack | MP3 CBR 320 kbps | 3,87 Gb
Label: Walt Disney Records
The Legacy Collection plunders the deepest depths of the Disney sound archive to collect, with unprecedented completeness, the audio histories of 11 classic animated films from each era of the Disney Studios, from Lady and the Tramp and Aristocats to Little Mermaid and the Lion King to Toy Story and Wreck-It Ralph, with one more CD devoted just to Disneyland. Each disc contains the full score of a film from opening to closing credits, unreleased rarities, and bonus material. Then there's the books.
Each of the 12 Volumes comes with a rich illustrated book, featuring new art by Lorelay Bove. The books include liner notes in which composers, musicians, animators and other production personnel recount previously untold oral histories of the music that underpins Disney's animation, unifying it every bit as much as the storytelling and art styles.
There's more than 47,000 words of liner notes in those pages, and more than 20 hours' worth of audio on the discs. Listening to the demos in which the legends of Disney music, from Ashman and Menken to the Shermans give notes to singers whose music I've thrilled to literally all my life is an incredible experience, like getting in a time machine.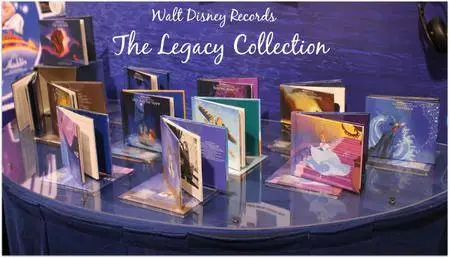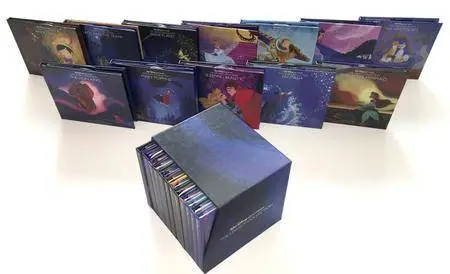 Tracklist:Vol.01. The Lion King
(2 CD) (by Hans Zimmer, Elton John & VA) (1994)
Vol.02. Mary Poppins
(3 CD) (by Richard M. and Robert B. Sherman) (1964)
Vol.03. Sleeping Beauty
(2 CD) (by VA) (1965)
Vol.04. The Little Mermaid
(2 CD) (by VA) (1989)
Vol.05. Fantasia
(4CD) (by Ponchielli, Debussy, Schubert, Beethoven, Mussorgsky, Holloway) - 2015 (1940)
Vol.06. Pinocchio
(2CD) (VA) (1940)
Vol.07. Lady And The Tramp
(2CD) (by VA) (1955)
Vol.08. Disney - The Legacy Collection
: Disneyland 60th Anniversary (by VA)
Vol.09. Cinderella
(2CD) (by VA) (1950)
Vol.10. Toy Story
(2CD) (by VA) (1995)
Vol.11. Pocahontas
(2CD) (by VA) (1995)
Vol.12. The AristoCats
(2CD) (by VA) (1970)
Vol.01. The Lion King (2 CD) (by Hans Zimmer, Elton John & VA) (1994)

CD 1:
01. Carmen Twillie & Lebo M - Circle Of Life / Nants' Ingonyama (3:59)
02. Hans Zimmer - Didn't Your Mother Tell You Not To Play With Your Food (2:08)
03. Hans Zimmer - We Are All Connected (3:02)
04. Hans Zimmer - Hyenas In The Pride Land (3:51)
05. Jason Weaver, Rowan Atkinson & Laura Williams - I Just Can't Wait To Be King (2:52)
06. Hans Zimmer - Elephant Graveyard (4:48)
07. Hans Zimmer - I Was Just Trying To Be Brave (2:16)
08. Jeremy Irons, Whoopi Goldberg, Cheech Marin & Jim Cummings - Be Prepared (3:40)
09. Hans Zimmer - Simba, It's To Die For (0:48)
10. Hans Zimmer - Stampede (3:22)
11. Hans Zimmer - Mufasa Dies (3:27)
12. Hans Zimmer - If You Ever Come Back We'll Kill You (1:38)
13. Hans Zimmer - Bowling For Buzzards (0:30)
14. Nathan Lane, Ernie Sabella, Jason Weaver & Joseph Williams - Hakuna Matata (4:08)
15. Hans Zimmer - We Gotta Bone To Pick With You (1:08)
16. Hans Zimmer - Kings Of The Past (2:48)
17. Hans Zimmer - Nala, Is It Really You? (4:11)
18. Joseph Williams, Sally Dworsky, Nathan Lane, Ernie Sabella & Kristle Edwards - Can You Feel The Love Tonight (2:52)
19. Hans Zimmer - Remember Who You Are (7:48)
20. Hans Zimmer - This Is My Home (2:45)
21. Hans Zimmer - The Rightful King (11:46)

CD 2:
01. James Earl Jones, Jeff Bennett & Evan Saucedo - The Morning Report (1:37)
02. Nathan Lane & Ernie Sabella - Warthog Rhapsody (3:06)
03. Hans Zimmer - We Are All Connected (Demo) (3:05)
04. Hans Zimmer - I Was Just Trying To Be Brave (Demo) (2:16)
05. Hans Zimmer - Stampede (Demo) (3:23)
06. Hans Zimmer - Mufasa Dies (Demo) (3:27)
07. Hans Zimmer - This Is My Home (Demo) (2:28)
08. Hans Zimmer - The Rightful King (Demo) (11:42)
09. Hans Zimmer - Circle Of Life (Instrumental Demo) (4:02)
10. Elton John - Circle Of Life (4:52)
11. Elton John - I Just Can't Wait To Be King (3:37)
12. Elton John - Can You Feel The Love Tonight (End Title) (4:01)

Vol.02. Mary Poppins (3 CD) (by Richard M. and Robert B. Sherman) (1964)

CD 1:
01. Irwin Kostal - Buena Vista Fanfare (0:08)
02. Richard M. Sherman & Robert B. Sherman - Overture (2:58)
03. Richard M. Sherman & Robert B. Sherman - One Man Band (0:56)
04. Glynis Johns, Hermione Baddeley & Reta Shaw - Sister Suffragette (1:43)
05. David Tomlinson - The Life I Lead (2:00)
06. Karen Doctrice & Matthew Garber - The Perfect Nanny (1:37)
07. Richard M. Sherman & Robert B. Sherman - Air Mail • Admiral Boom • The Not-So-Perfect Nannies • Mary Poppins Arrives (3:07)
08. Julie Andrews - A Spoonful of Sugar (4:06)
09. Dick Van Dyke - Pavement Artist (1:53)
10. Julie Andrews & Dick Van Dyke - Jolly Holiday (5:35)
11. Julie Andrews & Dick Van Dyke - Jolly Holiday (Reprise) (1:11)
12. Richard M. Sherman & Robert B. Sherman - Penguin Dance (2:20)
13. Richard M. Sherman & Robert B. Sherman - The Carousel Horses (4:17)
14. Julie Andrews & Dick Van Dyke - Supercalifragilisticexpialidocious (2:00)
15. Dick Van Dyke - Pavement Artist (Reprise) (1:01)
16. Julie Andrews - Stay Awake (1:42)
17. Richard M. Sherman & Robert B. Sherman - Trouble at Uncle Albert's (1:40)
18. Ed Wynn, Julie Andrews & Dick Van Dyke - I Love to Laugh (2:42)
19. David Tomlinson & Julie Andrews - A British Bank (The Life I Lead) (2:07)
20. Julie Andrews - Feed the Birds (Tuppence a Bag) (3:49)
21. Richard M. Sherman & Robert B. Sherman - Father's Footsteps (1:17)
22. David Tomlinson & "Navckid Keyd" - Fidelity Fiduciary Bank (3:30)
23. Richard M. Sherman & Robert B. Sherman - Panic at the Bank (3:21)
24. Dick Van Dyke, Julie Andrews, Karen Doctrice, & Matthew Garber - Chim Chim Cher-ee • March Over the Rooftops (5:11)
25. Dick Van Dyke, The Chimney Sweep Chorus & Cast - Step in Time (8:42)
26. David Tomlinson & Dick Van Dyke - A Man Has Dreams (The Life I Lead_A Spoonful of Sugar)) (4:27)
27. Richard M. Sherman & Robert B. Sherman - Mr. Banks Is Discharged (4:45)
28. David Tomlinson, Dick Van Dyke & the Londoners - Let's Go Fly a Kite (1:49)

CD 2:
01. Richard M. Sherman & Robert B. Sherman - The Perfect Nanny (Pre-Demo) (1:11)
02. Richard M. Sherman & Robert B. Sherman - Jolly Holiday (Pre-Demo) (2:06)
03. Richard M. Sherman - The Pearly Song [Supercalifragilisticexpialidocious] (Pre-Demo) (1:30)
04. Richard M. Sherman - Stay Awake (Pre-Demo) (1:33)
05. Richard M. Sherman & Robert B. Sherman - Chim Chim Cher-ee (Pre-Demo) (2:40)
06. Richard M. Sherman - I Love to Laugh (Pre-Demo) (2:06)
07. Richard M. Sherman - Tuppence a Bag (Pre-Demo) (2:55)
08. Richard M. Sherman - Let's Go Fly a Kite (Pre-Demo) (1:45)
09. Richard M. Sherman & Robert B. Sherman - Mary Poppins Melody (Pre-Demo) (1:07)
10. Kate Higgins - Mary Poppins Melody (New Recording) (2:06)
11. Richard M. Sherman - Admiral Boom (Demo) (1:16)
12. Randy Crenshaw, Jeff Gunn & Dennis Kyle - Admiral Boom (New Recording) (1:56)
13. Richard M. Sherman & Robert B. Sherman - The Right Side (Pre-Demo) (2:27)
14. Juliana Hansen - The Right Side (New Recording) (2:36)
15. Richard M. Sherman - The Chimpanzoo (Demo) (1:06)
16. Bob Joyce, Jeff Gunn, Randy Crenshaw and Dennis Kyle - The Chimpanzoo (New Recording) (1:59)
17. Richard M. Sherman & Robert B. Sherman - The Land of Sand (Pre-Demo) (1:35)
18. Kate Higgins, Juliana Hansen, Jeff Gunn, Bob Joyce - The Land of Sand (New Recording) (2:32)
19. Richard M. Sherman - The North Pole Polka (Pre-Demo) (1:43)
20. Jeff Gunn, Bob Joyce, Richard M. Sherman, Katie Higgins and Dennis Kyle - The Northa Pole Polka (New Recording) (2:12)
21. Richard M. Sherman - The Eyes of Love (Pre-Demo) (2:46)
22. Juliana Hansen - The Eyes of Love (New Recording) (3:32)
23. Richard M. Sherman & Robert B. Sherman - Overture (Album Version) (4:07)

CD 3:
01. P.L. Travers, Richard M. Sherman, Robert B. Sherman & Don DaGradi - Cherry Tree Lane (0:22)
02. P.L. Travers, Richard M. Sherman, Robert B. Sherman & Don DaGradi - Mr. Banks Decided to Hire a Nanny Himself (0:29)
03. P.L. Travers, Richard M. Sherman, Robert B. Sherman & Don DaGradi - The Children Write Their Own Advertisement (1:02)
04. P.L. Travers, Richard M. Sherman, Robert B. Sherman & Don DaGradi - The Line of Applicants and Mary Poppins Arrives (1:45)
05. P.L. Travers, Richard M. Sherman, Robert B. Sherman & Don DaGradi - Notes on Mary Meeting the Banks (0:39)
06. P.L. Travers, Richard M. Sherman, Robert B. Sherman & Don DaGradi - Up to the Nursery (2:44)
07. P.L. Travers, Richard M. Sherman, Robert B. Sherman & Don DaGradi - Bert and the Talking Pictures (3:45)
08. P.L. Travers, Richard M. Sherman, Robert B. Sherman & Don DaGradi - A Carousel Horse Ride to the Seashore (1:18)
09. P.L. Travers, Richard M. Sherman, Robert B. Sherman & Don DaGradi - The Return Home (1:51)
10. P.L. Travers, Richard M. Sherman, Robert B. Sherman & Don DaGradi - The Next Morning We Meet the Sweep (2:08)
11. P.L. Travers, Richard M. Sherman, Robert B. Sherman & Don DaGradi - Uncle Albert's (1:26)
12. P.L. Travers, Richard M. Sherman, Robert B. Sherman & Don DaGradi - A Change in the Wind and an Adventure with Admiral Boom (2:19)
13. P.L. Travers, Richard M. Sherman, Robert B. Sherman & Don DaGradi - The Bird Woman (2:01)
14. P.L. Travers, Richard M. Sherman, Robert B. Sherman & Don DaGradi - Mr. Banks and the Compass (2:58)
15. P.L. Travers, Richard M. Sherman, Robert B. Sherman & Don DaGradi - The Compass Sequence: Timbuktu (3:32)
16. P.L. Travers, Richard M. Sherman, Robert B. Sherman & Don DaGradi - The Compass Sequence: The Land of Sand (2:05)
17. P.L. Travers, Richard M. Sherman, Robert B. Sherman & Don DaGradi - The Compass Sequence: Tea in China (1:29)
18. P.L. Travers, Richard M. Sherman, Robert B. Sherman & Don DaGradi - The Compass Sequence: The North Pole (2:01)
19. P.L. Travers, Richard M. Sherman, Robert B. Sherman & Don DaGradi - The Return Home (3:08)
20. P.L. Travers, Richard M. Sherman, Robert B. Sherman & Don DaGradi - Everyone Descends on Cherry Tree Lane (1:57)
21. P.L. Travers, Richard M. Sherman, Robert B. Sherman & Don DaGradi - Mary Departs (2:03)
22. Dick Tufeld - Hollywood Spotlight Microphone (17:27)
23. Richard M. Sherman & Robert B. Sherman - Sherman Brothers Reminisce About Their Work on Mary Poppin (16:07)

Vol.03. Sleeping Beauty (2 CD) (by VA) (1965)

CD 1:
01. George Bruns - Main Title / Once Upon a Dream / Prologue (2:58)
02. Disney Studio Chorus - Hail to Princess Aurora (1:57)
03. Disney Studio Chorus - The Gifts of Beauty and Song / Maleficent Appears / True Love Conquers All (5:39)
04. George Bruns - The Burning of the Spinning Wheels / The Fairies Plan (4:33)
05. George Bruns - Maleficent's Frustration (2:08)
06. George Bruns - A Cottage in the Woods (3:28)
07. Mary Costa - Do You Hear That? / I Wonder (3:58)
08. Mary Costa & Bill Shirley - An Unusual Prince / Once Upon a Dream (3:30)
09. George Bruns - Magical House Cleaning / Blue or Pink (2:47)
10. George Bruns - A Secret Revealed (1:58)
11. Bill Thompson & Taylor Holmes - Skumps (Drinking Song) / The Royal Argument (4:10)
12. George Bruns - Prince Phillip Arrives / How to Tell Stefan (2:26)
13. George Bruns - Aurora's Return / Maleficent's Evil Spell (5:07)
14. Disney Studio Chorus - Poor Aurora / Sleeping Beauty (2:58)
15. George Bruns - Forbidden Mountain (2:52)
16. George Bruns - A Fairy Tale Come True (2:49)
17. George Bruns - Battle with the Forces of Evil (5:12)
18. George Bruns - Awakening (2:44)
19. George Bruns - Finale (1:43)

CD 2:
01. Hans Conried & Bill Thompson - It Happens I Have a Picture (Demo) (2:20)
02. Randy Crenshaw & Dennis Kyle - It Happens i Have a Picture (New Recording) (2:26)
03. Verna Felton, Barbara Jo Allen & Coleen Collins - Riddle, Diddle, One, Two, Three (Demo) (2:15)
04. Cindy Robinson & Linda Kerns - Riddle, Diddle, One, Two, Three (New Recording) (3:29)
05. Hans Conried & Bill Thompson - Evil – Evil (Demo) (2:35)
06. Randy Crenshaw, Jeff Gunn & Dennis Kyle - Evil – Evil (New Recording) (4:31)

Bonus Tracks
07. Tutti Camarata Orchestra - Sleeping Beauty Overture (2:57)
08. Mary Costa - Blue Bird / I Wonder (Album Version) (2:44)
09. Mary Costa & Bill Lee - Woodland Symphony / Once Upon a Dream (Album Version) (3:35)
10. Tutti Camarata Orchestra - Love Theme from Sleeping Beauty (3:26)

Vol.04. The Little Mermaid (2 CD) (by VA) (1989)

CD 1:
01. Ship's Chorus - Fathoms Below (1:42)
02. Alan Menken - Main Titles (Score) (1:26)
03. Alan Menken - Fanfare (Score) (0:28)
04. Daughters of Triton - Daughters of Triton (0:53)
05. Alan Menken - Intro Ariel (Score) (3:12)
06. Alan Menken - Intro Ursula (Score) (2:38)
07. Alan Menken - Triton Reprimands (Score) (1:50)
08. Alan Menken - Sebastian's Dilema (Score) (0:45)
09. Jodi Benson - Part of Your World (3:32)
10. Alan Menken - Fireworks (Score) (2:12)
11. Alan Menken - The Storm (Score) (3:19)
12. Jodi Benson - Part of Your World (Reprise) / Ursula Plots (3:04)
13. Alan Menken - Ariel in Love (Score) (0:23)
14. Samuel E. Wright - Under the Sea (3:24)
15. Alan Menken - Sebastian and Triton (Score) (1:40)
16. Alan Menken - Destroying the Grotto (Score) (1:52)
17. Alan Menken - Flotsam and Jetsam (Score) (1:47)
18. Alan Menken - Ursula's Lair (Score) (2:18)
19. Pat Carroll - Poor Unfortunate Souls (4:49)
20. Alan Menken - She's Got Legs (Score) (1:23)
21. Alan Menken - Sebastian Relents (Score) (0:29)
22. Alan Menken - On Land (Score) (2:23)
23. Alan Menken - Miss Manners (Score) (1:09)
24. Rene Auberjonois - Les Poissons (2:11)
25. Alan Menken - Crab On a Plate / Bedtime (Score) (2:21)
26. Alan Menken - Tour of the Kingdom (Score) (1:26)
27. Samuel E. Wright - Kiss the Girl (2:41)
28. Alan Menken - Ariel Left Behind (Score) (4:10)
29. Pat Carroll - Poor Unfortunate Souls (Reprise) (0:32)
30. Alan Menken - The Truth (Score) (1:24)
31. Alan Menken - Interrupting the Wedding / Ursula's Defeat (Score) (6:42)
32. Disney Chorus - Happy Ending (3:21)

CD 2:
01. Howard Ashman & Alan Menken - Fathoms Below (Work Tape) (2:15)
02. Howard Ashman & Alan Menken - Daughters of Triton (Synth Demo) (0:56)
03. Howard Ashman & Alan Menken - Part of Your World (Synth Demo) (3:15)
04. Alan Menken - Fireworks / The Gigue (Score Piano Demo) (2:11)
05. Alan Menken - The Storm (Score Piano Demo) (2:36)
06. Howard Ashman & Alan Menken - Under the Sea (Synth Demo) (4:43)
07. Howard Ashman & Alan Menken - Poor Unfortunate Souls (Basic Synth Demo) (5:07)
08. Howard Ashman & Alan Menken - Poor Unfortunate Souls (Final Synth Mockup) (5:32)
09. Howard Ashman & Alan Menken - Les Poissons (Work Tape Demo) (2:09)
10. Howard Ashman & Alan Menken - Les Poissons (Synth Demo) (2:04)
11. Howard Ashman & Alan Menken - Kiss the Girl (Synth Demo B) (2:42)
12. Alan Menken - Happy Ending (Score Piano Demo) (2:31)

Vol.05. Fantasia (4CD) (by Leopold Stokowski, Ponchielli, Debussy, Schubert, Beethoven, Mussorgsky, Holloway) - 2015 (1940)

CD 1:
01. Leopold Stokowski - Toccata and Fugue in D Minor, BWV 565 (9:25)
02. Leopold Stokowski - The Nutcracker Suite, Op.71a: Dance of the Sugar Plum Fairy (2:36)
03. Leopold Stokowski - The Nutcracker Suite, Op.71a: Chinese Dance (1:04)
04. Leopold Stokowski - The Nutcracker Suite, Op.71a: Dance of the Reed Flutes (1:49)
05. Leopold Stokowski - The Nutcracker Suite, Op.71a: Arabian Dance (3:15)
06. Leopold Stokowski - The Nutcracker Suite, Op.71a: Russian Dance (1:08)
07. Leopold Stokowski - The Nutcracker Suite, Op.71a: Waltz of the Flowers (4:28)
08. Leopold Stokowski - The Sorcerer's Apprentice (9:19)
09. Leopold Stokowski - Rite of Spring (22:25)

CD 2:
01. Ludwig van Beethoven - I Allegre Ma Non Troppo (4:40)
02. Ludwig van Beethoven - II Andante Molto Mosso (6:25)
03. Ludwig van Beethoven - III Allegro / IV Allegro / V Allegretto (10:58)
04. Amilcare Ponchielli - Dance of the Hours From the Opera "La Gioconda" (12:15)
05. Modest Mussorgsky - A Night on Bald Mountain (7:25)
06. Franz Schubert - Ave Maria, Op. 52 No. 6 (6:33)
07. Sterling Holloway - The Sorcerer's Apprentice (9:33)
08. Claude Debussy - Clair De Lune (Moonlight) From "Suite Bergamasque", (CD 82/3) (5:49)

CD 3:
01. Leopold Stokowski - Toccata and Fugue in D Minor, BVW 565 (9:30)
02. Leopold Stokowski - The Nutcracker Suite, Op. 71a: Dance of the Sugar Plum Fairy (2:43)
03. Leopold Stokowski - The Nutcracker Suite, Op. 71a: Chinese Dance (1:04)
04. Leopold Stokowski - The Nutcracker Suite, Op. 71a: Dance of the Reed Flutes (1:51)
05. Leopold Stokowski - The Nutcracker Suite, Op. 71a: Arabian Dance (3:22)
06. Leopold Stokowski - The Nutcracker Suite, Op. 71a: Russian Dance (1:06)
07. Leopold Stokowski - The Nutcracker Suite, Op. 71a: Waltz of the Flowers (4:31)
08. Leopold Stokowski - The Sorcerer's Apprentice (9:25)
09. Leopold Stokowski - Rite of Spring (22:29)

CD 4:
01. Ludwig van Beethoven - I Allegro Ma Non Troppo (4:40)
02. Ludwig van Beethoven - II Adnante Molto Mosso (6:05)
03. Ludwig van Beethoven - III Allegro / IV Allegro / V Allegretto (10:49)
04. Amilcare Ponchielli - Dance of the Hours From the Opera "La Gioconda" (12:18)
05. Modest Mussorgsky - A Night on Bald Mountain (8:46)
06. Franz Schubert - Ave Maria, Op. 52 No. 6 (5:06)
07. Sterling Holloway - Peter and the Wolf (14:19)

Vol.06. Pinocchio (2CD) (VA) (1940)

CD 1:
01. Cliff Edwards and the Disney Studio Chorus - When You Wish Upon a Star (3:15)
02. Leigh Harline and Paul J. Smith - Little Wooden Head (5:45)
03. Leigh Harline and Paul J. Smith - Clock Sequence (0:55)
04. Leigh Harline and Paul J. Smith - Kitten Theme (0:40)
05. Leigh Harline and Paul J. Smith - The Blue Fairy (3:27)
06. Cliff Edwards and Dickie Jones - Give a Little Whistle (1:38)
07. Leigh Harline and Paul J. Smith - Old Geppetto (4:44)
08. Leigh Harline and Paul J. Smith - Off to School (4:18)
09. Walter Catlett - Hi-Diddle-Dee-Dee (1:41)
10. Leigh Harline and Paul J. Smith - So Sorry (1:36)
11. Dickie Jones - I've Got No Strings (2:23)
12. Leigh Harline and Paul J. Smith - Sinister Stromboli (2:28)
13. Leigh Harline and Paul J. Smith - Sad Reunion (3:22)
14. Leigh Harline and Paul J. Smith - Lesson In Lies (2:31)
15. Leigh Harline and Paul J. Smith - Turn On The Old Music Box (0:50)
16. Leigh Harline and Paul J. Smith - Coach To Pleasure Island (4:45)
17. Leigh Harline and Paul J. Smith - Angry Cricket (1:20)
18. Leigh Harline and Paul J. Smith - Transformation (3:51)
19. Leigh Harline and Paul J. Smith - Message From The Blue Fairy (1:30)
20. Leigh Harline and Paul J. Smith - To The Rescue (0:34)
21. Leigh Harline and Paul J. Smith - Deep Ripples (1:29)
22. Leigh Harline and Paul J. Smith - Desolation Theme (1:42)
23. Leigh Harline and Paul J. Smith - Monstro Awakens (2:03)
24. Leigh Harline and Paul J. Smith - Whale Chase (3:18)
25. Cliff Edwards and the Disney Studio Chorus - A Real Boy (1:42)

CD2
01. Kate Higgins, Cindy Robinson, Randy Crenshaw and Jeff Gunn - No Strings (1:03)
02. Randy Crenshaw - As I Was Sayin' to the Duchess (1:11)
03. Kate Higgins, Cindy Robinson, Randy Crenshaw and Jeff Gunn - Rolling Along to Pleasure Island (1:46)

Bonus Tracks
04. Cliff Edwards and the Disney Studio Chorus - You (Are A Human Animal) (1:40)
05. Cliff Edwards and the Disney Studio Chorus - Mickey Mouse Club Book Song (1:37)
06. Cliff Edwards, The Mouseketeers and the Disney Studio Chorus - I'm No Fool (On A Bike) (1:47)
07. Cliff Edwards - Safety First / I'm No Fool (In Water) (2:26)
08. Cliff Edwards - Stop, Look and Listen / I'm No Fool (As A Pedestrian) (2:59)

Vol.07. Lady And The Tramp (2CD) (by VA) (1955)

CD 1:
01. Oliver Wallace; Disney Studio Chorus - Main Title (Bella Notte)/The Wag Of A Dog's Tail (2:03)
02. Donald Novis & Disney Studio Chorus - Peace On Earth (1:01)
03. Oliver Wallace - It Has A Ribbon / Lady To Bed / A Few Mornings Later (3:53)
04. Oliver Wallace - Sunday / The Rat / Morning Paper (1:44)
05. Oliver Wallace - A New Collar/ Jock & Trusty/ It's Jim Dear (3:18)
06. Oscar Wallace - What A Day! / Breakfast At Tony's (1:05)
07. Oliver Wallace - Warning / Breakout/ Snob Hill / A Wee Bairn (2:45)
08. Oliver Wallace - Countdown To B-Day (2:05)
09. Peggy Lee - Baby's First Morning/What Is A Baby/La La Lu (3:12)
10. Oliver Wallace - Going Away / Aunt Sarah (1:51)
11. Peggy Lee - The Siamese Cat Song/What's Going on Down There (2:36)
12. Oliver Wallace - The Muzzle / Wrong Side Of The Tracks (1:54)
13. Oliver Wallace - You Poor Kid / He's Not My Dog (1:24)
14. Oliver Wallace - Through The Zoo / A Log Puller (1:59)
15. Disney Studio Chorus, George Givot & Oliver Wallace - Footloose & Collar-Free/Bella Notte (4:22)
16. Oliver Wallace - It's Morning / Ever Chase Chickens / Caught (2:51)
17. The Mello Men - Home Sweet Home (1:31)
18. Oliver Wallace - The Pound (1:27)
19. Oliver Wallace & Peggy Lee - What A Dog/He's A Tramp (2:24)
20. Oliver Wallace - In The Doghouse / The Rat Returns / Falsely Accused / We've Got To Stop That Wagon/Trusty's Sacrifice (6:06)
21. Oliver Wallace - Watch The Birdie / Visitors (2:06)
22. Disney Studio Chorus - Finale (Peace On Earth) (0:30)

CD 2:
01. Disney Studio Vocalist - I'm Free As the Breeze (Demo) (2:29)
02. Jeff Gunn - I'm Free As the Breeze (3:13)
03. Jeff Gunn - I'm Singin' ('Cause I Want to Sing) (1:48)
04. Teri York - What Is a Baby (3:25)
05. Teri York - La La Lu (2:49)
06. Robie Lester - The Siamese Cat (2:43)
07. Bob Grabeau - Bella Notte (2:41)
08. Teri York - He's a Tramp (2:09)
09. Teri York - Peace On Earth (2:11)

Vol.08. Disney - The Legacy Collection: Disneyland 60th Anniversary (by VA)

CD1
01. Disney - Walt Disney's Dedication of Disneyland (July 17th, 1955) (0:42)
02. Jack Wagner - All Aboard! (0:31)
03. Michael Giacchino - Married Life (2:25)
04. Buddy Baker - Great Moments with Mr. Lincoln (5:54)
05. The Elliott Brothers - Let's Dance at Disneyland (2:12)
06. The Enchanted Tiki Room - The Tiki, Tiki, Tiki Room (3:28)
07. John Williams - Indiana Jones and the Temple of the Forbidden Eye (3:25)
08. Buddy Baker; Bob Jackman - Swisskapolka (1:53)
09. Phil Collins - Tarzan Medley (2:39)
10. Xavier Atencio; Paul Frees; Thurl Ravenscroft; J. Pat O'Malley; The Mellomen - Yo Ho(a Pirate's Life for Me) (5:44)
11. The Mellomen; Paul Frees; Betty Taylor; Bill Lee; Thurl Ravenscroft - Grim Grinning Ghosts (5:32)
12. Pete Renoudet - Bear Band Serenade (1:45)
13. Robert MacGimsey; Ray Gilbert; Allie Wrubel - Splash Mountain Medley (8:07)
14. Country Bear Vacation Hoedown - The Great Outdoors (2:08)
15. Tha Many Adventures of Winnie the Pooh - Tha Many Adventures of Winnie the Pooh (4:55)
16. The Golden Horseshoe Revue - Hello Everybody (2:16)
17. Mine Train through Nature's Wonderland - The Rainbow Caverns (2:35)
18. King Arthur Carousel - Once Upon a Dream (2:19)
19. Pinocchio's Daring Journey, Peter Pan's Flight, Mr. Toad's Wild Ride, Alice in Wonderland - The Fantasyland Darkride Suite (17:55)

CD2
01. Matterhorn Yodelers - Matterhorn Yodelers (2:19)
02. It's A Small World - it's a small world Clock Parade (2:32)
03. Richard M. Sherman & Robert B. Sherman - it's a small world (5:04)
04. Lewis Bertram - Steamboat Willie (2:08)
05. Franz Liszt - Roger Rabbit's Car Toon Spin (2:27)
06. George Bruns - Nation on Wheels (1:43)
07. Disney Studio Chorus - Miracles from Molecules (1:37)
08. John Williams - Star Tours (4:07)
09. Rex Allen - There's a Great Big Beautiful Tomorrow (7:02)
10. Dick Dale - Space Mountain (2:42)
11. Randy Newman, George Wilkins - Buzz Lightyear's Astro Blasters (6:02)
12. Thomas Newman; Ed Kalnins - Submarine Voyage (15:12)
13. John Williams - The Throne Room (0:58)
14. Bruce Broughton - Honey, I Shrunk the Audience Theme (1:47)
15. Michael Giacchino - Space Mountain (3:11)
16. Andrew Johnson and Bret Iwan and Daniel Kerry and Daniel Payson-Lewis and Jacob Haren and Jeremy Kocal - Suitcase and a Dream (2:40)
17. Bill Cantos - Who's Afraid of the Big Bad Wolf (2:56)
18. Jonathan Sacks - Mike and Sulley to the Rescue (6:54)
19. Richard Bellis; Marius Constant - The Twilight Zone® Tower of Terror Theme (1:42)
20. Jerry Goldsmith - Soarin' (4:42)

CD3
01. Dan Foliart - The Bakery Theme (3:27)
02. Randy Newman - A Bug's Life Suite (4:25)
03. Howard Ashman & Alan Menken - Beauty And The Bees (Beauty And The Beast) (2:18)
04. George Wilkins And Kevin Rafferty - It's Tough To Be A Bug (0:45)
05. Jodi Benson; Pat Carroll; Phillip Lawrence; Chris Edgerly - The Little Mermaid Medley (8:47)
06. Bruce Broughton - Seasons Of The Vine Medley (4:30)
07. Don Rickles - Midway Mania (1:55)
08. Randy Newman - The Cleaner (2:10)
09. Gary Hoey - California Screamin' (2:33)
10. Larry The Cable Guy - Welcome To Radiator Springs (1:33)
11. Alex Levy and Amy Wells and Andrea Datzman and Chris Hardin and Craig Copeland and David Martina - Funiculi Funicula (2:10)
12. Randy Newman - Radiator Springs Racers (5:27)
13. Mack David; Al Hoffman; Jerry Livingston; Don Dorsey; Gershon Kingsley; Jean-Jacques Perrey; Sammy Fain; Bob Hilliard; Oliver Wallace; Ted Sears; Winston Hibler; Sammy Cahn; Frank Churchill; Ned Washington; Larry Morey; Al Kasha; Joel Hirschhorn - The Main Street Electrical Parade (9:16)
14. Bruce Healey; Barnette Ricci; Ned Washington; Paul Dukas; Oliver Wallace; Leigh Harline; Jack Wallace; Victor Young; Sammy Cahn; Sammy Fain; Frank Churchill; Howard Ashman; Jack Lawrence; Alan Menken; Modest Mussorgsky; Larry Morey - Fantasmic! (22:41)
15. Wayne Allwine; Russi Taylor; Bill Farmer; Tony Anselmo - Closing (1:14)

Vol.09. Cinderella (2CD) (by VA) (1950)

CD1
01. Chorus - Main Title/Cinderella (2:52)
02. Ilene Woods & Mice Chorus - A Dream Is a Wish Your Heart Makes (4:34)
03. Mack David, Oliver Wallace, Al Hoffman & Jerry Livingston - A Visitor/Caught In a Trap/Lucifer/Feed the Chickens (2:11)
04. Paul J Smith, Mack David, Al Hoffman & Jerry Livingston - The King's Plan (1:22)
05. Rhoda Williams & Ilene Woods - The Music Lesson/Oh, Sing Sweet Nightingale/Bad Boy Lucifer/A Message From His Majesty (2:07)
06. Mice Chorus - Little Dressmakers/The Work Song (9:24)
07. Verna Felton - Where Did I Put That Thing/Bibbidi-Bobbidi-Boo (The Magic Song) (4:48)
08. Ilene Woods & Mike Douglas - Reception At the Palace/So This Is Love (5:45)
09. Oliver Wallace, Mack David, Al Hoffman & Jerry Livingston - The Stroke of Midnight/Thank You Fairy Godmother (2:05)
10. Paul J Smith, Mack David, Al Hoffman & Jerry Livingston - Locked In the Tower/Gus and Jaq To the Rescue/Slipper Fittings/Cinderella's Slipper/Finale (7:36)

CD2
01. Mack David, Al Hoffman & Jerry Livingston - I'm In the Middle of the Muddle (Demo) (1:53)
02. Kate Higgins - I'm In the Middle of a Muddle (1:54)
03. Larry Morey & Charles Wolcott - I Lost My Heart At the Ball (Demo) (2:01)
04. Jennifer Paz - I Lost My Heart At the Ball (2:18)
05. Larry Morey & Charles Wolcott - The Mouse Song (1:38)
06. Jeff Gunn & Rob Paulsen - The Mouse Song (1:38)
07. Larry Morey & Charles Wolcott - Sing a Little, Dream a Little (Demo) (2:48)
08. Juliana Hansen - Sing a Little, Dream a Little (2:55)
09. Larry Morey & Charles Wolcott - Dancing On a Cloud (Demo) (3:45)
10. Jeff Gunn & Kate Higgins - Dancing On a Cloud (4:10)
11. Larry Morey & Charles Wolcott - That Dress That My Mother Wore (Demo) (2:35)
12. Juliana Hansen - That Dress That My Mother Wore (2:52)
13. Larry Morey & Charles Wolcott - The Face That I See In the Night (Demo) (2:32)
14. Jeff Gunn & Jennifer Paz - The Face That I See In the Night (2:55)
15. Oliver Wallace & Paul J. Smith - Cinderella: Prologue (4:40)
16. Oliver Wallace & Paul J. Smith - Cat and Mice/The King's Plan (3:51)
17. Oliver Wallace - Entanglements/Dress Building (5:04)
18. Oliver Wallace - The Palace at Evening/A Dress For the Ball (2:56)
19. Paul J. Smith - Royal Fanfare and Reception at the Palace (2:45)
20. Mack David, Al Hoffman & Jerry Livingston - So This Is Love: Waltz (1:59)
21. Oliver Wallace - Midnight Chase (1:36)
22. Paul J. Smith - A Perfect Fit (1:30)
23. Chorus - Cinderella: Finale (1:05)

Vol.10. Toy Story (2CD) (by VA) (1995)

CD1
01. Randy Newman - Opening (1:28)
02. Randy Newman - You've Got a Friend in Me (2:05)
03. Randy Newman - Andy's Birthday is Today (0:43)
04. Randy Newman - They're Alive! (1:12)
05. Randy Newman - 'Staff Meeting Everybody!' (0:44)
06. Randy Newman - 'You Too, Bo Peep' (0:39)
07. Randy Newman - Andy's Birthday Party (1:33)
08. Randy Newman - Code Red (1:31)
09. Randy Newman - A Good Soldier Never Leaves a Man Behind (0:37)
10. Randy Newman - Presents: Who Invited That Kid? (1:20)
11. Randy Newman - Surprise Present (1:10)
12. Randy Newman - What Are You Doing Under the Bed? (0:23)
13. Randy Newman - Buzz Revealed (1:08)
14. Randy Newman - Buzz Flies (0:45)
15. Randy Newman - Strange Things (3:25)
16. Randy Newman - Woody/Bo Peep (0:20)
17. Randy Newman - Sid (1:22)
18. Randy Newman - Virtual Reality (0:18)
19. Randy Newman - Woody Plots (0:58)
20. Randy Newman - Rube Globeburg (0:26)
21. Randy Newman - Woody Did It! (1:07)
22. Randy Newman - Rescure Attempt (1:11)
23. Randy Newman - Buzz, You're Alive! (0:33)
24. Randy Newman - Buzz and Woody Fight (0:35)
25. Randy Newman - Buzz's Mission (0:20)
26. Randy Newman - It's a Spaceship, Buzz (0:59)
27. Randy Newman - Pizza Planet Rock (0:38)
28. Randy Newman - What? Hello? A Space Port! (1:29)
29. Randy Newman - The Claw (2:18)
30. Randy Newman - Dr. Sid (1:10)
31. Randy Newman - Mutant Toys (1:13)
32. Randy Newman - Woody's Gone (0:52)
33. Randy Newman - 'Sorry Guys, Dinner's Canceled' (0:53)
34. Randy Newman - Scud (0:45)
35. Randy Newman - Buzz Lightyear Commercial (0:54)
36. Randy Newman - I Will Go Sailing No More (3:02)
37. Randy Newman - Out the Window (0:46)
38. Randy Newman - Sid's Toys Fix Buzz (1:29)
39. Randy Newman - The Big One (1:24)
40. Randy Newman - Sad Andy (0:47)
41. Randy Newman - 'Buzz, I Need Your Help' (2:16)
42. Randy Newman - Working Together (Leads to Failure) (0:45)
43. Randy Newman - The Rescue Pt. 1 (3:42)
44. Randy Newman - Sid Counts Down (1:10)
45. Randy Newman - The Rescue Pt. 2: Play Nice, Sid (1:31)
46. Randy Newman - Chasing the Van (1:43)
47. Randy Newman - RC to the Rescue (2:29)
48. Randy Newman - To Infinity and Beyond (2:13)
49. Randy Newman - Together Again and a Very Merry Christmas (1:48)
50. Lyle Lovett, Randy Newman - You've Got a Friend in Me (2:40)
51. Randy Newman - End Credits (2:21)

CD2
01. Randy Newman - Strange Things PIANO/VOCAL Demo (3:01)
02. Randy Newman - Plastic Spaceman PIANO/VOCAL Demo (3:20)
03. Randy Newman - I Will Go Sailing No More PIANO/VOCAL Demo (3:37)
04. Randy Newman - The Fool PIANO/VOCAL Demo (2:08)
05. Randy Newman - You've Got a Friend in Me Instrumental Version (2:06)
06. Randy Newman - Strange Things Instrumental Version (3:19)
07. Randy Newman - I Will Go Sailing No More Instrumental Version (2:58)
08. Randy Newman - Thanking the Orchestra Spoken (0:42)

Vol.11. Pocahontas (2CD) (by VA) (1995)

CD1
01. Chorus - Pocahontas & Mel Gibson - The Virginia Company (5:26)
02. Chorus - Pocahontas - Steady as the Beating Drum (Main Title) (2:04)
03. Alan Menken - Pocahontas (2:08)
04. Alan Menken - Father Knows Best (1:11)
05. Jim Cummings - Steady as the Beating Drum (Reprise) (0:50)
06. Judy Kuhn - Just Around the Riverbend (2:47)
07. Alan Menken - Grandmother Willow (2:07)
08. Linda Hunt & Bobbi Page - Listen With Your Heart I (1:12)
09. Alan Menken - Ratcliffe's Cabin (1:28)
10. Alan Menken - Going Ashore (0:44)
11. Alan Menken - Pocahontas Watches/Meeko (1:52)
12. Alan Menken - Council Meeting (1:19)
13. Alan Menken - Percy's Bath (1:04)
14. David Ogden Stiers, Mel Gibson, Chorus - Pocahontas - Mine, Mine, Mine (3:34)
15. Alan Menken - Cat 'N' Mouse (1:30)
16. Alan Menken - They Meet At the River's Edge (2:49)
17. Alan Menken - Skirmish (1:43)
18. Alan Menken - Unusual Name (3:46)
19. Judy Kuhn - Colors of the Wind (3:50)
20. Alan Menken - Something Wrong, John? (1:34)
21. Alan Menken - Into the Glade (3:01)
22. Linda Hunt & Bobbi Page - Listen With Your Heart II (1:09)
23. Alan Menken - Warriors Arrive (3:03)
24. Alan Menken - Smith Returns (1:47)
25. Alan Menken - Sneaking Out (2:53)
26. Alan Menken - The Fight (2:09)
27. Alan Menken - Aftermath (2:06)
28. Alan Menken - I'll Never See Him Again (1:53)

CD2
01. Mel Gibson & Judy Kuhn - If I Never Knew You (3:21)
02. Alan Menken - Thomas Reports (0:45)
03. David Ogden Stiers, Jim Cummings, Judy Kuhn, Chorus - Pocahontas - Savages (3:58)
04. Alan Menken - Execution (1:37)
05. Alan Menken - Now's Our Chance (1:06)
06. Alan Menken - Farewell (5:08)
07. Jon Secada & Shanice - If I Never Knew You (Love Theme) (4:14)
08. Vanessa Williams - Colors of the Wind (End Title) (4:20)
09. Alan Menken & Stephen Schwartz - Epiphany/Savages (Part 2) (Alternate Version) (2:02)
10. Alan Menken - Just Around the Riverbend (Demo) (5:29)
11. Alan Menken - If I Never Knew You (Demo) (3:10)
12. Alan Menken - Different Drummer (Demo) (3:56)
13. Alan Menken - First to Dance (Demo) (4:41)
14. Alan Menken - In the Middle of the River (Demo) (4:10)

Vol.12. The AristoCats (2CD) (by VA) (1970)

CD1
01. Maurice Chevalier - Main Title/The Aristocats (2:55)
02. Geroge Bruns - Thanks Ed/Up the Staircase (1:31)
03. George Bizet - Duet of Micaela and Don Jose (0:49)
04. George Bizet - Habanera (1:06)
05. Geroge Bruns - The Will/Kitten Fun (0:55)
06. Geroge Bruns - Alley Cat/Sleep Kitten (1:59)
07. Liz English, Robie Lester, Dean Clark & Gary Dubin - Scales and Arpeggios (1:43)
08. Geroge Bruns - Nice Melody (2:02)
09. Geroge Bruns - The Butler Sneak (1:32)
10. Geroge Bruns - Two Dogs and a Cycle (2:03)
11. Geroge Bruns - Cold Nights/No Cats (2:04)
12. Phil Harris - Thomas O'Malley Cat (2:43)
13. Geroge Bruns - Cat's Love Theme (2:34)
14. Geroge Bruns - Cat's Meow (0:39)
15. Geroge Bruns - She Never Felt Alone (1:05)
16. Geroge Bruns - It's The Butler/Headlines (0:51)
17. Geroge Bruns - Nine Lives/Railroad Depot (2:08)
18. Geroge Bruns - Safe (0:57)
19. Geroge Bruns - The Goose Steps High (2:13)
20. Geroge Bruns - How Romantic/The Goose Steps High Again (2:25)
21. Geroge Bruns - Here Comes Edgar (1:27)
22. Geroge Bruns - The Butler Speaks (1:25)
23. Geroge Bruns - Git It Good/The Butler Did It (1:14)
24. Geroge Bruns - My Paree (0:56)
25. Scatman Crothers, Phil Harris, Thurl Ravenscroft, Robie Lester & Liz English - Ev'rybody Wants to Be a Cat (6:08)
26. Geroge Bruns - Paris Night (2:56)
27. Geroge Bruns - Pretty Melody (1:31)
28. Geroge Bruns - My Paree (0:59)
29. Geroge Bruns - Where Are My Cats (0:49)
30. Geroge Bruns - Find O'Malley (0:59)
31. Geroge Bruns - Blues (0:54)
32. Geroge Bruns - Cat Chase (1:15)
33. Geroge Bruns - The Butler/After Her (2:43)
34. Geroge Bruns - My Paree (1:26)
35. Scatman Crothers, Phil Harris, Ruth Buzzi & Chorus - Ev'rybody Wants to Be a Cat (Finale) (1:21)

CD2
01. Richard M. Sherman & Robert B. Sherman - How Much You Mean to Me/Court Me Slowly (Demo) (2:16)
02. Corey Burton & Kate Higgins - How Much You Mean to Me/Court Me Slowly (2:44)
03. Richard M. Sherman - Pourquois? (Demo) (1:23)
04. Kate Higgins - Pourquois? (2:13)
05. Richard M. Sherman - My Way's the Highway (Demo) (1:07)
06. Randy Crenshaw - My Way's the Highway (2:07)
07. Richard M. Sherman - Le Jazz Hot (Demo) (2:00)
08. Ty Taylor - Le Jazz Hot (2:32)
09. The Mike Sammes Singers - The Aristocats (Album Version) (2:44)
10. Susan Novack, Gregory Novack, Victor Sweler & The Mike Sammes Singers - Scales and Arpeggios (Album Version) (2:35)
11. Robie Lester - She Never Felt Alone (Album Version) (2:10)
12. Phil Harris - Thomas O'Malley Cat (Album Version) (4:42)
13. Phil Harris & The Mike Sammes Singers - Ev'rybody Wants to Be a Cat (Album Version) (4:54)