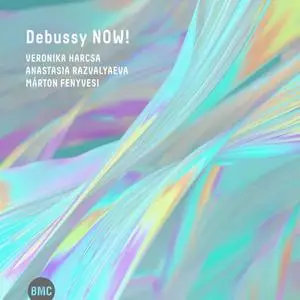 Veronika Harcsa, Anastasia Razvalyaeva & Márton Fenyvesi - Debussy Now! (2021)
FLAC tracks | 52:09 | 269 Mb
Genre: Classical Jazz / Label: BMC Records
There is no theory. You have only to listen. Pleasure is the law - explained Debussy. The same principle served as the benchmark for Anastasia Razvalyaeva, Veronika Harcsa, and Márton Fenyvesi for creating Debussy NOW! The sovereignty of Debussy's songs and their personal quality that seemingly contradicts it propelled the artists to find new sets of skills. Anastasia explored improvisation, while Veronika searched for new vocal timbres between classical and jazz singing. Their dialogue is transformed into 3D with live effects by Márton Fenyvesi that restore the blurry outlines of Debussy's songs.
Track List:
1. Beau soir (2:27)
2. Fleur des blés (5:11)
3. La mer est plus belle (Trois mélodies de Verlaine I) (5:14)
4. La flûte de Pan (Trois chansons de Bilitis I) (5:12)
5. Le son du cor s'afflige vers les bois (Trois mélodies de Verlaine II) (5:43)
6. Nuit d'étoiles (3:46)
7. La chevelure (Trois chansons de Bilitis II) (4:29)
8. L'échelonnement des haies (Trois mélodies de Verlaine III) (4:13)
9. Le tombeau des Naïades (Trois chansons de Bilitis III) (4:55)
10. Regret (4:49)
11. La fille aux cheveux de lin (6:15)
ANALYZER: auCDtect: CD records authenticity detector, version 0.8.2
Copyright © 2004 Oleg Berngardt. All rights reserved.
Copyright © 2004 Alexander Djourik. All rights reserved.


FILE: 01. Veronika Harcsa - Beau soir.flac
Size: 13232911 Hash: 49003FAAEAC711480838DCDEB3B2E8F8 Accuracy: -m40
Conclusion: CDDA 100%
Signature: 88C8E971E38D50FAFCEEB0A8157D3D1D8D10C7CF
FILE: 02. Veronika Harcsa - Fleur des blés.flac
Size: 28967615 Hash: A1DC431D0FF9AEB9292E73DFBA2734A6 Accuracy: -m40
Conclusion: CDDA 99%
Signature: 9E15CE8FB5AAF8E122A75BC7E1214B7F765ABA52
FILE: 03. Veronika Harcsa - La mer est plus belle (Trois mélodies de Verlaine I).flac
Size: 28397370 Hash: CFB332764B5362BE8C8FDEF336AB3A24 Accuracy: -m40
Conclusion: CDDA 99%
Signature: C99B5A71D8D8D1CC641BC619A784C64245149011
FILE: 04. Veronika Harcsa - La flûte de Pan (Trois chansons de Bilitis I).flac
Size: 26801630 Hash: 0D2C15ED8224A01BE0FDAA20A9D96BA1 Accuracy: -m40
Conclusion: CDDA 100%
Signature: 74F290E9276159DDCD39458E2BF8D24C6C52BD38
FILE: 05. Veronika Harcsa - Le son du cor s'afflige vers les bois (Trois mélodies de Verlaine II).flac
Size: 31382682 Hash: 480E5F3BEE148088818445617C2A10BF Accuracy: -m40
Conclusion: CDDA 99%
Signature: 4147C72494D84C66D89FD58E0E4B122B9E98341E
FILE: 06. Veronika Harcsa - Nuit d'étoiles.flac
Size: 20589106 Hash: A85DF84AFBB262ED6FA79E6566F620F6 Accuracy: -m40
Conclusion: CDDA 100%
Signature: 79F15B01505FFCFCD7ED7CFBAA4D4AF579F3C7EB
FILE: 07. Veronika Harcsa - La chevelure (Trois chansons de Bilitis II).flac
Size: 23311459 Hash: D211ED62318D742CB584DA73DBCEF488 Accuracy: -m40
Conclusion: CDDA 100%
Signature: 6F39AB36EAEC6FAA691BFF58EAC7F1AA3CF1A0B6
FILE: 08. Veronika Harcsa - L'échelonnement des haies (Trois mélodies de Verlaine III).flac
Size: 24011166 Hash: F78BEB0FE6A0D9884EAD2F9B7ED41877 Accuracy: -m40
Conclusion: CDDA 100%
Signature: 4D8233E29F885D599DC455F284F34F870E6558DB
FILE: 09. Veronika Harcsa - Le tombeau des Naïades (Trois chansons de Bilitis III).flac
Size: 26211874 Hash: E4A7E9E9D28D7CA3572CDC44CE195712 Accuracy: -m40
Conclusion: CDDA 100%
Signature: 68B493CEDB766C2838892BE29375F6502A6D9595
FILE: 10. Veronika Harcsa - Regret.flac
Size: 26125482 Hash: FC2F957C1598648901217A7D141960E7 Accuracy: -m40
Conclusion: CDDA 100%
Signature: 97529FB7B5D7CA578D1D9EE75FEA5A3E3D742EF5
FILE: 11. Veronika Harcsa - La fille aux cheveux de lin.flac
Size: 33523067 Hash: AE1C82569C16D7ED8A37F736209F39AB Accuracy: -m40
Conclusion: CDDA 100%
Signature: 6E8E948AC96B15D94FD443158FBC64D96D5E6232