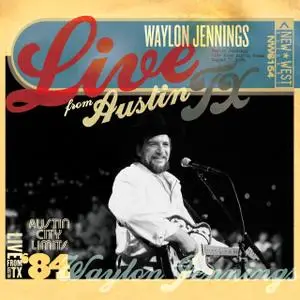 Waylon Jennings - Live From Austin, TX '84 (2008)
WEB | FLAC (tracks) - 249 MB | MP3 (CBR 320 kbps) - 96 MB | 36:38
Genre: Country | Label: New West
Once upon a time, Waylon Jennings was one of the hardest partying men in country music (no small statement), but by the time he appeared on PBS's long-running music series Austin City Limits in 1984, Jennings asked that his taping take place at 11 a.m., which would have been closer to his bedtime during his years as country's number one outlaw. A newly cocaine-fee Waylon plays "I Can Get off on You" early in this set, which contains his complete set from that KLRU-TV taping, and the man sounds tough and committed throughout a fast-paced show, during which he runs through 14 songs in less than 40 minutes and displays his trademark ability to sound energetic and laid-back at the same time. Waylon was always an artist of glorious contradictions, and a number of them are clearly audible on Live from Austin TX; for a man who looked, sounded, and lived like a badass, he was always at his best wearing his heart on his sleeve on broken-hearted numbers like "It's Not Supposed to Be That Way" and "Dreaming My Dream with You," and while he was famous for his rowdy, hard-living ways, he was perfectly comfortable singing "Don't You Think This Outlaw Bit's Done Got out of Hand" against type. Jennings wastes no time in this show, but the spirit is with him at all times, and both his voice and his lead guitar work shine, while his band (including the great Ralph Mooney on pedal steel) is in superb form. And Jennings sings Rodney Crowell's "Ain't Living Long Like This" as if he owns it. Live from Austin TX captures what was probably just another set in the life of Waylon Jennings, but the subtle fire and total commitment he brings to these songs prove the man never dogged it in front of an audience, and anyone who ever enjoyed his rough, sweet music will get a kick out of this.
Track List:
01. Are You Ready For The Country
02. Clyde
03. I Can Get Off On You
04. People Up In Texas
05. It's Not Supposed To Be That Way
06. Don't You Think This Outlaw Bit's Done Got Out Of Hand
07. You Asked Me To
08. Dreaming My Dreams With You
09. Good Hearted Woman
10. I May Be Used (But Baby I Ain't Used Up)
11. Let's Turn Back The Years
12. Honky Tonk Heroes
13. I Ain't Living Long Like This
14. I've Always Been Crazy
–––––––––––-
DON'T MODIFY THIS FILE
–––––––––––-
PERFORMER: auCDtect Task Manager, ver. 1.6.0 RC1 build 1.6.0.1
Copyright © 2008-2010 y-soft. All rights reserved
http://y-soft.org
ANALYZER: auCDtect: CD records authenticity detector, version 0.8.2
Copyright © 2004 Oleg Berngardt. All rights reserved.
Copyright © 2004 Alexander Djourik. All rights reserved.
FILE: 1 Are You Ready For the Country (Live).flac
Size: 18920799 Hash: 8E037B08361C7857B9C3E83DF2C37158 Accuracy: -m0
Conclusion: CDDA 100%
Signature: 4B369907B9FF53D9E7BFE67D0BA74F1070184215
FILE: 10 I May Be Used (But Baby I Ain't Used Up) [Live].flac
Size: 15572265 Hash: DD3093D3BDA8AF0794A362542F0354A7 Accuracy: -m0
Conclusion: CDDA 100%
Signature: 6C023BB70AC02F2DEBC0A3CCB90BFE24BBAE59E0
FILE: 11 Let's Turn Back the Years (Live).flac
Size: 15229234 Hash: 364924AF291A4440A78F1A79B7731948 Accuracy: -m0
Conclusion: CDDA 99%
Signature: EA8B786FED5F50DA434D7D3CFE20F997DBAED91C
FILE: 12 Honky Tonk Heroes (Live).flac
Size: 16978669 Hash: A01E0170CE2796B6FB7C7DCD8C46572F Accuracy: -m0
Conclusion: CDDA 99%
Signature: 9ECA68A4657F891BA88B2FE183310B1B7C2B4563
FILE: 13 I Ain't Living Long Like This (Live).flac
Size: 23025913 Hash: 647EDB3BB1D6F10D544EAA28EDD65E92 Accuracy: -m0
Conclusion: CDDA 99%
Signature: 0E5196B52517B1E614BF725EC776740956619522
FILE: 14 I've Always Been Crazy (Live).flac
Size: 21849654 Hash: 31A10E404C36626CD51505DA35E8BF7D Accuracy: -m0
Conclusion: CDDA 99%
Signature: A30850259C3A48A5F76D0B4536975CF7B4E15809
FILE: 2 Clyde (Live).flac
Size: 12770335 Hash: 1176F743B39064D3B13DA4DAFB59498A Accuracy: -m0
Conclusion: CDDA 100%
Signature: 8E78360F85648F27738BD6827656E04B1B6D89CC
FILE: 3 I Can Get Off on You (Live).flac
Size: 15206979 Hash: 7C4C72F2BF2A74108CA9E9E389AD2E6A Accuracy: -m0
Conclusion: CDDA 100%
Signature: 51FB12354B4686E23116B3D3AF589EEA20859B3F
FILE: 4 People Up in Texas (Live).flac
Size: 12664070 Hash: DB7B007C6C91C5FD1A5F1CF4D4B0C53C Accuracy: -m0
Conclusion: CDDA 100%
Signature: 1A9F6BF1A89F418308E95DF50F96AD52DA7C376E
FILE: 5 It's Not Supposed to Be That Way (Live).flac
Size: 17279773 Hash: AC89014929FB37B8C31D08E7CA67143C Accuracy: -m0
Conclusion: CDDA 100%
Signature: 04C50B82EDE37497E89342D4AA856F2E64654937
FILE: 6 Don't You Think This Outlaw Bit's Done Got Out of Hand (Live).flac
Size: 21896751 Hash: 8F24BD83BE1588E605FAA3006323815C Accuracy: -m0
Conclusion: CDDA 100%
Signature: CCDD75FFFFD28EF370E670D6375538EDD5B3EB3D
FILE: 7 You Asked Me To (Live).flac
Size: 13121048 Hash: 5CBB7C9880A914B7D9AF8CED188A98A8 Accuracy: -m0
Conclusion: CDDA 100%
Signature: DB24F37A81D39FBB8D866E3EFF3F0D191A03679F
FILE: 8 Dreaming My Dreams With You (Live).flac
Size: 14953153 Hash: 47993742AB94FEC57C2F3996CE61735D Accuracy: -m0
Conclusion: CDDA 100%
Signature: FF2AB00C717DF1DBEF89B0C36942C56429F150F9
FILE: 9 Good Hearted Woman (Live).flac
Size: 17672281 Hash: B2BBFDDF04CCEC8B3DE2303A45F2B588 Accuracy: -m0
Conclusion: CDDA 100%
Signature: 37461C08CA4A9B0E0B194E9922B4EDEB31D0FA1D